I am a sucker for street food – any day, anytime. Unless of
course, I am down with severe stomach flu :-)) (Even then, I keep nagging DH
with what my wish lists are, and most of them are street food :-)) I am not
apologetic about my street food preferences (as long as they are hygenic and
made in a clean place), but trust me I was blown away when I saw this recipe- Burmese Samusa Thouk at Vaishali's blog– where
street food favourite Samosa was an INGREDIENT in a soup..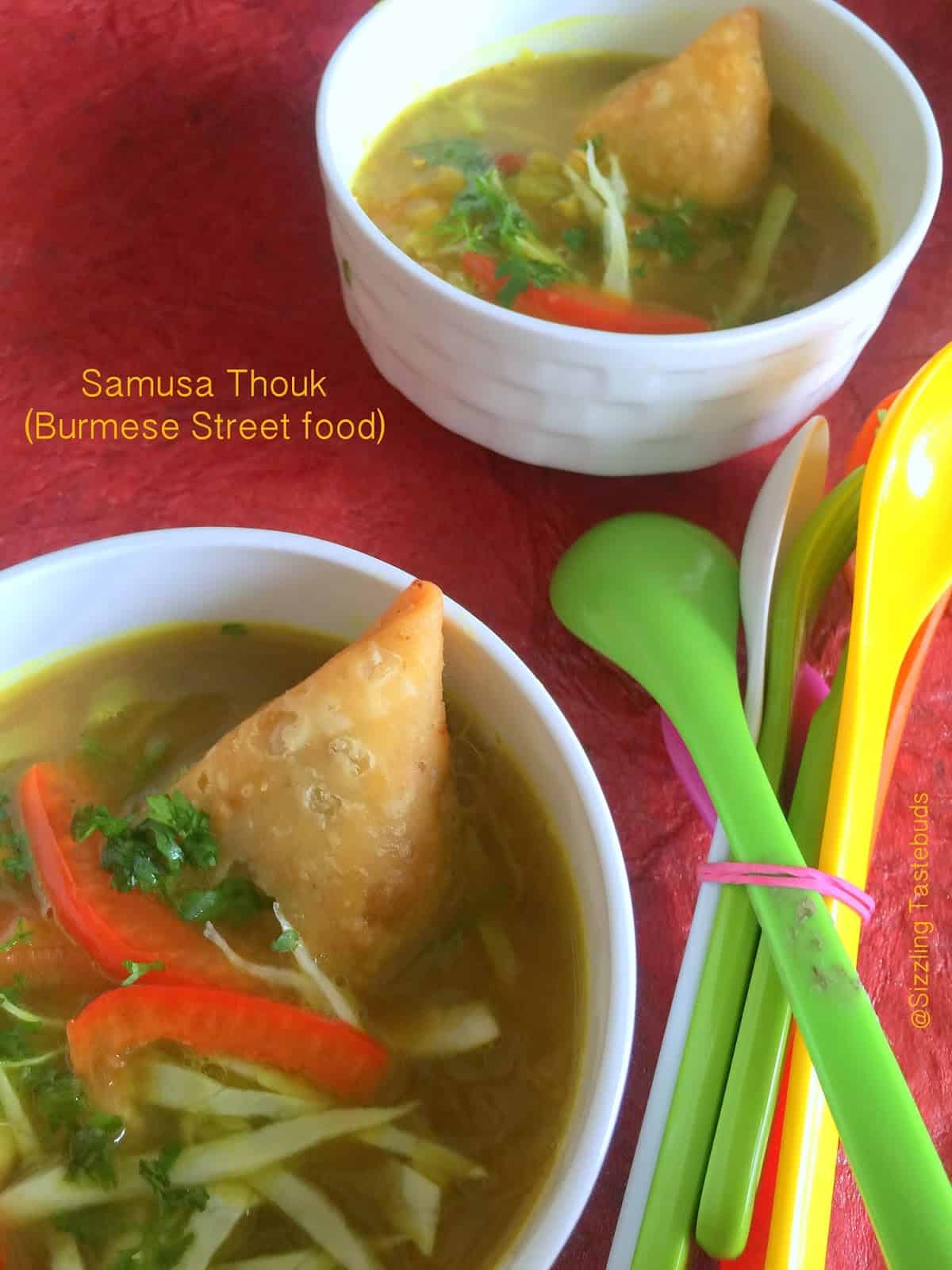 Pin

I went over all of Vaishali's world Marathon recipes many many
times to choose one for this week, and yet I kept coming back to this
delectable soup :-)) I could have it anytime 🙂 my elder one SIMPLY LOVED it  and went for her third and fourth servings ! 

Thanks Vaishali ! this is a
super recipe that I have modified a bit and loved it a lot :-))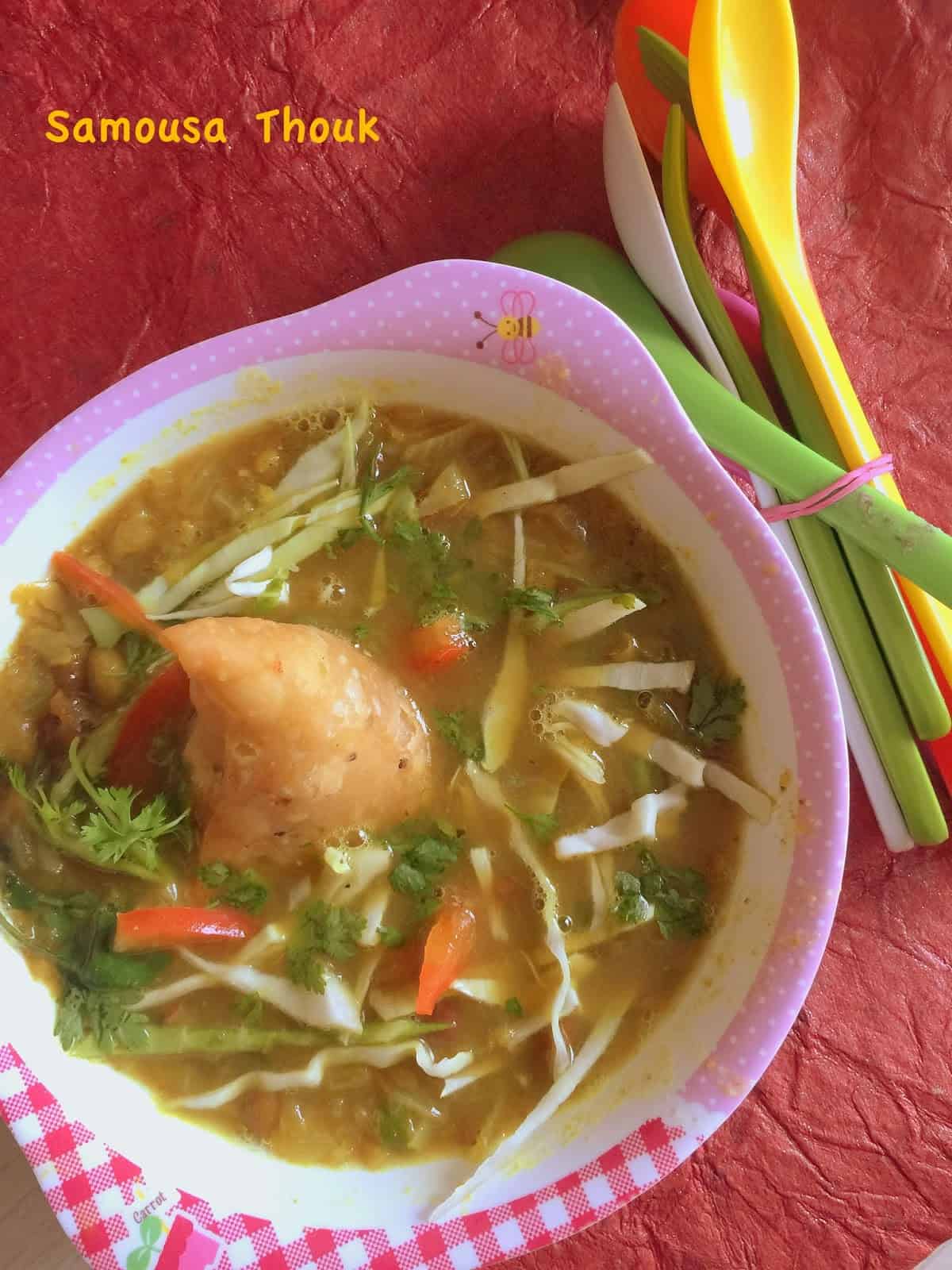 Pin

This week 3 at the Cooking Carnival, we shall see some popular Street Foods from India and around the world.. Hope you enjoy the series…




I halved the recipe, which came to 3 medium servings. So, do make
it for wintery / chilly evenings for a snack or as a pre dinner appetiser. Of
course, with the samosa in, its dinner all the way, and not just an appetiser
:-))

Prep time : 20 mins | Cook time : 20 mins | Serves : 4

Samusa Thouk – Burmese Soup with lentils and samosa(yes!!)

Ingredients:
Toor Dal / Pigeon pea – 1/4 cup
Channa dal / Black channa – 1/4 cup( I subbed with mixed lentils)
Jeera / cumin – 1/2 tsp
Oil – 2 TBSP
Masala powders : Jeera, coriander, garam masala, red chilli, black
pepper, turmeric
Onion (2) and green chillies (4) – sliced
cabbage – juilenned – 1/2 cup
Tamarind paste – 1/2 TBSP
Bean sprouts / Moong sprouts – 1 cup( Subbed with fresh sweet peppers garnished on top)
water / veg stock – 4 cups
Salt – to taste
Coriander / cilantro – to garnish
4 small (baby samosas) – store bought or homemade
Method: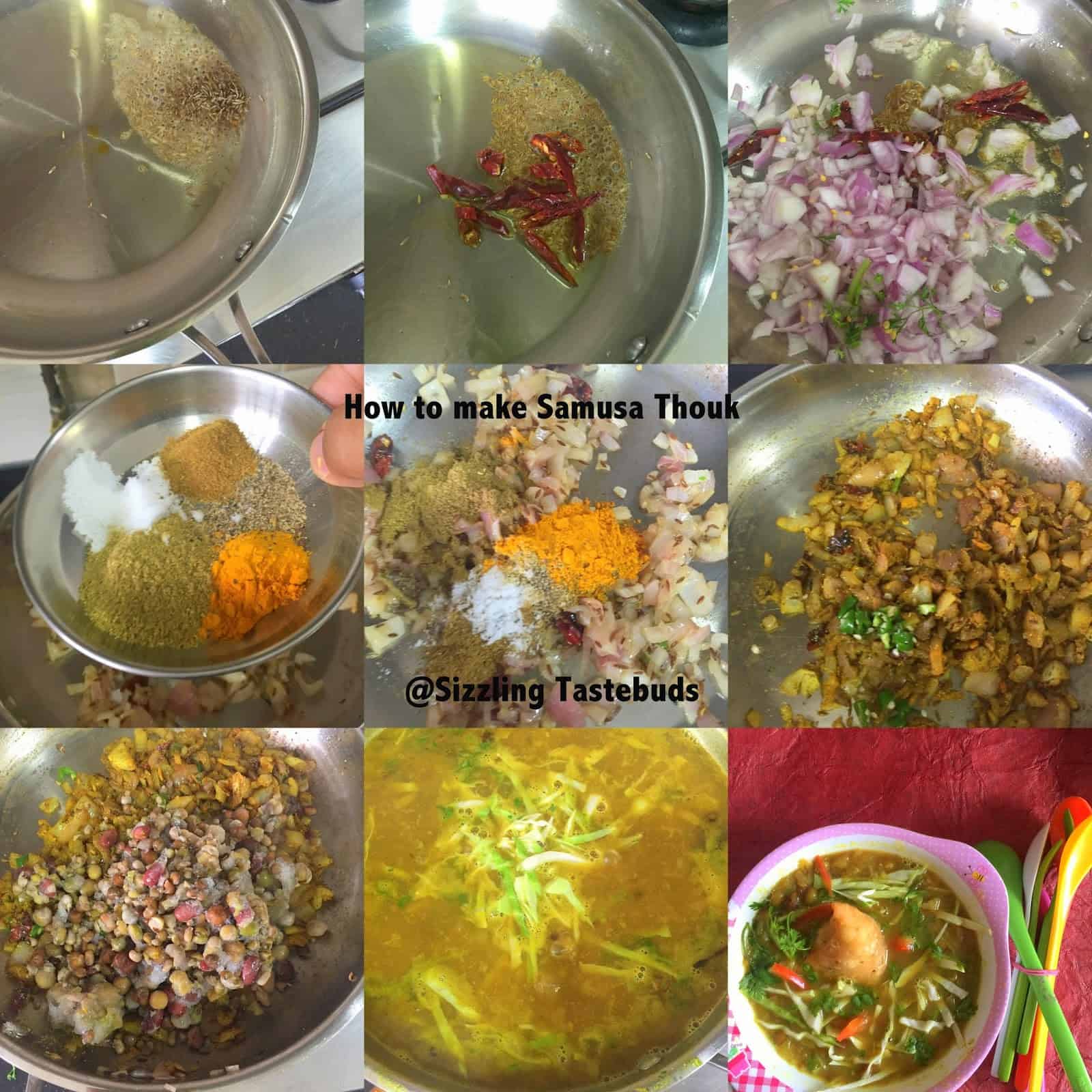 Pin
Soak kala channa overnight. pressure cook toor dal and channa
separately the next day till done (you can make it slightly mushy)
In a pan, splutter jeera, add onions, red chillies and saute
till browned
Add the powdered spices and cook. To this add stock or broth, green chillies, cooked dals , tamarind and let it simmer to a thickish broth (about 8-10 mins)
Add cabbage, salt and let the cabbage cook, now add the sprouts
and let it simmer again.As I was using frozen cooked lentils, I mashed it up a bit towards the end before adding the cabbage. 
Ladle out portions of the soup, place 1/2 -1 mini samosa per
serving portion (if using large size, cut into halves or quarters depending on
the portion size)
Top with cilantro, I added a dash of lemon juice too, but thats
totally optional.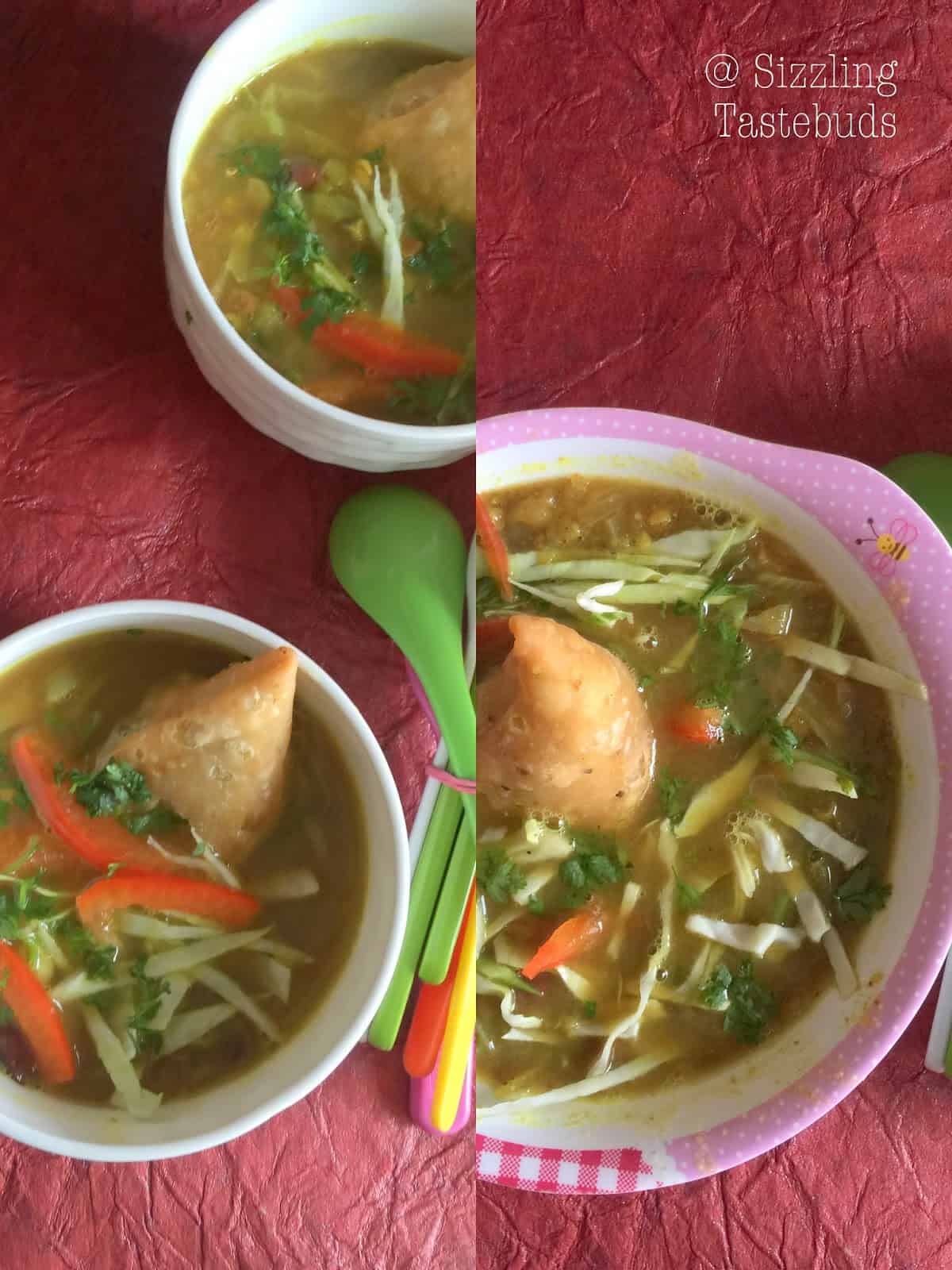 Pin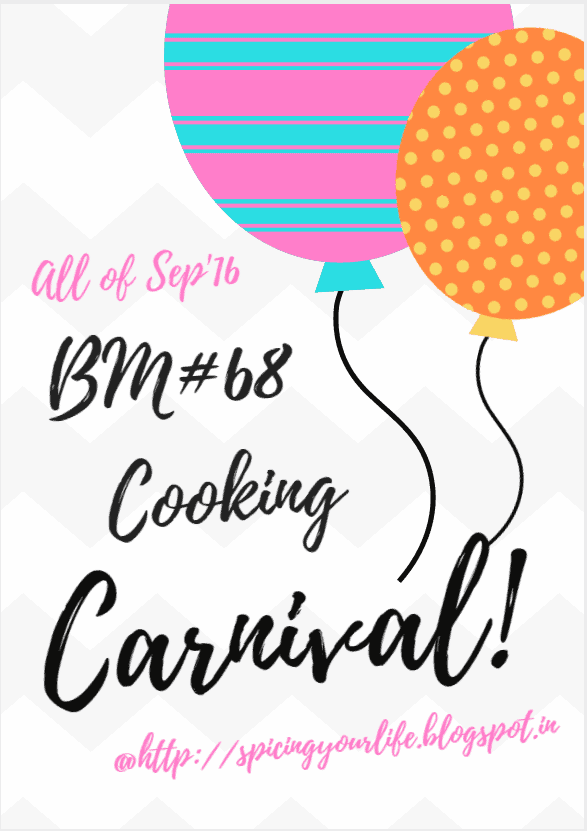 Pin
Check out the Blogging Marathon page for the other Blogging Marathoners doing BM# 68