Soups are my to-go snacks for most school-day evenings. And the monsoons make them even more special to indulge in a variety of soups. Although the schools are running on the online mode, the craving to sip on a hot broth in windy days like these is always present. If you are a reader of this blog, you know we love our soups. Do check out more than 25+ varieties of vegetarian soups on this blog.
And with my homemade vegetable stock(made with leftovers / peels / discarded parts of veggies etc), its a sure winner as I have a bottle of home-made , low sodium and very versatile stock always in the refrigerator. So a soup barely takes 15 mins if you have the stock ready.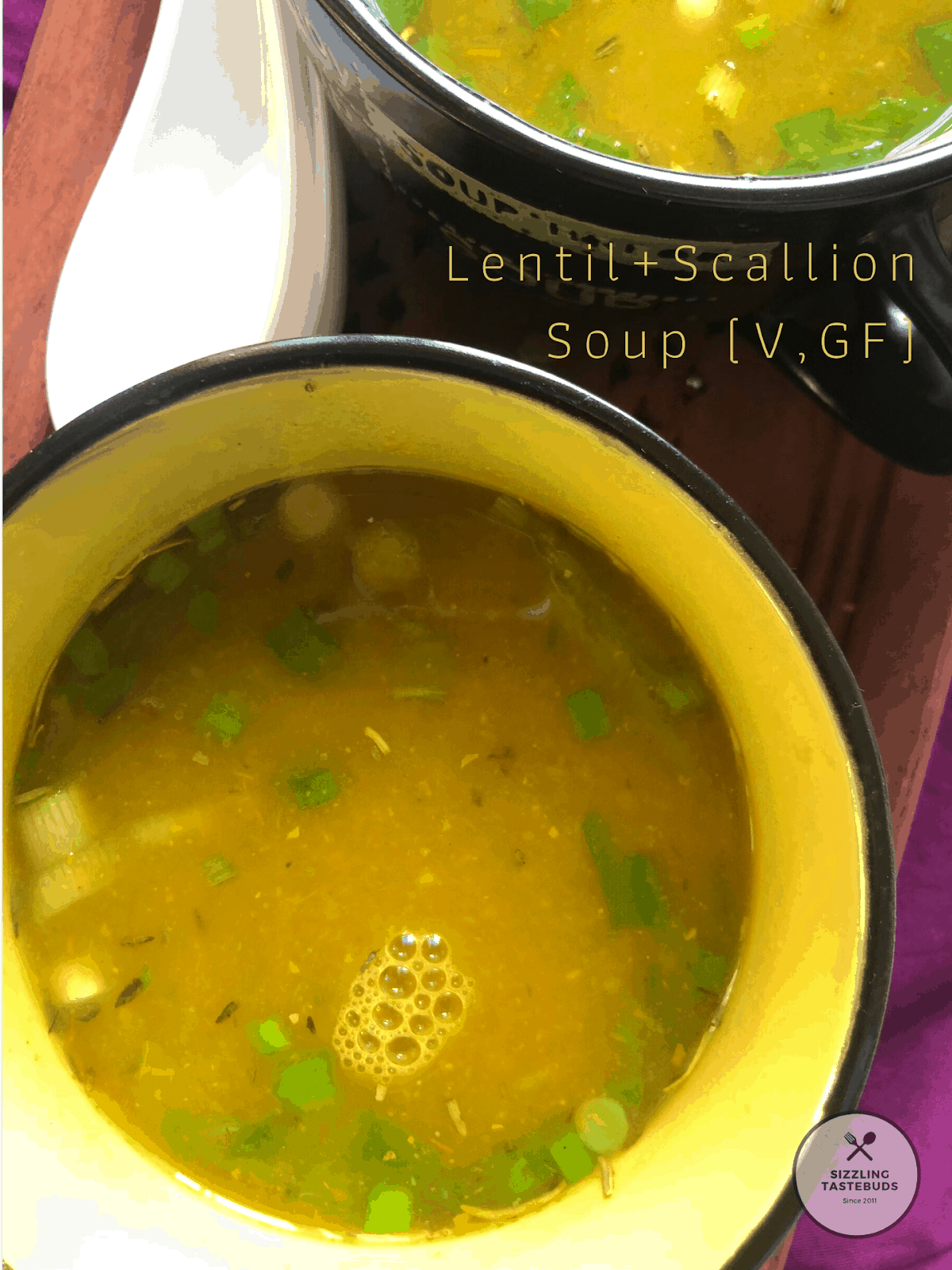 Pin

Alternatively, you can use plain (filtered) water too to make any soup, but stock (and homemade at that – you save precious money too!) gives that extra body and oomph that plain water may not give. My little one loves the Lemon Coriander a lot, and my personal favourites these days are Apple Soup and Badam Palak Shorva (Almond Spinach broth)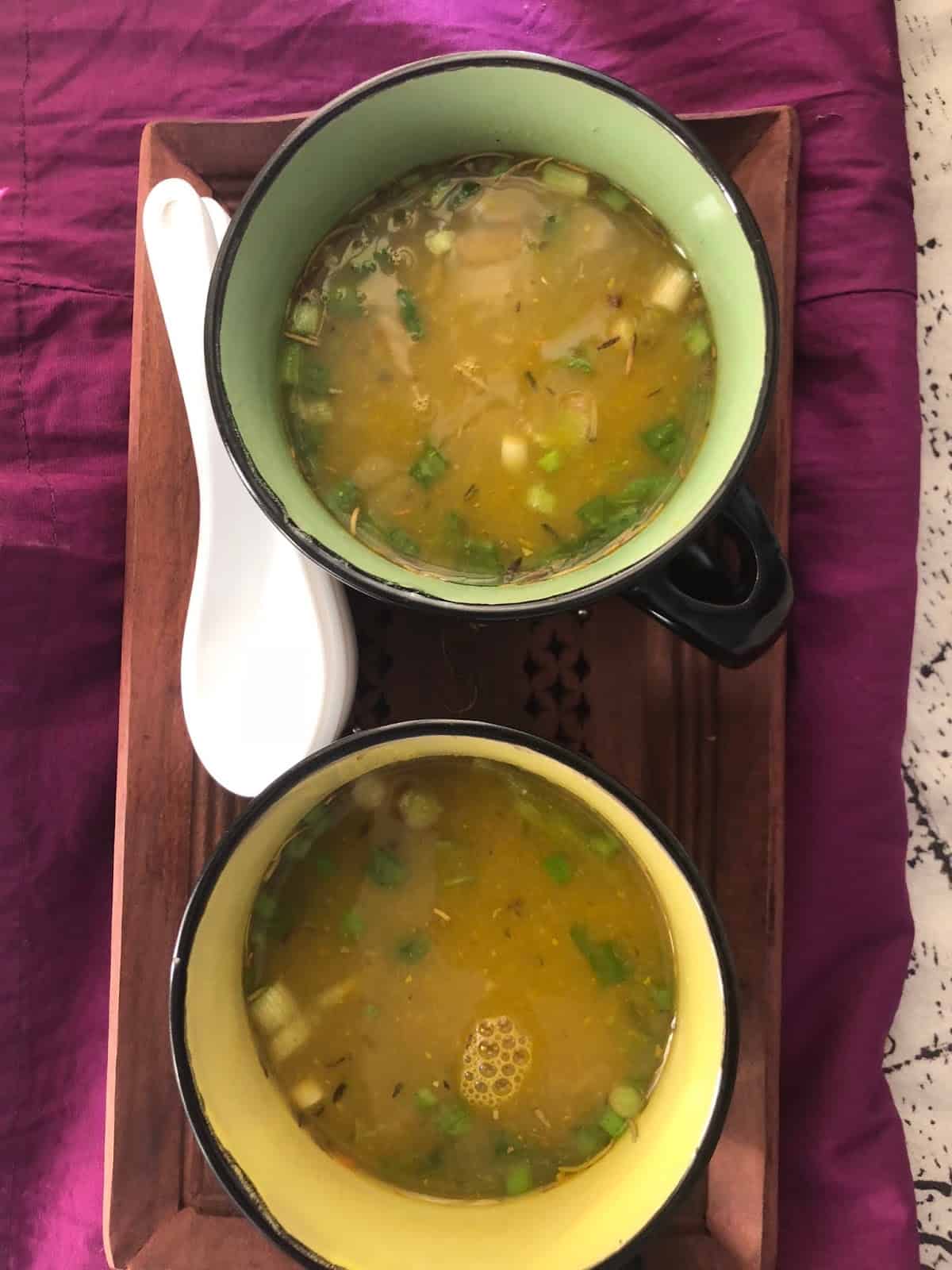 Pin

Today's soup came about as I was looking for Healthy Kid Friendly snacks for kids, as Narmadha suggested for this week's theme for FMBH. We always boil lentils (Pigeon pea (Toor dal) or Split green gram (moong dal)) for Rasam / Sambhar as part of everyday meals. I especially loved Narmadha's Hot and Sour Veg Soup.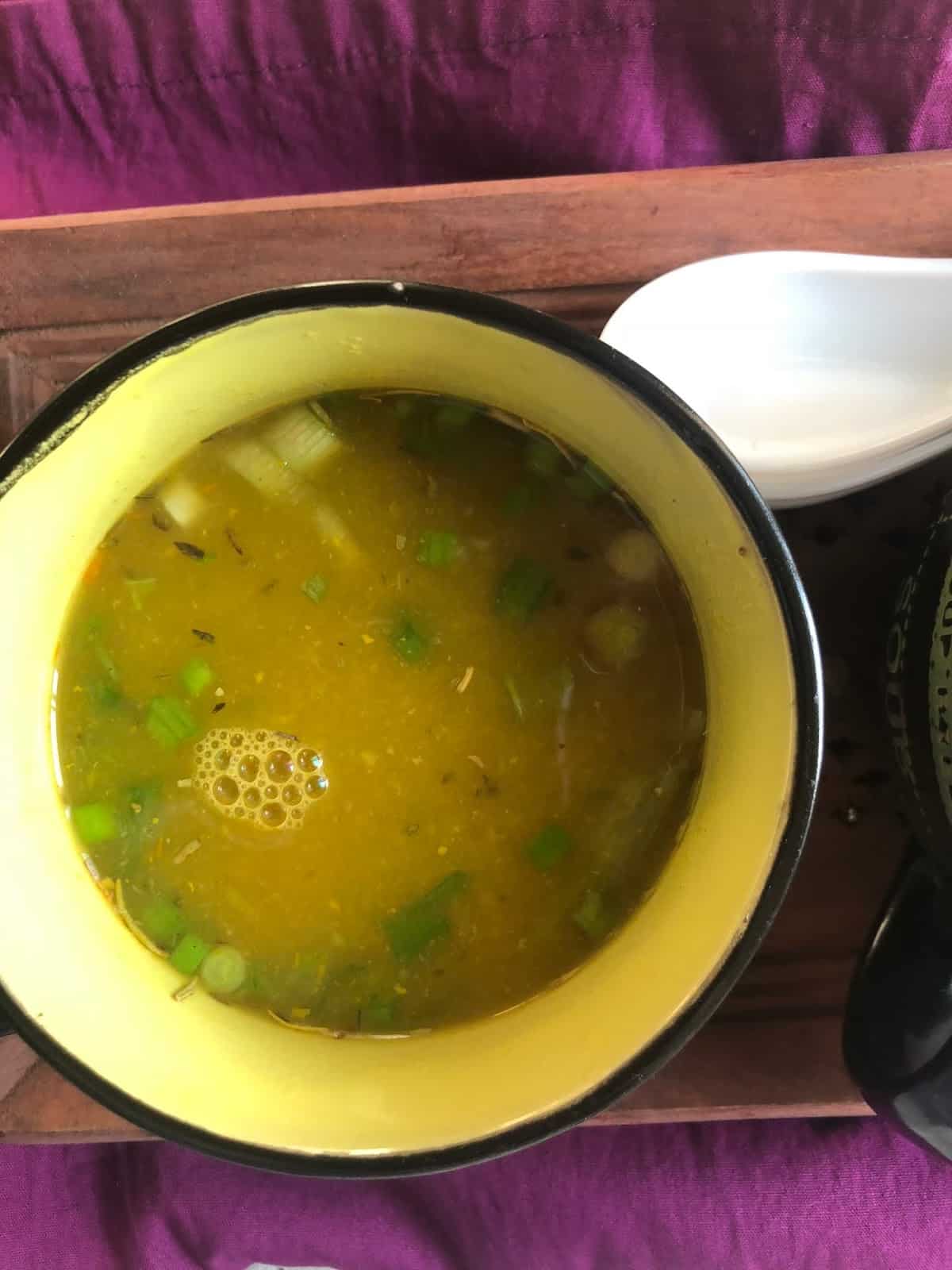 Pin
So, to make this, I cooked a little extra, and that adds a lot of flavour to this soup. I have added spring onion and a few more veggies. But you can always customise the veggies in a soup.
This is totally GF and vegan, but feel free to toss the veggies in a little butter / ghee if you prefer.
Prep time – 15 mins. Cook time – 10 mins Serves – 2~3 kids
What you need:
Homemade Vegetable Stock– 2 cups (1 cup = 240 ml)
Cooked lentils (I used Moong dal / split green gram) – 4 TBSP ( YOU MAY ALSO use raw lentils – soaked for 10 mins)
Water – 200 ml
Turmeric – 1/8 tsp
Salt – to taste (if your stock is salted, adjust accordingly)
Pepper – 1/2 tsp
Spring onions / Scallions (greens) – chopped – 4 tsp
Spring Onions (whites) – chopped – 2 TBSP
Garlic – 1/2 tsp (minced fine) – optional
Olive Oil – 1 tsp
Finely minced veggies – I used a mix of cabbage,beans,cauliflower – mixed – 3 TBSP
PIN FOR LATER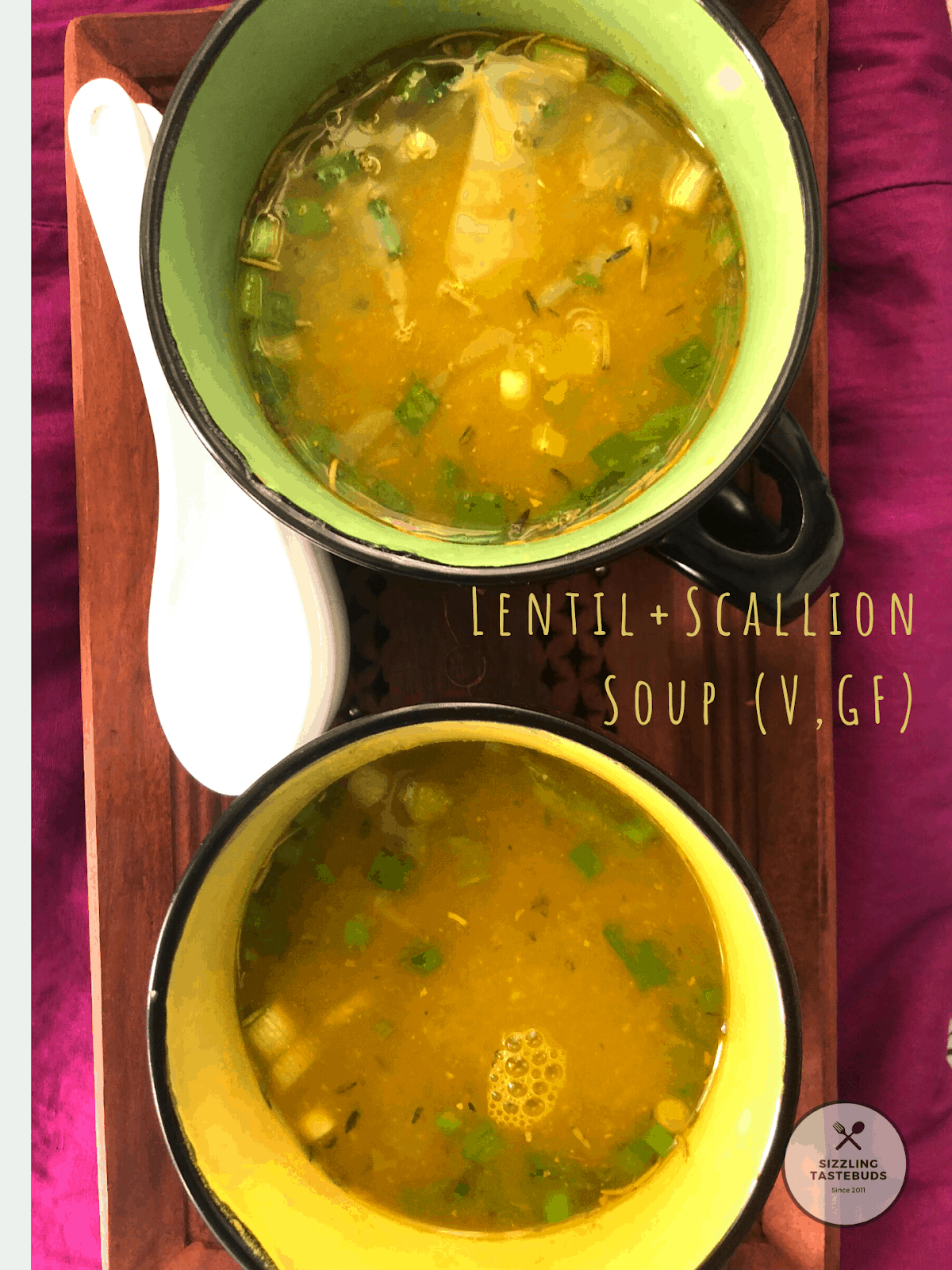 Pin
How to:
In a small pressure cooker / soup pot, add oil. Sautés the spring onion whites and garlic. Then add the turmeric, veggies and sauté them for further 2 mins. Now add the vegetable stock, water, salt and pepper. At this stage add the cooked lentils (mashed well) and half of the Spring Onions.
Pressure cook for 3-4 Whistles.

Once pressure is released, check for salt and spices and adjust accordingly. serve with a garnish of the rest of the spring onions and mix well.

Serve hot.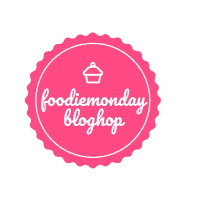 Pin