Kumbalakayi majjigehuli is ashgourd yoghurt curry made in Karnataka cuisine. Served with hot steamed rice and a dry saute on the side.
Morkozhambu or Majjigehuli is a South Indian kadhi (yoghurt based curry) made with different seasonal veggies or sometime even with dried condiments. It makes for the ideal summer side dish with some hot steamed rice / quinoa / millets and is soothing. Majjige = buttermilk , Huli = curry
Majjige huli is usually made with okra (like Preethi's delicious Bendekayi Majjigehuli), chayote squash (chow chow) ,raw banana, string beans, cucumber and ash gourd . We have the Iyengar-style Kalyana morkozhambu with ash gourd already on the blog. This is the Karnataka style of making this gravy, which is markedly different from the Tamilnadu Style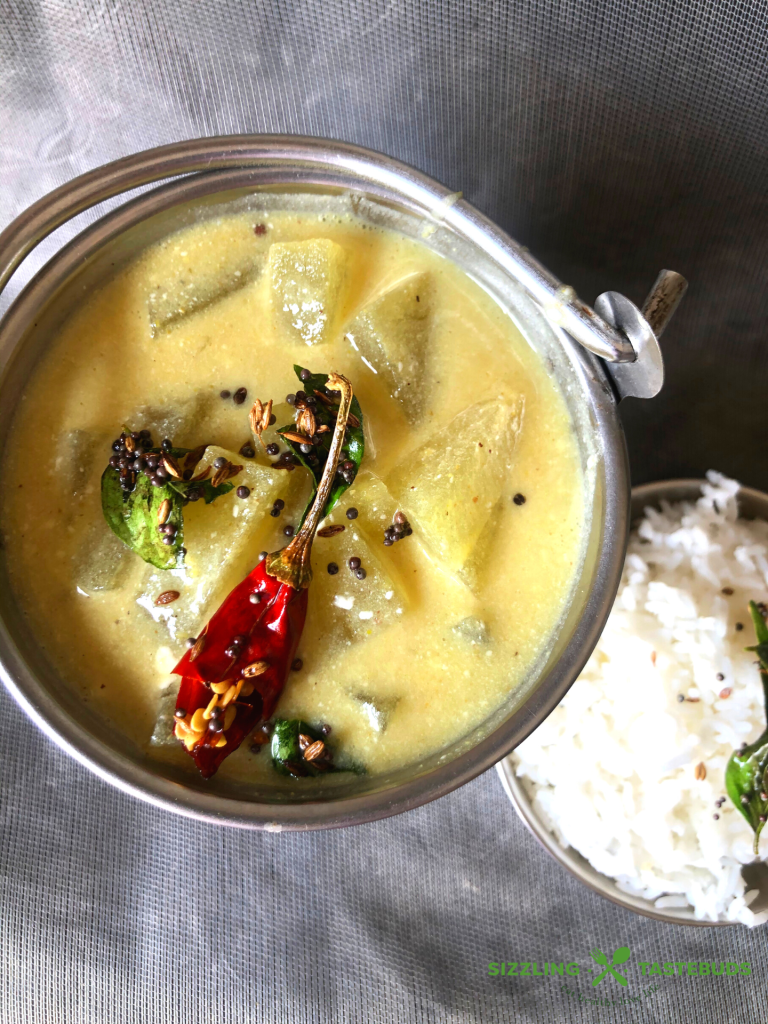 How to serve this Majjige huli?
In a traditional sit down meal in tamil / kannada brahmin homes, this is served with rice (Anna), ghee (thuppa) cooked toor dal (thovve). Majjigehuli is served as the first course of the South Indian meal and this is mixed well and the curry is savoured to line the stomach for the sambhar and rasam and papad that usually follow. So much ancient wisdom in the order of serving dishes in a particular order, isn't it ?
If you are making this Majjige huli as a stand alone dish, serve with rice / quinoa / millets with a light stir fry (called palya in Kannada) – choose from beans, cabbage , carrot etc for a soothing summer meal.
Traditionally in Kannada brahmin homes, Majjigehuli is a popular combo with Nuchinunde (steamed lentil dumplings) and is served as a delicacy as a snack or during special occasions.
History of Majjigehuli / Morkozhambu in South Indian Cooking
The history of majjige huli can be traced back to ancient times when yogurt and buttermilk were commonly used in Indian cooking. The dish is believed to have originated in the southern region of India, where it was a staple in traditional homes.
Over time, the recipe for majjige huli has evolved, with different regions and communities adding their own unique touches to the dish. For example, in some parts of Karnataka, coconut is added to the dish to give it a richer, creamier flavor. In other regions, toor dal and ginger are soaked with everyday spices like cumin to make the spice paste.
Today, majjige huli is a beloved dish in South Indian cuisine, and can be found on the menu at many restaurants and homes throughout the region. It is a versatile dish that can be adapted to suit a variety of tastes and preferences, making it a popular choice for a discerning foodie audience
Dahi / Curd / Yogurt in Indian Cooking
Dahi / Curd/ Yoghurt / Majjige / Mosaru / Perugu – whatever we call it is a soothing ingredient for any summer. Of course, rich in pre and probiotics, it also aids in digestion and helps build gut flora. From Raitas to Kadhi to Pachadi
Can I make this vegan ?
You can use any plant based curd, I haven't tried yet but rice yogurt / peanut yogurt might work. If you DO make this with vegan yoghurt, please leave a comment below and tag us on @instagram
Tips to make a tasty and yummy Majjige Huli / mor kozhambu
Use fresh curds (homemade/ store bought). If using store bought, use the unflavoured versions
Do not boil the gravy for more than 2 mins on low flame once the whisked yoghurt has been added
Cook the veggies only till 80% and then add the spice paste. If using Okra or string beans in place of Ash gourd, saute them till they are soft but not mushy.
To re-heat leftovers, bring to room temperature from the fridge and gently warm in the microwave in spurts of 30 secs. Warming them too much will split the yogurt.
If not using a microwave, heat this indirectly in a double boiler over a pan of boilign water till its warm and serve immediately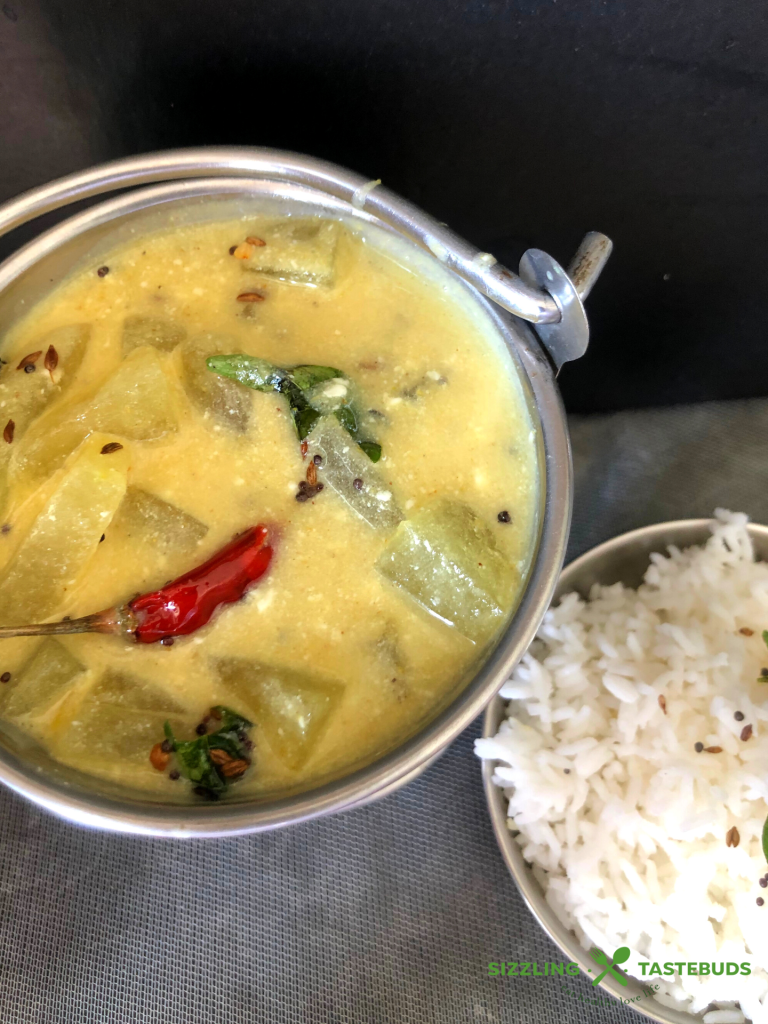 Similar quick side dishes made with yoghurt you could make this summer…
Apple Raita | Easy Raita recipes
Apple Raita is an easy Raita or side dish with Apples in a mildly spiced yogurt sauce. Makes for an excellent side for Pulav/Biryani or as a meal by itself.
Check out this recipe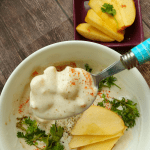 Malnad Style Menthe Thambli
Menthye Thambli is a quick and easy curry made with fenugreek seeds, yogurt and basic kitchen spices. it is a great digestive and perfect for the summer momths. SErved with hot rice, this is an excellent coolant too.
Check out this recipe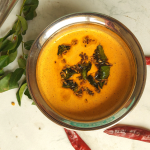 Adraki Rathaloo Raita
Adraki Rathaloo Raita refers to Sweet Potatoes stewed in a spiced ginger-yogurt sauce. Eaten as a meal by itself or served with Pulav or Biryani
Check out this recipe
Dhaba Style Dahiwali Hari Chutney
A delicious no-cook dip made with yogurt, mint and basic spices. Served with kebabs, tikkis, parathas and other snacks. 
Check out this recipe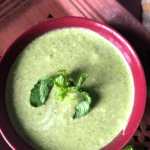 Let's get to the recipe
Ingredients needed to make kumbalakyai majjigehuli
Prep time – 10 mins, cook – 10 mins , serves – 3
100 grams ashgourd / winter melon / safed bhopla / boodu kumbalakaayi
1 tsp salt (or to taste)
1/2 tsp turmeric
250 ml homemade yoghurt (not sour)
Spice paste
1 Tbsp channa dal
1 tsp coriander seeds (some homes don't add this, but we like it)
1/4 cup coconut (fresh / frozen)
1/4 tsp Methi seeds (menthye)
2 red chillies (sub with green too)
1 tsp cumin seeds (jeerige)
Tempering:
1 tsp coconut oil (use any neutral oil If you don't use / like coconut oil)
1/4 tsp Asafoetida (hing, skip for gluten free)
1/2 tsp Mustard seeds
1/2 tsp cumin seeds
1 sprig curry leaves
PIN FOR LATER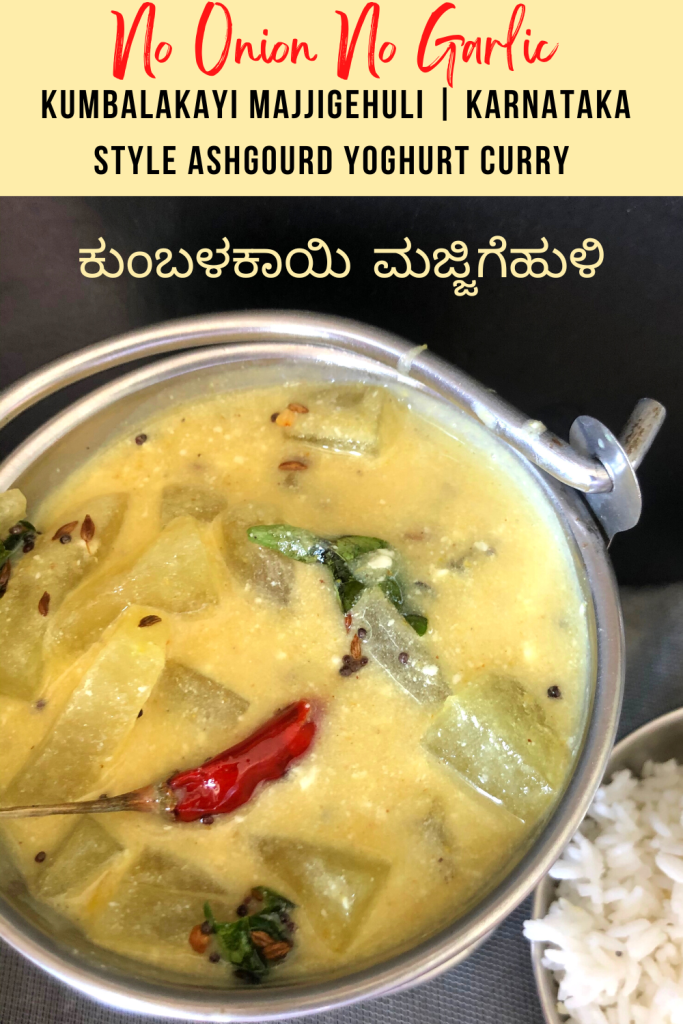 How to make Kumbalakayi Majjigehuli
Wash, peel the ashgourd. Slice into 1 inch long equal sized batons
Boil them in a pot of Watee (about 2 cups) with a pinch of salt and the turmeric till they are 80% done
Drain and reserve the water
In a pan, dry roast the ingredients for the spice paste except the coconut
Cool and grind with the coconut and salt to a smooth paste adding 2-3 tsp of the reserved water.
Add this to the cooked veggies and simmer over a low flame.
Whisk the yogurt with the remaining reserved water and adding more water to make a thickish buttermilk – about 2 cups approx (don't make it too runny)
Once the veggies are simmered with the masala paste, add the whisked buttermilk.
Simmer on low for 3-4 mins.
Turn off when you see a small bubble (else the buttermilk will split)
Prepare tadka / tempering with the oil , mustard , cumin seeds, Hing and add to the cooked curry
Serve immediately with steamed rice / lapsi/ cooked millet.
We love to eat the leftovers next day with some Arisi upma or upma kozhakattai( I make extra Majjige huli just for this)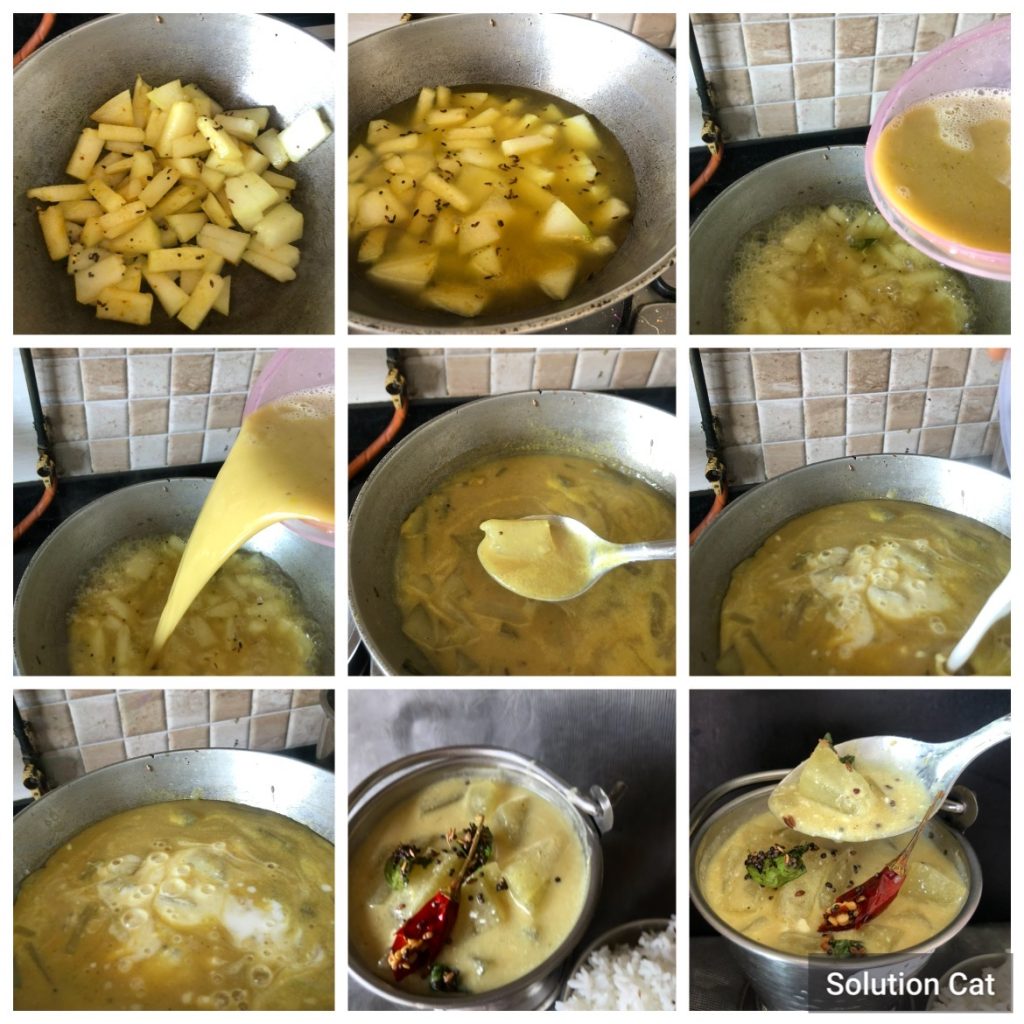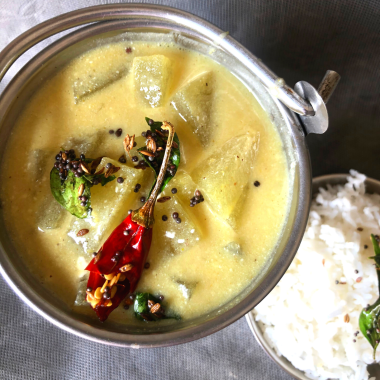 Kumbalakayi majjigehuli | Karnataka style ash gourd yoghurt curry
Kumbalakayi majjigehuli is ashgourd yoghurt curry made in Karnataka cuisine. Served with hot steamed rice and a dry saute on the side.
Equipment
Thick Bottomed Pan

Spice Blender
Ingredients
100

grams

ash gourd

(winter melon / safed bhopla / boodu kumbalakaayi

1

tsp

salt

or to taste

1/2

tsp

turmeric

250

ml

homemade yoghurt

not sour
Spice paste 
1

Tbsp

channa dal

1

tsp

coriander seeds

some homes don't add this, but we like it

1/4

cup

coconut

fresh / frozen

1/4

tsp

Methi seeds

menthye

2

red chillies

sub with green too

1

tsp

cumin seeds

jeerige
Tempering
1

tsp

coconut oil

use any neutral oil If you don't use / like coconut oil

1/4

tsp

Asafoetida

hing, skip for gluten free

1/2

tsp

Mustard seeds

1/2

tsp

cumin seeds

1

sprig curry leaves
Instructions
Wash, peel the ashgourd. Slice into 1 inch long equal sized batons

Boil them in a pot of Watee (about 2 cups) with a pinch of salt and the turmeric till they are 80% done

Drain and reserve the water

In a pan, dry roast the ingredients for the spice paste except the coconut

Cool and grind with the coconut and salt to a smooth paste adding 2-3 tsp of the reserved water.

Add this to the cooked veggies and simmer over a low flame.

Whisk the yogurt with the remaining reserved water and adding more water to make a thickish buttermilk – about 2 cups approx (don't make it too runny)

Once the veggies are simmered with the masala paste, add the whisked buttermilk.

Simmer on low for 3-4 mins.

Turn off when you see a small bubble (else the buttermilk will split)

Prepare tadka / tempering with the oil , mustard , cumin seeds, Hing and add to the cooked curry

Serve immediately with steamed rice / lapsi/ cooked millet.

We love to eat the leftovers next day with some Arisi upma or upma kozhakattai( I make extra Majjige huli just for this)
Notes
Tips to make a tasty and yummy morkozhambu
Use fresh curds (homemade/ store bought). If using store bought, use the unflavoured versions
Do not boil the gravy for more than 2 mins on low flame once the whisked yoghurt has been added
Cook the veggies only till 80% and then add the spice paste. If using Okra or string beans in place of Ash gourd, saute them till they are soft but not mushy.
To re-heat leftovers, bring to room temperature from the fridge and gently warm in the microwave in spurts of 30 secs. Warming them too much will split the yogurt. 
If not using a microwave, heat this indirectly in a double boiler over a pan of boilign water till its warm and serve immediately