Earlier in my post on my Ugadi
Pachadi, we saw in detail the relavance of the order of items served at a
South Indian Traditional Thali.Today we shall see one of the recipes –
Kalyana Mor Kozhambu (translated as Spiced yoghurt Curry served at weddings).
Now weddings have a special place in South India, and as with the rest of the
country, food plays an important role in ensuring the bridegroom family is well
fed – both in quality and quantity.
There are several ways to make MorKozhambu as seen here and here –
the Mysore Karnataka method and the quasi-Tamilnadu method. Today, this recipe
has the authentic Iyengar (Tamil Brahmin) method, and the
vegetables which are generally used are Ashgourd / Chayote Squash (Chow Chow),
or even Okra. Off to the recipe now, shall we. Sending this to BM # 30 Day 2
under "Cooking with Curds" theme.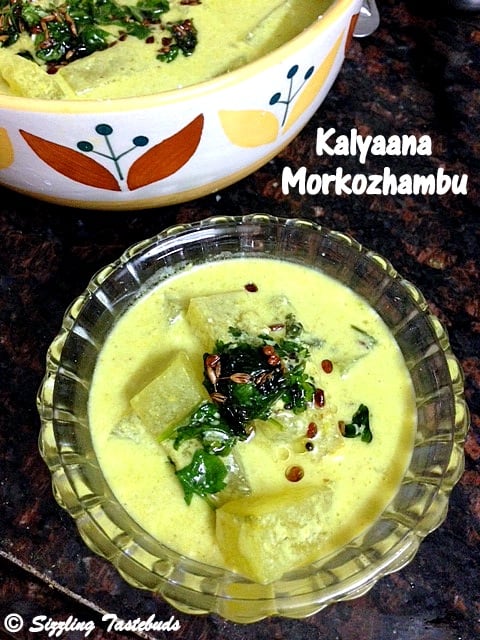 Pin
Prep time : 15 mins | Cook time : 15 mins | Serves : 4
Ash gourd in tempered Yoghurt Curry – served with Hot White Rice and Ghee
Ingredients:
White Pumpkin – peeled and cubed into 1 inch thick batons – 1 cup
Curds – 1 1/2 cup
Salt – to taste
Turmeric – 1/2 tsp
Hing / Asafoetida – a generous pinch
To grind:
Toor Dal – 1 TBSP
Ginger – grated – 1/2 tsp (optional)
Coriander seeds – 1.5 TBSP
Channa Dal / Split Bengal gram – 1 1/2 tsp
Red chilli – 2 nos (adjust spice)
Methi seeds (dry fenugreek) – 1/2 tsp
Grated coconut – 3 TBSP
Tempering : Oil (1 tsp), 1/2 tsp Mustard seeds and 1/2 tsp cumin
seeds, curry leaves (few)
Method:
Soak Toor dal for 10-15 mins. Fry the coriander seeds, channa dal,
red chilli and methi seeds in 1/2 tsp of oil till golden brown, keep aside.
Grind all ingredients under "to grind"
Boil the ashgourd in the 2 cups of slightly salted water and
a pinch of turmeric for 8-10 mins. drain.
Beat the curds, and mix the ground paste. Bring to a slight boil,
and add the ashgourd pieces. Add salt.
After a single low boil, switch off. Prepare tempering and pour
onto the gravy
Serve with hot rice and ghee.