Time-10 pm. DH : What shall we watch on TV? Me (absently while fiddling the Blackberry): Anything. DH: Anything isnt available. Me: How does it matter? You keep surfing channels, and we any way dont end up watching anything for more than 5 mins. DH (he is at his persistent best): Still, come on, tell me your preference. Me: Tamil movie or thriller. DH: I can't stand your Suhasini or Revathi type NGO movies, rest of the heroines/heroes you dont know anyways. Me:…Ummmm… (still fiddling the Blackberry), anything we can watch, even thrillers. Just as we pick out the latest DVD of "Criminal Minds" serial, we hear a shrill sound from the bedroom, and lo ! and behold, its my daughter who suddenly realises its Sunday night, and she still has 2 pages of hindi homework due for the next morning. Raat baaki, Kaam baaki, we thinketh as we pick up the books and aim to complete the homework over the next 30 mins. And then, my thoughts on what to make – including the lunch for us at home, and that brings me to this post- Morkozhambu or Majjigehuli. While daughter is asking me what 'maatraas' saheli needs to have, I am rummaging the fridge at 10:43pm and decide to make Vazhaikai Morkozhambu (Raw Banana in curd gravy) – Karnataka style for tomorrow's lunch.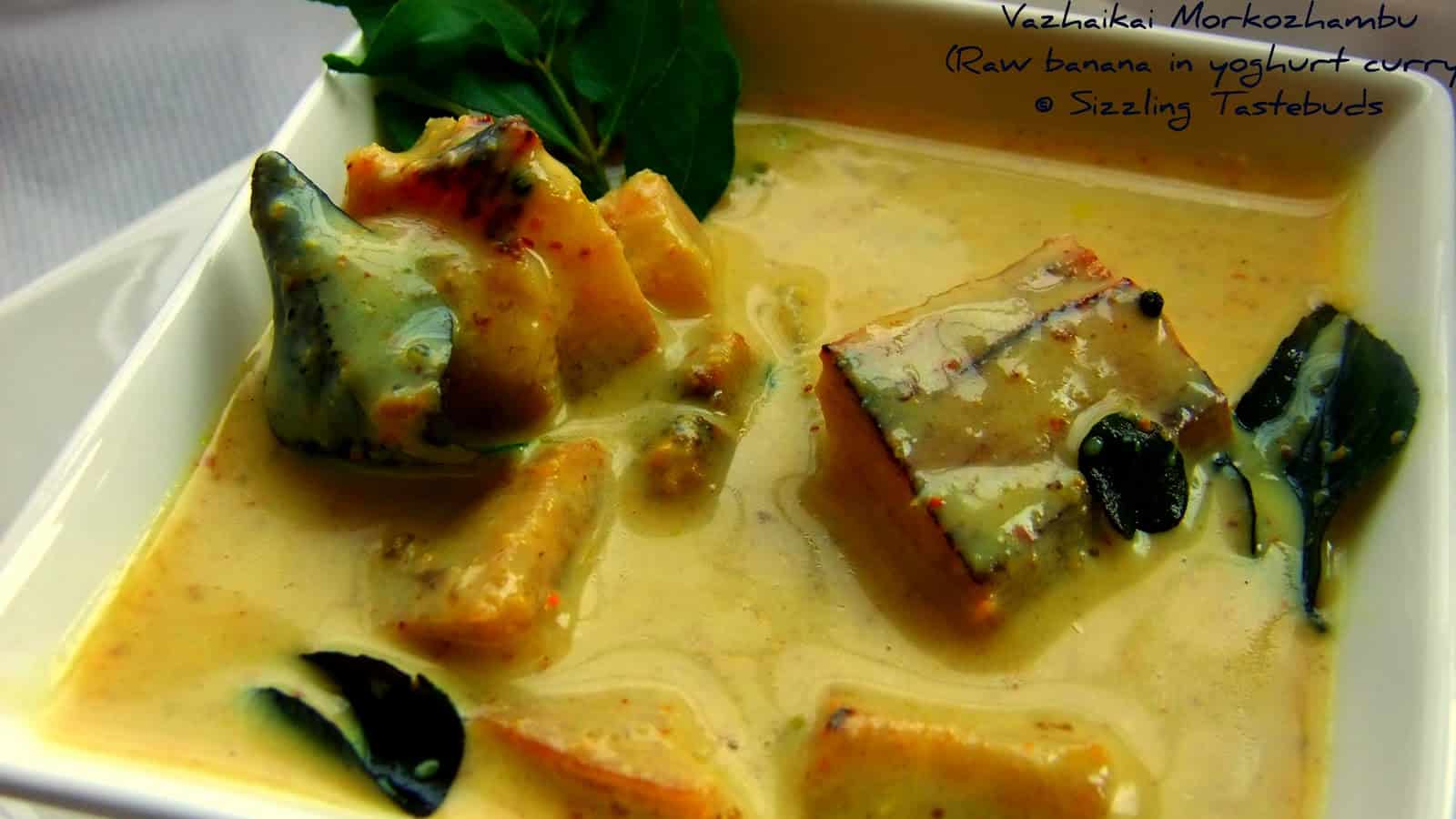 Pin
And here we are : At another week of BHW – Blog Hop Wednesdays. This week, I am paired with Sreevalli. She has an interesting collection of recipes, and the first thing to catch my eye was the Majjiga Pulusu (or MorKozhambu). The recipe was very similar to what we make (Karnataka style) at home, although I don't use ginger while making this. So, enough ranting, lets get to the recipe. This goes very well with rice and ghee along with a dollop of freshly steamed & tempered yellow dal. This is also part of the traditional sit-down meal in most Karnataka / Tamilnadu homes, and usually made as part of the festivals. This dish can be made with stir fried okra (bhindi) / cooked ash gourd / steamed snake gourd or even steamed raw papaya pieces or Chayote (Chow chow)
Source : Sreevalli'srecipe. Prep time : 15 mins. Cooking time : 10 mins. Serves : 4
Ingredients:
Raw Banana – 2 medium – peeled and cubed into 1 inch pieces
Salt – to taste
Oil – 1 TBSP
Curd / Yoghurt – 2 cups
To grind:
Channa Dal – 1 tsp
Coconut – 2 TBSP
Red chillies – 2 nos
Turmeric – a dash
Coriander leaves – few
Coriander seeds – 1 tsp
Cumin / Jeera – 1 tsp
Methi / fenugreek – 1/4 tsp
Tempering:
Oil – 1 tsp
Mustard seeds – tsp
Asafoetida – a generous pinch
Curry leaves – a sprig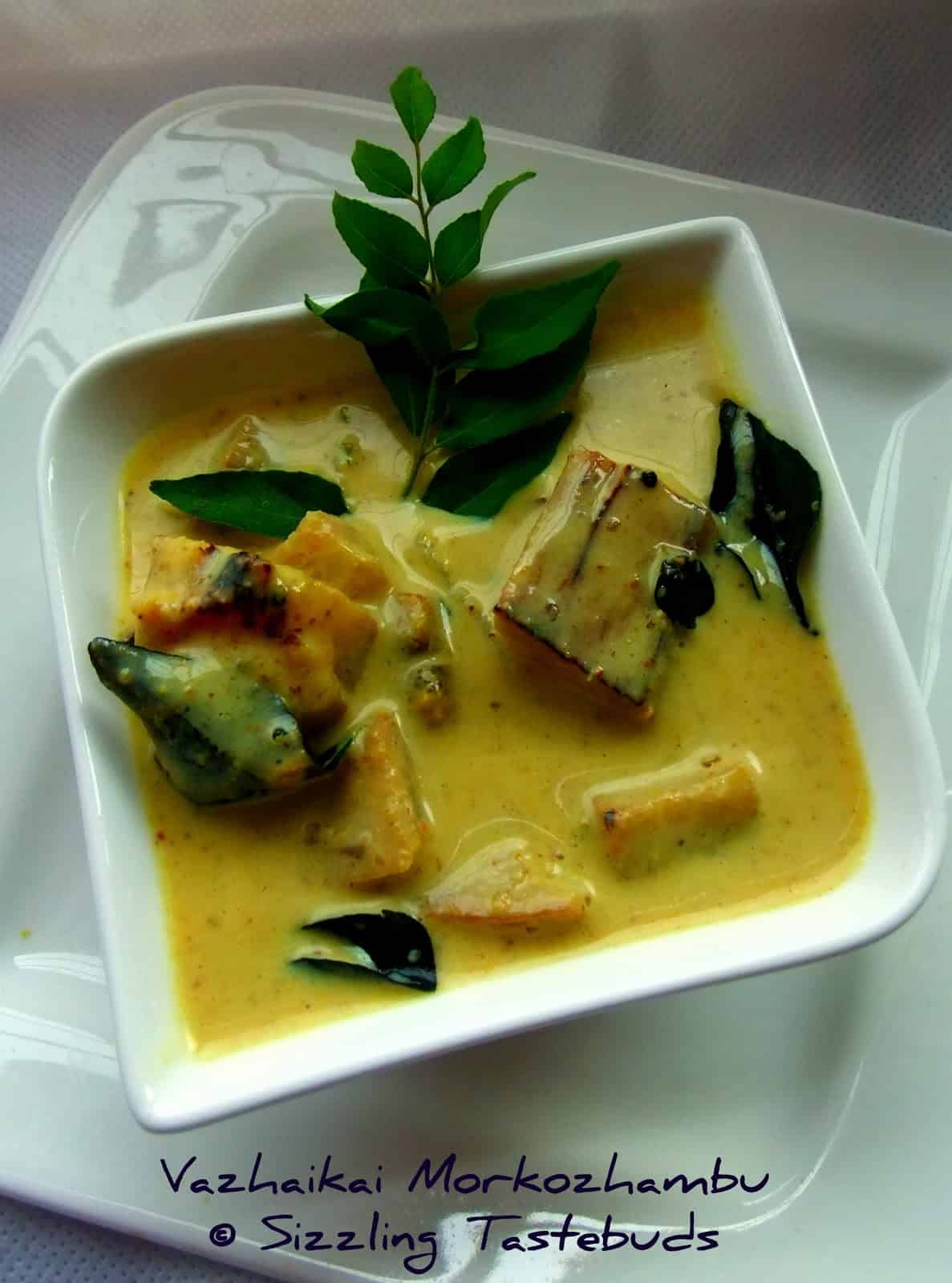 Pin
Method:
1) Heat a medium sized pan and add oil. Add the peeled and cubed banana veggies and saute for a min. Add half the salt you are using and 2 cups of water. Cook covered till 80% tender, about 6-8 mins. Drain and retain the water.
2) In another pan, add half the oil. Add methi, channa dal, jeera, coriander seeds, dry chillies one by one and fry till they turn slightly brown and leave a nice aroma. Switch off the flame and add the coriander leaves and coconut and saute once. Cool and grind to a smooth paste. Mix the paste in the beaten yoghurt well and keep aside
3) In a pan, make the tempering. Once the mustard stops spluttering, add the boiled veggies and the remaining salt. Saute well. Now lower the flame and add the yoghurt-masala and slightly simmer for 3 -4 mins on very low flame (else the curd will break). Unlike Kadhi or even a Tamilnadu based Morkozhambu, this style doesnt even need boiling / simmering.
4) Transfer to a serving bowl and serve hot with steamed rice and ghee and pappu (cooked and tempered Toor dal)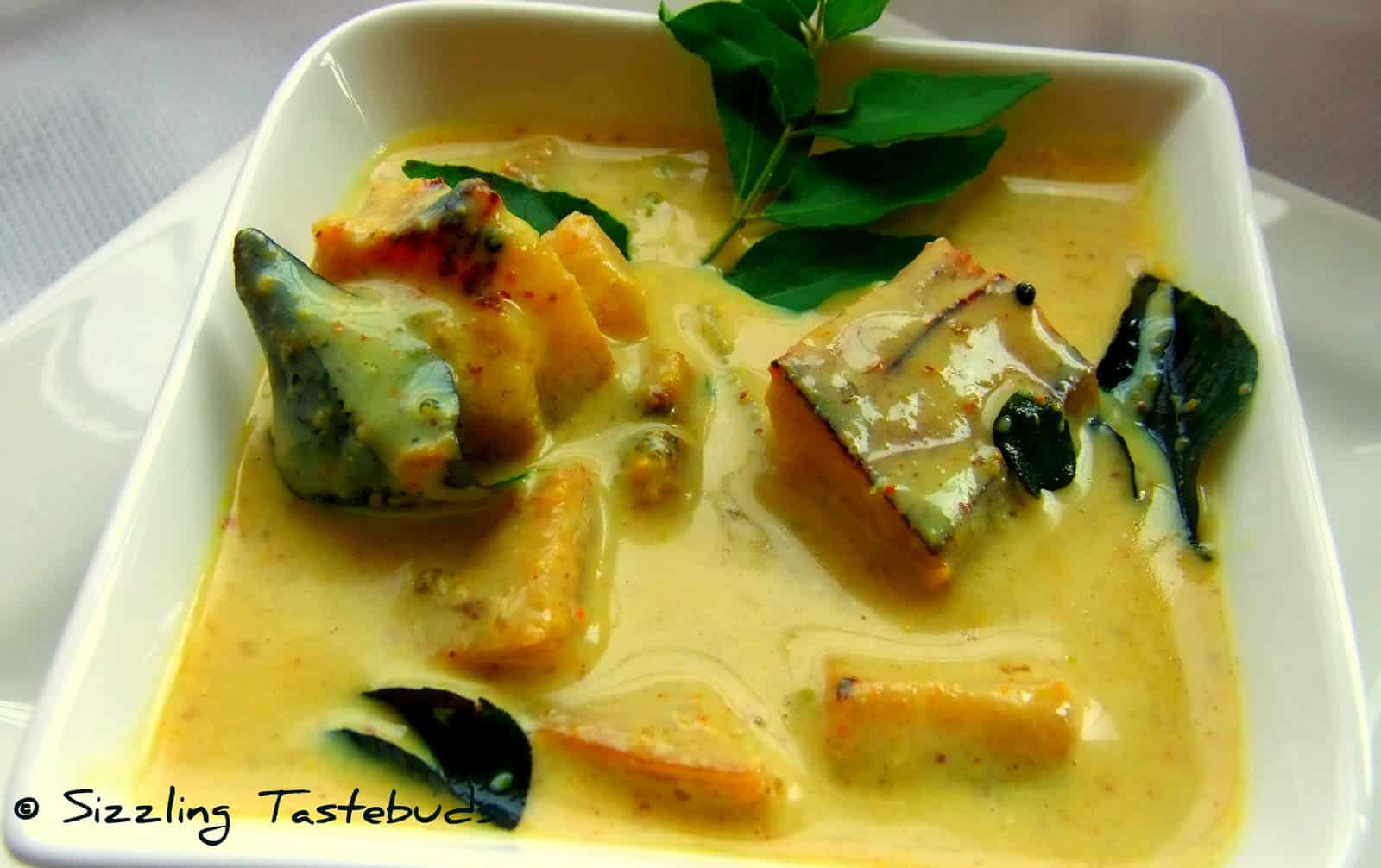 Pin