Herbed Bell Peppers, and how it all started at home
Bell Peppers a.k.a capsicum is a much loved veggie at home, esp for the little one and me. It wasn't that way a few years ago when the husband and the kids used to turn up their nose at the vegetable. But when we started making GF pasta twice a month for Sunday Brunch, these herbed bell peppers made their way to the dining table and are much relished.
Today's dish is a 5-min quick sautè that we love to have as a salad, a meal (with some protein like broccoli or chickpeas thrown in) or as a side with Pasta in Homemade Arrabiata sauce. Add some Broccoli, Feta to this and you would love this Broccoli-Bell Pepper Salad with Orange Vinaigerette. Another quick veggie based side you can make for pasta is this garlic and mint Airfryer Carrots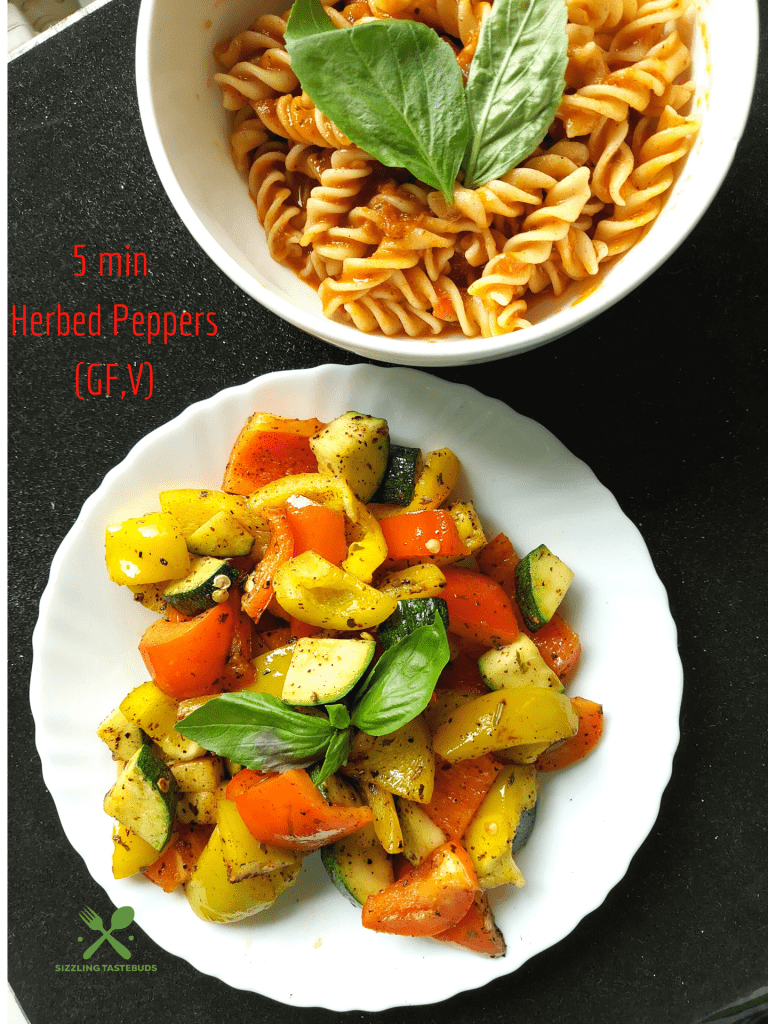 Did you know ? ????
Did you know that Bell Peppers are actually fruits,because they come from a flowering plant? However, most people think of them as vegetables. Bell Peppers contain the single amount of Vitamin C compared to any other veggie! 
Various recipes you can try with Bell Pepper
Bell Peppers are very delicate, and like mushrooms cook very quickly. The bestway to get maximum flavour out of them is to roast them or saute them lightly.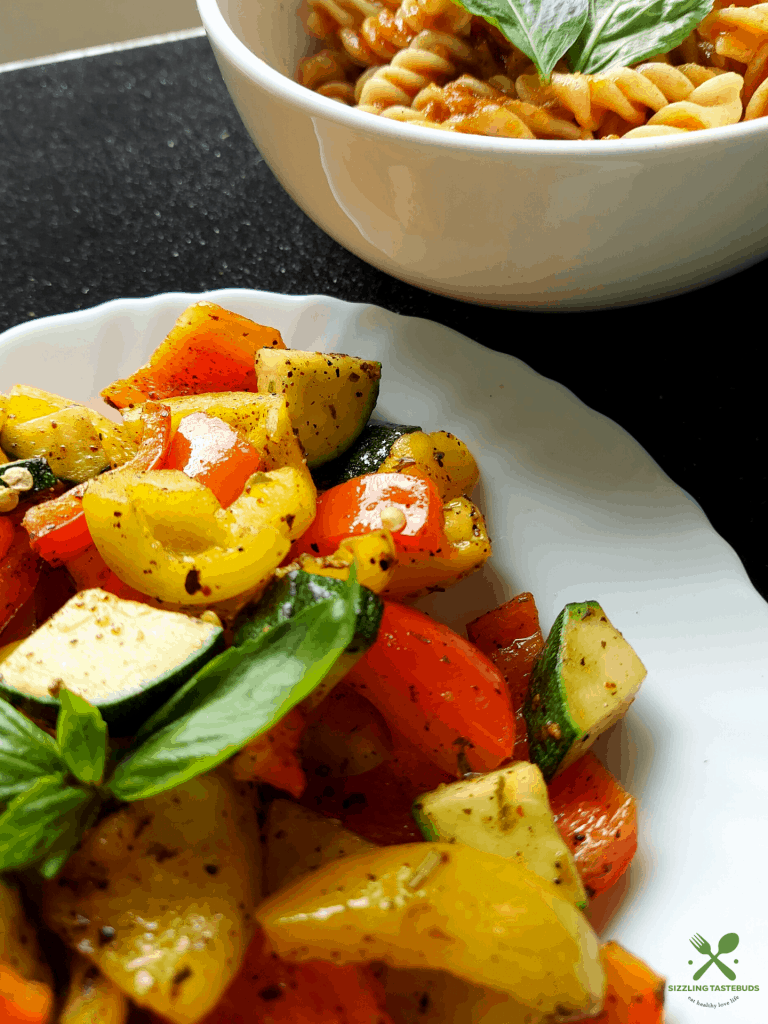 How to make 5 minute herbed Peppers?
Prep time – 2 mins, Cook time – 3 mins, Serves – 2 ; Cuisine : International, Course : Side Dish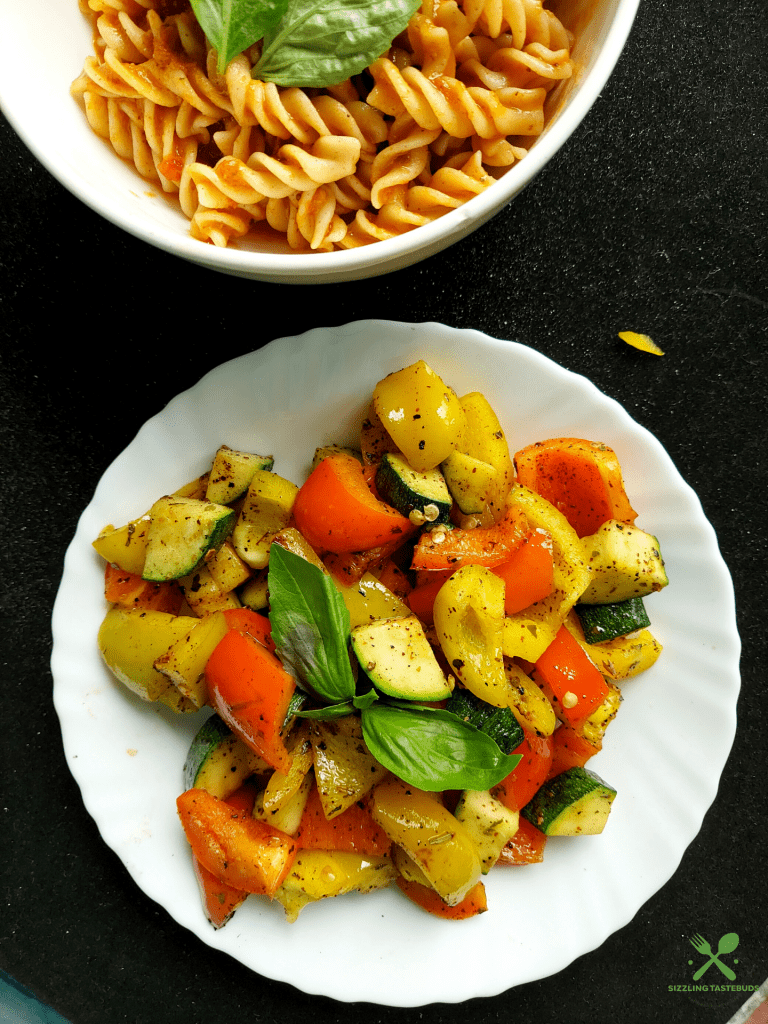 Gluten Free and Vegan Herbed Peppers
1 cup Bell Peppers (can use any variety / colour)
1/4 cup Zucchini
1 tsp olive oil
1/2 tsp Sumac
1/2 tsp Mixed Herbs
1/4 tsp Basil dried
1/4 tsp Chilli flakes
1/8 tsp Salt
PIN FOR LATER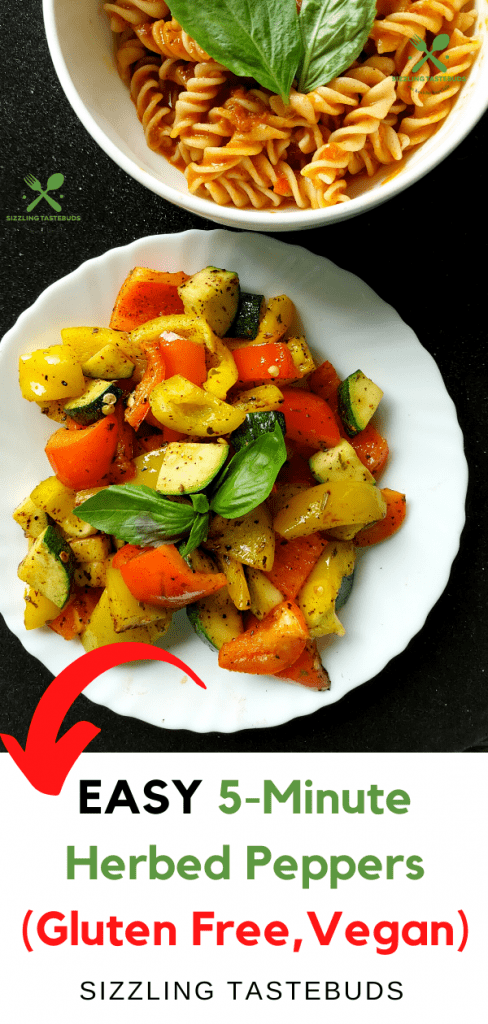 How to make Herbed Peppers
Heat a grill pan. Roughly chop peppers and zucchini.
If using Onions, cube them as well.
Lightly grease the pan with the oil.
Add the zucchini and toss for 1 min. Now add the salt, spices and chill flakes
Add the cubed Peppers. Finish with sumac .
Toss it further for 2 mins. Serve immediately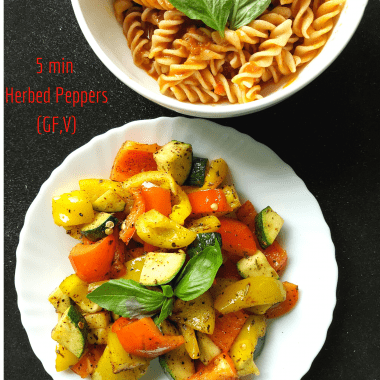 5 min Herbed Bell Peppers
A quick GF, Vegan Snack / Appetiser with Bell Peppers and herbs.
Ingredients
1

Cup

Bell Peppers

can use any variety / colour

1/4

cup

Zucchini

1

tsp

olive oil

1/2

tsp

Sumac

1/2

tsp

Mixed Herbs

1/4

tsp

Basil dried

1/4

tsp

Chilli flakes

1/8

tsp

Salt
Instructions
Heat a grill pan. Roughly chop peppers and zucchini.

If using Onions, cube them as well.

Lightly grease the pan with the oil.

Add the zucchini and toss for 1 min. Now add the salt, spices and chill flakes

Add the cubed Peppers. Finish with sumac .

Toss it further for 2 mins. Serve immediately