Hummus is a versatile gluten free and vegan condiment (primarily originated in the Mediterranean /or middle eastern Cuisine) thats served either as part of an appetiser in a Lebanese Platteror as a stand alone snack. Muhammara – another Middle Eastern dip is also as popular as hummus, as is baba ghanosh – most of these are served with Pita Bread and Baked Falafels
The variations of hummus is enormous – from the classic to peas to roasted beetroot to roasted carrot with Indian Spices . As I observed in the last two flavours, roasting the veggies adds oomph and flavour to the hummus.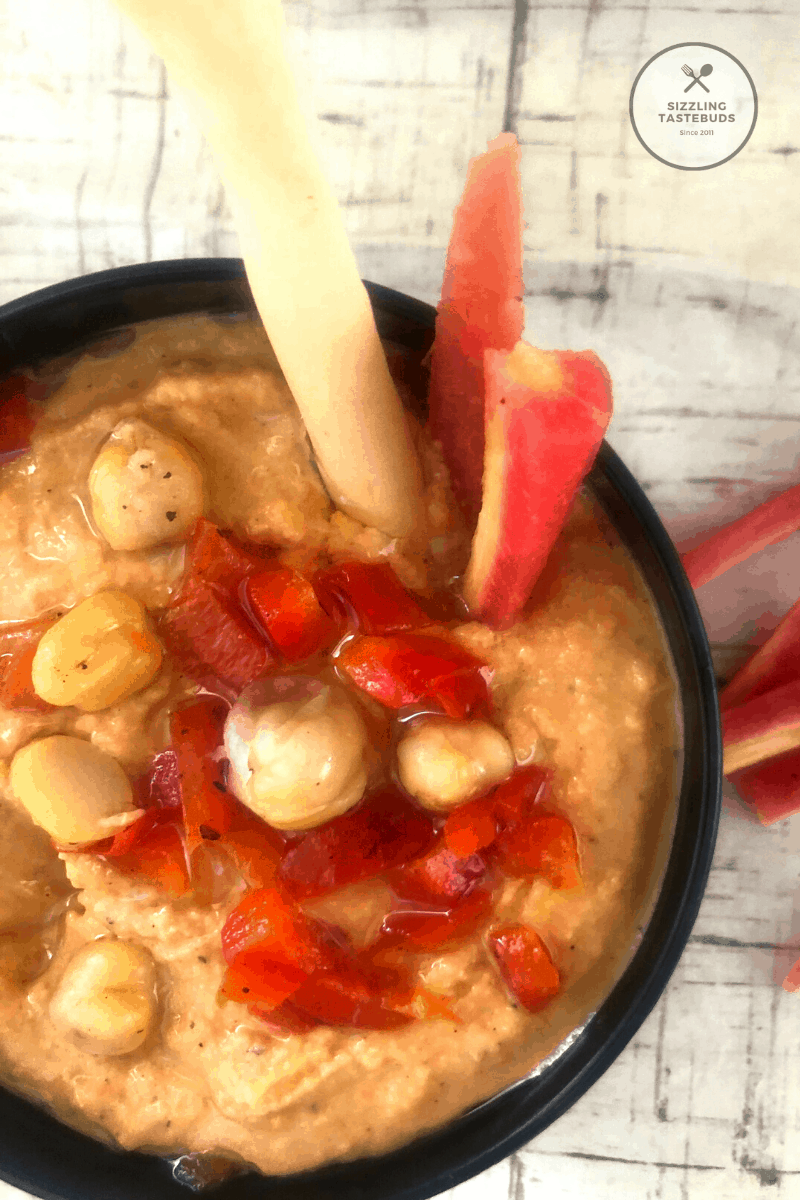 Pin
My original plan was to make green goddess hummus with peas , parsley and coriander. But I ran out of all of them (!) – does it ever happen to you that all major ingredients in a recipe run out of stock at the most critical juncture ?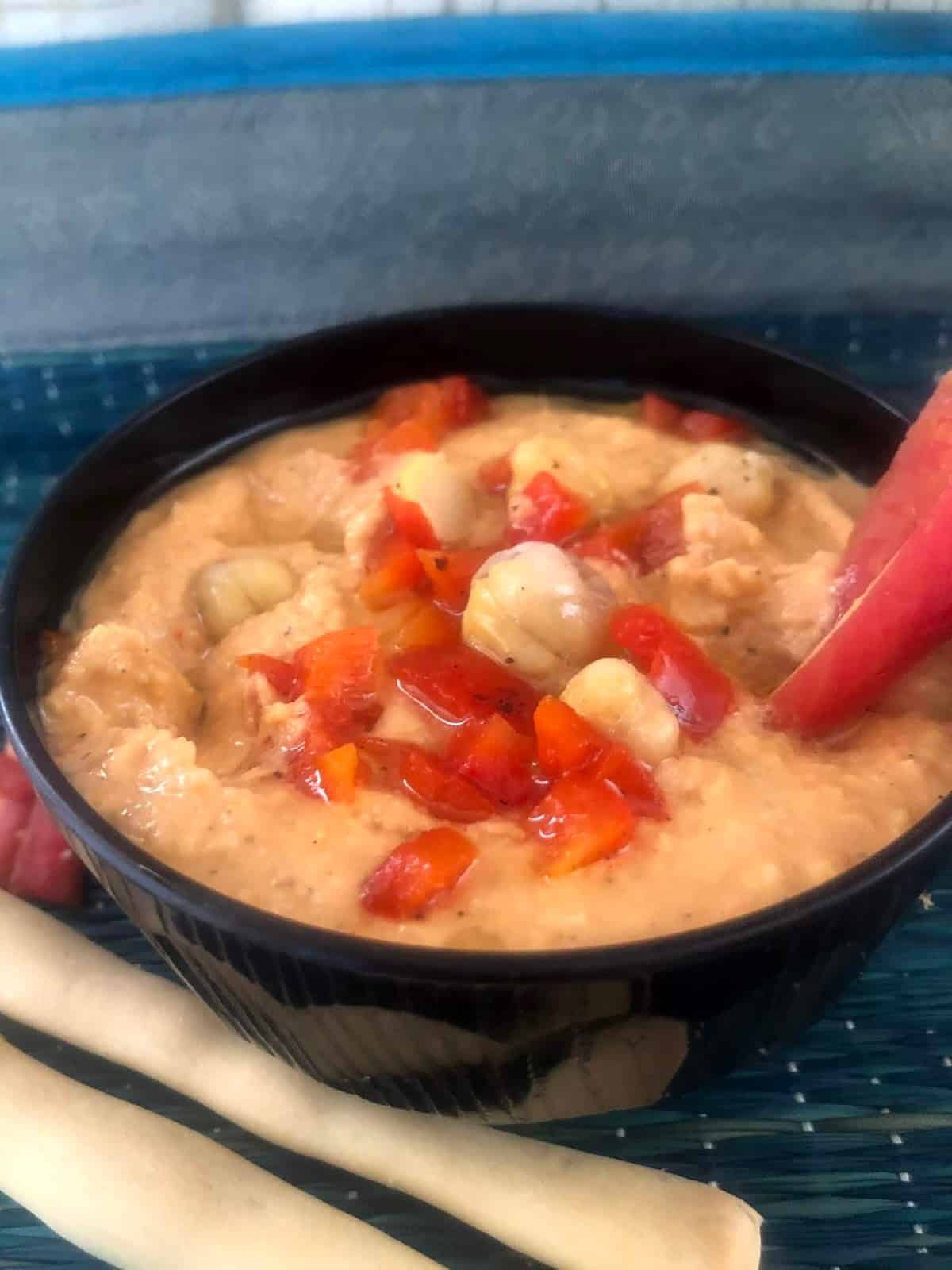 Pin
Well, we are huge fans of chickpeas and there's always a stock of cooked frozen chickpeas In the freezer. So out came the chickpeas and teamed with this roasted bell pepper (see pics below for details), this was the quickest dip I made before rushing off to the dreaded dentist appointment!!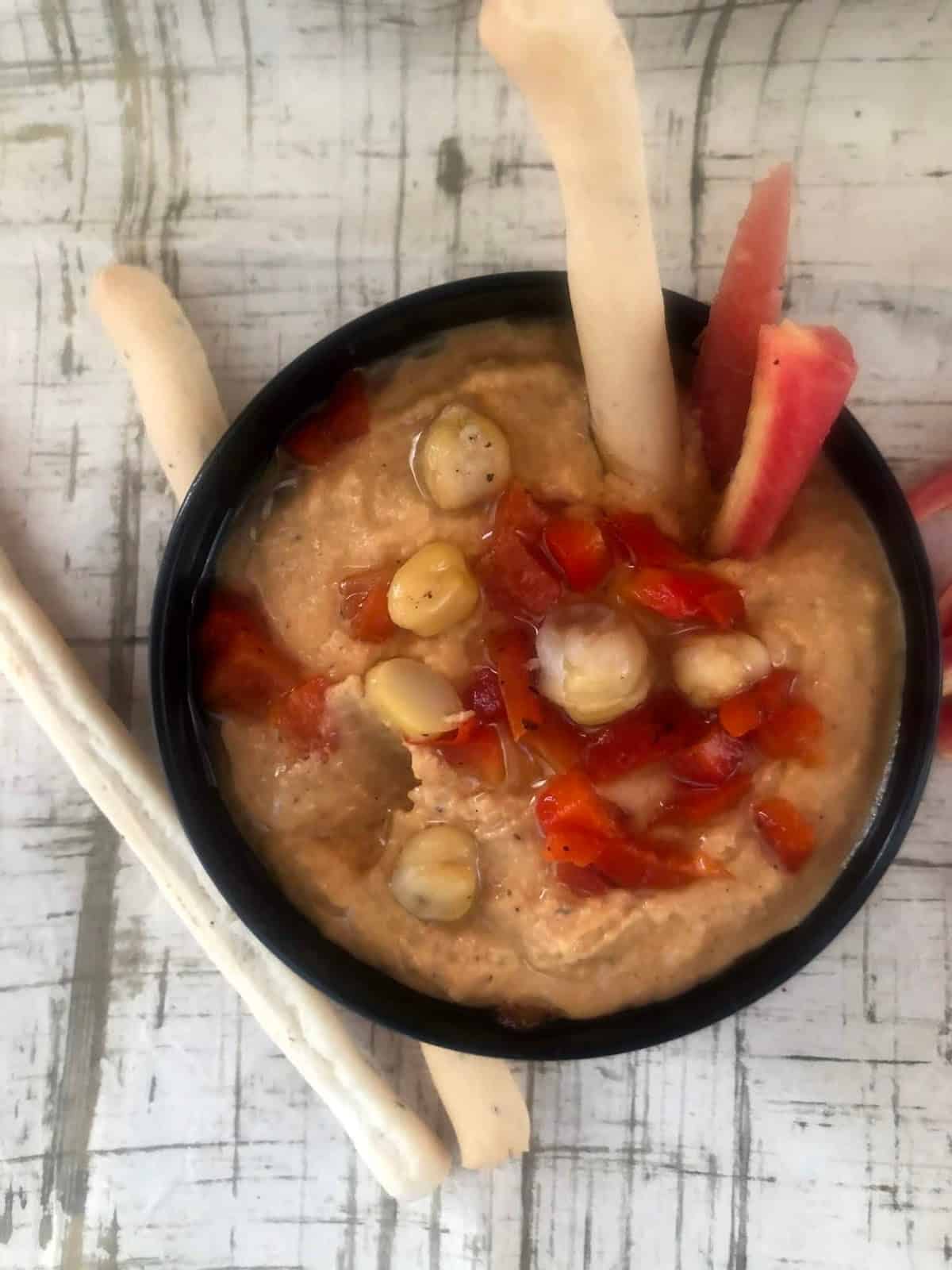 Pin
My elder one who's not a huge fan of hummus (!?) licked the spoon clean and asked for more. I personally don't like olives so haven't topped them with that, but I think a few slices of black olives would team very well with these.
ALebanese Meal platterfeatured earlier on this blog: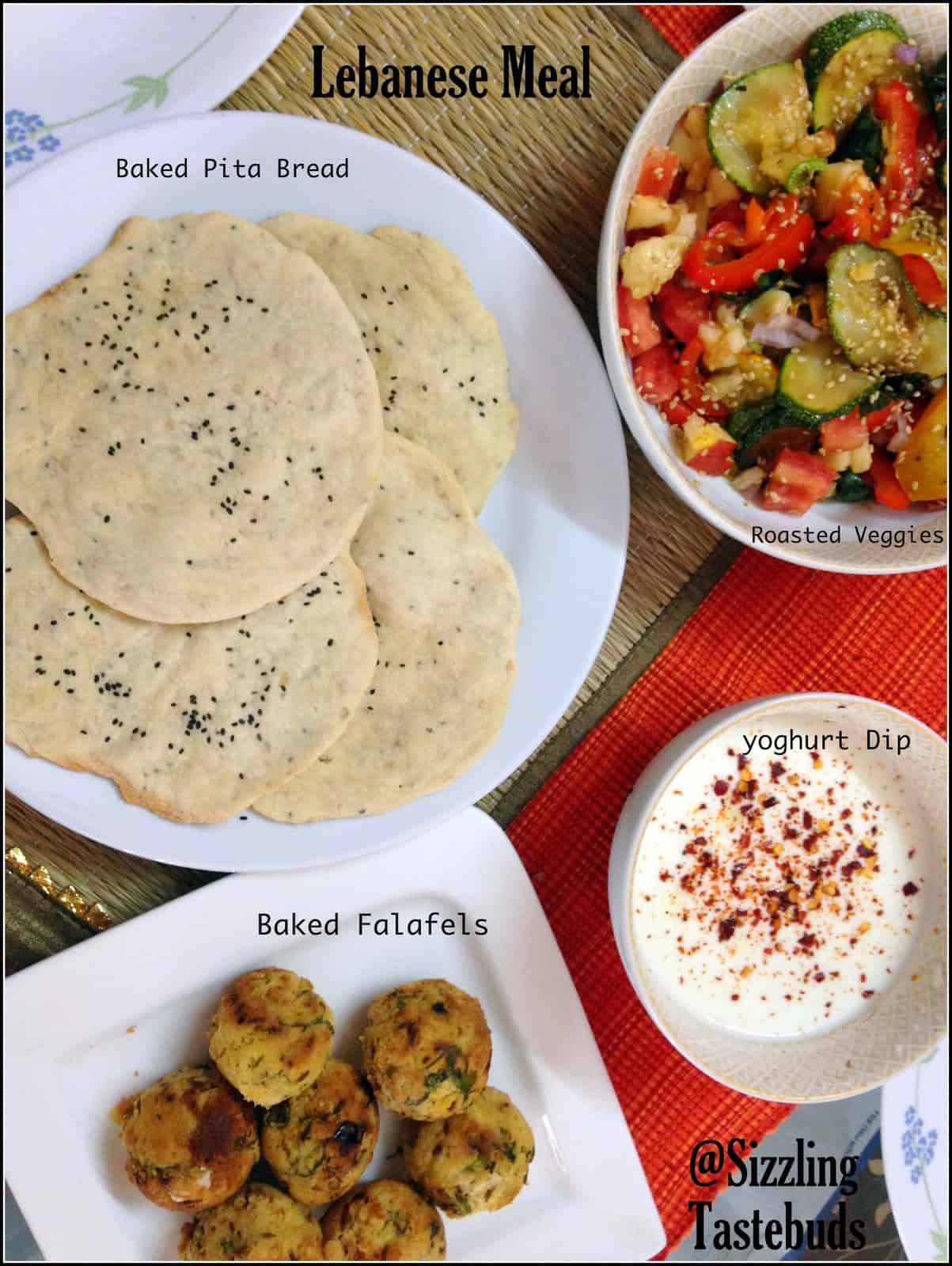 Pin
So, tell me what's your favourite hummus flavour ? I have loads of bookmarked recipes including Mir's spinach harissa hummus. With the summer scorching Already here, we are sure to be making many more hummus varieties here . Stay tuned and till then enjoy this roasted red bell pepper hummus that goes to #236 Hummus Time with my friends at @FoodieMondayBloghop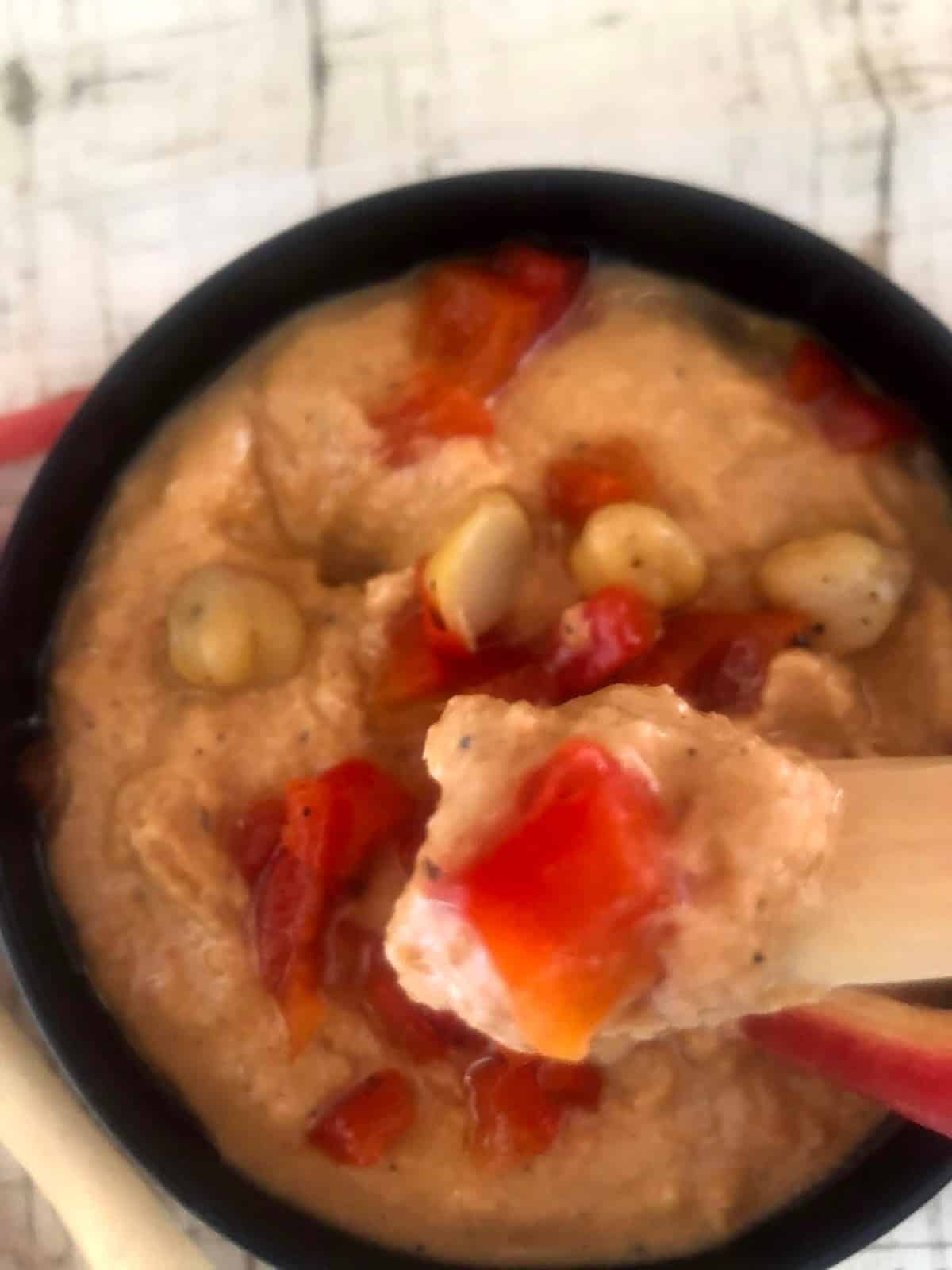 Pin
Prep time (if chickpeas are ready) – 5 Mins , cook time – Nil
PIN FOR LATER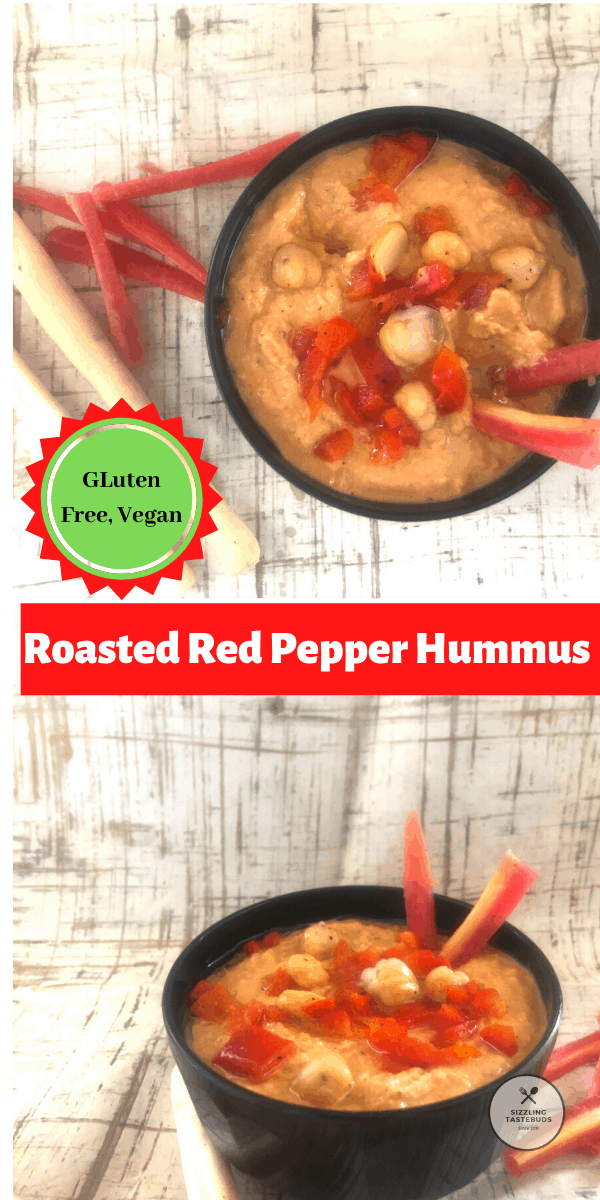 Pin
What you need:
Booked chickpea (some people like to use only soaked chickpeas, but I like to
Make hummus with boiled and drain chickpea) – 1 cup
1 medium sized bell pepper
Salt to taste
Tahini – 2 tsp (I simply used 2 tsp of roasted sesame seeds with great results)
Cumin powder -1/2 tsp
Sumac-1/3 tsp (sub with lemon juice)
Garlic cloves – 3 large
Olive oil – 3 tsp + 2 tsp for topping
Water- 2 tsp or use accordingly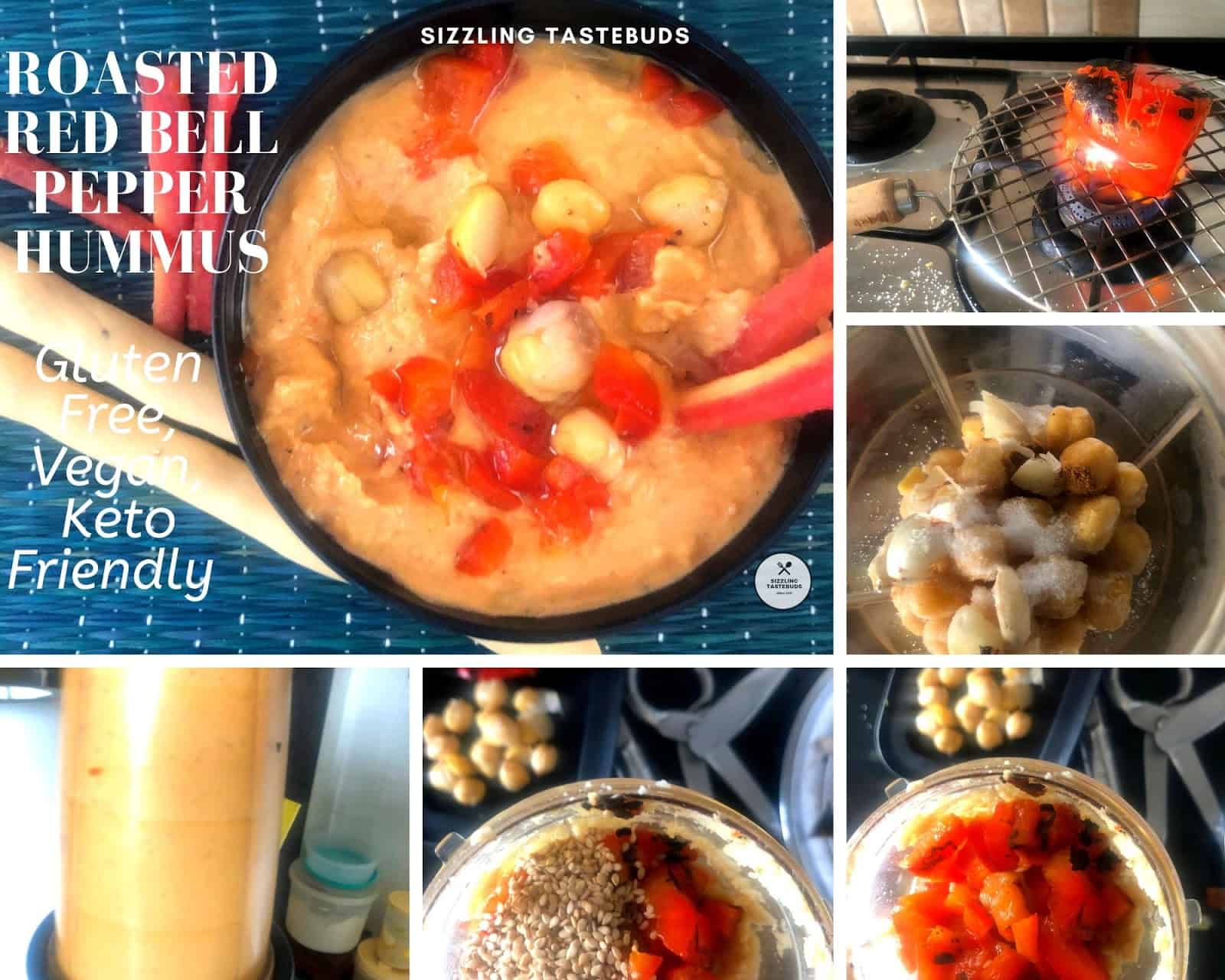 Pin
How to:
Grill or roast the bell pepper. Cool for 5 mins and peel off the charred skin lightly. Cut into cubes (reserve some for topping).
In a food processor / blender , add the chickpeas, salt, sumac, spices , garlic and pulse till the chickpeas are soft and mushy .
now add the rest of the ingredients and pulse till you get a creamy consistency of the hummus.
Top with chopped bell pepper , some more olive oil and serve with crudités. My kids loved it with some Cumin Grissini and veg crudités.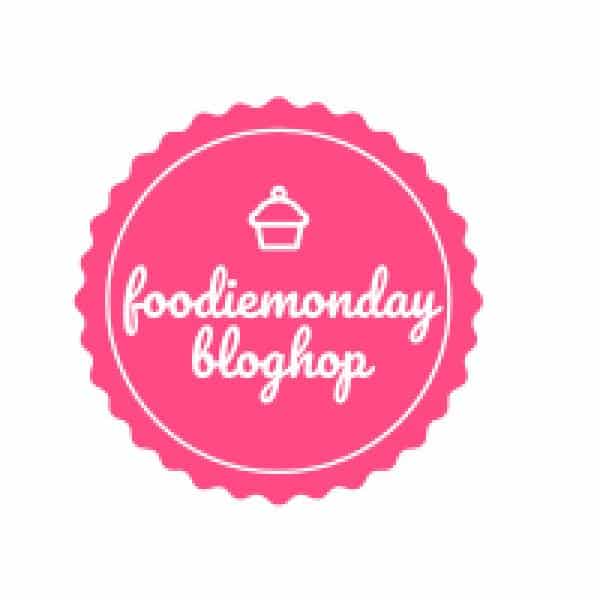 Pin