One of the serious after effects of
being married to a foodie husband is the leeway to experiment with different
kinds of food as long as they are less fatty and healthy. Of course, there are
indulgences like today's post –Nawabi Kebab– which is otherwise deep fried that found its healthy avatar at home. I replaced most of the fat with something
that was not only filling but completely oil free.Everyone loved it at home and
the foodie kept guessing the main ingredient too.
With my current state of convalescence, mom has packed away the
OTG (oven), so I experimented with pan roasting it on a slow flame on a
non-stick pan and found the result very satisfying. Thanks to Blogging
Marathon # 23, I found a new way to rustle up anew dish today with Nawabi Kabab
after Zero Oil Palak Paneer & Steamed Ragi Dosa. Check out my fellow
marathoners here.
Prep time : 30 mins | Cook time :
20mins | Makes : 10 Kebabs
Serving Suggestions : Green Chutney or
Tomato Ketchup
Difficulty Level : Easy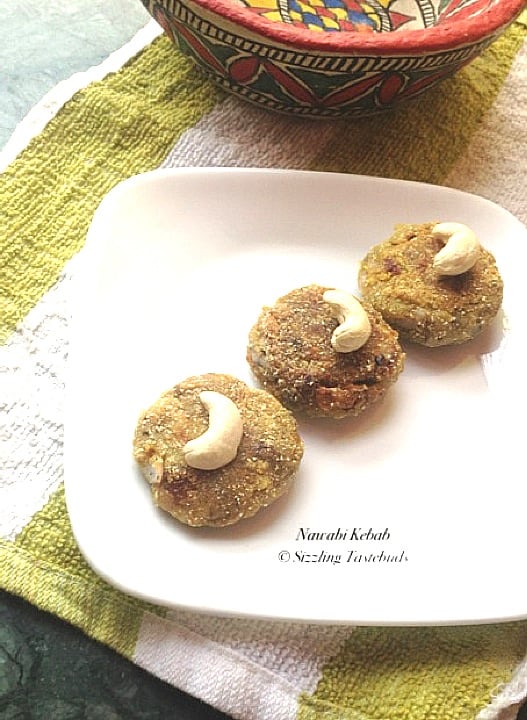 Pin
Click for Printable Recipe here
Ingredients:
Poha / flattened rice / Aval –
1 1/2 cups

Potato
– 2 medium – boiled and peeled
Onion
– 1 medium – minced fine
Dry
fruits – 1/4 cup (chopped fine) – I used a mixture of Cashews, Almonds and
Pistachio
Salt
– to taste
Dry
Masala powders (to taste) : Turmeric powder, Red Chilli Powder, Amchur, Garam
Masala Powder, Kitchen king Masala
Green
chillies – finely minced – 2 nos
Grated
ginger – 1/2 tsp
Yellow
Cornmeal – to roll the kebabs in
Method:
In a sieve / colander wash the poha well under
running water. The thick variety of Poha works well here. Drain till the poha
becomes almost semi dry
In a large bowl, add the poha, chopped onions, dry
masala powders and salt and mix well. Leave for 10 mins till the onions and the
salt make it a little soggy.
Now add the boiled and mashed potato,dry fruit
mixture and the rest of the ingredients (except corn meal).
It should resemble a solid semi-dry dough. If the
mixture is still soggy (which didnt happen to me), try adding a tsp of cornflour.
Make equal portions of this mixture and keep
covered for further 2 -3 mins (this is to prevent them from being too dry)
Flatten out the kebabs into thick discs. Roll in
cornmeal on all sides till covered.
Bake in a pre-heated oven @ 160 deg C in a lined
tray for 10 – 12 mins till done
Alternatively, pan roast on a non stick pan on slow
flame till done.
Serve hot with Chutney or Ketchup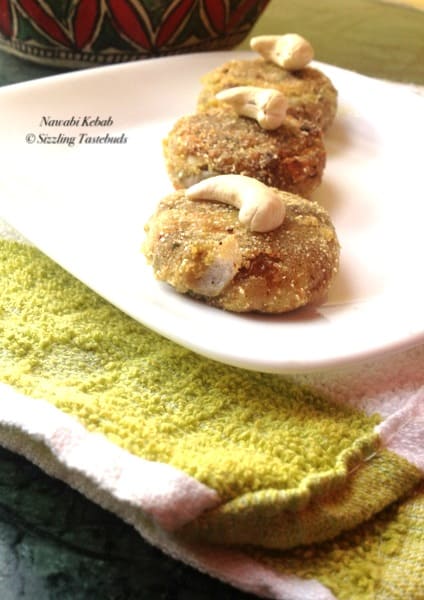 Pin