What is Aloo Shimla Zunka?
Zunka is a maharashtrian side dish made with gramflour and onions, as a quick side dish to Rotis / Chapatis / Bhakri. Aloo Shimla Zunka is a simple GF, Vegan and low Stir fry of Bell Peppers + potato with Gramflour. Served with flatbreads or rice. Today, we see a quick take on Zunka with Potatoes (Aloo) & Bell Peppers (Shimla Mirch aka called Shimla in local language).
5 reasons to make this Aloo Shimla Zunka again
Gluten Free
Vegan
Satvik (No onion no garlic)
Quick (takes under 15 minutes)
Delicious to put together
Ler's see how to make this dish. It can be served with Rotis / Chapatis and also goes well with Varan Bhaath (Dal-Rice). My household help taught. me how to make this quick dish, and during the lockdown, we made this many times and this is now a family favourite. She also taught me how to make this Aloo Gobhi Sukha Bhaji (potato Cauliflower stir fry) that gets made in 10 mins with basic kitchen spices.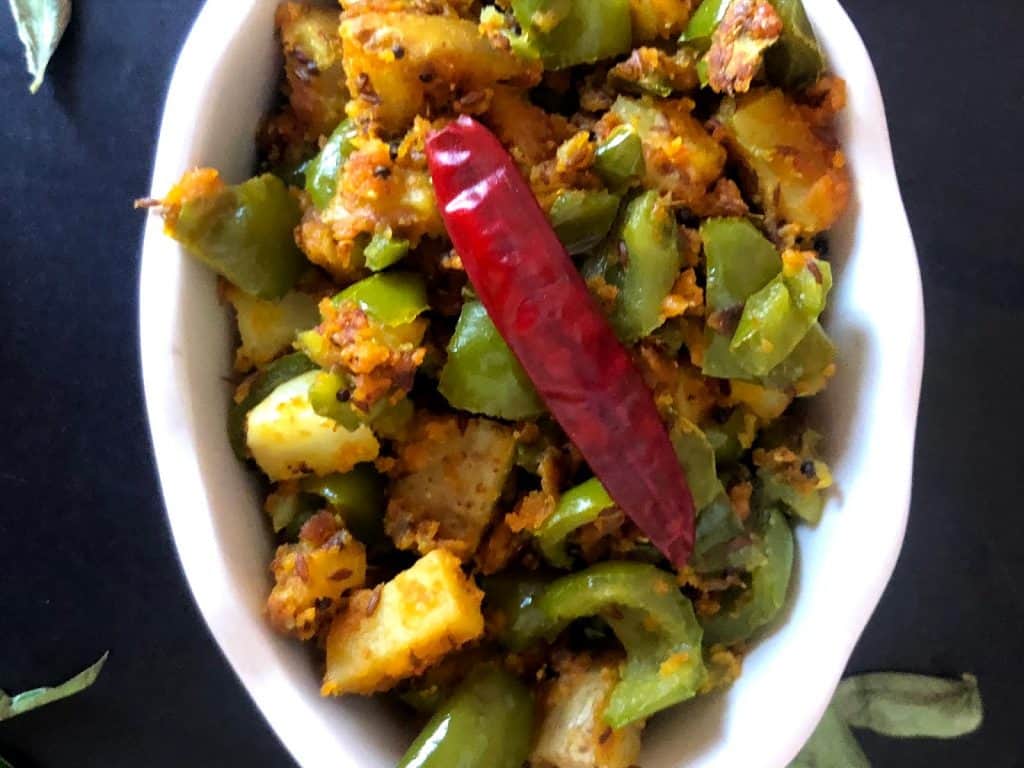 The detailed method is as shown in the youtube video embedded below. Hope you would view the video and leave your valuable comments there too.
PIN FOR LATER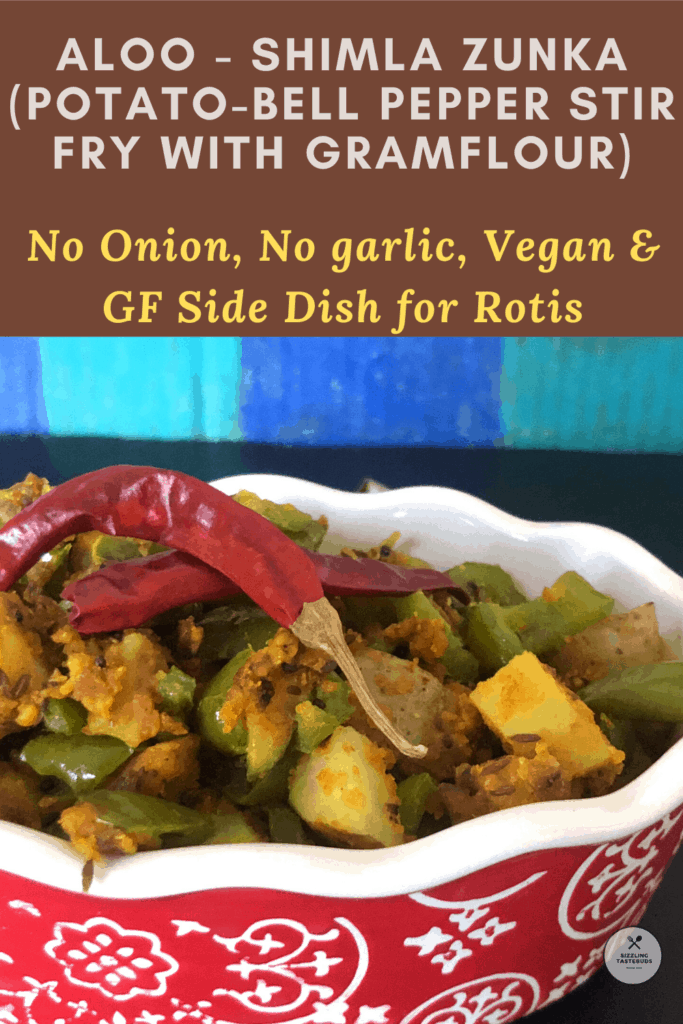 Prep time – 10 mins, Cook time – 15 mins. Serves 3
Cuisine : Indian, Course: Side Dish
What you need to make Aloo Shimla Zunka
100 grams Potato
200 grams Bell Peppers
3 TBSP Gramflour (Besan)
2.5 tsp Oil
1 tsp Salt
1/2 tsp Turmeric
1/2 tsp Mustard seeds
1/4 tsp fenugreek seeds (Methi dana)
1/4 tsp Cumin seeds (Jeera)
Spice / Masala powders (adjust to taste):
1/2 tsp Dry mango powder (Aamchur)
1/2 tsp Coriander powder (Dhaniya powder)
1/2 tsp Red Chilli powder (Lal Mirchi powder)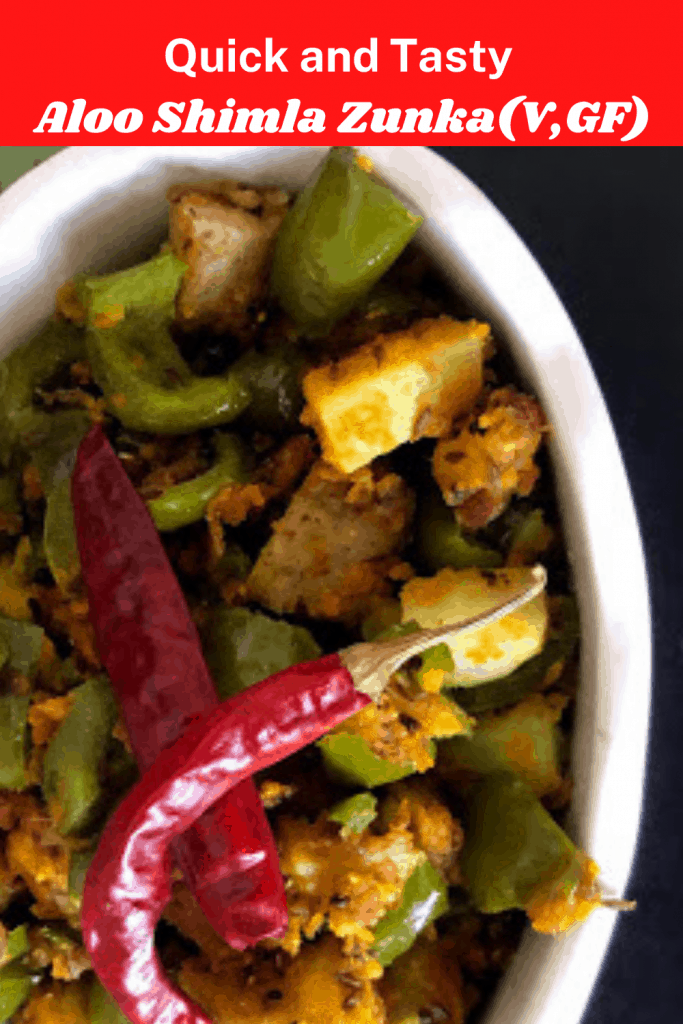 How to make Aloo Shimla Zunka:
Refer the Video below for a detailed recipe and step by step instructions. If you are visiting our channel for the first time, please don't forget to hit like 👍 and subscribe to our channel ❤️. We appreciate your love and would eagerly wait to hear from from you on how we can bring your favourite dishes to our channel too ! Thanks a ton 💕💕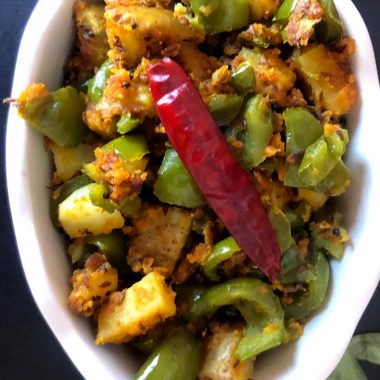 Aloo Shimla Zunka
Aloo Shimla Zunka is a simple GF, Vegan and low Stir fry of Bell Peppers + potato with Gramflour. Served with flatbreads or rice. Special dish of Maharashtrian Cuisine
Ingredients
100

grams

Potato

200

grams

Bell Peppers

3

TBSP

Gramflour

Besan

2.5

tsp

Oil

1

tsp

Salt

1/2

tsp

Turmeric
For Tempering
1/2

tsp

Mustard seeds

1/4

tsp

fenugreek seeds

Methi dana

1/4

tsp

Cumin seeds

Jeera
Spice / Masala powders (adjust to taste):
1/2

tsp

Dry mango powder

Aamchur

1/2

tsp

Coriander powder

Dhaniya powder

1/2

tsp

Red Chilli powder

Lal Mirchi powder
Video