After the Curried Cauliflower Soup, I was looking at Food52.com for healthy yet filling ideas and knew I HAD to make this Ratatouille with a Tuscan twist. We had this during our visit to France and was looking forward to making this at home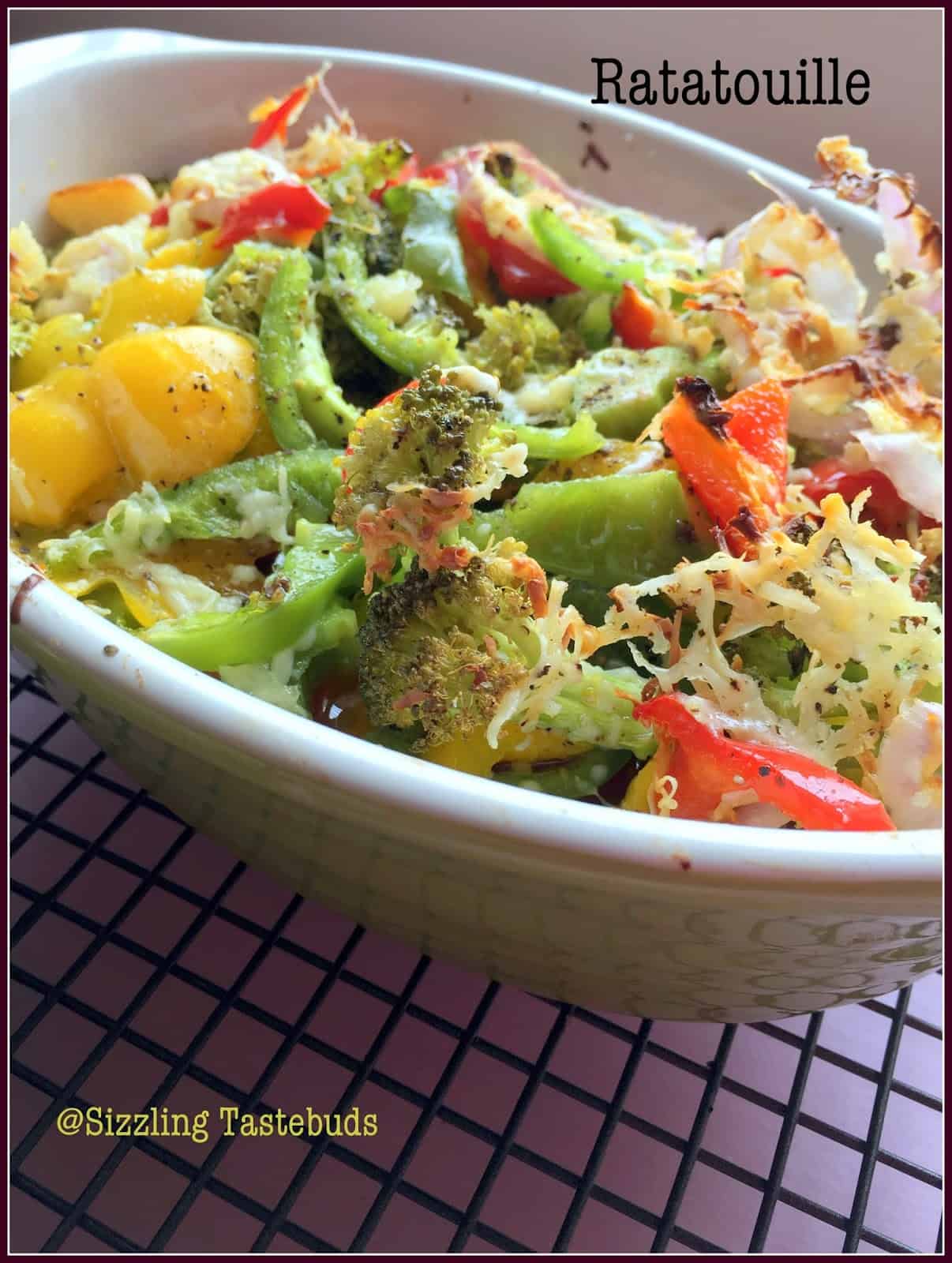 Pin
Ratatouille is a traditional French Provençal stewed vegetable dish, originating in Nice. Though referred to commonly as ratatouille niçoise, ratatouille is popular among the entire Mediterranean coast as an easy summer dish. It is typically prepared as a stew with each vegetable being sautéed to enhance their flavors before being layered into a baking dish and baked for several minutes to complete the cooking process. Greek cuisine knows it as tourlou or tourlou tourlou, or by its Turkish name, briam.The word ratatouille comes from Occitan ratatolha and the recipe comes from Occitan cuisine. Ratatouille originated in the area around present day Provence and Nice – Source : Wiki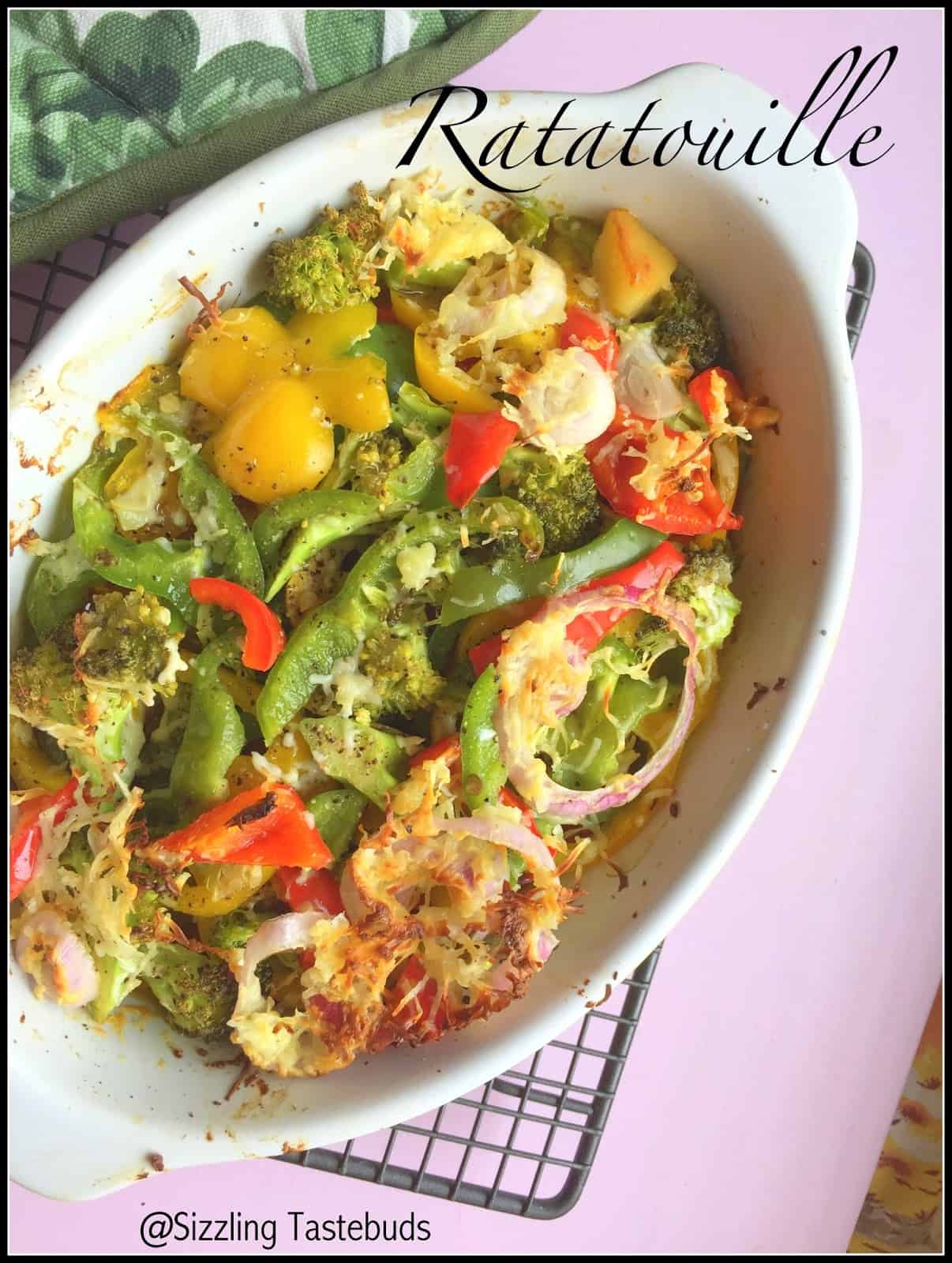 Pin
Ratatouille is usually served as a side dish, but may also be served as a meal on its own (accompanied by pasta, rice or bread). Tomatoes are a key ingredient, with garlic, onions,zucchini, eggplant, bell peppers, marjoram, fennel and basil, or bay leaf and thyme, or a mix of green herbs like herbes de Provence.


Ratatouille can be eaten for dinner, but is also used in breakfast and lunch settings. There is much debate on how to make a traditional ratatouille.
Today we kept it simple – a medley of vegetables grilled with some cheese. It was delicious on its own. You could also pair it with some red wine and grilled bread to make it a complete meal. This dish could also be made on the stove top or baked – I chose the latter.
Prep time : 20 mins, Baking + standing time : 15 mins.
Served : Warm or at room temperature
Course : Main Course / Sides , Cuisine : French. Can be veganised (just skip the cheese)
You would need , serves : 3
Onion – 1 medium
Bell peppers – any colour ( I used all 3) – 1/2 each
Large tomato – 1
Zucchini – 1 medium
Eggplant – 1 medium
Broccoli – about 1/2 cup
Salt and pepper to taste – 1/2 tsp each
Olive oil – 2 TBSP (divided use)
Crushed garlic, chilli flakes & dried herbs – to taste
Grated cheese – 1 TBSP (optional).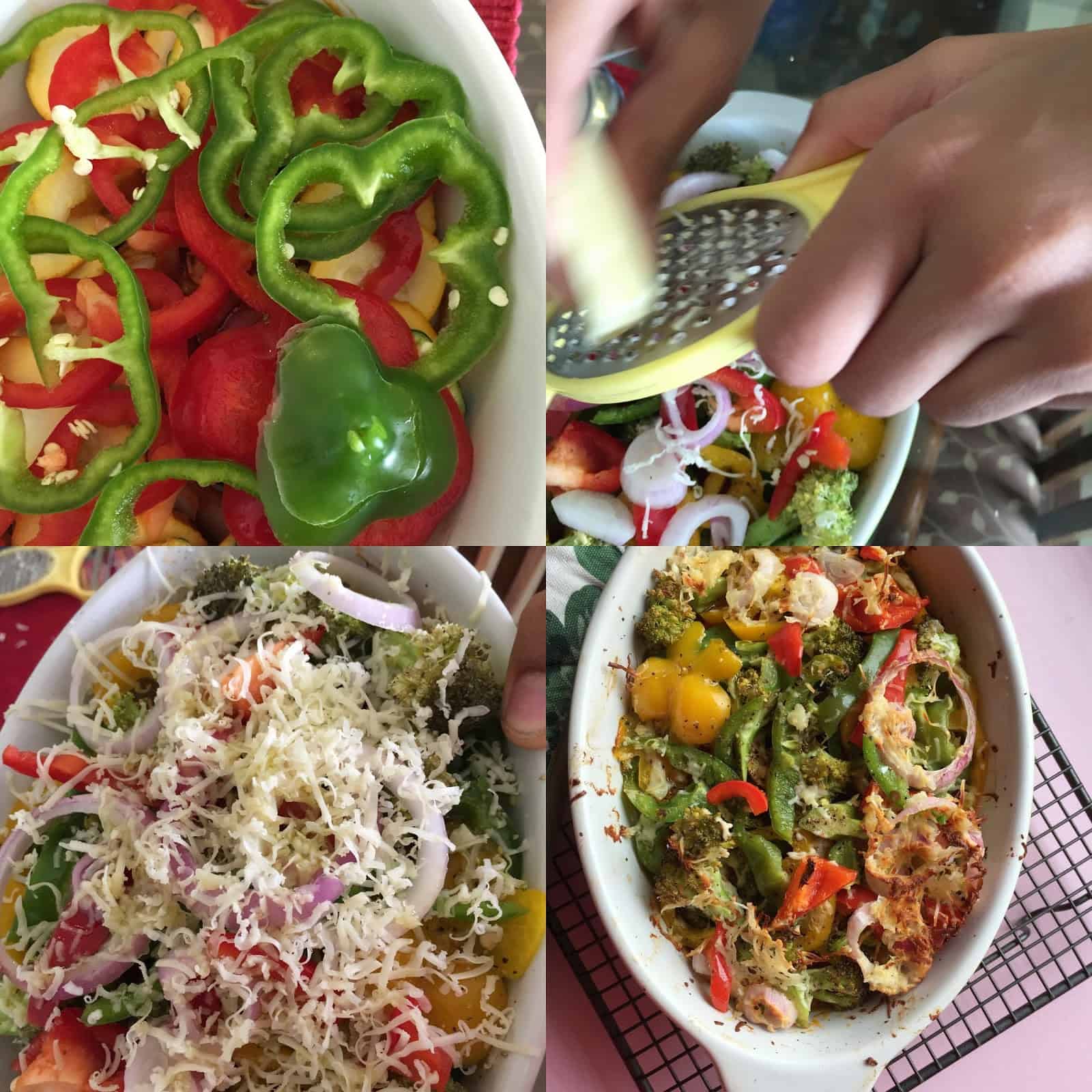 Pin


Method:
Blanch the tomato, skin it, dessed and chop fine. Mix a tsp of olive oil, pinch of salt and keep aside.
Slice all veggies except broccoli into roundels of equal thickness -not too thin or thick.
In a skillet, add 1/2 tsp of oil. arrange these veggies gently, sprinkle little salt and without disturbing them, let them cook for 2-3 mins. switch off the flame.
Meanwhile heat oven to 160 Deg c.
Grease the baking dish with the rest of the oil, spread the diced tomatoes, add the crushed garlic, and arrange the slightly warmed veggies one by one in a nice layered kind of dish. Top with broccoli , salt and bake at 160 for 25-30 mins (tent this towards the end if required).
For the last 3-4 mins, add grated cheese, mixed herbs and grill till done
Serve warm or at room temperature.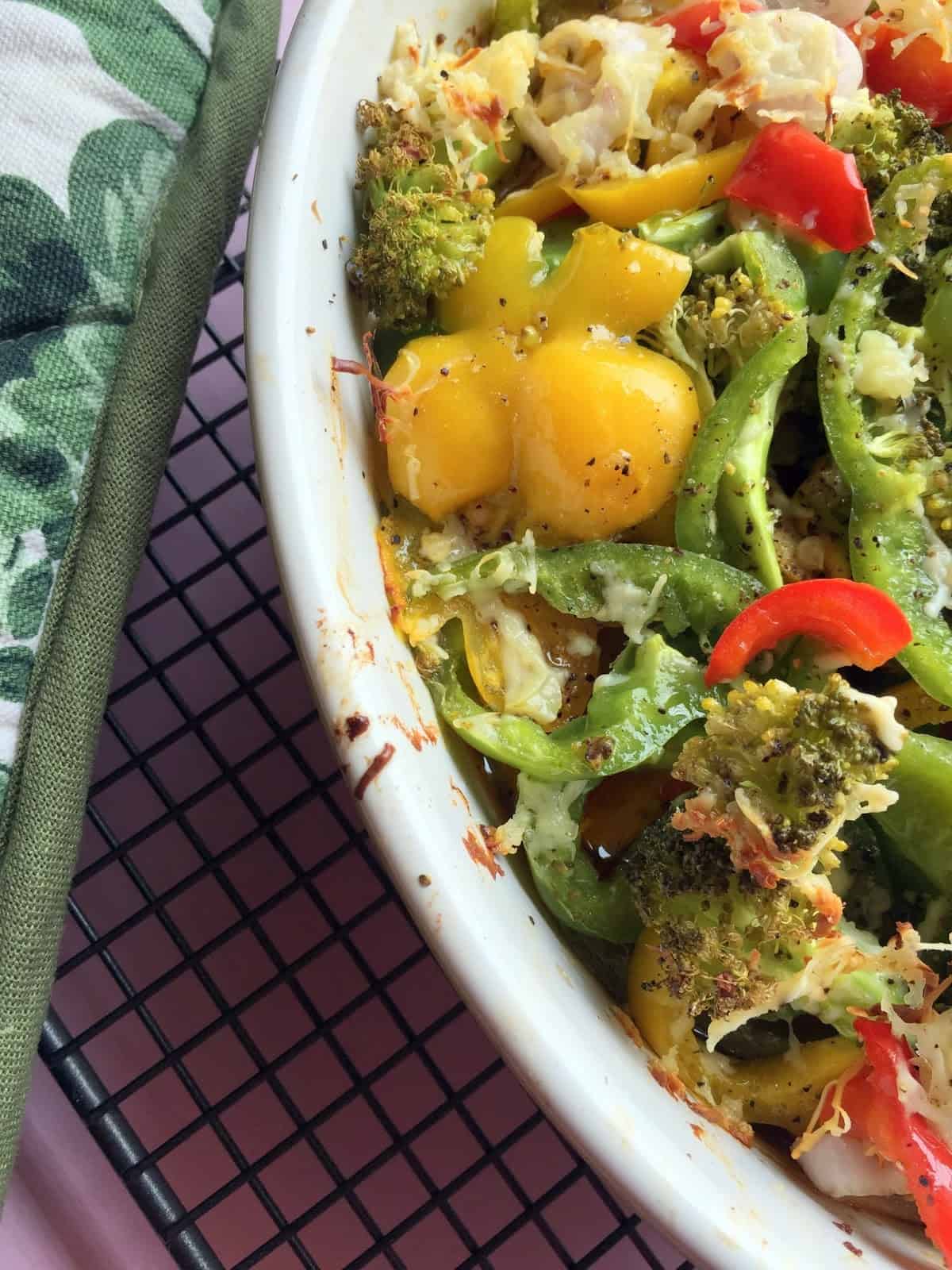 Pin
Sending this to this week's Blogging Marathon #57