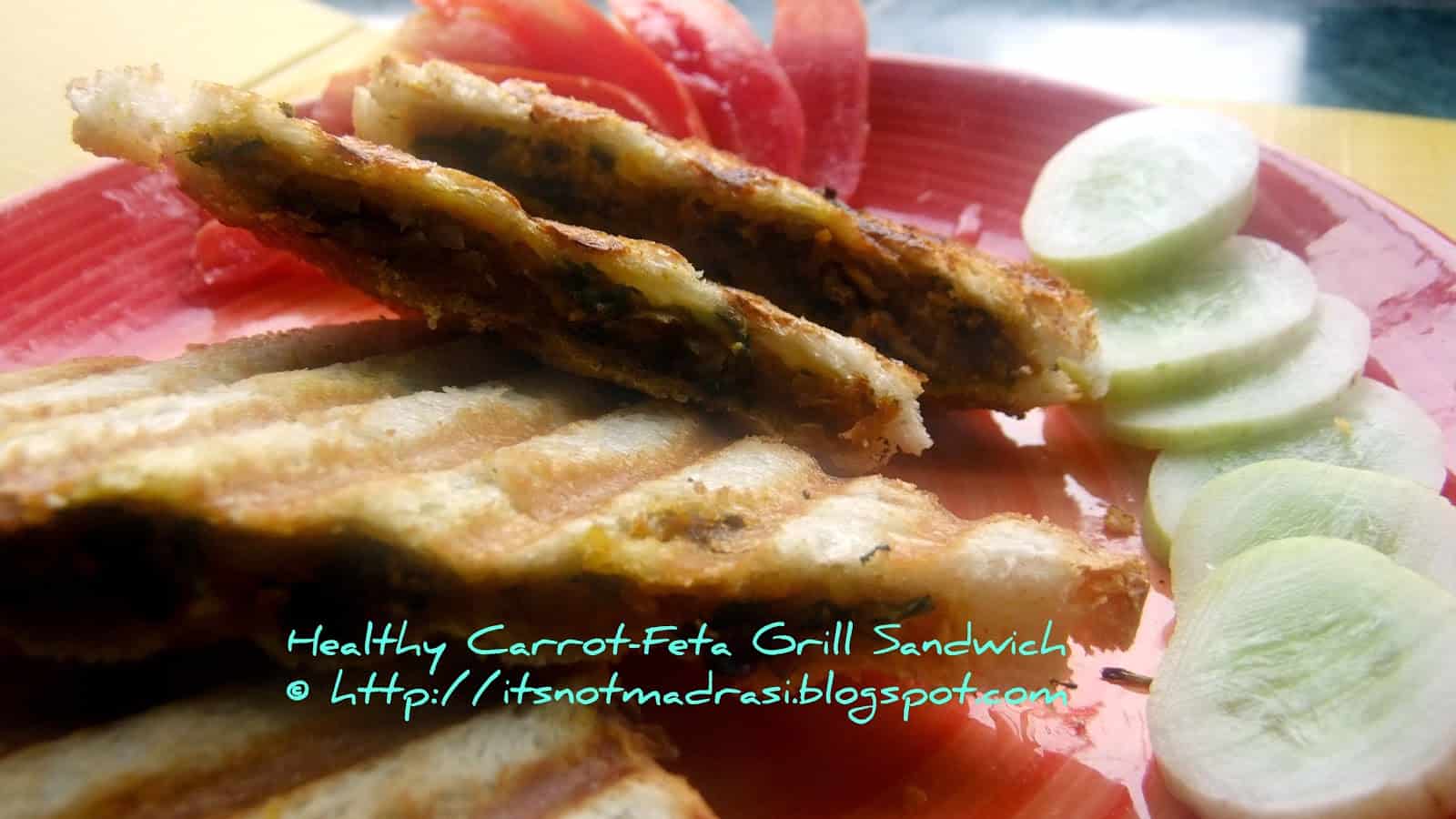 Pin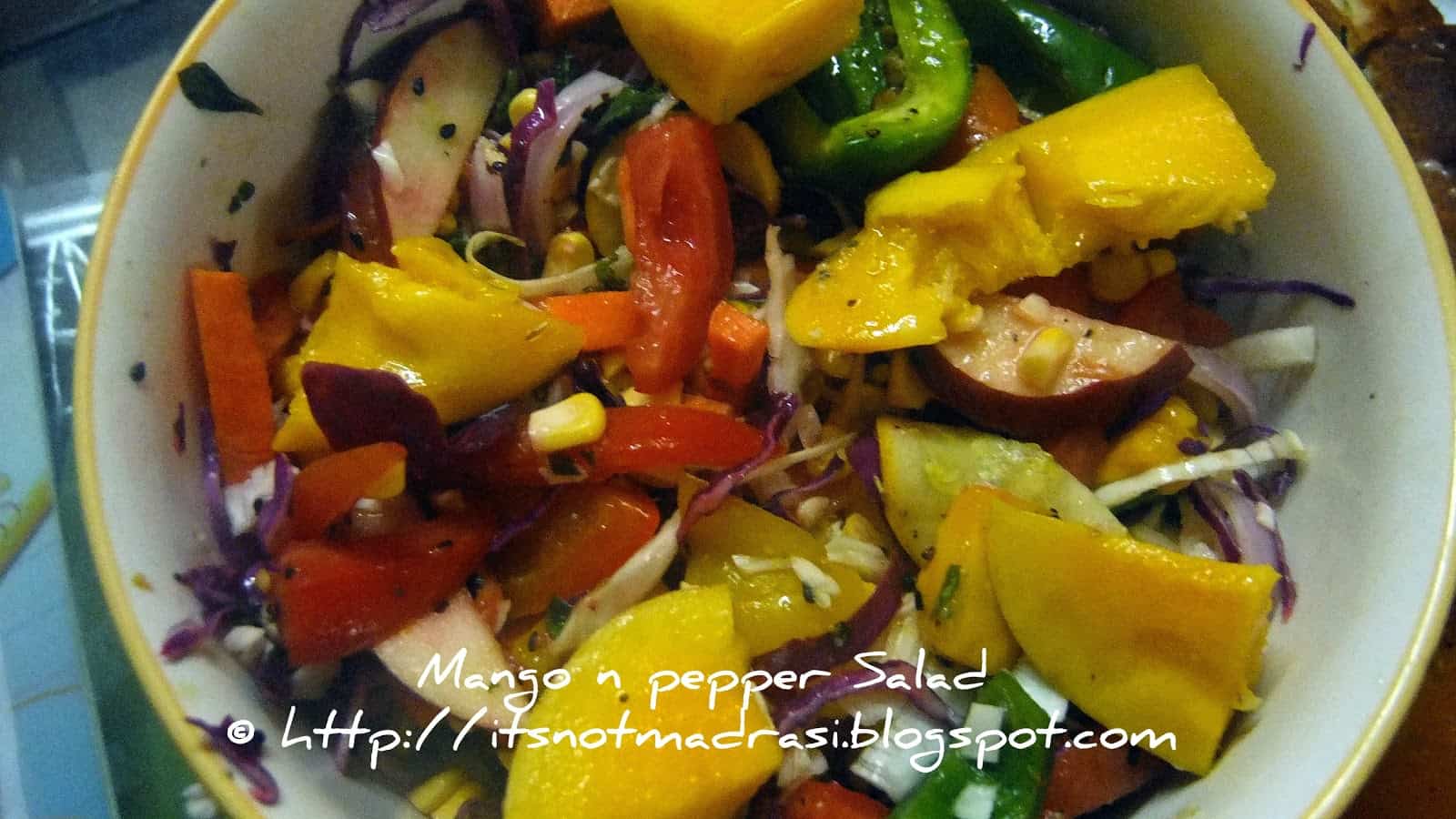 Pin
Frankly, this was my first shot at using Feta Cheese, especially in a sandwich. I was quite apprehensive on how it would turn out , but it did, fantastically at that !! Loved the salty cheesy combo with freshly grated carrots, and I must say it was quite a sellout even with mom who detests bread of any kind ! Am quite confident about using this cheese, and although I am still looking for stores that sell tortillas around where I live, with which I could use some more feta.
I guess this with added spinach can be served baked / stove top with chapatis as a roll too .. ummm… that's an interesting lunch box snack. Having chosen  Combo meals for Blogging Marathon , I served this with Mango-Pepper Salad for Day 1 of the Blogging Marathon.
Check out the Other Marathonershere
Takes under 20 minutes to prepare and assemble, and although you can serve this as a plain sandwich, I personally prefer the Grilled version of any sandwich. I have used just 1 tsp butter along with 1/2 tsp of oil (to toss the veggies), and guess you could make the filling on a pervious day for hassled morning breakfast/ lunchbox options.
Also, sending this sandwich to Radhika's breaktime snacks, Valli'sSandwich Mela, Reva'sveggie of the month – Carrotstarted byPriya and Krithi'sServe it Grilled as also Taste Junction's Salad Spread
Prep time: 10 mins. Grill time : 10 mins. Serves : 2
Ingredients:
Brown bread – 4 slices.
Butter – 1 tsp
Oil – 1 tsp
Filling:
Grated / crumbled  Feta cheese – 1/2 cup
Grated carrots – 1/2 cup
Green chillies – 1 or 2 (opt)
Red chilli pwd – 1/2 tsp
Turmeric pwd – 1/2 tsp
Onions – 1 large (finely chopped)
Ginger – 1/2 inch (grated)
Cumin and coriander powder – 1/2 tsp each
Salt – to taste
Tomato Ketchup – 1/2 tsp (opt)
Green coriander leaves – few for garnish
Method:
1) In a non stick pan, add 1 tsp of oil. Fry onions, grated carrots well. Add turmeric, spice powders, salt, ginger, chilles and saute well.
2) When they come together nicely, add the cheese and lower the heat. Let the cheese melt a little and amalgamate into the veggie mixture.
3) Now add the ketchup and green coriander leaves and toss well. Cool
4) Trim the bread slices (opt, although my kid loves it this way) and spoon in the filling. Spread. Cover with another slice. Make 3 -4 such batches.
5) Preheat your grill / electric sandwich maker for 3 -4 mins. Grill this sandwich in batches and serve hot with ketchup / green chutney or any salad too.
Mango – Pepper Salad Combo
Ingredients:
Ripe Mangoes – 1 cup
Green, Red, Yellow Peppers – diced large – 1 cup
Pineapple cubed (fresh) – 1/4 cup
Water melon – 1/2 cup
Steamed American Corn – 1/2 cup
Lemon juice – 1 TBSP
Purple Cabbage shreds – 1/4 cup
Deseeded and Diced Tomatoes – 1/2 cup
White pepper – 1/2 tsp
Salt – to taste
Olive oil – 1 tsp
Dried herbs (Oregano / chilli flakes / Basil / Thyme) – 1 tsp mixed
Method:
1) Mix all the veggies and fruits in a large bowl.
2) Warm Olive oil and turn off the stove. Add the herbs, salt, white pepper and lemon juice into this and mix well for salad dressing.
3) Chill the veggie-fruits well and pour this dressing over it and serve with the above sandwich for a wholesome meal.