My elder daughter loves Soup, especially home-made Tomato Soup. My mom introduced it to her while she was a year and a half, and she caught up on this pretty well. Soups with croutons, soup with bread sticks, with garlic bread, with steamed veggie batons – anything goes in, as long as it's soup, and more importantly if it's Tomato Soup , almost like Henry Ford's declaration "any colour for a car is ok, as long as its black!" 🙂 
????????For 21 different types of vegan / vegetarian soups that you can make at home – click here 
This soup is a permanent fixture in my monthly meal plan menu ! I try every method to make it more healthy and hearty, so I can see the smile on my kid's (ok, not so much a kid anymore :p) face as she literally slurps her way through 🙂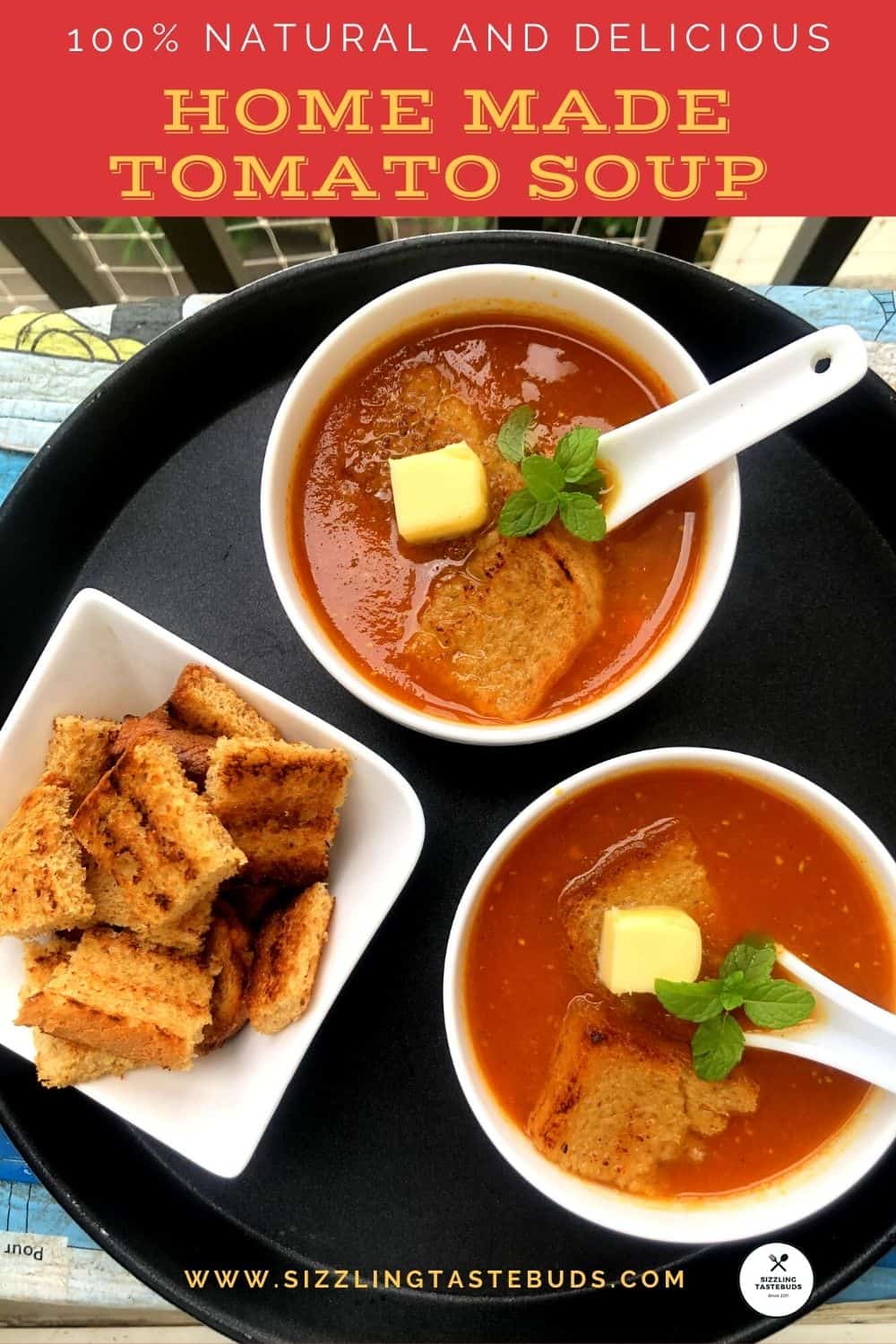 Pin

So, presenting Healthy Tomato Soup. Its different from the normal commercial/other soups in that it contains a some veggies (yes, apart from the tomatoes), has no commercial additive or colour, including the dreaded MSG ! 

Preparation time: 10 mins

Cooking time : 10 mins

Serves : 2 adults generously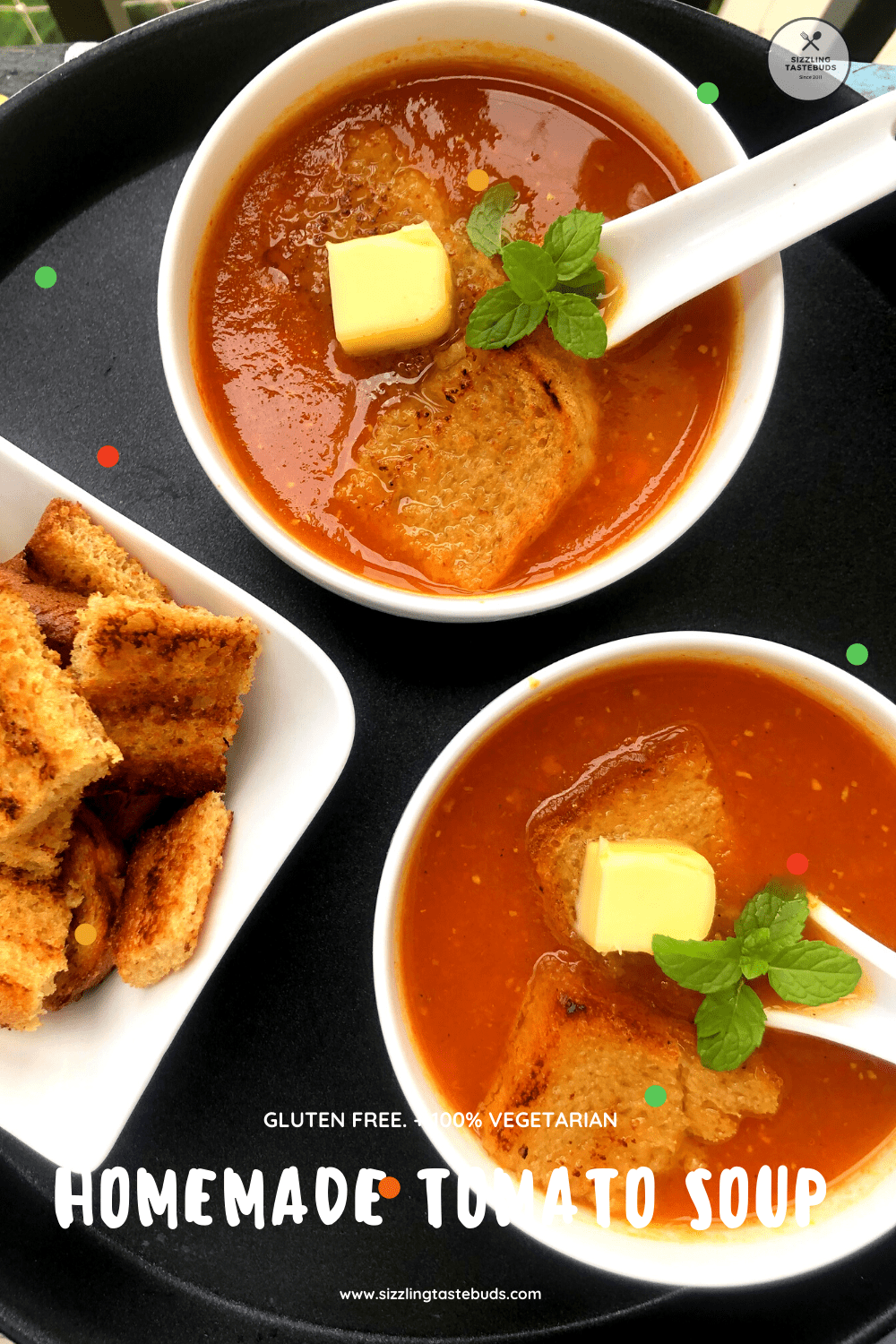 Pin

Ingredients:
Bright red tomatoes – 4
Carrots diced – 50 grams
Peeled Potato cubes – 25 grams (optional but recommended)
Homemade veg stock (unsalted) – 500 ml
Salt  – to taste
Crushed black pepper – 1/4 tsp 
Butter – 10 grams (for garnish)
Serving Suggestions:
French bread / Toast / Soup Sticks / croutons
 ⬇️ PIN FOR LATER ⬇️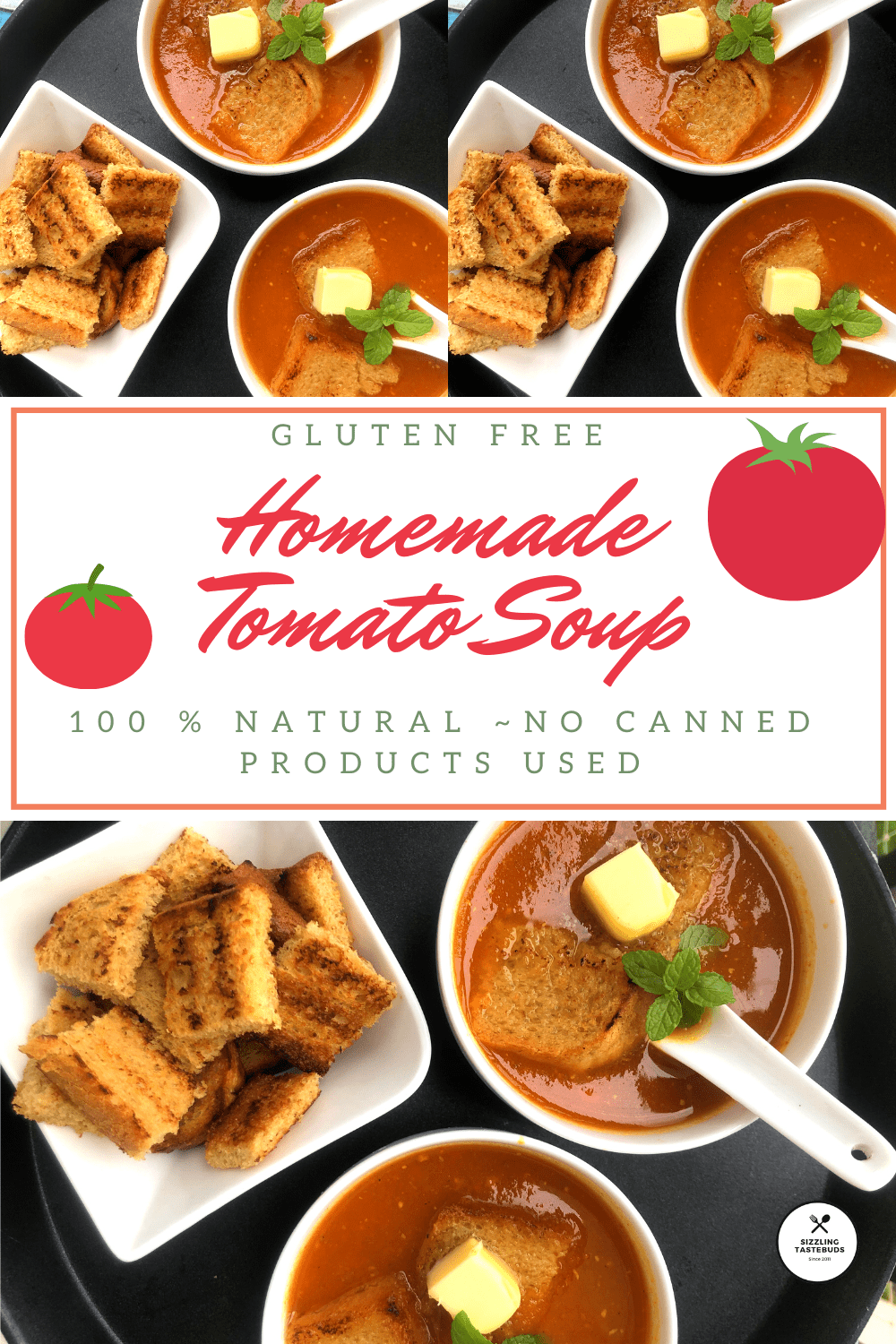 Pin
Method:
1) Blanch the tomatoes for 5-7 mins, cool and peel. 
2) Boil all the vegetables in a pot till soft and retain the stock (You may pressure cook for two whistles too or microwave them for 8-10 minutes)
3) Blend the tomatoes and veggies with a cup of water (or stock) into a thick consistency.
4) Strain ensuring only the tomato seeds are filtered out and you retain all the veg fibres.
5) In a deep bottomed pan, add the pureed mixture. Simmer on low, add salt, pepper and stock 
6) Once it comes to a mild simmer, take off the heat. 
7) Serve hot or warm with toasted bread / soup sticks !
Tips:
1) You may make the vegetable stock the previous day (from any vegetables) and use it to only puree this veggies for this homemade 15-min Homemade Veg stock.
2) Use left over soup as a base for pav bhaji / wet curry the next day 🙂 adjust seasoning accordingly.
3) If the tomatoes aren't too ripe, you can use 1-2 pieces of beetroot for a slightly deep colour. Of course the taste would vary a bit.
4) if using stock bullions or salted stock, adjust salt accordingly: do a taste test before serving. Add 1/2 tsp of sugar if the tomatoes are very tart. 
5) This soup can be entirely vegan if you skip the butter or use a vegan alternative . My kids like this soup with butter, therefore I have used it.  
Updating this post of 2011 as part of #Foodies_RedoingOldPost Group where we revisit old posts with new pictures and text.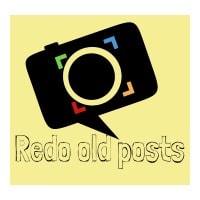 Pin