My kids loves Soup, especially home-made Tomato Soup. My mom introduced it to them while the elder one was a year and a half, and she caught up on this pretty well. Soups with croutons, soup with bread sticks, with garlic bread, with steamed veggie batons – anything goes in, as long as it's soup, and more importantly if it's Tomato Soup , almost like Henry Ford's declaration "any colour for a car is ok, as long as its black!" 🙂 
For 21 different types of vegan / vegetarian soups that you can make at home – click here 
21 Vegetarian Soups You Need To Make This Winter – Mostly Vegan and GF !!
A delectable collection of healthy, hearty homemade Vegetarian and Vegan Soups for Winter and Fall. Made with everyday ingredients.
Check out this recipe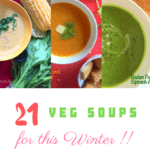 This soup is a permanent fixture in my monthly meal plan menu ! I try every method to make it more healthy and hearty, so I can see the smile on my kid's (ok, not so much a kid anymore :p) face as she literally slurps her way through 🙂 The little one has followed her sister's footsteps and ergo, we are a soup loving family 🍅🍅
Other Soups you may like on the blog
Thai Coconut Veg Noodle Soup
Thai Coconut Veg Noodle Soup is a delicious Gluten Free and Vegan one-pot-meal kind of soup with noodles and veggies simmered in an aromatic coconut milk broth.
Check out this recipe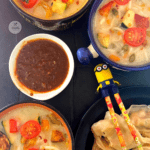 Corn Spinach Soup | Gluten Free + Vegan
Corn Spinach Soup is a delicious & Creamy Soup. Vegan and Gluten Free, and can be made quickly for a hearty meal / Appetiser.
Check out this recipe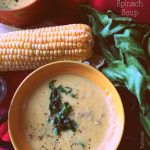 Instant Pot Vegan Broccoli Soup
An Aromatic and delicious Winter Special Vegan Brocolli Soup with warming spices. Can be served as an appetiser or for brunch.
Check out this recipe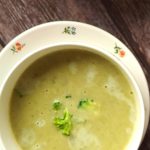 So, presenting Healthy Tomato Soup. Its different from the normal commercial/other soups in that it contains a some veggies (yes, apart from the tomatoes), has no commercial additive or colour, including the dreaded MSG ! 
Preparation time: 10 mins
Cooking time : 10 mins
Serves : 2 adults generously
Ingredients:
Bright red tomatoes – 4
Carrots diced – 50 grams
Peeled Potato cubes – 25 grams (optional but recommended)
Homemade veg stock (unsalted) – 500 ml
Salt  – to taste
Crushed black pepper – 1/4 tsp 
Butter – 10 grams (for garnish)
Serving Suggestions:
French bread / Toast / Soup Sticks / croutons
PIN FOR LATER
How to make the best Homemade Tomato Soup
Blanch the tomatoes for 5-7 mins, cool and peel. 
Boil all the vegetables in a pot till soft and retain the stock (You may pressure cook for two whistles too or microwave them for 8-10 minutes)
Blend the tomatoes and veggies with a cup of water (or stock) into a thick consistency.
Strain ensuring only the tomato seeds are filtered out and you retain all the veg fibres.
In a deep bottomed pan, add the pureed mixture. Simmer on low, add salt, pepper and stock 
Once it comes to a mild simmer, take off the heat. 
Serve hot or warm with toasted bread / soup sticks !
Tips to make the best Tomato Soup :
You may make the vegetable stock the previous day (from any vegetables) and use it to only puree this veggies for this homemade 15-min Homemade Veg stock.
Use left over soup as a base for pav bhaji / wet curry the next day 🙂 adjust seasoning accordingly.
If the tomatoes aren't too ripe, you can use 1-2 pieces of beetroot for a slightly deep colour. Of course the taste would vary a bit.
if using stock bullions or salted stock, adjust salt accordingly: do a taste test before serving. Add 1/2 tsp of sugar if the tomatoes are very tart. 
This soup can be entirely vegan if you skip the butter or use a vegan alternative . My kids like this soup with butter, therefore I have used it.