Cutlets / patties / Tikki — whatever they are known as, are a delicious and healthy way to sneak in veggies and nutrients into one's diet especially for kids. Today's dish is a winter veggie special with sweet potato and beets – a carb and nutrient dense combo. The best part of these cutlets or tikkis is that you can sneak in any veggies or ingredients that the kids would normally pick out (read spinach / aubergine / coriander / fresh methi leaves etc) and customise it to your palate too.
How to use these?
These vegan patties can be had on their own with some sauce or the Dahiwali Hari Chutney OR used as filling in burger buns or grilled as kebabs in a frankie or a kathi roll. Like this Rajma-Sweet Potato Tikki (kidney bean+sweet potato patty), or even used with some Ragda or Chole like this Tikki Chole Chaat or Ragda patties (slurp slurp)!!
For more than 50+ appetiser options for kids or parties, head here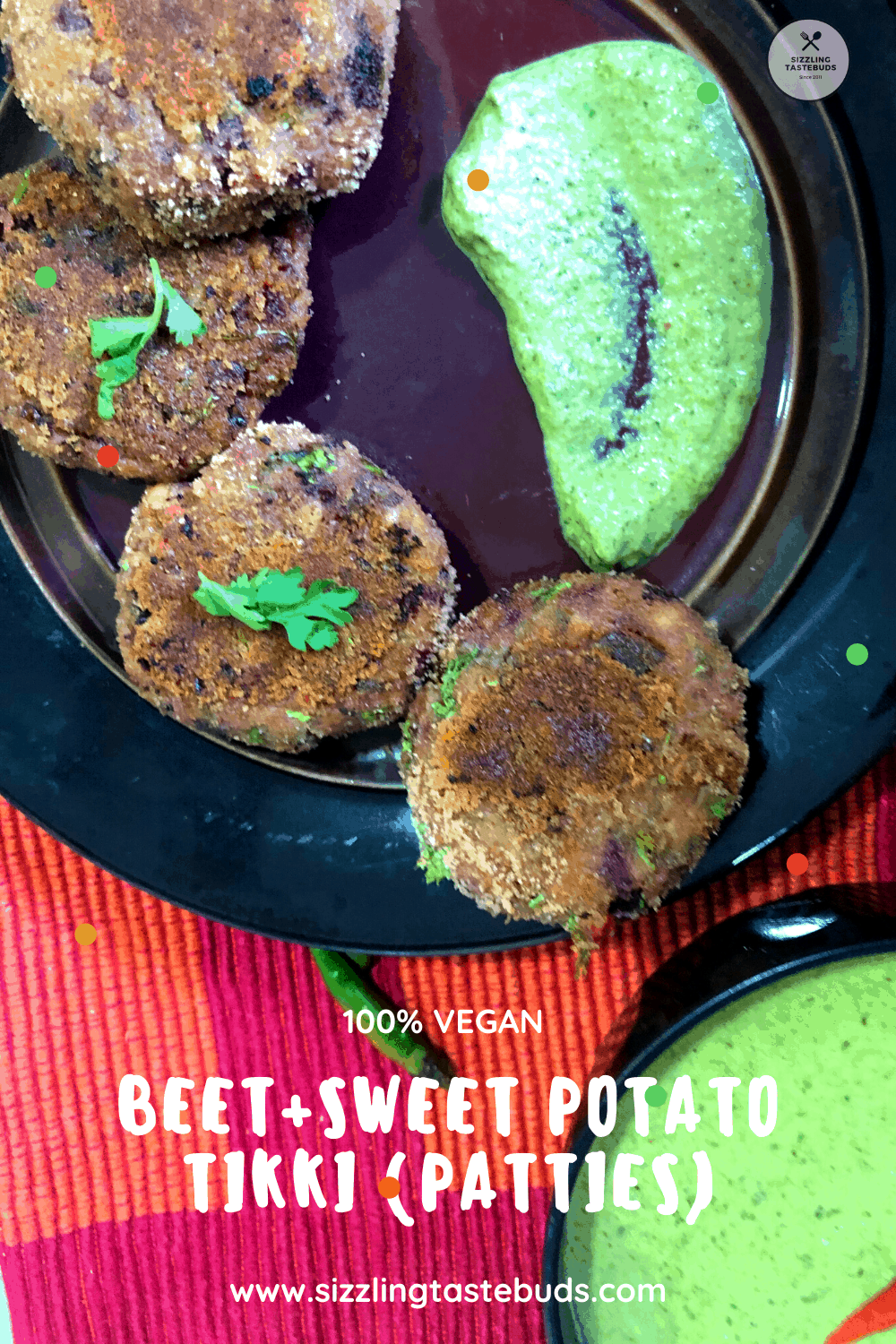 Makes for a very filling snack, these are kids' favourite in their snack boxes too.
What's more – they can be made ahead – as small or as big as you need them to be – for parties / potlucks. Similar dishes would be Archana's Millet based Harabhara tikki or Sowmya's dahi ke tikki (aka dahi ke kabab), one of my personal favourites – both of which I have bookmarked. I am particularly in love with Preethi's  Multigrain Spinach Tikki which seems like a powerhouse of vitamins. Another Tikki you might like is Oats Moong Tikki
Tikki Chole Chaat | Spicy Chaat recipes
Tikki Chole Chaat is a delicious street food combining tikki (potato patties, shallow fried) with a spicy-tangy chickpea curry. Served topped with onions and chutney
Check out this recipe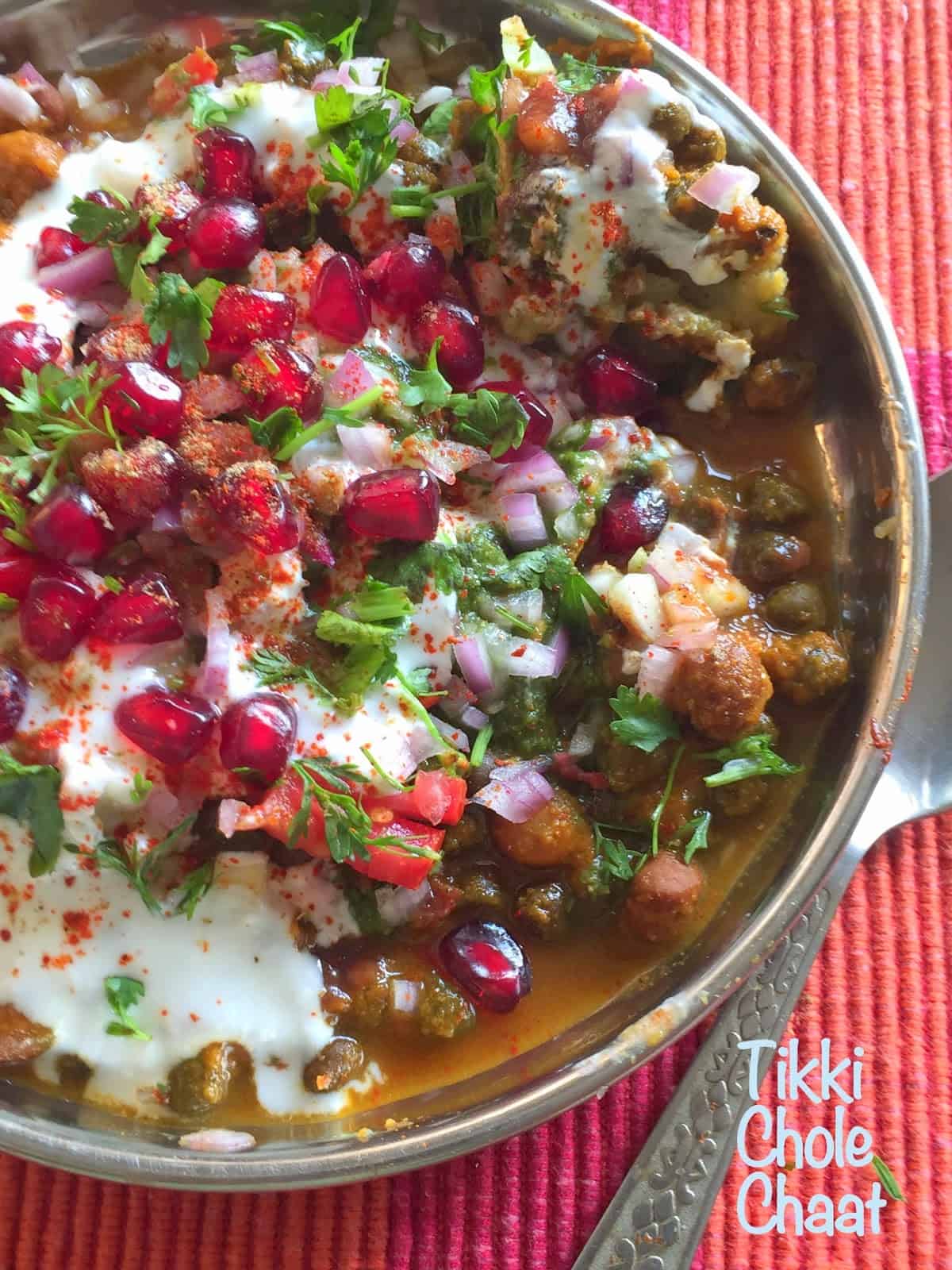 Notes
Making this takes very less time if the ingredients are prepped ahead (just boiling and peeling the veggies) of time. Make sure all the cooked veggies are completely drained of water else it would make the binding very messy
I have added bread crumbs to make these, but you can completely skip it to make it GF, just ensure you add 1 extra boiled potato or use arrowroot powder to bind. Sometimes, if the potatoes are starchy, even the arrowroot is not needed. Read the recipe ingredients for more options.
You can make these tikis ahead, refrigerate them (I haven't tried freezing, pls let me know if you do try), and can be shallow fried the following evening / next day.
Again for coating I haven't used any maida / APF slurry but you can use that to coat and then deep fry too.
PIN FOR LATER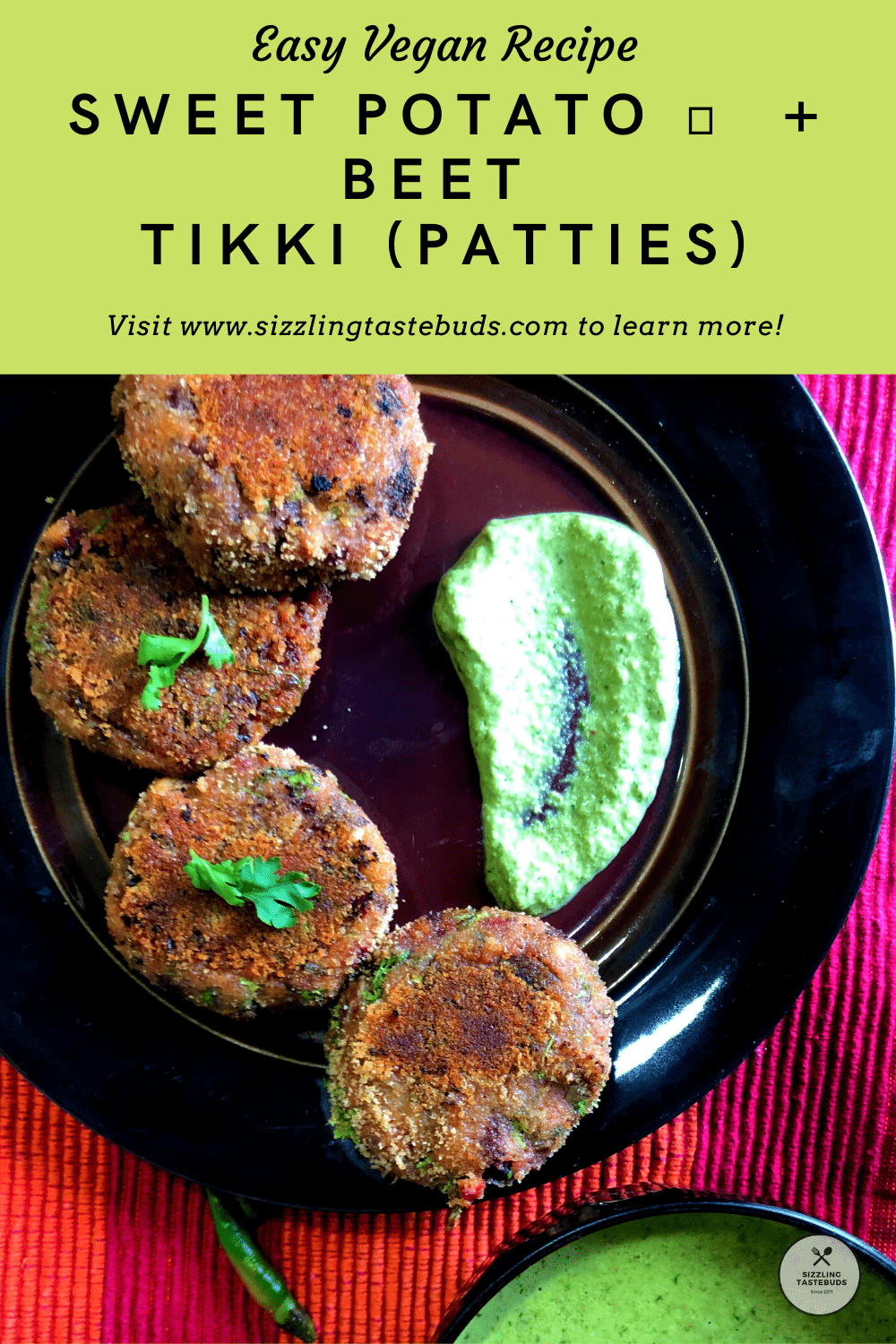 Prep time – 30 Mins
Resting time – 30 mins*
Cook time – 20/25 Mins
Makes – 6 – 8 portions
Cuisine / course – Indian snack / appetiser
Vegan sweet potato and Beetroot Tikki
What you need:
Beetroot – 1 medium
Sweet Potato – 3 medium or 2 large
Bread Crumbs – 1 cup (Divided use) – use any GF substitute like cornmeal / Semolina for GF option with slightly varying results.
Salt – to taste
Dry Spices – Coriander Powder 1 tsp, Amchur (dry mango powder) OR Chat Masala – 1 tsp, Red Chilli powder – 1/2 tsp
Green chillies + Ginger crushed – 1 tsp
Kasuri Methi – 1/2 tsp

Fresh Clove powder – 1/2 tsp
Cardamom powder

– 1/4 tsp
Chopped Fresh mint leaves – 3 tsp
Chopped Fresh Coriander leaves – 2 tsp
Oil – for shallow fry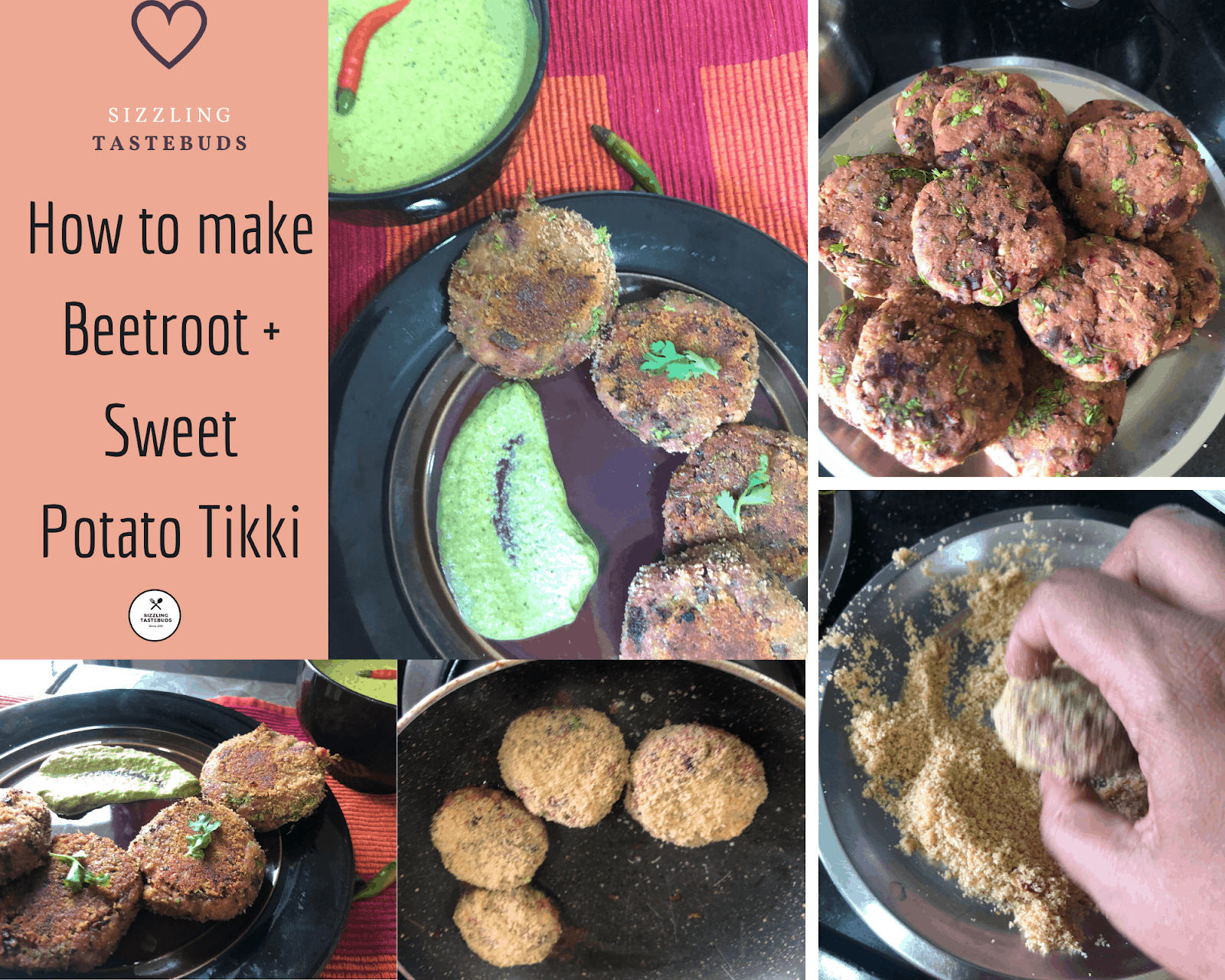 Method:
Pressure cook or cook both beets and Sweet Potato separately. Peel, Cool and mash well.

To a large bowl, add the mashed veggies, 2/3 of the bread creams and all the salt and spices indicated above (except oil) and bring to a thick doughy mass.

Divide into equal portions and make into flat patties / Tikki.
Refrigerate for 30 minutes (this step is optional but recommended as the patties firm up and don't disintegrate while shallow/ deep frying)
After 30 mins, crumb coat the ticks in the remaining bread crumbs and shallow fry till golden brown on all sides on a medium hot skillet.

Sprinkle some chaat masala & Serve immediately with any ketchup. I have served it with

Dahiwali Hari Chutney

that's usually served with Kebabs.