We begin the Mega Marathon with Proteinicious dishes, and for ease of cataloguing and cooking, I have 2-3 major themes. Without divulging further details, this week (today and tomorrow), we have Condiments made with Protein as a star. It would be amiss if I didn't mention that my family loved all the dishes made for this BM. I did have some elaborate ones, and some quick dishes too.
Most of my dishes this Mega Marathon are also Gluten Free and Vegan. I had shortlisted and started cooking based on that theme too, but midway accommodated some non-vegan protein sources that my family, especially those that my kids prefer.
Else, most dishes / ingredients are plant-based and I have indicated suitable substitutes wherever possible. I haven't gone 100% vegan at home, but the shift to plant-based food is slowly happening.
Pin

Till that time, do take out a few minutes, and enjoy the spread over the next 30 days (Sundays being an off, we have 26 dishes in all).

Today we begin with Beetroot Hummus – a delicious #vegan and #GF dip that goes with well, pita. But so it does with anything like toasted Bread, Veg Crudités, or even Chapati. I have seen this used as a topping for mini pizzas too – so thats a great idea. The colour is totally attractive to kids and adults alike, so it might be your next favourite dip !

Similar vegan dips:

Tomato Mint and Coriander Salsa

The next party – you know what to do 🙂

Prep time : 20 mins | Cook time : 5 mins | Makes : approx 220 ml of the dip

Beetroot Hummus – a delicious #vegan and #GF dip

Protein Source : Chickpeas

PS : Keeps for upto 4 weeks under refrigeration although would highly recommend making a fresh batch everytime 🙂

Adapted from here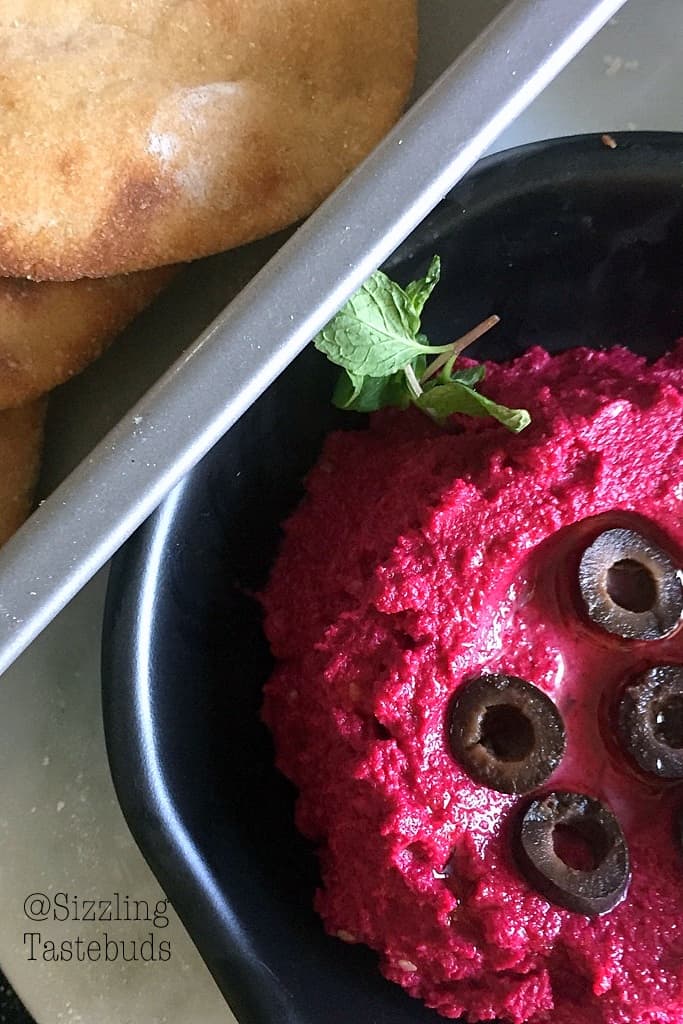 Pin

Ingredients:
Cooked Chickpeas – 1.5 cups (if using canned, drain and use) – peel the cooked chickpeas / Kabuli channa if desired .
Retain the water from freshly cooked chickpeas a.k.a Aquafaba (about 1/2 cup) – keep chilled
Peeled, cooked and drained beetroot – 1 large (about 100 gms)
Olive Oil – 3 TBSP
Salt – 1 tsp
pepper – to taste
Cumin powder – 1 TBSP
Tahini paste – 1/4 cup (I used 1/4 cup roasted sesame seeds)
Lemon juice – 1 TBSP
Sugar – 1/2 tsp (to balance the astringent – sweet – acid mixture)
Black olives – pitted and sliced : for topping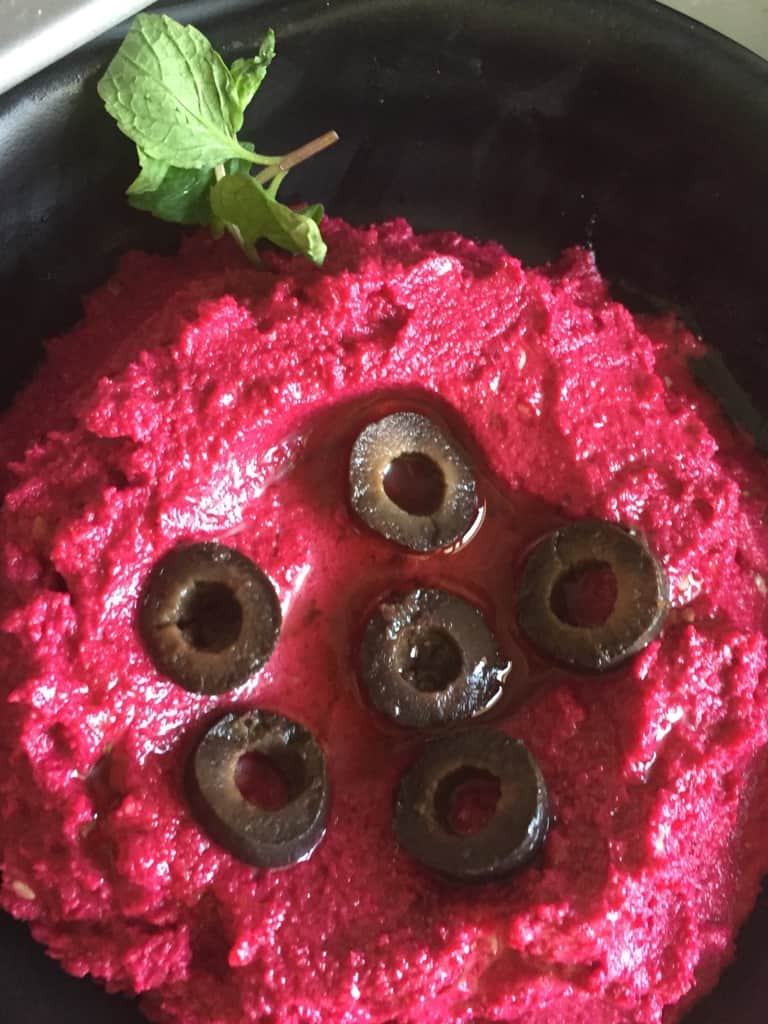 Pin

Method:
In a large blender / food processor, first blend the chickpeas with beetroot. Slowly add the salt, spices, tahini, aquafaba and blend well. Add Olive Oil 1 TBSP at a time and blend slowly in spurts till you get a creamy texture. Adjust salt and spices and one last run , blend with the lemon juice.
Top with olives (and more sesame seeds if using)
Refrigerate and use as required.
Notes:
You may increase / decrease any of these ingredients.
Some versions also use roasted beets, so you could do the same – the smokiness may not appeal to all.
Add more lemon juice / Olive oil if required.
Use a dry spoon every time to increase shelf life.
Pin
Check out the Blogging Marathon page for the other Blogging Marathoners doing BM# 80