This recipe I bookmarked from Suma's space and it got baked and consumed on the same day. Quick to make, makes use of all the ripe bananas that everyone buys but nobody wants to use after a while. I  generally use overripe bananas in Quick breads like muffins, cupcakes or even pancake. But this yeasted bread from Suma's blog caught my fancy. Guess it was time to clear my bookmarks this Bakeathon.
If you love Bananas, Cinnamon and cardamom (and not in any order) then this bread is for u. I couldnt get any slices after we cut them coz they disappeared real fast, but I assure you it was so good. I used wholewheat in place of APF and used some brown sugar, so the resulting bread was a tad darker than the original, but we loved the cinnamony, chewy and soft loaf. 
Prep time : 15 mins, No Knead. 
Rise time : 2 hours (depending on the temp outside).
Yields : One 9*5 loaf or 3 smaller loaves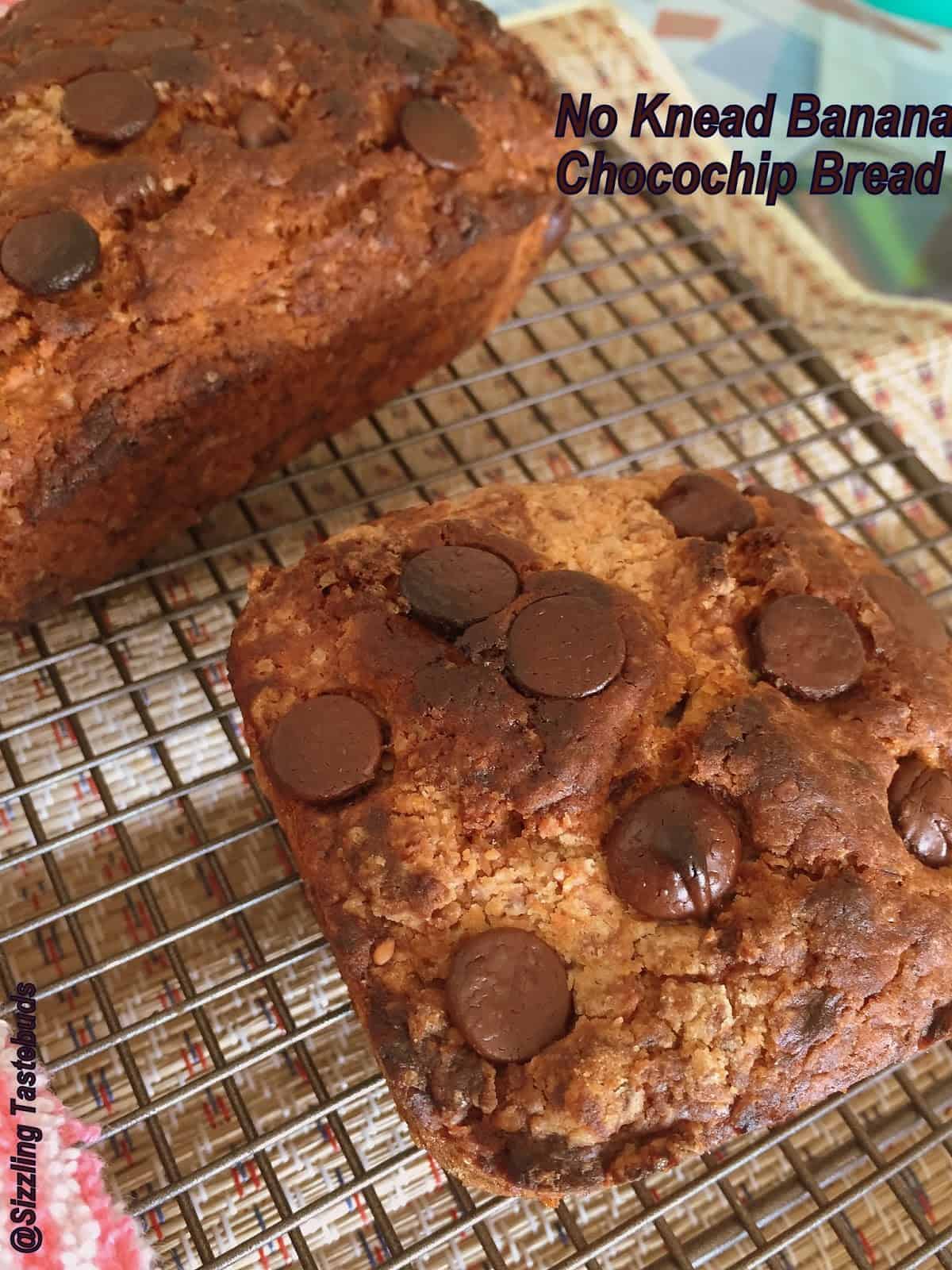 PinPin

Ingredients:
Wholewheat flour – 3 1/2 cups
Instant yeast – 1.25 tsp
Mashed Banana – 1 cup
Brown / Refined sugar – 1 TBSP
Semi Sweet Chocochips – 2 tsp
Salt – to taste 
Buttermilk – 1/2 cup
Baking powder – 1/2 tsp
Cinnamon powder – 1/4 tsp (opt.)
Cardamom powder – 1/8 tsp (opt.)
Method:
Sieve flour with salt and baking powder. Mix in yeast and keep aside. 
Mix together mashed banana, buttermilk and sugar well. Add to the floured mixture. Add in cinnamon and cardamom powders if using. I used my stand mixer with the paddle attachment and the dough came together very quickly. 
If mixing by hand, do remember the dough is rather sticky. So you might want to lightly grease your hands before mixing.
Cover and rest in a oiled bowl. Depending on the climate, it might take 1-1.5 hours to double in size. I used wholewheat so the rise wasnt too much, but it was spongy. 
Punch it down once and transfer to greased and lined baking pans. 
Bake in a preheated oven for 30-35 mins till a toothpick comes clean. 
Rest on a cooling rack, slice when completely cooled into desired thickness.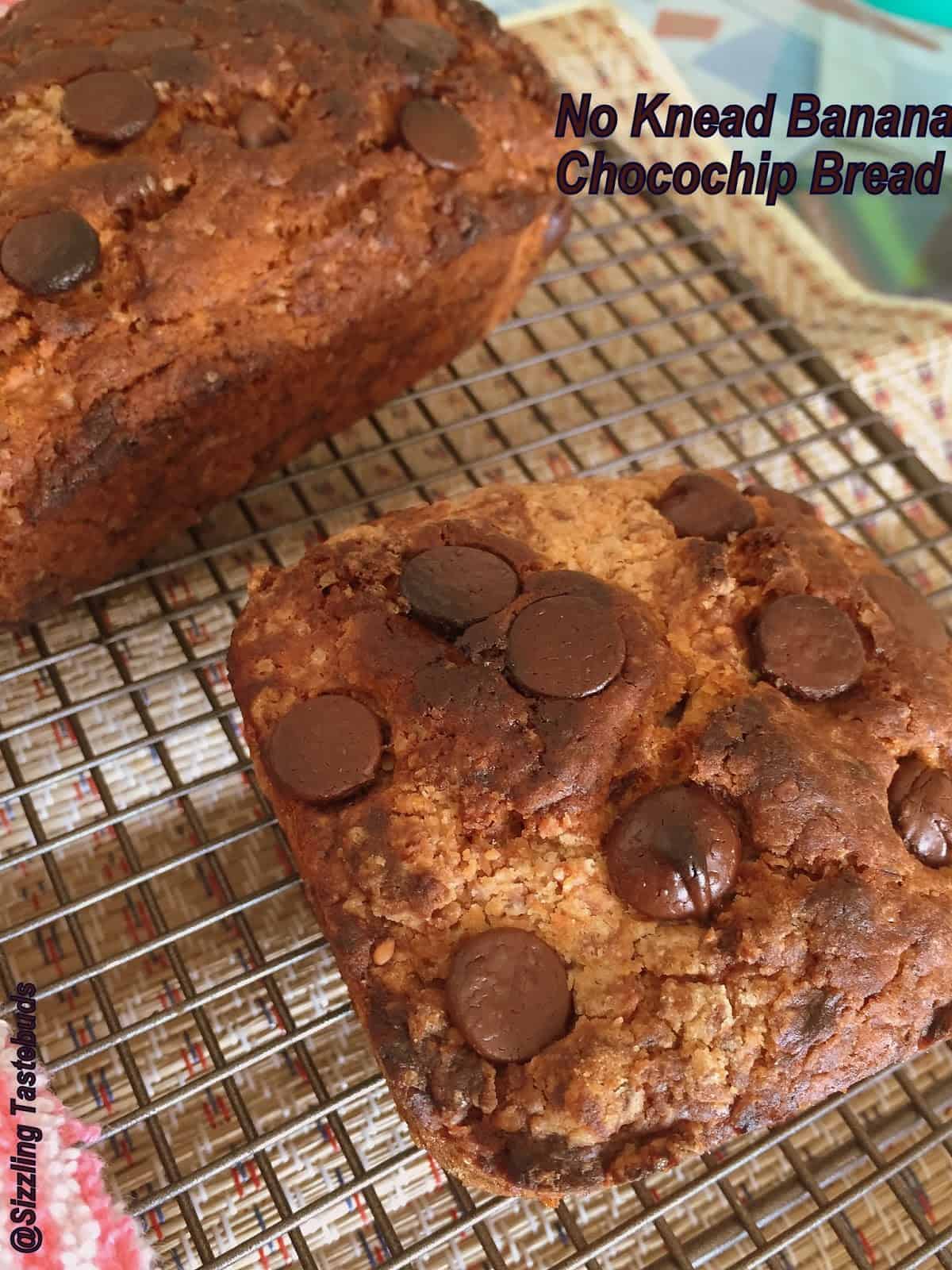 PinPin
This is part of the
Bake-a-thon 2015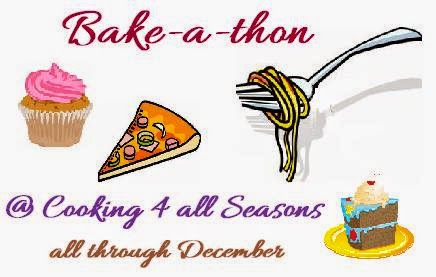 Pin