Now, who said you need to bake a Christmas cake at Xmas only ? Tutti frutti Cake, Plum cake, Christmas cake – call it what you may, but it brings back memories of dad and sis and me venturing out the Annual Nilgiris Cake Show at Bangalore every year when we were kids, and bringing home a delicious load of these eggless delights…Sinfully rich, yet captivating with the nutmeg and all the earthy spices and goodies it had within its belly. And happy to share that I almost achieved that result and thus creating another memory bag for kiddo :-))
Well, I baked it a week before Christmas, but sharing the recipe with you all today coz I went kaput from the blogging space during December. Well, the best part is eating the cake. Even my not-so-a-cake-lover husband helped himself to a few bites, and mom n kiddo loved it too ! And what's more : it has no eggs and no condensed milk. Full of health with wholewheat and dates and brown sugar and tutti frutti, you don't really need a reason to bake this anytime of the year. It keeps well for about 4-5 days under refrigeration. Sending this to BM # 37, and also to PJ who's hosting Baked Treats – Kids Delight.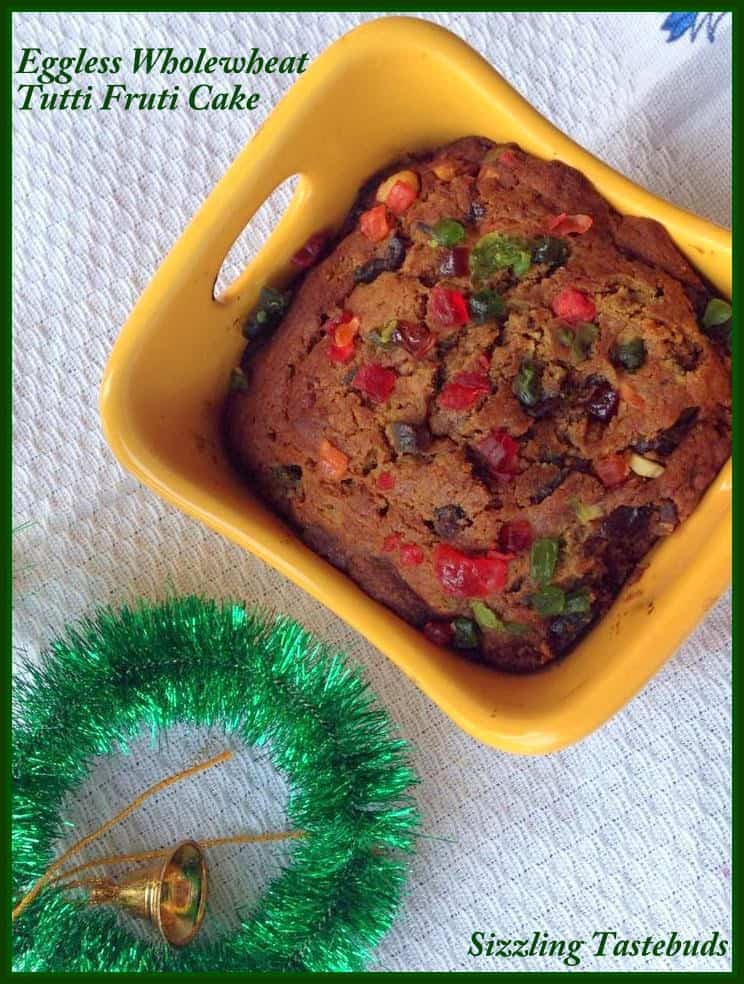 Pin
Prep time : 20 mins | Bake time : 30 – 35 mins |
Makes : 2 loaves of approx 300 gm each.
Recipe Source : here, adapted with some changes.
Ingredients:
Wholewheat flour (Atta) – 1.5 cups (you may use Maida / APF too)
Dark Brown Sugar – 1/2 cup
Butter – 4 TBSP
Neutral Oil – 2/3 cup ( I used Canola)
Mixed Dry fruits – 1/2 cup ( I used raisins, dates, cherries, tutti fruity)
Chopped Cashewnuts – 2 TBSP
Baking Powder – 2 TBSP
Baking Soda – 1 tsp
Orange Zest – 1/2 to 3/4 tsp
Orange essence – 1 drop (optional)
1 tsp cinnamon powder mixed with 2 pinches of grated nutmeg
Saunth Powder (dry ginger powder) – a generous pinch (highly recommended addition)
Salt – to taste (approx 1/2 tsp)
Water – approx 3/4 cup (I used a little less than 3/4)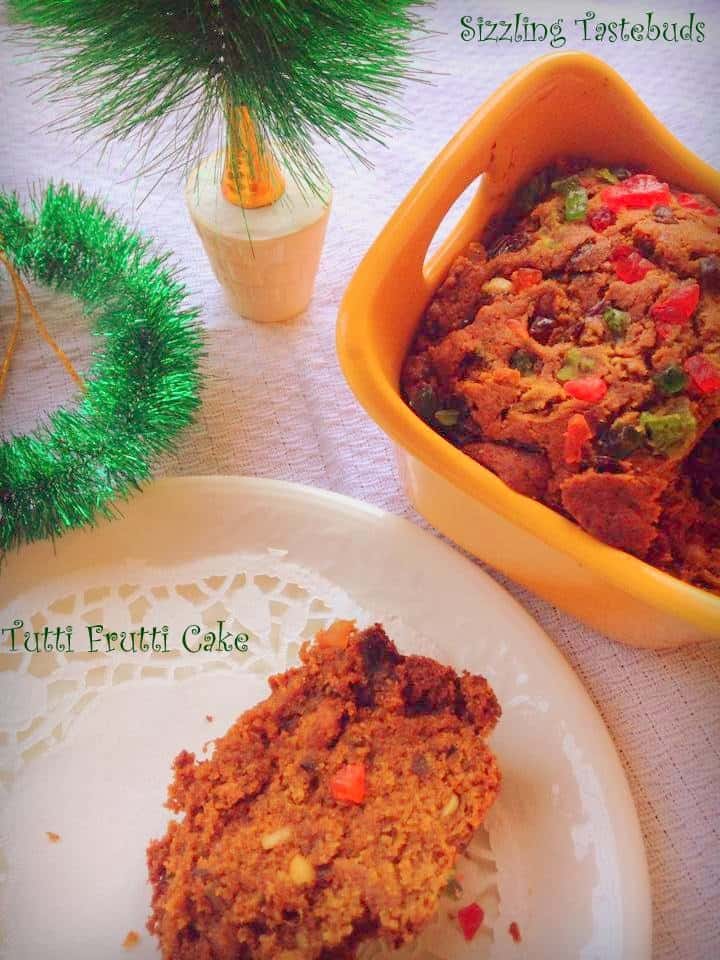 Pin
Method:
1) Preheat oven to 180 C / 350 F. Grease and line a mini loaf pan or cake pan. I used two 8oz ramekins and got two loaves. Melt butter for 1-2 mins and keep aside
2) Bring the water to boil in a saucepan, and add the dry fruits (Leave out the tuttifruity if using and the sugar) . Simmer for 8-10 mins till the dates have softened and turn slightly mushy.
3) Once slightly cooled, add the sugar, baking soda, zest and mix a bit. The soda might yield a bit of froth now, but thats ok. Don't mix once it froths
4) In a large dry bowl, sift the flour, baking powder, salt. Add the spice powders and mix well. To this add the chopped cashewnuts, tutti fruit and some glazed cherries. Mix well till the flour coats the nuts and other ingredients.
5) Add the cooled date-liquid to the flour and add the melted butter and oil.
6) Mix gently till the batter has no streaks of dry flour.
7) Pour into the prepared cake pans (or ramekins) and bake for 35-40 mins. This cake is slightly denser owing to wholewheat so will take a little longer, keep an eye afte 28 mins. Mine was done at 34 mins (insert a toothpick or fork in the middle of the pan to see if it comes out clean)
8) Let it cool a bit. Transfer to wire rack, cut, cool and enjoy 🙂
9) you may aditionally dust it with icing sugar and top with more cherries if desired.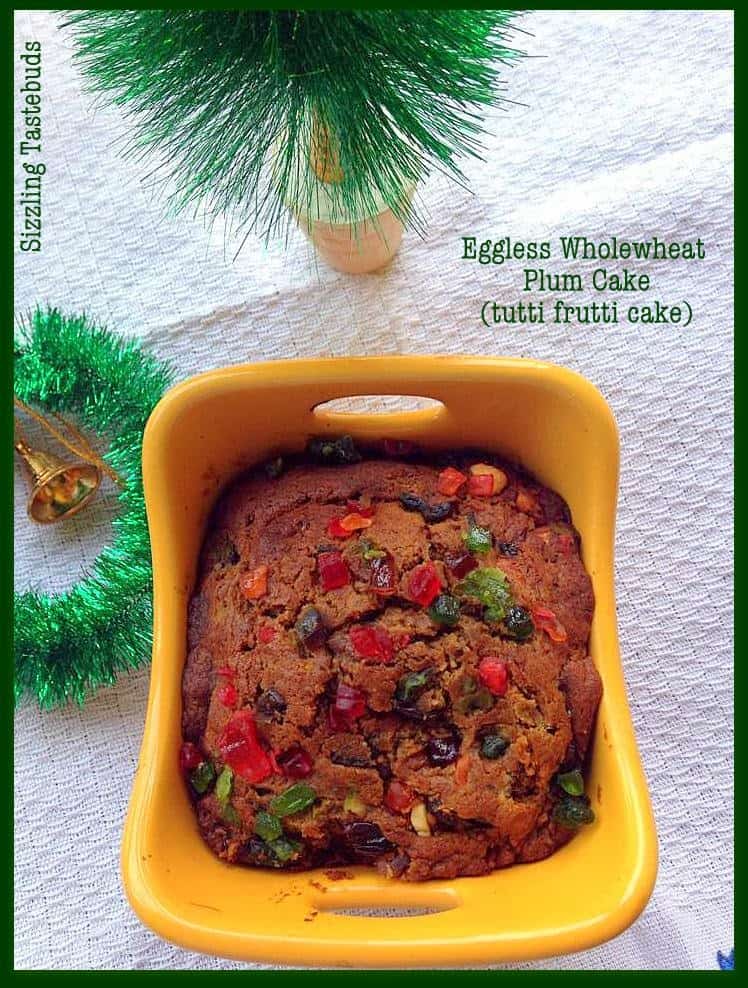 Pin