Fruits are fibre rich and most of
them are high in Sugar themselves. While I mentioned that we prefer eating the
fruits whole, here's the last in the Fruit Cooking Series  – a simple , no brainer yet yummy recipe
that's great for potlucks and also for those who crave for a dessert, but are
watching their weight (no! Not meL)
Apple Crumble with Almond Flour & No-sugar-added Muesli Topping. Perfect,light and very mild sugar : just what the doctor ordered after an appetizing meal. I made this single serve as we prefer it that way. You can make this in a large baking tray as well. And for those in love with Apple and Cinnamon (me , me , me :-)) this is like heaven calling out to you…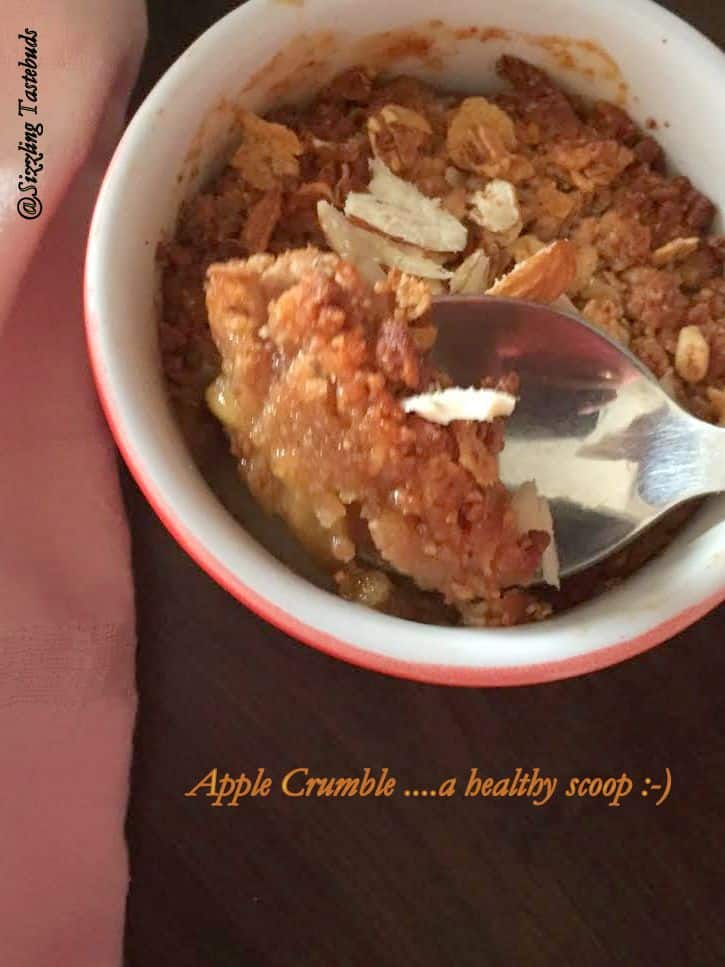 PinPin

If you prefer to make it totally grain free as the original version did, skip the muesli / Oats entirely and use just almond flour. This also goes to Harini's Fruits Theme – Kids Delight, event by Valli, and also to Blogging Marathon.

Adapted from here and here,
I made my own little variations. Serving this with Vanilla Ice Cream is totally
optional, although the kids loved it that way🙂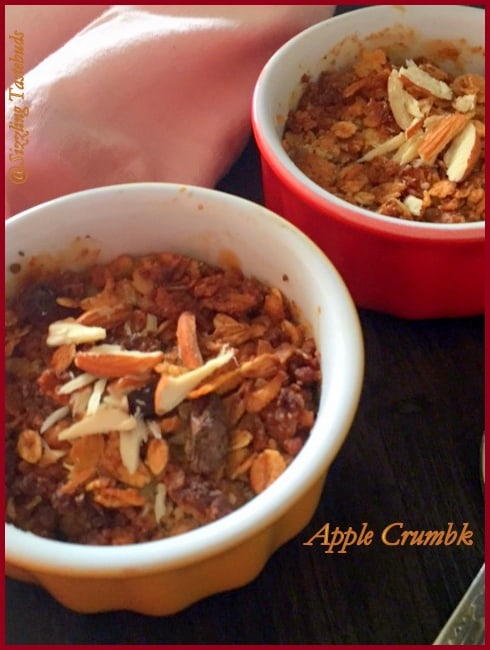 Pin

Prep time : 10 mins, Cooking +
baking time : 25 mins , Serves : 3

You
would need :
Apples (Ripe and red variety) – 1
large – sliced with skin off
Brown Sugar – 2 TBSP
Honey – 1 TBSP
Lemon juice – 1 tsp
Butter – 1 tbsp (I used vegan)
Salt – a pinch
Cinnamon sticks – 1 inch (or use ½
tsp cinnamon powder)
For the Topping:
Oats / Muesli (I used sugar free
Muesli) – 2 TBSP
Almonds – 1/2 cup
Honey – 1 TBSP
Chopped almonds – for topping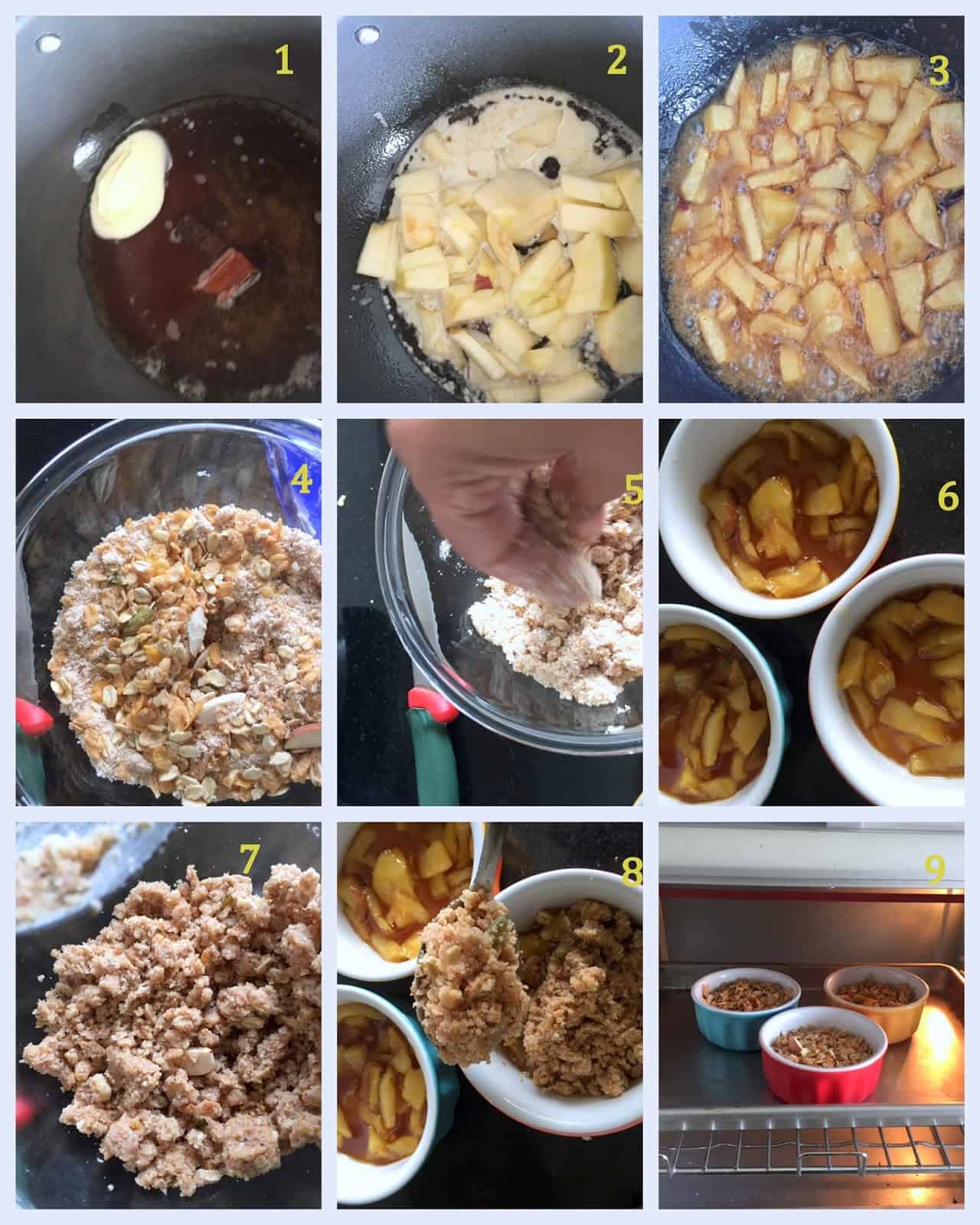 Pin

Method:
Stew the apples on a low flame
with 1/2 cup of water, butter, honey, brown sugar, cinnamon sticks till the apples become mushy and most of
the water evaporates.
Take out the cinnamon sticks if
using, add lemon juice,cinnamon powder,stir and keep aside.
Dry roast muesli and nuts
for 1-2 mins till they turn warm, lightly powder them in a spice grinder and keep aside. Add Honey and make a crumbly slightly sticky topping mixture
Grease the ramekins, add the
stewed apples at the base, spread the almond-muesli on top. Bake in a pre-heated oven
at 200C / 400 F for 8-10 mins or till the muesli turns golden brown.
Slightly cool. Serve as it is or
with a dollop of vanilla ice cream.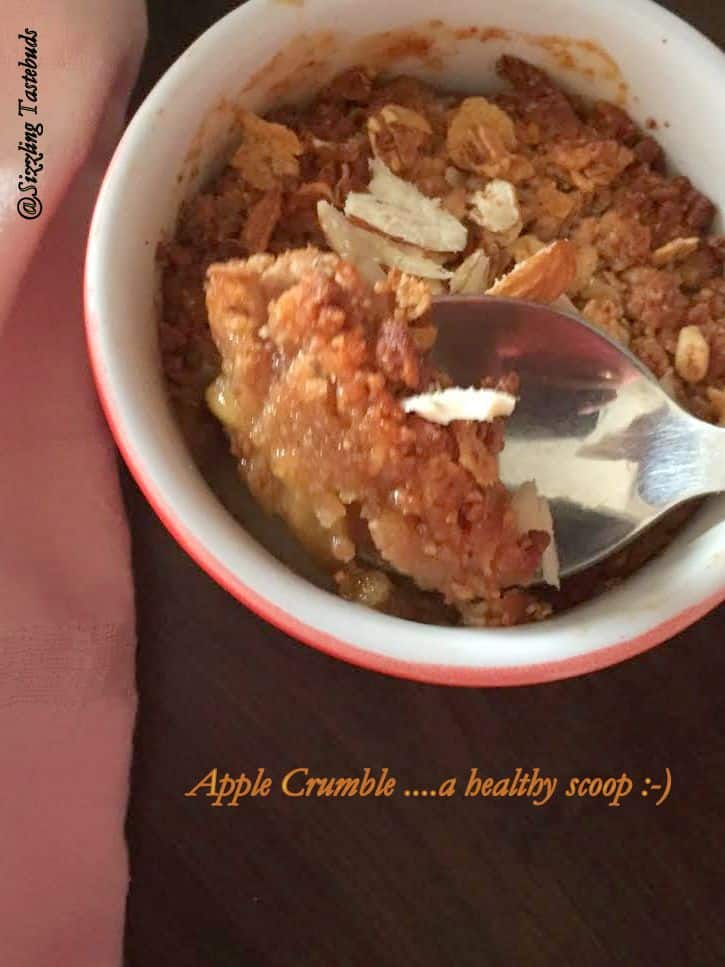 PinPin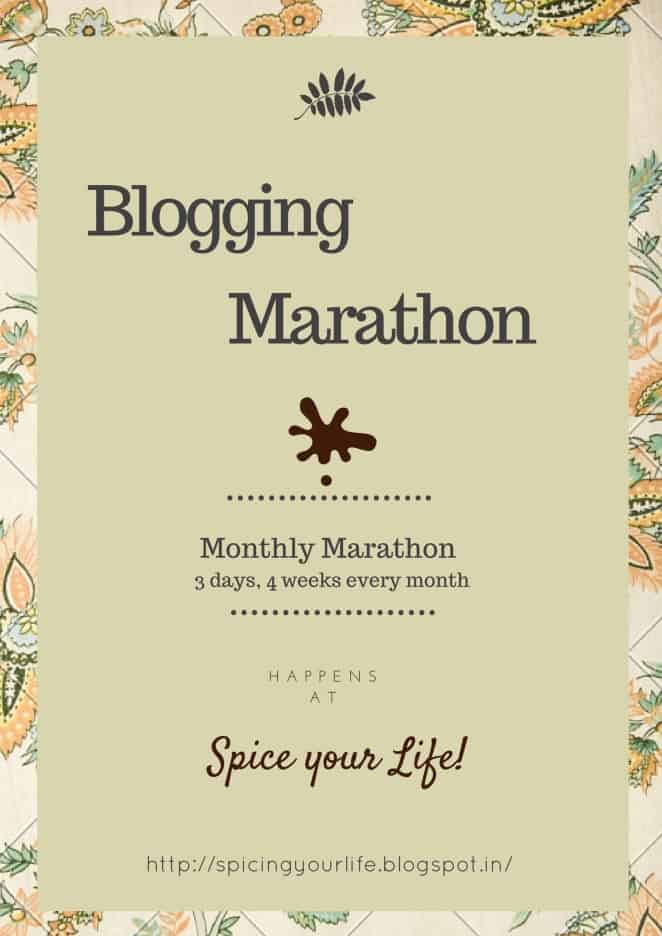 Pin
Check out the Blogging Marathon page for the other Blogging Marathoners doing BM#54