As mentioned in yesterday's post, we begin a new Mega BM today – JTTC (Journey through the cuisines). 
I have chosen Tamilnadu cuisine this month to add these dishes to my blog's repertoire :it was a wonderful opportunity to read so much about the cuisine I cook almost everyday, and hopefully you – the reader – would also enjoy this journey with me.
Most of the dishes are simple, everyday fare made a little jazzy with props, And some of them are first trial dishes. Some of the experiments especially Naivedyams (sweet festival offerings) didn't go well at first trial, while some surprisingly went well. I have documented all these, and hope you enjoy reading about them as well 🙂
I have chosen 6 sub categories to showcase Tamilnadu cuisine – Snacks , Naivedyams (offering to God), Bhakshanams (festival / ocacssion specific recipes), Main Course (flat breads / Rice), Sides (gravies / stir fries) & traditional Sweets. 
Most of the dishes feature the authentic Tamil names, and i have provided the english / hindi equivalent as far as possible. Also, Most of the recipes are satvic (no onion-garlic) and vegan too.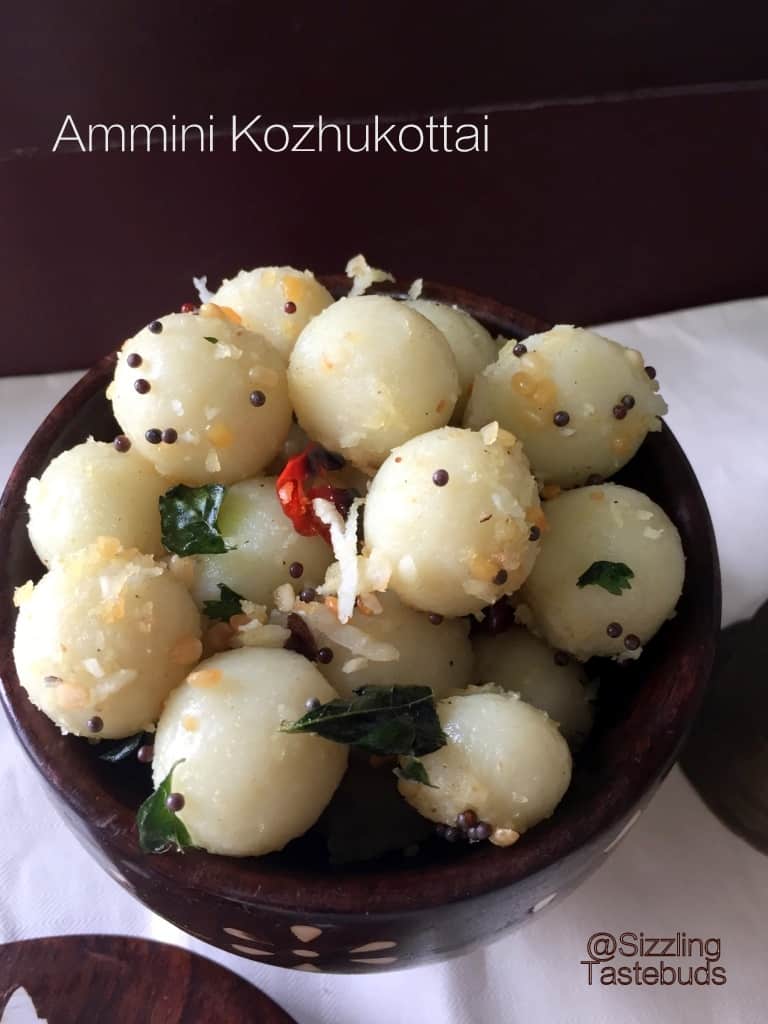 Pin

Hope you enjoy this journey of Tamil cuisine as presented in the next few weeks. 

Today we begin the Mega BM with Alphabet A : I had Aval Payasam (rice flakes kheer), Arisi Upma (broken rice savoury pudding) as the other shortlists but was keen to make today's dish as I had not made any Kozhukattai (steamed dumpling) from scratch.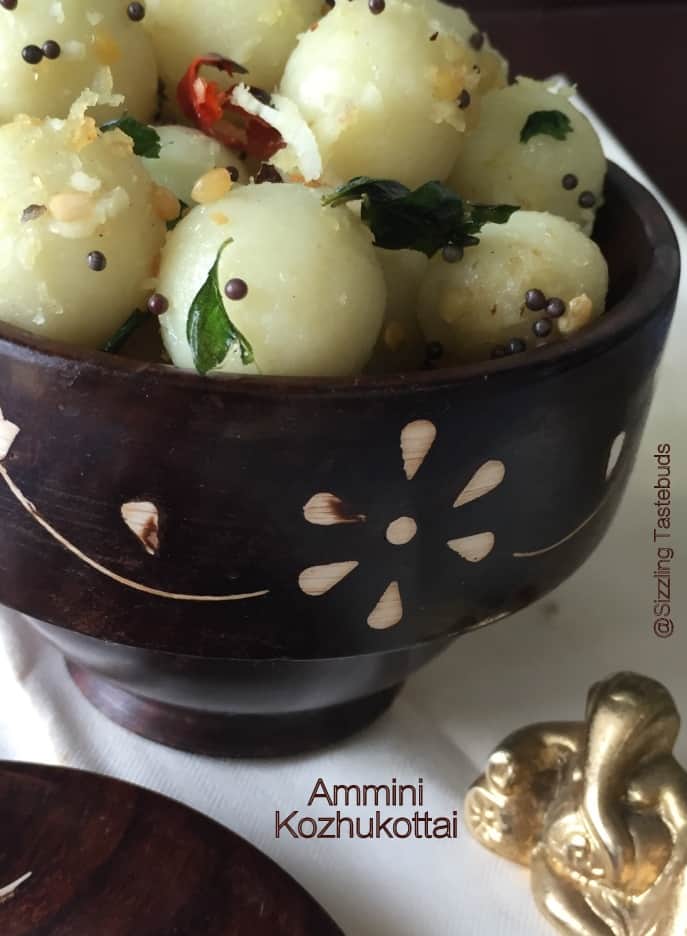 PinPin


This recipe is regularly featured as naivedyam (offering) to the Elephant God (Ganesh / Ganpati) during the festival season. I had bookmarked Rak's recipe to try, and with a minor variation it turned to be a great hit.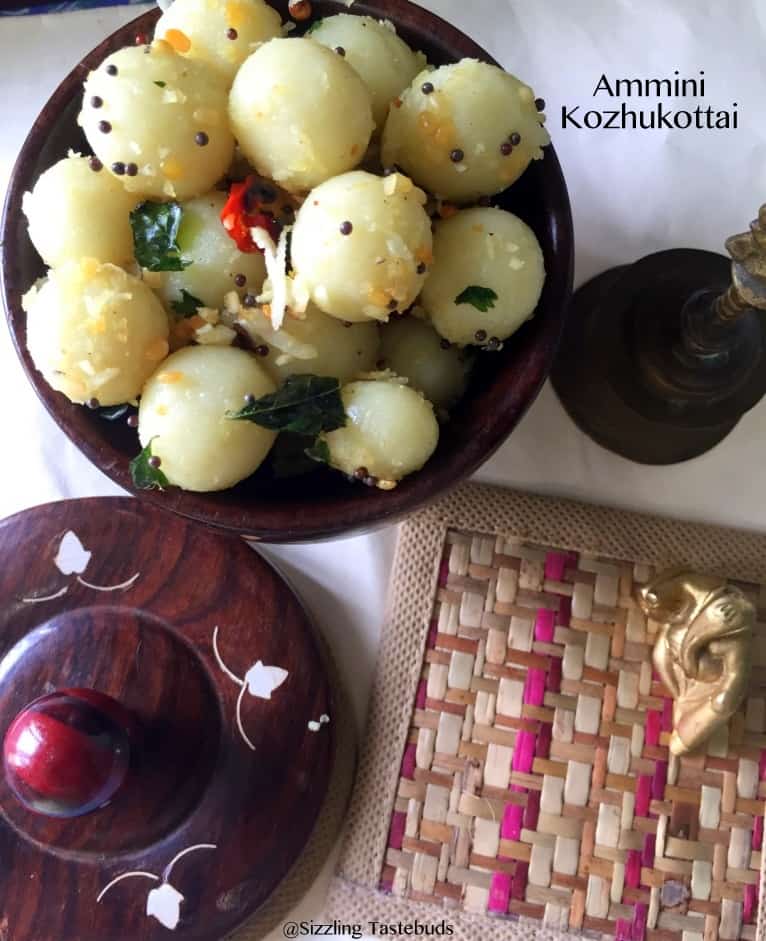 Pin
Makes for a simple low fat snack after school too, so festival or not, we are sure to make this often.Keep the proportions accurate and we get a guilt free snack in 20 mins flat. 


This is spiced up with a light tempering, so makes for a delightful snack anytime of the day, especially for unannounced guests. 


Now, lets get to the recipe:


Prep time : 5 mins, cook time : 15 mins ,Serves : 2
Ammini Kozhukattai – A Vegan rice flour steamed mini dumplings
Course : snack / offering to God ; Cuisine : South Indian (Tamilnadu)


Ingredients:
Rice flour / Idiyappam flour / Modak flour – 1/2 cup
Water – 1 cup
salt – to taste
Oil – 2 TBSP (divided use)
Tempering : 
Mustard seeds (1 tsp)
urad dal (1/2 tsp), 
curry leaves
broken red chillies (1)
asafoetida (a pinch) 
scraped coconut (2 tsp)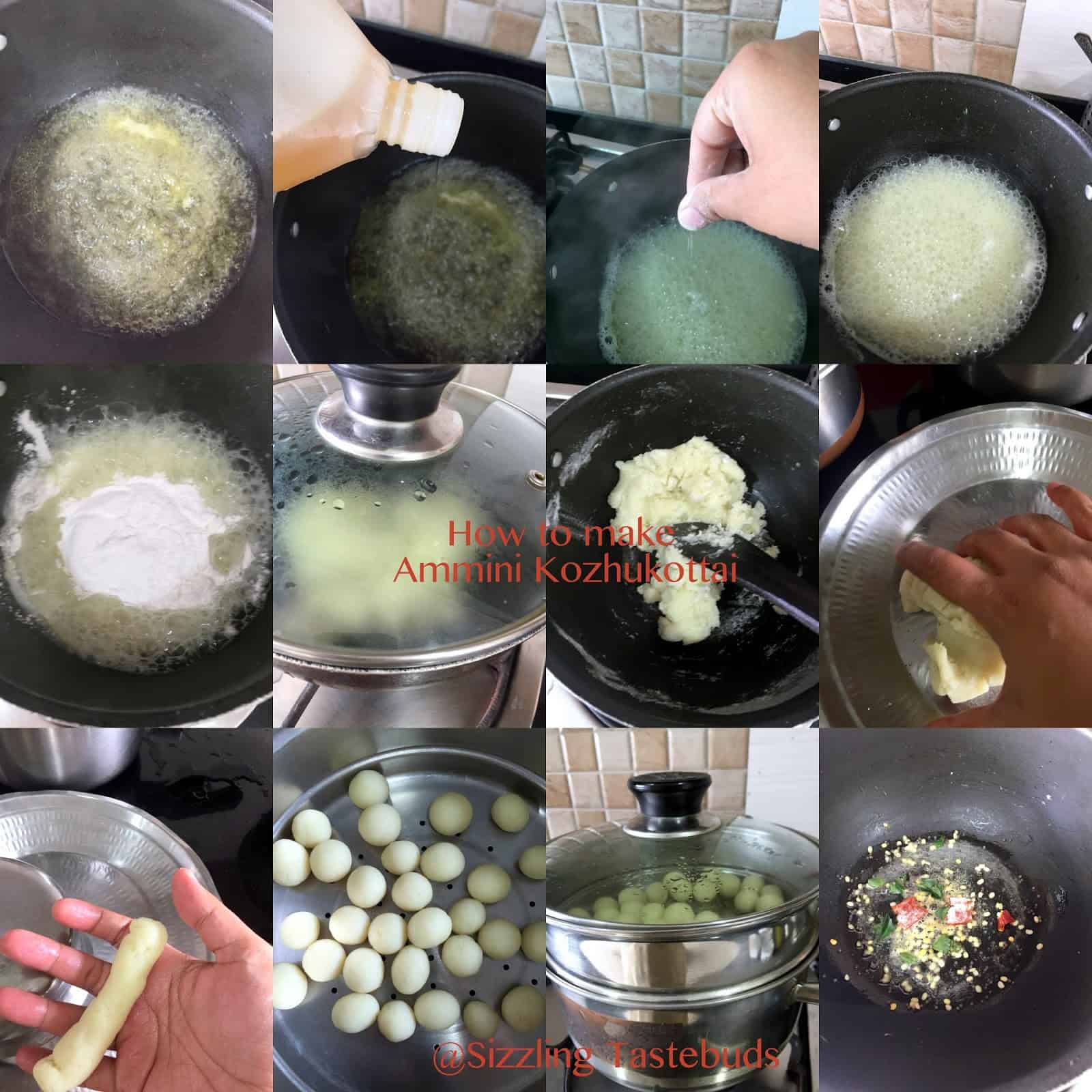 Pin
Method:
Bring the water to a rolling boil. Add 1/4 tsp of salt and 1 TBSP of oil. Sprinkle 2 tsp of rice flour and quickly close it. Let the flour cook for 1-2 mins. 
Now add the rest of the flour and mix vigorously. Cover to cook on low/medium heat for 3-4 mins. 
Switch off the flame. 
When the dough comes to slightly more than room temperature, gently knead with oiled hands. 
Make a cylinder with the dough and pinch into small roundels. Meanwhile keep a steamer with adequate water to boil)
Steam these mini dumplings for 8-9 mins till glossy. Dont overcook them else they would turn rubbery.
Once they cool, prepare the tempering with the remaining oil and tempering ingredients. Toss the kozhukattai in these and serve immediately.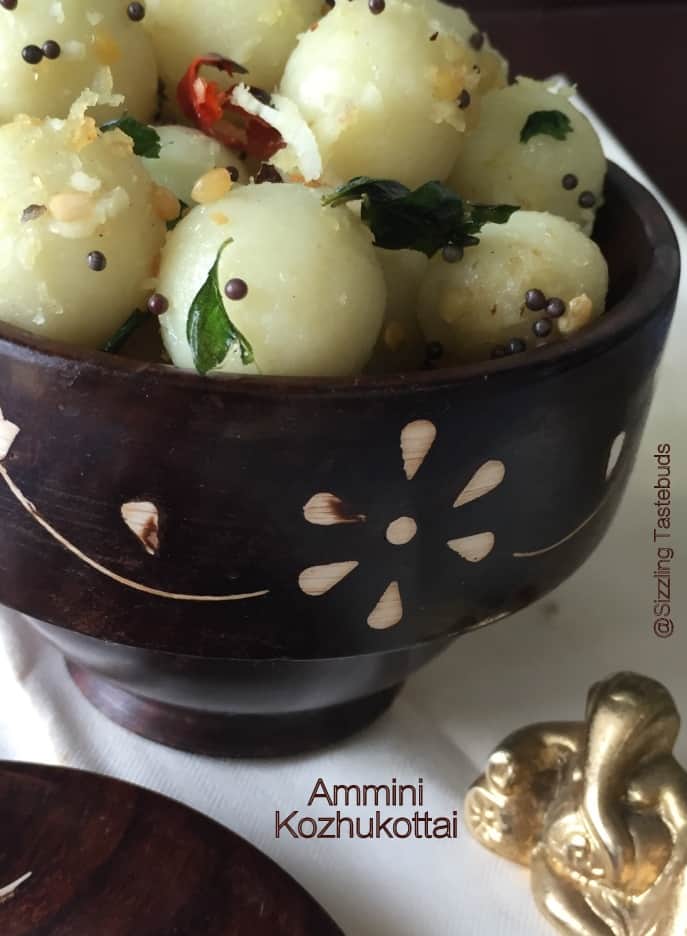 PinPin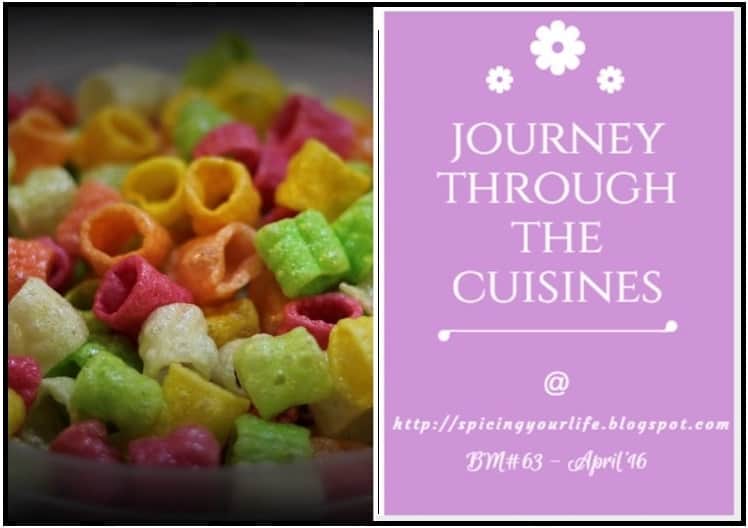 Pin
Check out the Blogging Marathon page for the other Blogging Marathoners doing BM# 63 . 


This also goes toA-Z Challenge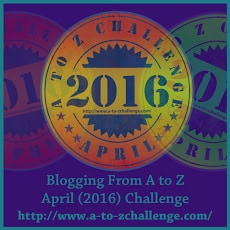 Pin