Before we get on to the post of the
day, let me take you through how Traditional dishes in South India have
evolved, and how they form part of any formal sit down meal – be it at
festivals or any occasion. My personal take is that, like any other food across
the world, Indian cuisine too has a certain order the dishes are served,
especially inSouth Indiancuisine – thechutneysandpachadisare served after
salt / pickle to tickle the senses – to bring the hot, fiery, tarty, spicy
flavours all in one go, and perk up the appetite much as an appetiser or soup would do.
The proteins and carbs are followed
with Rice, ghee (clarified butter – meant to line the stomach against acidity)
with the Sambhar (Lentils –
Veggie gravy) & Morkozhambu (yoghurt
gravy) which are again light on the stomach yet packed with punch with simple
earthy flavours before the oil from the deep fried papad(or vadas) and the
flavoured rice like Puliyogare or Chitranna are served.
The requisite fat comes from the fried
papad, and the fibre from the different stir fries (or Palya / Curry) or Usli from mostly green
vegetables that are just steamed and tossed with minimum oil. Sometimes it
could include a few root vegetables like Potato (which are again, never fried
but sautéed and tempered).
The journey goes on with Rasam (light lentil
broth – meant both to soothe your throat as well as to aid in digestion from
the copiuous cumin and coriander used in there) and then the Thayirvadais (deep
fried lentil vadas soaked in spiced yoghurt and tempered) all making their
appearance in quick succession along with payasam (kheer) to
soothe your palate after all the spice and the meal ends with cooling and soothing buttermilk
or curd. In all, a wholesome balanced meal and a gratifying experience, isn't
it ?
Its the beginning of another week at
the April Mega Blogging Marathon and
the theme is "Traditional Dishes". Guess this theme has no boundaries for India
is such a vibrant country with festivals in almost every month and each
household having its own traditions to celebrate them with a variety of
platter.
I have chosen those traditional recipes
which are made in my home, and we start with a yummy finger licking chutney (or
pachadi as its known) with Raw Mangoes. Made for Ugadi (or the Hindu New year),
this lipsmacking chutney is sure to tickle your palate as you prepare for the
sit-down meal after the Pooja (or worship) is completed on Ugadi. Lets get on
with the recipe for Ugadi Manga Pachadi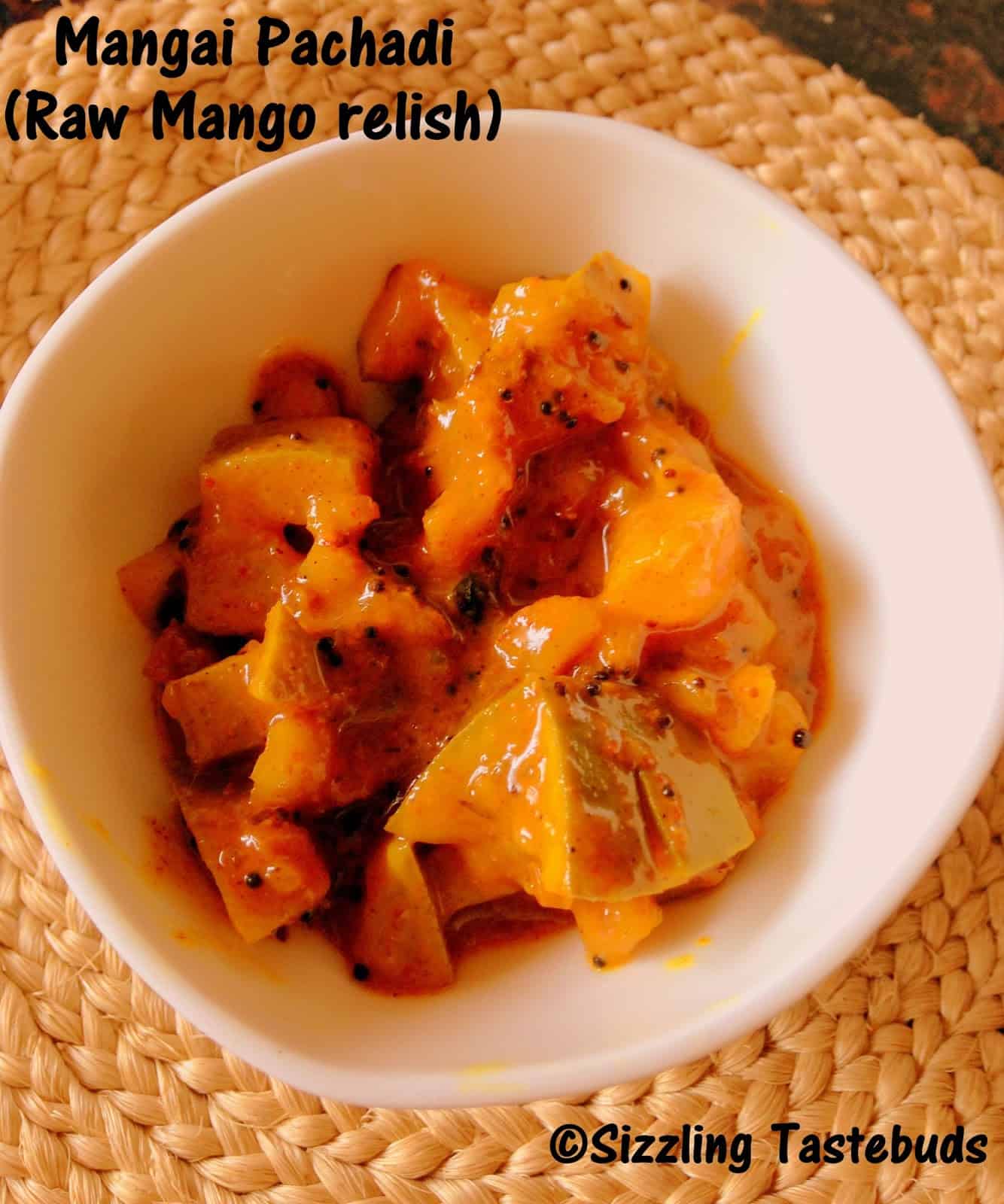 Pin

Prep time – 10 mins | cook time :
10 mins | Serves : 4

Difficulty level – Easy

Spice level – Medium

Ingredients:

· Raw Mango – 2 nos (medium)

· Jaggery – 4 TBSP

· Salt – to tase

· Oil – 1 tsp

· Red chilli powder – 1 tsp

· Methi seeds – ¼ tsp

· Dried or fresh Neem flowers – 2 small
pinches (optional – I didn't add)

· Tempering : Mustard seeds, asafoetida
(a generous pinch), curry leaves, turmeric (1/2 tsp)

Method:

Bring about 2 cups of water to a
rolling boil

Wash, peel and shred the raw mango into
thick slivers (you may chop them too, but thick slivers are preferred – else
you may cut them into chunks)

In a thick bottomed kadai (or pan),
heat the oil. Once hot, splutter the mustard seeds and rest of the tempering.
Once the curry leaves are sautéed, add the methi seeds and let them brown a
little.

Add the chopped raw mango, and the
boiled water. Cover and cook for 8 – 10 mins till the flesh turns pulpy.

Now add the jaggery, salt and rest of
the ingredients. Let it cook for a further 5 mins on very slow flame till the
consistency is jam like and coats the back of a spoon. If using neem flowers,
you can add them in the tempering itself.

Serve warm at the beginning of any
traditional meal

Leftovers make a yummy spread on
toasted bread or roll it up with parathas or chapattis.

Note : If the raw mango is not tarty
enough, you could add 1 tsp of tamarind puree, but I assure you the taste would
be compromised. Look for sour raw mangoes to make the authentic version.