It seems like only yesterday when my first taste forfried Dal Vada (or Paruppu Vadai)started… Its my comfort food, especially for festive occassions, when I love to dunk some vadas in piping rasam or bite into the crusty heavenly stuff just out of the frying pan. One more secret I will let into is, I love dipping these fried vadas into Semiya Payasam (Sevai Kheer), however eclectic the combo it may seem .And while I did that, my sis wondered if I had gone bonkers (perhaps you as a reader would also have raised eyebrows, reading this now !! – but the combo needs to experienced to savour the spicy hot – sweet taste)… However, time passed and my ever expanding waistline started telling me I need to look for healthy alternatives to this deep fried delight, and so comes today's recipe – the steamed Dal Vada. 
Like the fried version of Dal Vada, I was introduced to the Steamed Dal Wada (presented today) whenever amma made Paruppu Usli(esp with Kothavarangai / beans). She used to make these lentil cakes (with finely ground lentils) that was hot,spicy,steamed and oil free! How much more healthy can it get ? Your protein intake for the day is quite taken care of by this. I usually also like to re-steam the leftovers and enjoy it the next day with hot piping Milagu Rasamand hot rice. Or drop them in a simmering kuzhambu (tamarind-veggie gravy) for an easy version of Paruppu Urundai Kozhambu ! SlurpJJ
So, to make things easy, I made this for an evening snack last week, and we enjoyed it quite a bit.I ground the dal coarsely and the mixture of dals was an experience worth writing about. Sending this to Day 3 of BM # 17 under "Quick Snacks for Kids". The previous two posts were Eddada (Safed Dhokla) and Couscous Peas Tikki. 
Check out the fellow marathoners 
here
.
Pin

—————————————————————————————-

Prep time – 20 mins + 2 hours soaking time

Cooking time – 20 mins

Serves – 3

Accompaniments – any spicy chutney / Tomato Ketchup

—————————————————————————————-

Ingredients:
Mixed Dal – 1 ¾ cups (See notes for more info)
Red Chillies – 4 or 5 (less spicy variety)
Green chillies – 1 or 2 (adjust spice)
Hing / Asafoetida – a generous pinch
Turmeric – ½ tsp
Coriander / Cilantro & Curry leaves – a nice huge handful
Salt – to taste
Notes:
The following dals were added. These are approximate measurements (and proportion). Vary them according to the taste: Toor dal – 1 cup, Channa Dal – ¼ cup, Whole Urad (without skin) – ¼ cup, Moong Dal (split green gram) – ¼ cup.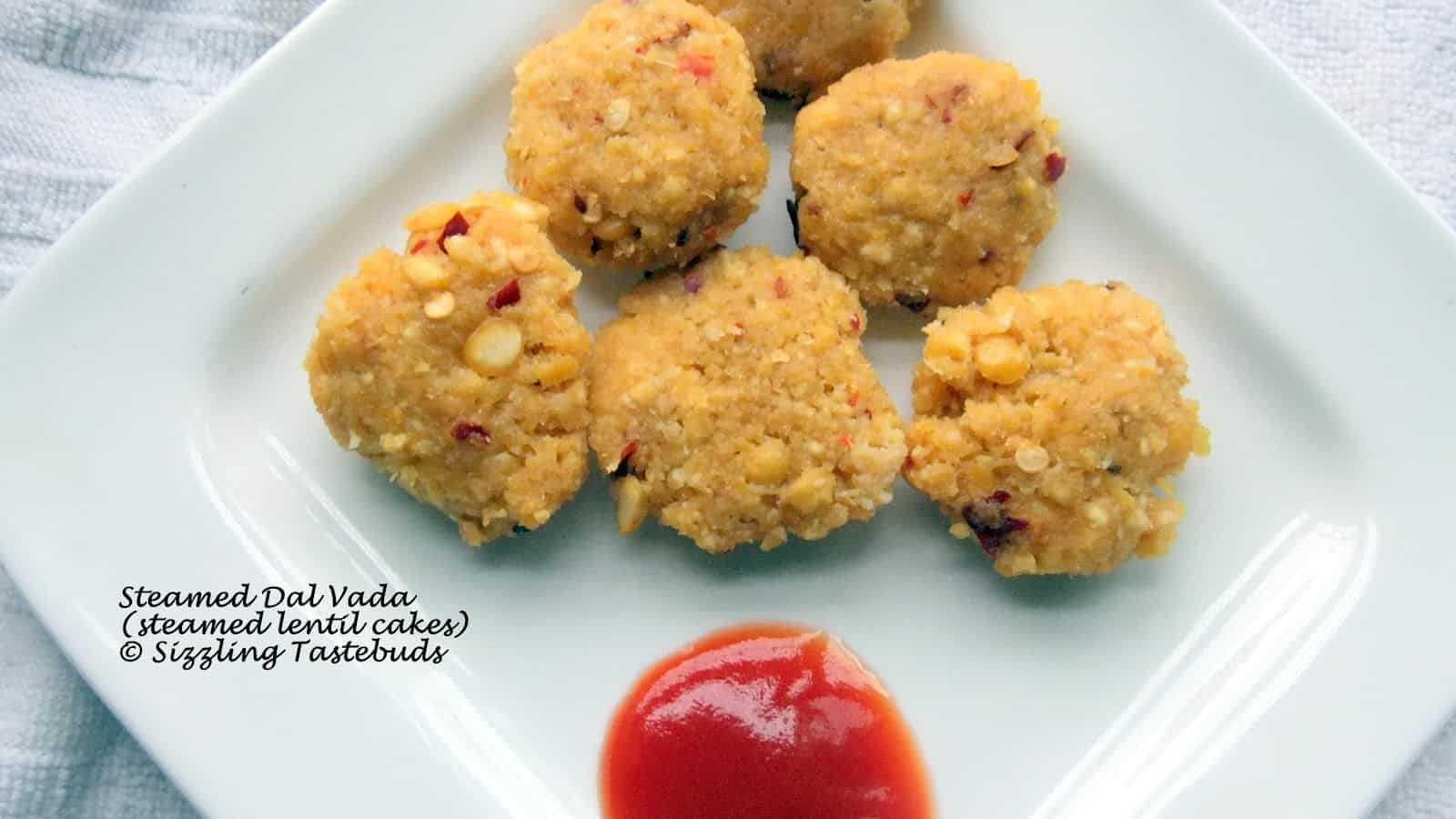 Pin
Method:
1. Mix and wash the lentils. Soak for 2 hours in warm water along with the red chillies.
After 2 hours, drain water thoroughly. Pulse them just once (for less than 20 seconds) along with the red chillies.
2. Drain to a large bowl. Add chopped green chillies (I de-seed them), turmeric, hing, salt, chopped coriander and cilantro leaves and mix well to a wet (but not runny batter). Check salt as dals tend to absorb salt only later – so if it seems like a little less right now when you taste, the better.
3. Steam an idli cooker (or steamer) with adequate water.Lightly grease the plates used for steaming. Divide the batter into equal portions and with slightly wet hands, pat them into small vadai (or flat patties). Place them in the steamer (in batches) without the vadais touching each other.
4. Steam for 10 -12 mins on medium-high flame. Repeat till you exhaust the batter. You should get about 18 – 20 medium sized patties.
5. Serve hot with a dollop of ghee or any spicy coconut chutney / tomato ketchup (for kids).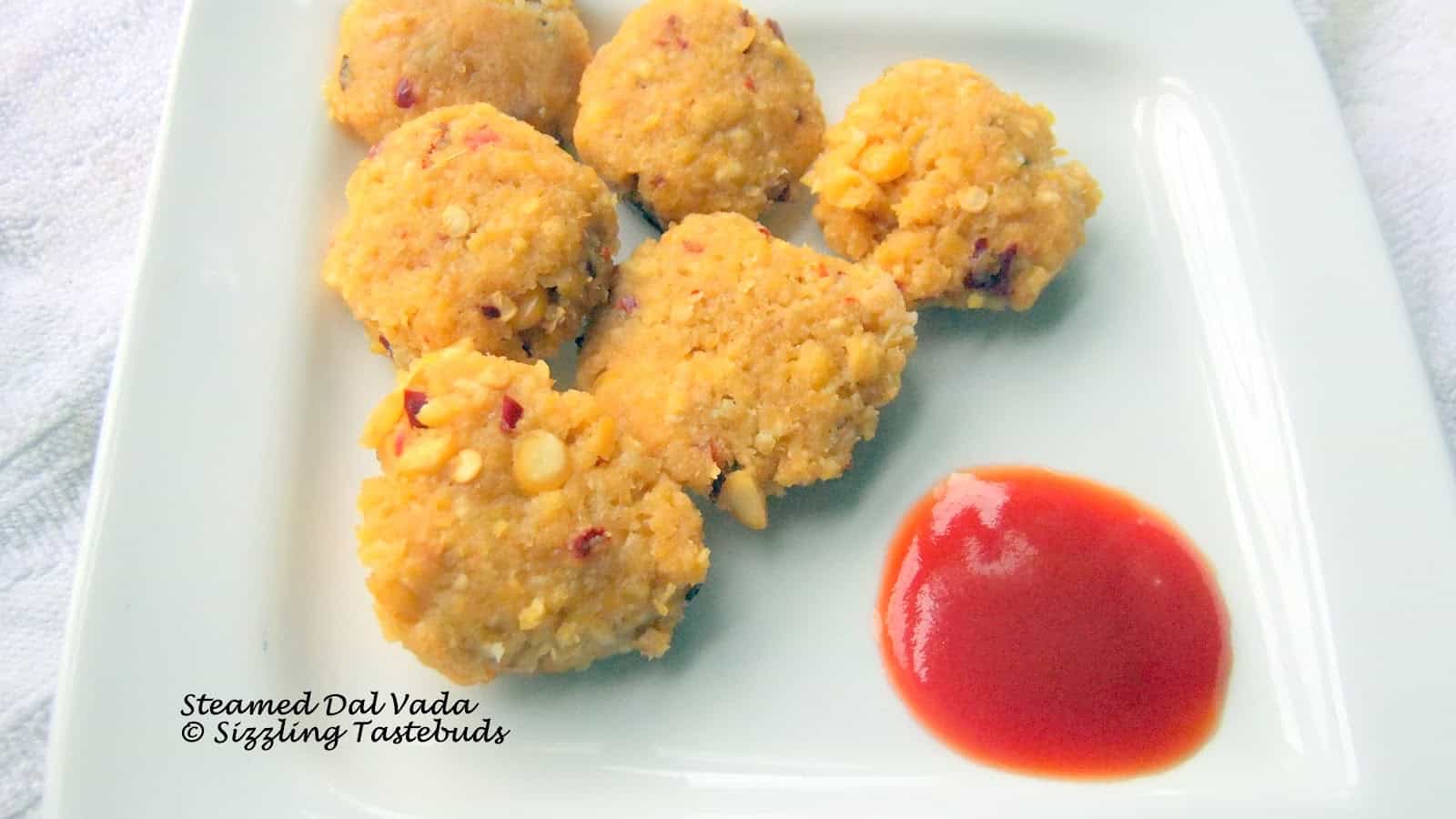 Pin
Linking it to :