Morkozhambu (veggies in yoghurt
gravy) and Paruppu usuli (lentil-veggie steamed stir fry)  are like a match made in heaven. This combo
features regularly at my place for most festivals and celebrations.  I have already posted the recipe for Iyengar Kalyana Morkozhambu here. 
Today's combo post is the first in the series of Combo Meals for Blogging Marathon 46 beginning today. Check out the recipes, and let me
know how you liked the platter..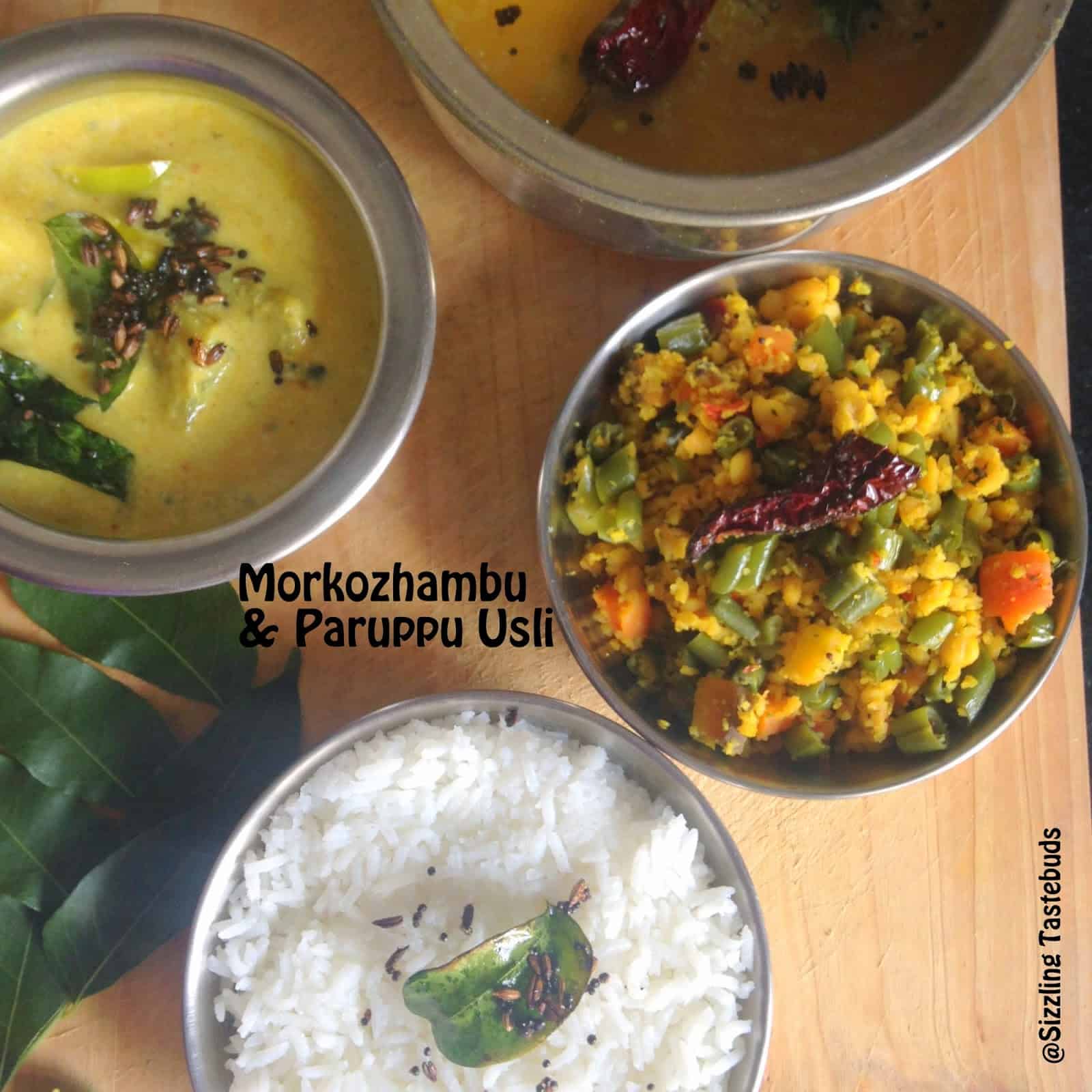 PinPin

I have included Morkozhambu, Beans
Paruppu Usuli, Lemon Rasam and steamed rice in the festival platter picture
here. The detailed step by step is for Parippu Usli : I have shown it for
cluster beans (you can substitute with French beans). Hope you enjoy this
traditional meal. This parippu usli is also a great combo with Manithakkali Kozhambu
(or any tamarind based gravy)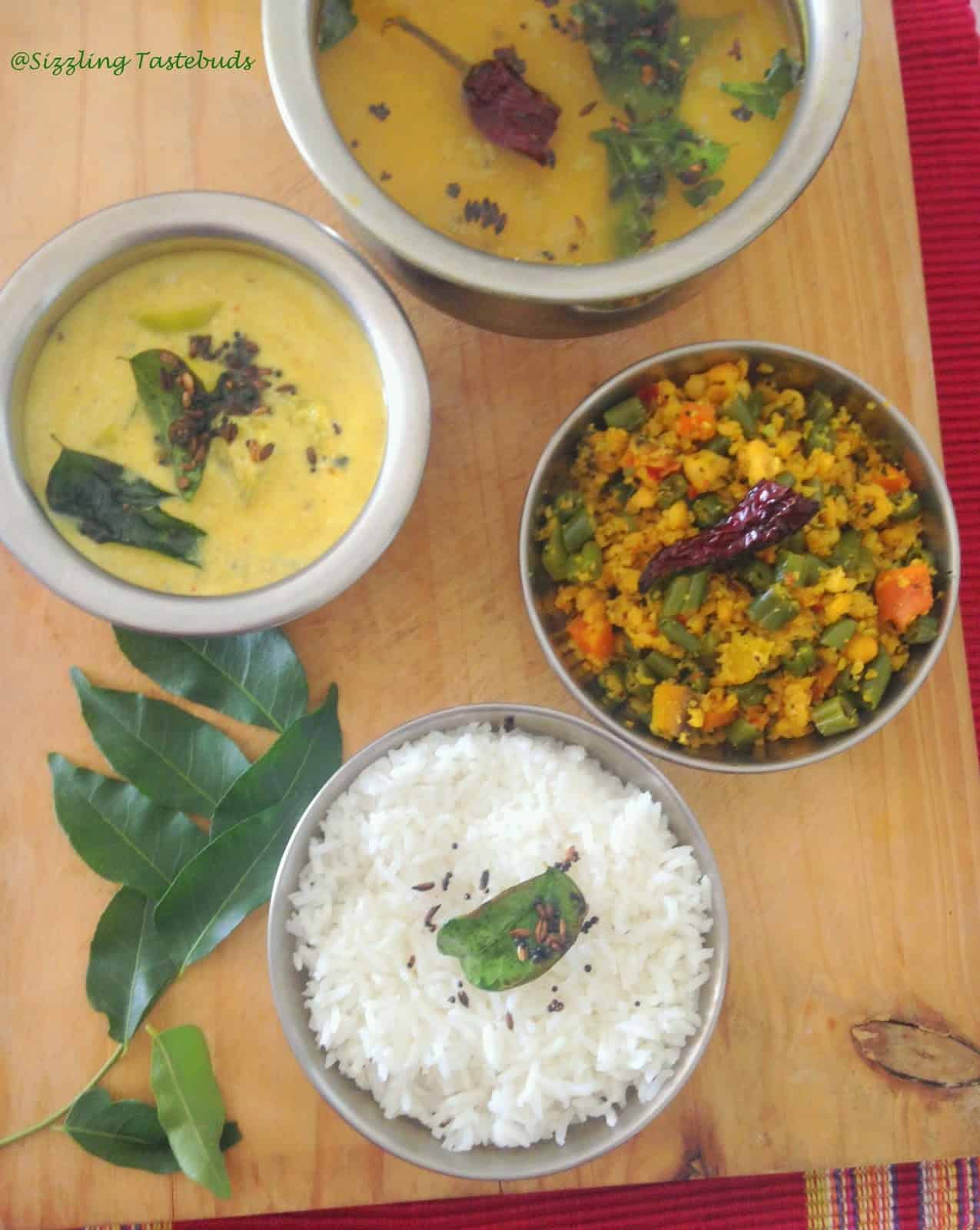 Pin

Morkozhambu and Parippu Usli combo Meal

1) Morkuzhambu recipe here
( I have simply substituted Ashgourd with Lauki /bottle gourd)

    

  Prep time : 15 mins | Cook time : 15 mins | Serves : 4     

  (Ash gourd in tempered Yoghurt Curry – served with Hot White Rice and Ghee)

Ingredients:
White Pumpkin – peeled and cubed into 1 inch thick batons – 1 cup
Curds – 1 1/2 cup
Salt – to taste
Turmeric – 1/2 tsp
Hing / Asafoetida – a generous pinch 
To grind:
Toor Dal – 1 TBSP
Ginger – grated – 1/2 tsp (optional)
Coriander seeds – 1.5 TBSP
Channa Dal / Split Bengal gram – 1 1/2 tsp
Red chilli – 2 nos (adjust spice)
Methi seeds (dry fenugreek) – 1/2 tsp
Grated coconut – 3 TBSP
Tempering : Oil (1 tsp), 1/2 tsp Mustard seeds and 1/2 tsp cumin seeds, curry leaves (few)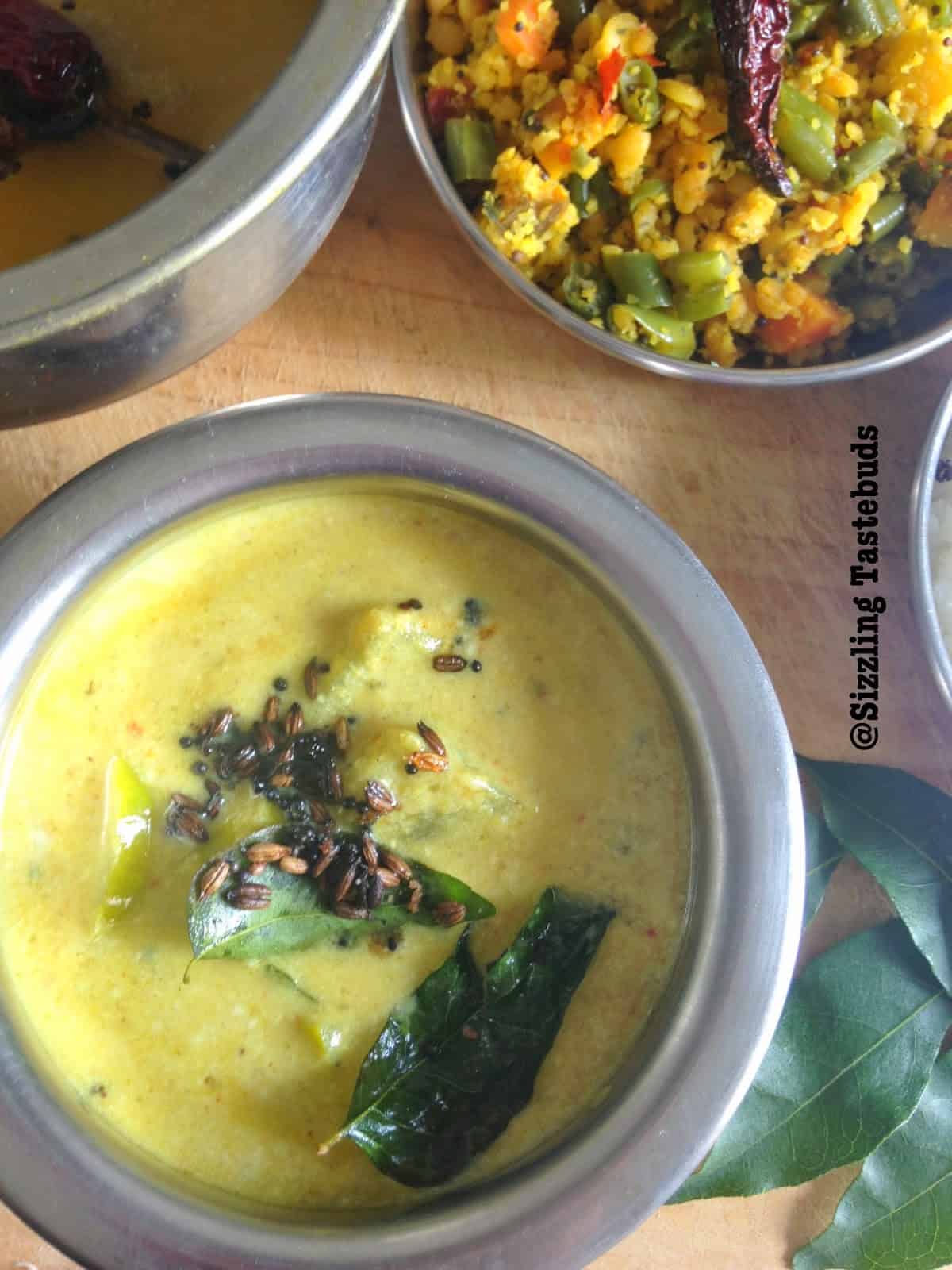 Pin
2) Paruppu Usuli: I have a version
here, but have included the steps again with step by step pics for a slightly
different version today.
Prep time : ½ hour, Cook time : 15
mins (this can be simultaneously made 
alongwith the Morkozhambu to save time)
Serves : 4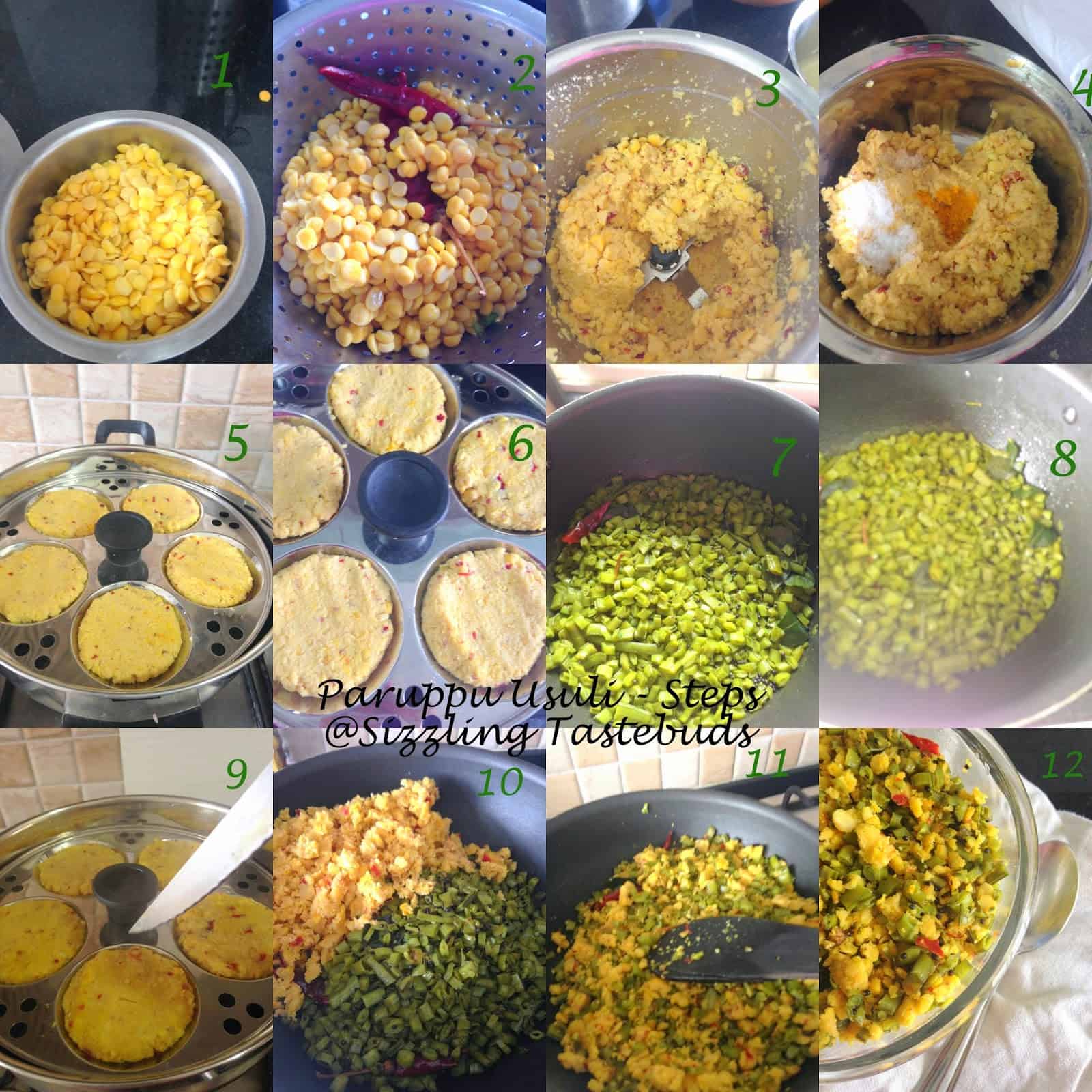 Pin
Ingredients:
Toor dal / Tuvaram Paruppu – 2 big
handfuls
Channa dal / Kadalai Paruppu – 1
big handful
Red chillies – 4
Turmeric – ½ tsp
Aafoetida – a generous pinch
Oil – 2 TBSP
Cluster beans / French beans –
Trimmed and chopped fine – ¾ cup (about 100-120 gms of chopped weight)
Salt – to taste
Tempering :Mustard, curry leaves,
1 red chilli (broken)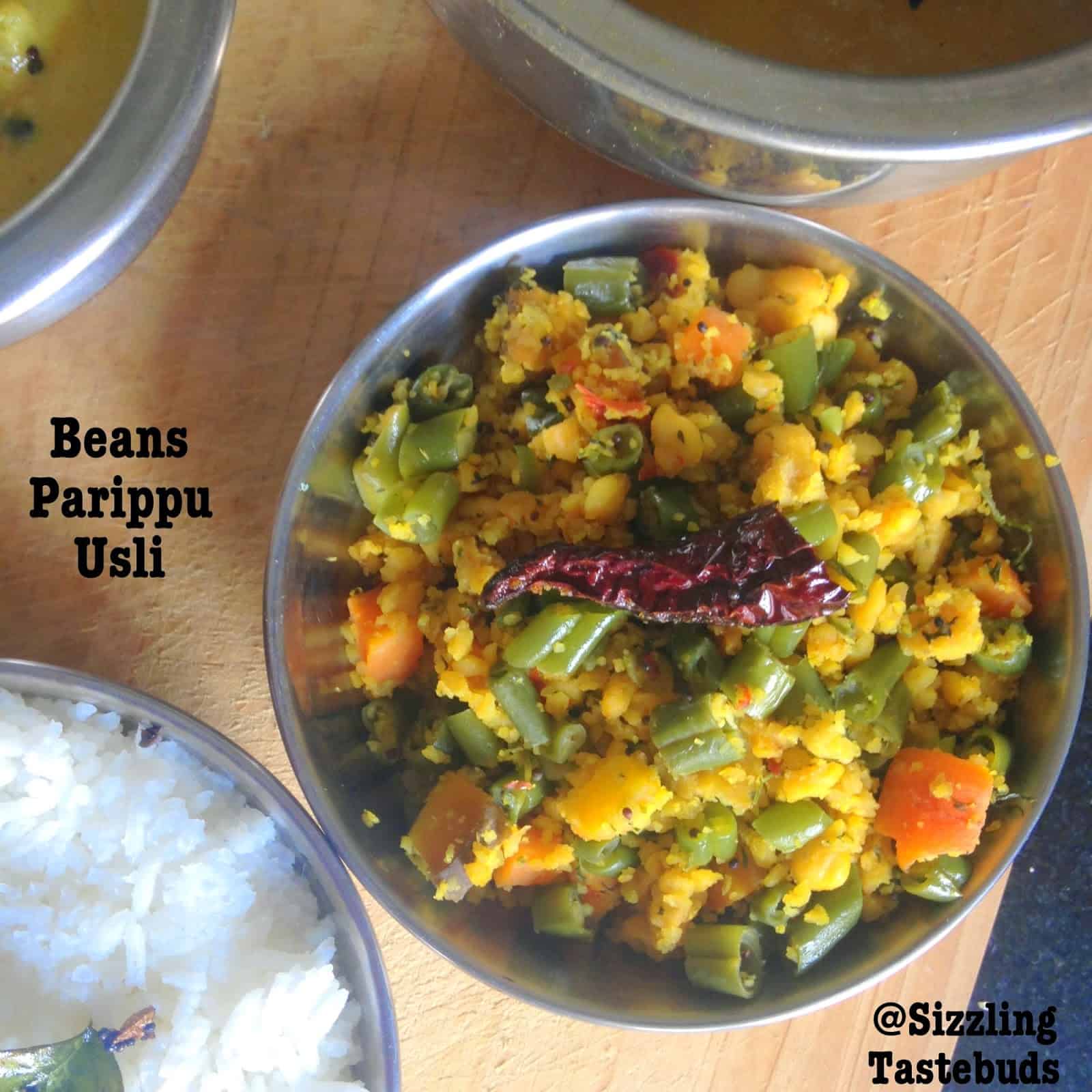 Pin
Method:
Soak the dals in hot water along
with the red chillies and a pinch of turmeric for 30 mins. Meanwhile chop the
veggies fine and steam them for 10 mins till 90% done but not mushy. Let all
the water evaporate from the veggies.
Drain the dals, grind them with
red chillies, asafetida and turmeric to a semi-smooth paste. Add chopped coriander
leaves(if using), and mix well.
Place in Idli moulds and steam for
15-20 mins (I used an idli steamer, but if you are using pressure cooker, steam
without whistle). Cool completely.
Once completely cooled, simply
mash up the cooked dal into a consistency of bread crumbs (if your dal is well
steamed, the crumbs can be made in a matter of minutes. If there's some
moisture left, crumble them thoroughly, and saute in a tsp of oil for 5-6 mins
before proceeding to the next step)
In a pan, make the tempering of
the mustard, curry leaves and chillies. Add the steamed veggies and sauté in
the oil for 4 mins on low. Once done, add the dal crumbs and toss for 2-3 mins
taking care not to mash them up.
The stir-fry is quite dry in
consistency
Serve immediately with rice, morkozhambu
and a dollop of gheeJ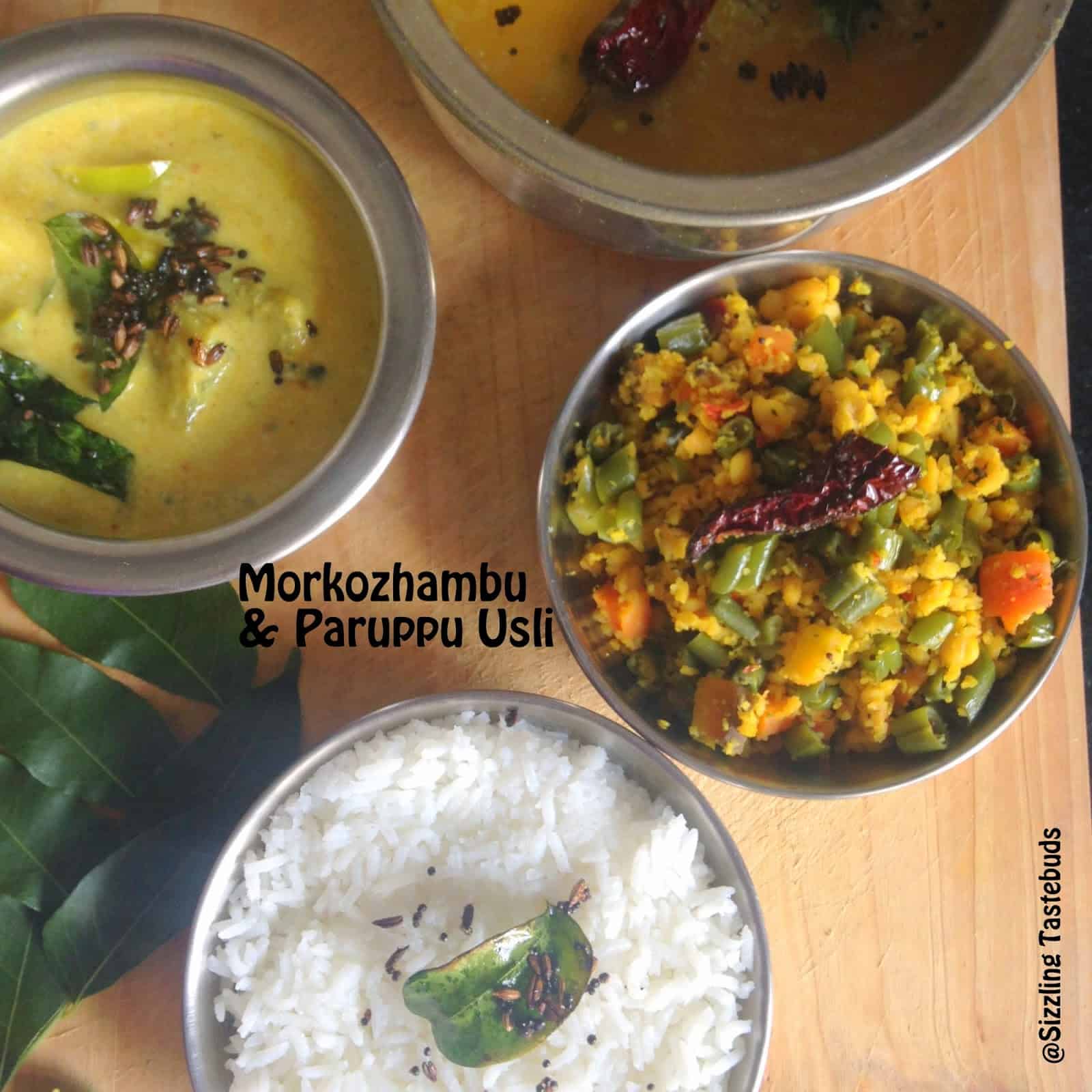 PinPin