How can we possibly have a protein rich Blogging marathon without a chaat ? As you would know by now, am quite fond of street food and although laborious I prefer to make them at home not just for hygiene (which is the most important reason) but also to feed the kids a sumptuous snack once they are back from snack. After two idli recipes in a row, make room for some chaat :p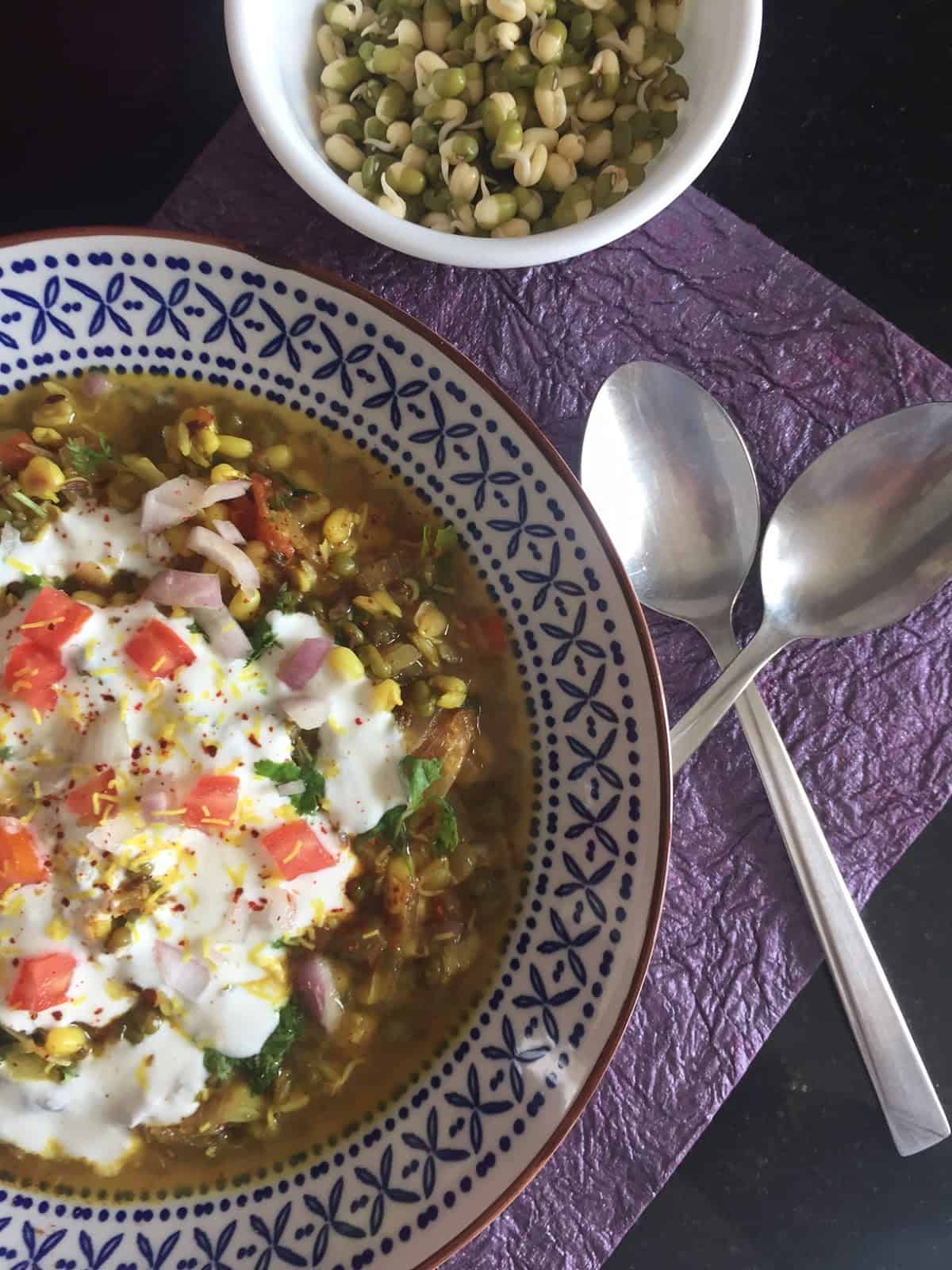 Pin

If you are a chaat lover like me, check the following list to make these yummy snacks at home.

and many many more…

Let's now get to today's quick to make recipe which takes more time to type this recipe and edit the pictures than to make it. If you have a batch of homemade moong sprouts this is a snack that comes together in under 10 mins. I made this for lunch last weekend and it was quite filling.

Notes

Onions are optional so add if you like them

You can also add boiled potatoes, crumbled sweet peas, sautéed cabbage to make this more nutritious.

The yoghurt in this recipe is totally optional but rounds off the flavours,so totally recommend it. Vegans can substitute curd with cashew curd or peanut curd for a similar taste.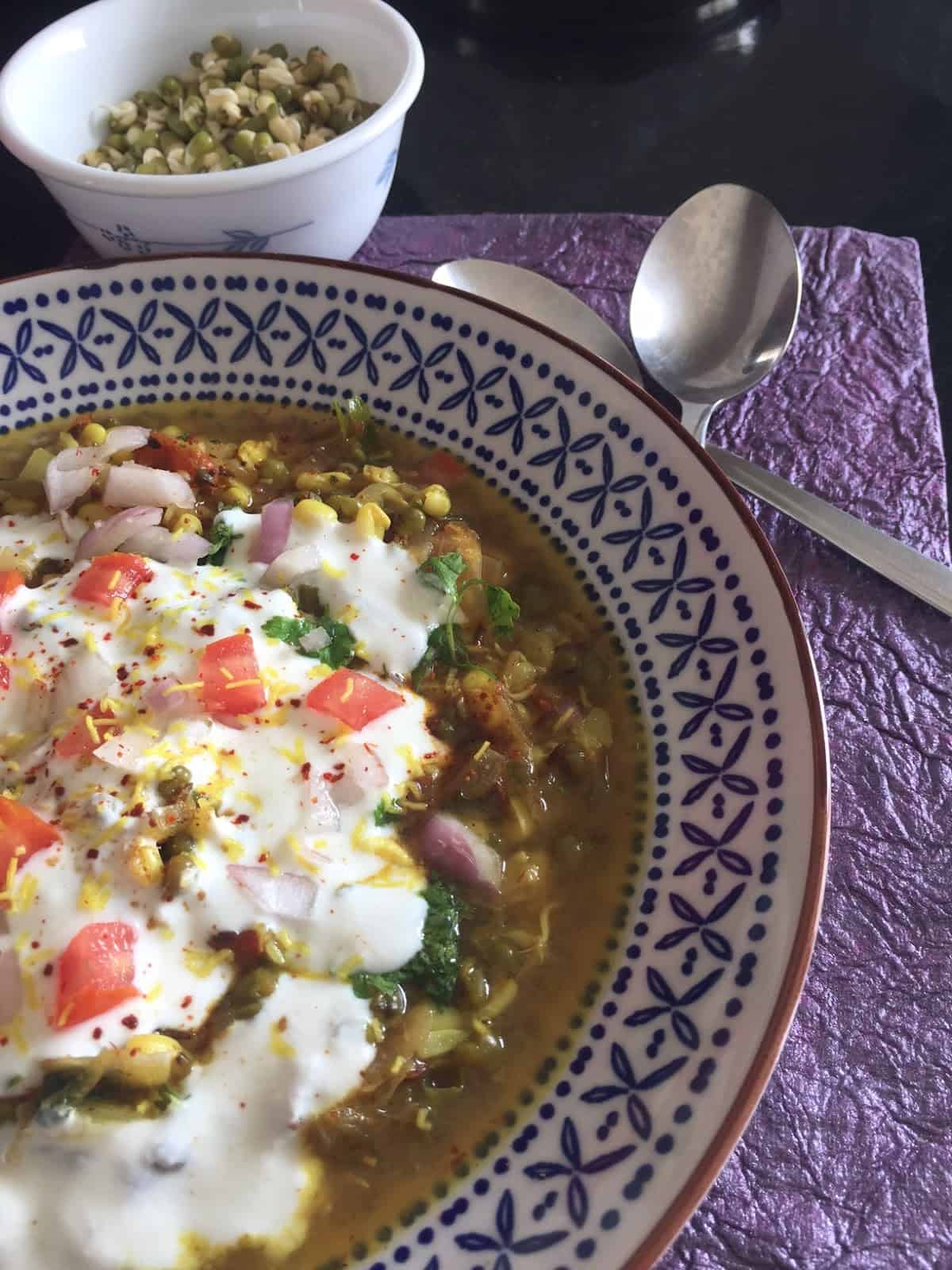 Pin

Gluten free , almost oil-free, fuss free and wholesome. That's my kind of snack. What's your favourite ?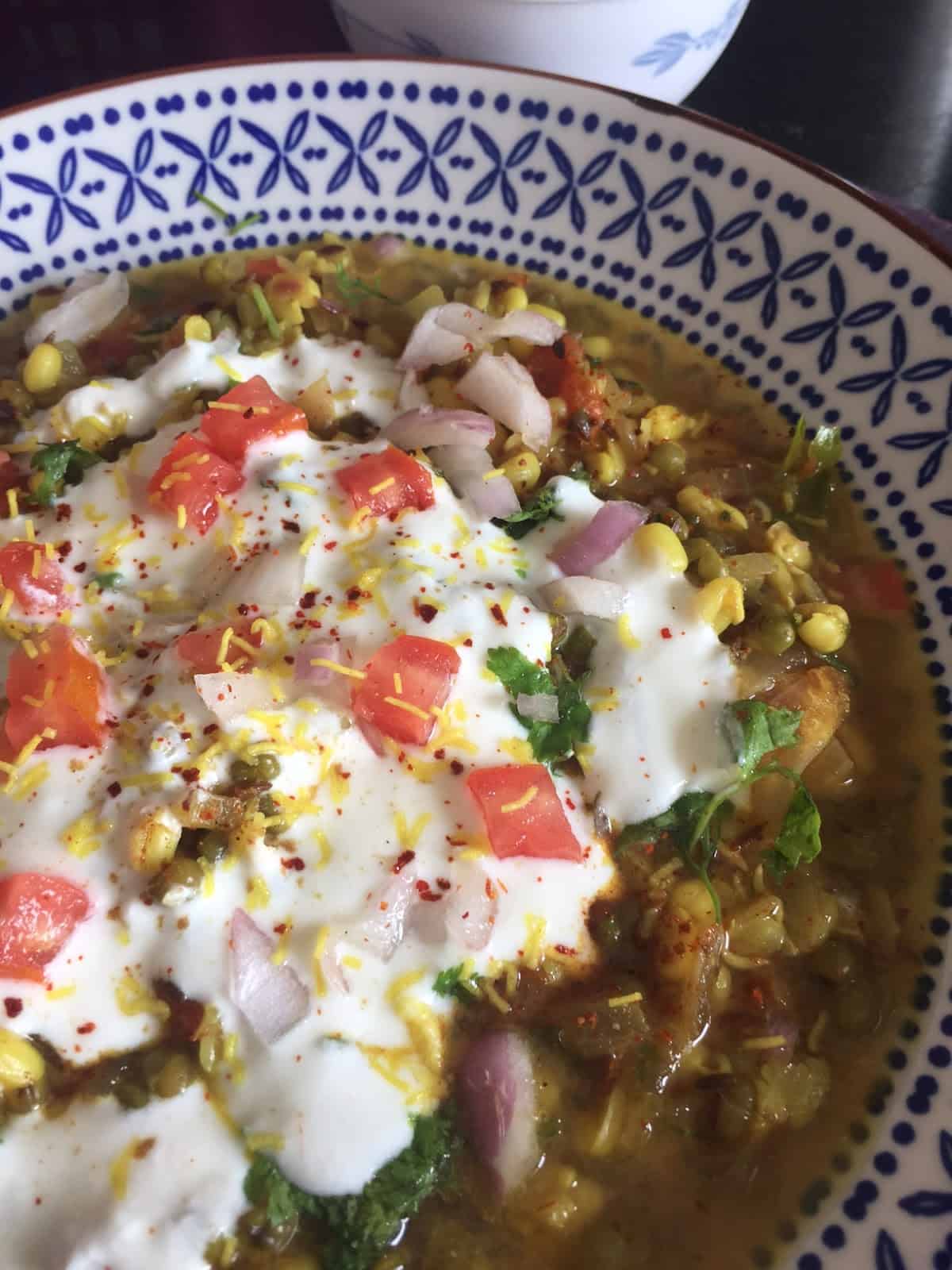 Pin
Moong Chaat | GF and wholegrain snack
Cuisine : Indian, Course : Snack / appetiser
Prep -5 mins, cook – 10 mins, Serves -1
Moong sprouts (you can also use cooked whole moong to save further time) – 1/2 cup
Onion – 1 tbsp
Tomatoes – 1 tbsp
Oil -1/2 tsp
Cumin – 1/4 tsp
Turmeric – a pinch
Red chilli powder, coriander powder, dry mango powder, roasted cumin powder – all to taste
Salt – 1/3 tsp
Topping
Beaten yoghurt – 1/2 cup
Chopped tomatoes and onions
Green coriander
Roasted cumin powder
Chaat masala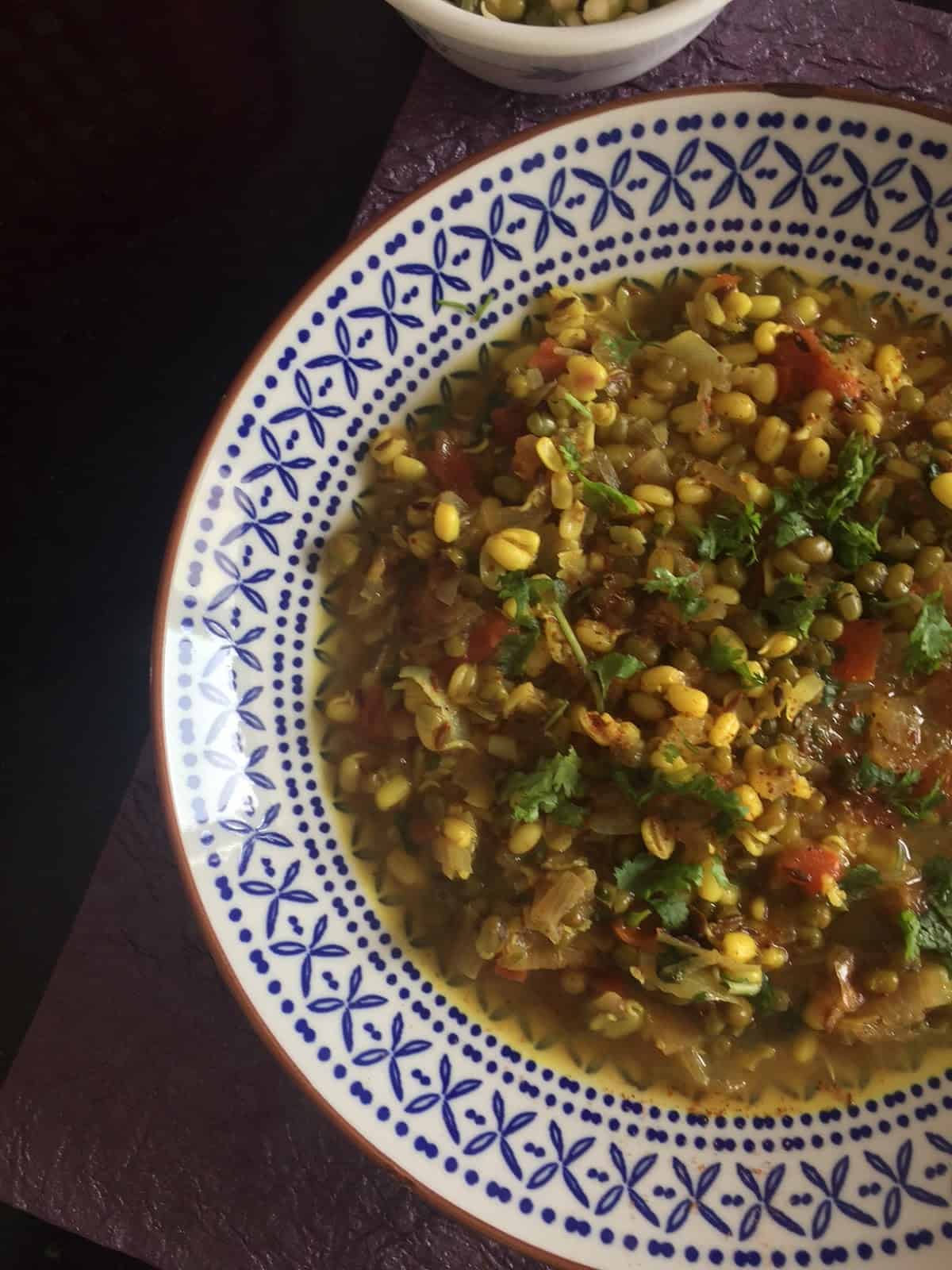 Pin
Method:
Boil moong with a pinch of turmeric and little salt till soft. If using cooked whole moong, skip this step
Sauté onions tomatoes with spluttered cumin in a pan with 1/2 tsp oil. Once onions turn translucent and the tomatoes get soft, add the spice powders, salt and mix well.
Add the moong sprouts with the boiled water and let it cook. Mash a few moong to give it texture.
If using mashed potatoes and sautéed cabbage, add now
Let it simmer for 4 mins on medium till a thickish consistency is reached.
Serve hot/ warm in a bowl with the toppings indicated
You may also add a handful of sev / gram flour snack to give that extra texture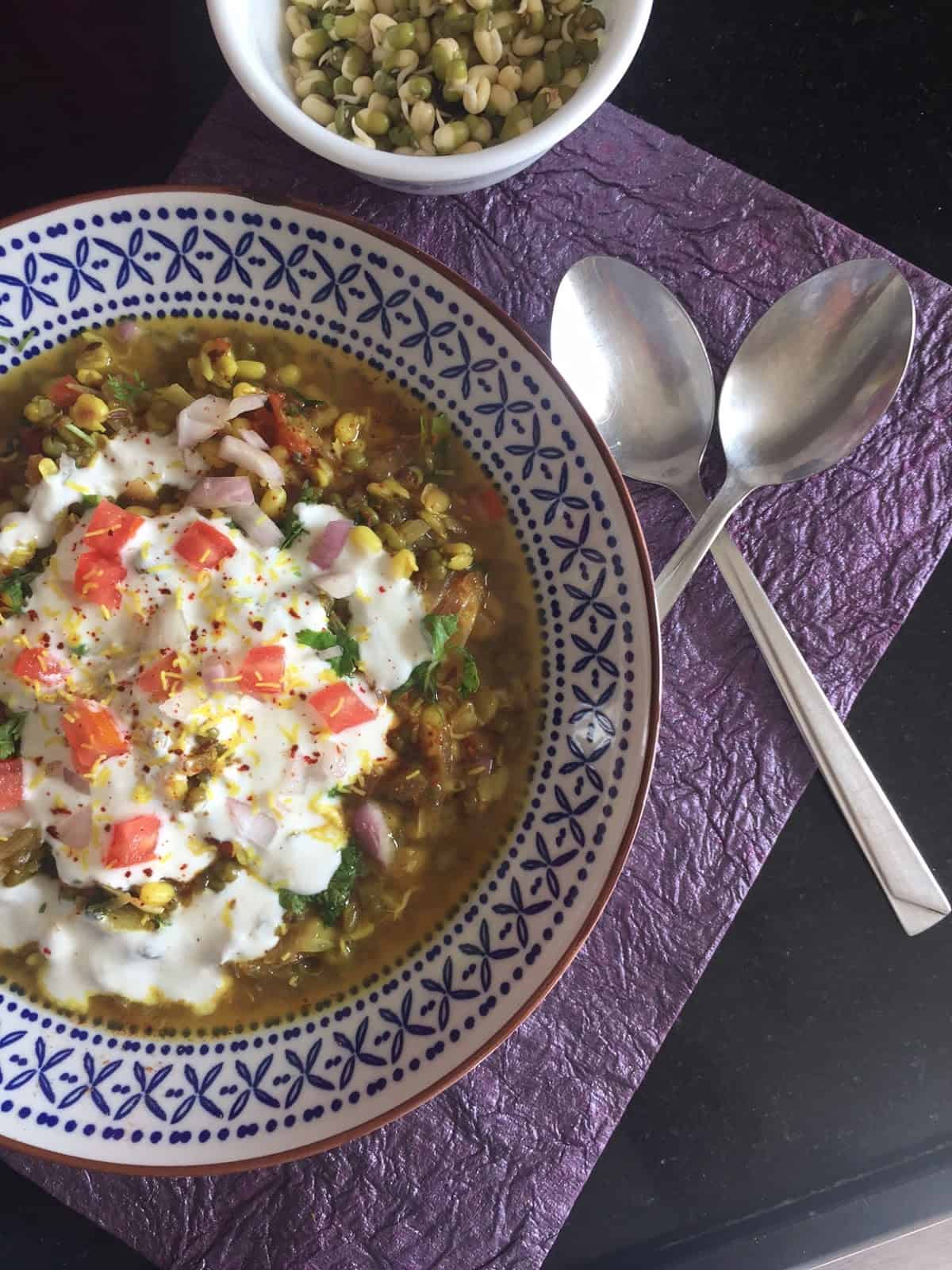 Pin
Pin
Check out the Blogging Marathon page for the other Blogging Marathoners doing BM# 80