Mango channa chaat
And why not? Continuing to celebrate Summer with Mangoes, Chaat and chickpeas (Channa) seems like an obvious choice.
And if it is 100% Oil-Free, what more reason not to make this, right?
This Mango Channa Chaat is a medley of flavours and textures from the sweetness n silkiness of ripe and raw mangoes, the protein textures from the boiled chickpeas and the various flavours from the spices and toppings.
As with any chaat (Indian street food), this can be customised and spiced up as per personal choice. A little bit of this and a little more of that, and you have a flavour bomb with each spoonful.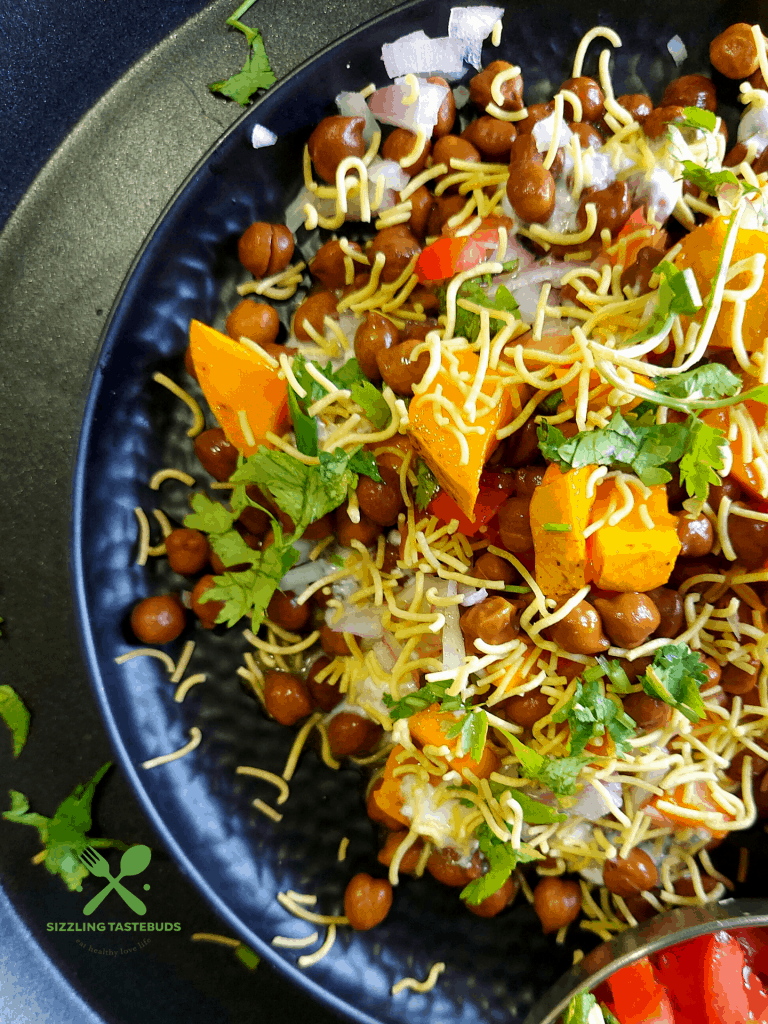 Other Chaat recipes you might like on this blog
5 reasons to make this Mango Channa Chaat again
Oil free
Totally customisable
Add any protein of your choice
Skip the yoghurt for a vegan version or use cashew / plant ???? based curd for vegans
Must make in the mango ???? season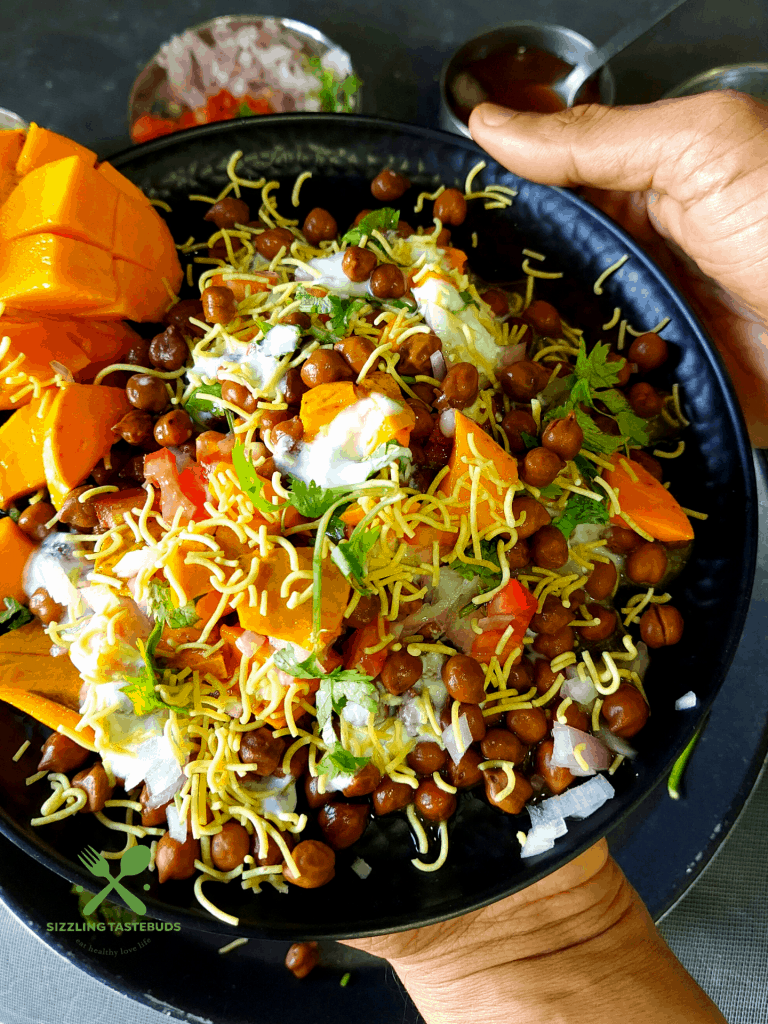 What you need to make Mango Channa Chaat
Prep time – 5 mins, Cook time – Nil ; Serves -2
1 ripe mango
1/4 cup boiled chickpeas (check here how to cook chickpeas in bulk and store)
1 tsp chaat masala
1/2 onion (minced)
1/4 tomato (diced)
1/4 cup yoghurt
1/2 tsp roasted cumin powder
1 tsp red chilli powder
1/2 tsp tamarind-date chutney (Imli Khajur Chutney)
1 tsp Green Chaat Chutney
1/4 cup sev (fried gram flour vermicelli)
1 tsp coriander
1/4 cup raw mango (opt.) – grated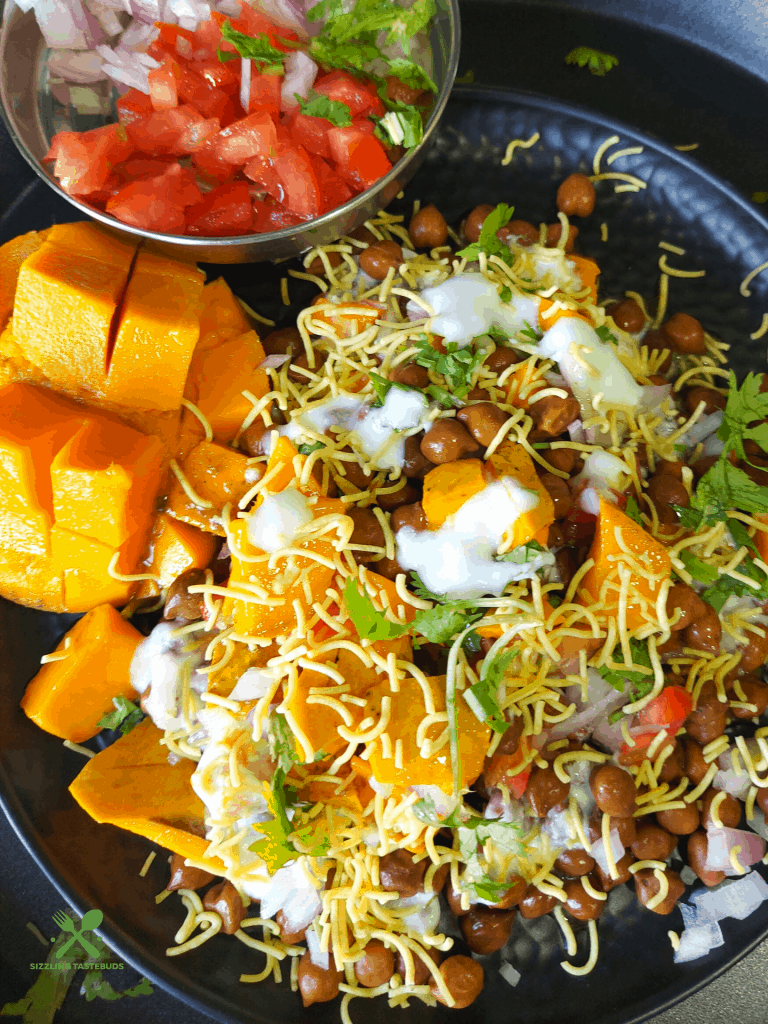 How to make mango Channa Chaat
Mix the Chaat masala, Red Chilli powder into the Green Chaat Chutney. Keep aside
In a plate, assemble the chickpeas at the bottom.
Add the chopped ripe mango slivers , onion and tomato . Mix well
Drizzle beaten yoghurt and tamarind – date chutney
Top with sev and chopped coriander
If using add grated mango and serve immediately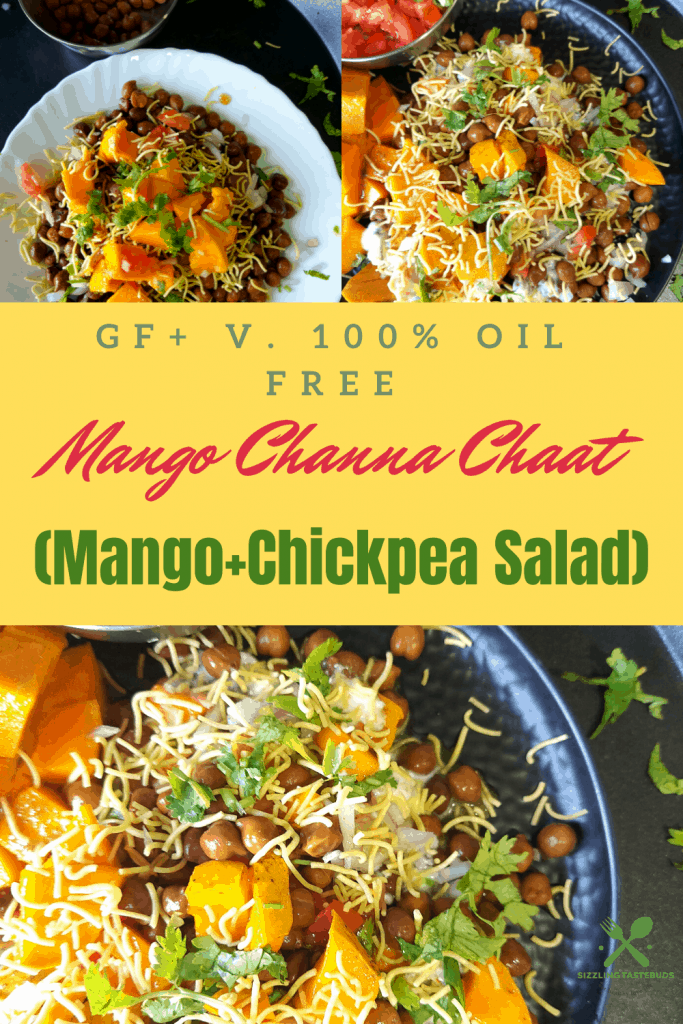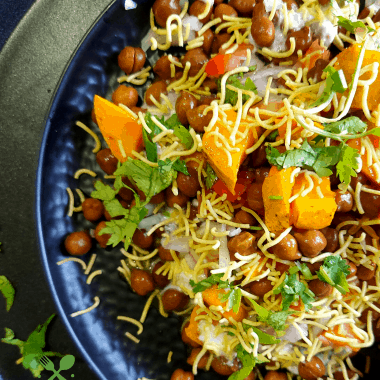 Mango Channa Chaat
A quick, Oil-Free snack of Ripe Mango with boiled Chickpeas topped with spices
Ingredients
1

Mango

Ripened

¼

cup

Chickpeas

aka Kabuli Channa

1

tsp

Chaat Masala

½

Onions

minced

¼

Tomato

diced

1/4

cup

Yoghurt

½

tsp

Roasted Cumin Powder

1

tsp

Red Chilli Powder

1/2

tsp

tamarind-date chutney

1/4

cup

Sev

fried gram flour vermicelli

1

tsp

Green coriander

minced fine

1/4

cup

Raw mango

opt. – grated
Instructions
Mix the Chaat masala, Red Chilli powder into the Green Chaat Chutney. Keep aside

In a plate, assemble the chickpeas at the bottom.

Add the chopped ripe mango slivers , onion and tomato . Mix well

Drizzle beaten yoghurt and tamarind – date chutney

Top with sev and chopped coriander

If using add grated mango and serve immediately