What is Roti Nachos ?
Roti Nachos is a quick snack made with left rotis (Indian Flatbread). Indo-mex fusion food that is a great hit at parties or potluck
Baked Roti Nachos and Fusion Food!
Nachos –  that dish which instantly reminds us of Mexican food, and in particular Cinema Halls. Gone are the days when Popcorn , Samosas and Cotton Candy used to be favourite eats at an occasional movie outing with friends / family. Fusion food or rather Quick food (never mind the nutrtition) is here to stay and please most tastebuds. 
Fusion food is here to stay for sure. Be it Pav Bhaji Dosa or Tandoori Tofu Salad, Oats Chaat , Idli Chilly, Pasta Pakora, Idli Manchurian. Another family favourite for a quick snack are these Baked Stuffed Bread Rolls – Totally customisable, fun and delish !
Most of the times, we have left over chapatis / Rotis at home. While I usually make Baked chips with them, this time the kids asked for something chatpata as well as quick. So this Leftover Roti Nachos came about. 
Tips to make the best Roti Nachos
Can fresh rotis be used ? Yes, but prefer rotis that are a few hours old (and not stale obviously) coz they are dried out a bit and make a fantastic nachos
Can I deep fry the roti to make nachos ? By all means, one can deep fry. Baking or air frying is preferred at home so I have air fried these
I dont have an air fryer / Oven. Can I still make it ?  Yes, you can gently press the rotis one by one on a hot tava / skillet with a soft clean cloth all around the roti until they dry out completely and proceed with the rest of the dish. Of course, this is time consuming compared to deep fry / air fryer / baking methods
I want to make it vegan. Can I skip the cheese? Yes , you can skip the cheese and serve this with salsa or use a vegan cheese (pref a variety that melts like mozzarella)
Can I make this with Jowar Rotis / Millet Rotis instead of whole wheat chapatis ? Yes, I am sure you can. But I haven't tried. Alternately, you can use Corn Tortillas too
What can I serve this with ? As our roti nachos was spicy and tangy by itself (see recipe below), we had it as is. However a salsa / Sour cream / guacamole would make it more filling
Other Baked / Healthy snacks you may like on the blog
Baked Gobi Manchurian Recipe
Baked version of the popular Street food , totally guilt free too!
Check out this recipe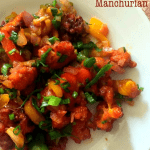 Airfryer Roasted Chickpeas
Airfryer Roasted Chickpeas is a quick, delicious, healthy Vegan and Gluten Free snack to make anytime.
Check out this recipe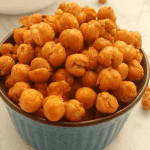 Airfryer Banana Crisps
Airfryer Banana Crisps is a low cal and low carb GF, Vegan Snack made with raw banana, Chickpeas flour and basic spices. Served as a side or a snack
Check out this recipe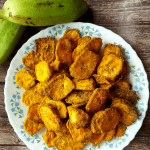 Tandoori Aloo | Easy Party Appetisers
Tandoori Aloo (or Tandoori 'Baby' Potato) is a popular appetiser in the Indian (well, Punjabi) cuisine. Marinated baby potatoes baked to crispy Golden perfection in a Tandoor (or an oven), served with a spicy-tangy coriander mint sauce and a salad on the side. It often is served at parties / barbecue nights or even as a meal by itself.
Check out this recipe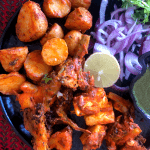 PIN FOR LATER
Baked Roti Nachos Recipe
Prep time – 10 mins, Bake time – 10 mins, Serves – 2
Cuisine – Fusion . Course – Snack / appetiser 
What you need to make Baked Roti Nachos ?
4 Roti (Whole Wheat Chapati)
1 tsp Oil (any neutral oil will do)
1/2 tsp Red Chilli powder 
1/2 tsp Dried Herbs
1/2 tsp Red chilli flakes
1/4 cup Mozzarella Cheese (grated)
3 olives (pitted and halved)
3 tsp Bell Pepper (minced)
3 tsp Onion (minced)
1 TBSP Tomato (minced)
How to make Baked Roti Nachos?
Preheat Airfryer to 180 C for 3-5 mins.
Bring the rotis to room temperature. 
Brush oil gently over the rotis. 
Sprinkle red chilli powder + dried herbs over the rotis.
Bake for 2-3 mins or till crisp,
Cut into nachos like segments. 
Arrange the nachos on a plate, 
Top with red chilli flakes, half the veggies and grated cheese
Bake till cheese melts (approx 1-2 mins)
Garnish with remaining veggies and olives and serve immediately 
Baked Roti Nachos Recipe
Baked Roti Nachos is a quick fusion snack made with left rotis (Indian Flatbread). Indo-mex fusion that is a great hit at parties or potluck
Equipment
Airfryer

See notes below if airfryer not available

Knife

Chopping Board
Ingredients  
4

Roti

Chapati

1

tsp

Oil

Any neutral oil would do

1/2

tsp

Red Chilli Powder

1/2

tsp

Dried Herbs

1/2

tsp

Red Chilli Flakes

1/4

cup

Mozzarella Cheese

grated

3

olives

pitted and halved

3

tsp

Bell Peppers

minced

3

tsp

Onions

minced

1

TBSP

Tomato

minced
Instructions 
Preheat Airfryer to 180 C for 3-5 mins.

Bring the rotis to room temperature.

Brush oil gently over the rotis.

Sprinkle red chilli powder + dried herbs over the rotis.

Bake for 2-3 mins or till crisp,

Cut into nachos like segments.

Arrange the nachos on a plate,

Top with red chilli flakes, half the veggies and grated cheese

Bake till cheese melts (approx 1-2 mins)

Garnish with remaining veggies and olives and serve immediately
Video
Notes
Tips to make the best Roti Nachos
Can fresh rotis be used ? Yes, but prefer rotis that are a few hours old (and not stale obviously) coz they are dried out a bit and make a fantastic nachos
Can I deep fry the roti to make nachos ? By all means, one can deep fry. Baking or air frying is preferred at home so I have airfried these
I dont have an air fryer / Oven. Can I still make it ?

 

Yes, you can gently press the rotis one by one on a hot tava / skillet with a soft clean cloth all around the roti until they dry out completely and proceed with the rest of the dish. Of course, this is time consuming compared to deep fry / air fryer / baking methods
I want to make it vegan. Can I skip the cheese? Yes , you can skip the cheese and serve this with salsa or use a vegan cheese (pref a variety that melts like mozzarella)
Can I make this with Jowar Rotis / Millet Rotis instead of whole wheat chapatis ? Yes, I am sure you can. But I haven't tried. Alternately, you can use Corn Tortillas too
What can I serve this with ? As our roti nachos was spicy and tangy by itself (see recipe below), we had it as is. However a salsa / Sour cream / guacamole would make it more filling