I prefer Sugarfree sweets (especially those mildly sweet like a
Rasmalai), and so does my family. Although we dont have a sweet tooth, we
prefer those which are easy to make without too much refined sugar. And this
recipe from the versatile and my favourite cookbook author, Tarla Dalal helped
me do just that  – Anjeer and Dates Halwa without a pinch of added sugar.
I made my personal modifications and the family loved it.
What's more ? Its so rich in Iron and Haemoglobin, even my toddler
liked it when I made little roundels and fed her.  This week I am hosting
Valli's Kid Delight with the Iron Rich Recipes theme, and this recipe fit the
bill perfectly. Stay tuned on more Iron Rich recipes that are kid friendly
coming your way this week ! Linking it to BM # 41 Iron Rich Recipes as well as
my event. If you have an Iron Rich recipe (archived or new), do feel free to link it up here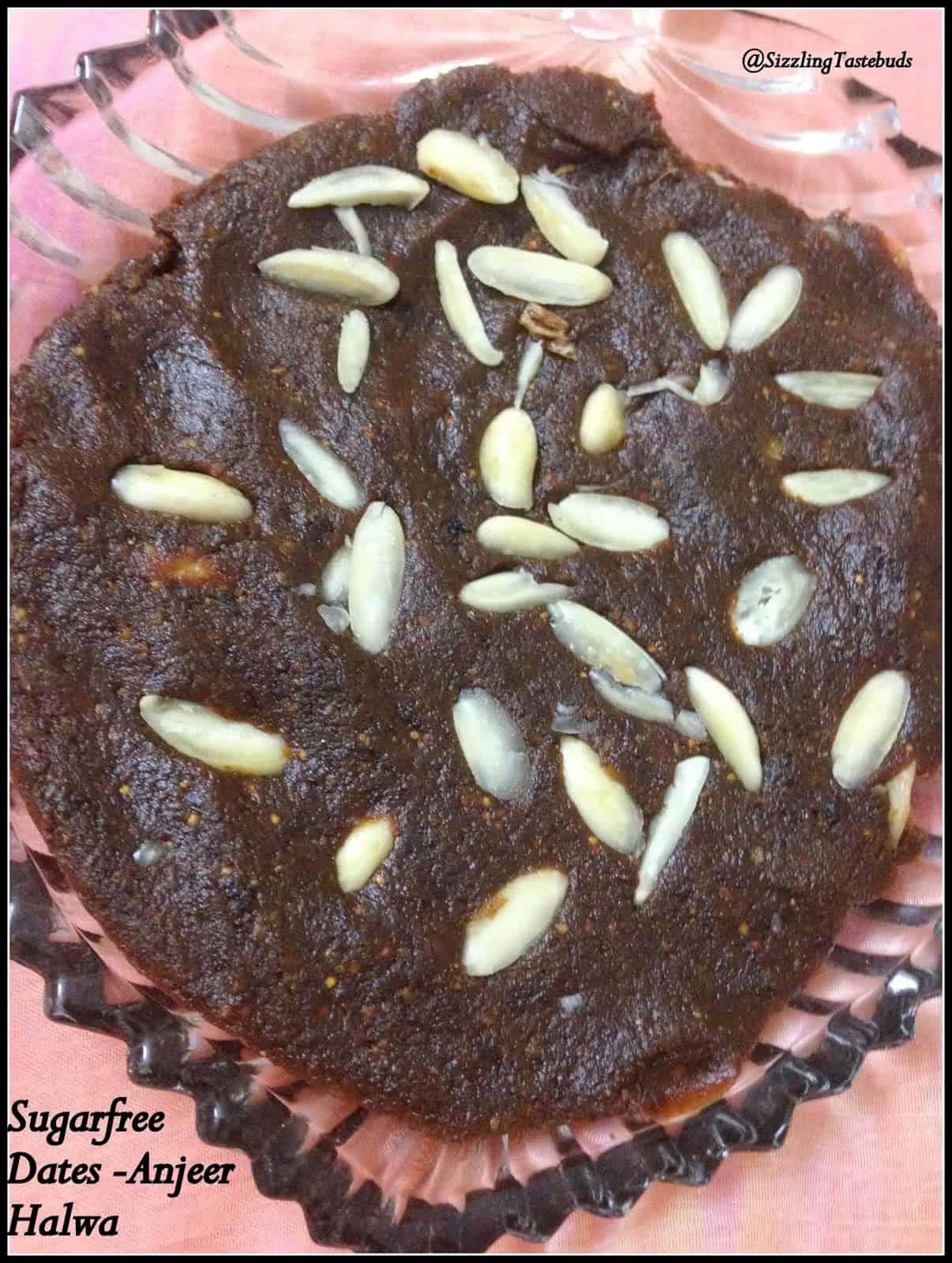 Pin

Recipe Source : Tarla Dalal

Prep time : 10 mins | Cook time : 20 mins | Serving : 4 , keeps
for 1 week under refrigeration.

Ingredients:
Anjeer (dried figs) – 100 gms 
Dates (pitted) – 100 gms 
blanched and powdered almonds (reserve a few for garnish) – 50 gms
Black raisins – 25 gms (about 2 tsp)
unsweetened milk powder – 1/3 cup 
Elaichi powder (cardamom powder) – 1/2 tsp 
Ghee (Clarified butter)- 2 TBSP 
Method:
In a large pan, add 2 cups of water. Bring to a rolling boil. Cook
the figs, dates and raisins for 4-5 mins. Drain and puree them.
Heat ghee in a non stick pan, add the ghee and saute the powdered
almonds for 2-3 mins
Add the puree, milk powder and on a very low flame stir till the
ghee leaves the sides.
Add the elaichi powder and mix well. 
Cool to room temperature and garnish with the reserved almond slivers.