Vellarikai Khara Pachadi
(Spicy Cucumber chutney) is another dish from my Paati's (maternal grandmom) stable. Spicy to
the core, and relished with hot rice and ghee / nallennai (sesame oil) , this is one of the favourite
accompaniments. 
And for some reason, I had totally forgotten this for quite
some time, till a basketful of cucumbers landed in the refrigerator last week.
Well I did make Kosumalli (Salads) and also Cucumber pickle (recipe here!), but
then was lost for ideas, till mom reminded me on the phone. And boy, was I both
ecstatic and impatient to make this. 
Amma gave me the recipe,and it came out
well. For the scorching summers, this is one yummy side dish that never fails
whichever part of the year.
Also, do check out the 20+ Chutney varieties on the blog to go with Idli / Dosa/ Pongal
And paired with
yummy Curd rice, we had this for
dinner. Even kiddo who is sceptical about new dishes (especially non baked
ones) had this for a yummy filling meal. Traditionally, this dish is really
spicy, so adjust the spice for your kitchen.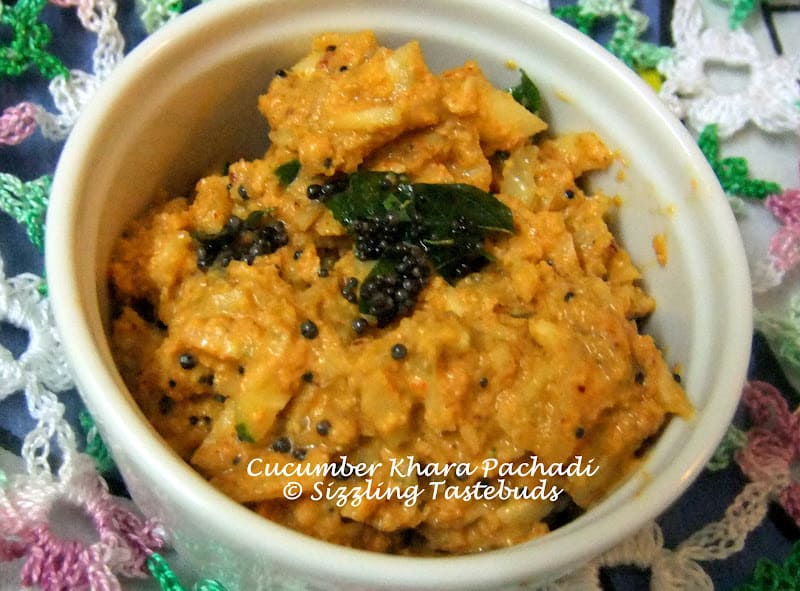 Pin




———————————————————————————-

Prep time – 10 mins 

Cook time – 10 mins (To roast the ingredients)

Serves – 3

Difficulty level – Easy

Serving suggestions – Steamed
rice / Curd Rice

———————————————————————————-

Ingredients:
Tender Cucumbers – 2 medium sized (See Notes below)
Salt – to taste
Tempering : oil (1/2 tsp), Mustard seeds, Curry leaves
For the masala paste:
Grated coconut – 1/4 cup
Channa Dal – 2 TBSP
Red chillies – 3 nos
Oil – 1 TBSP
Asafoetida – a generous pinch (skip for GF)
Tamarind – small gooseberry sized
Jaggery – 1/2 tsp 
Jeera / Cumin – 1/2 tsp
Dry Coriander seeds – 1 heaped TBSP
Method:
1) In a large pan, heat 1 TBSP oil. On medium heat, roast the channa
dal, red chillies. Set aside. In the remaining oil, fry the
dry coriander seeds, cumin, tamarind. Turn off the heat and add to the roasted
dals-chillies. Add the grated coconut to the warm pan and saute for 1 min. Cool thoroughly. 
2) Grind this mixture (without salt) but with coconut and asafoetida to
a very thick paste. 
3) Meanwhile, wash and peel cucumber. Dice into small tiny bits like you
would do forKosambari / Kosumalli (Indian cucumber salad). Mix the paste into the
cucumbers till the masala paste coats the vegetable well. Do not add salt at
this stage too.
4) Prepare the tempering. Once mustard splutters and curry leaves get
slightly crisp, add to the chutney and mix well. Just before serving, add salt,
mix well and serve immediately.
Notes:
1) This dish tastes very well with very tender cucumbers.
2) If the cucumbers are not very tender, ensure to deseed the core, and
then use the flesh only. 
3) This dish does not keep well for more than a day, even with
refreigeration. Use the pachadi immediately.