Tomorrow being Ugadi (and the start of the Kannada / Telugu new year), some festival preps are going on at home. I had posted an entire Ugadi thali along with Obbattu (dal Poli) here and here.


In the midst of all this, I suddenly miss my pati (grandmom) a lot. A fiercely gusty lady, she's been a beacon for many dishes on this blog – Thenkuzhal, Moong Dal Payasam, Seedai, Mosaru Avalakki (Poha in curd), Jaggery Poha, Karjikai /Karigadubu (somas), Dhaniya Kuzhambu, Vellarikai Khara Pachadi (Cucumber based relish), Paruppu Urundai Kozhambu (steamed lentil balls in a spicy tangy gravy), Uppu Sajjige (a semolina based satvik porridge, eaten for Ekadasi) and so many many more


And I remember her making this extra flavourful Paal Kesaribhath (as we call kesari back home) for most festivals as "Amsai" or "Naivdedyam" to the Lord before her daily pooja , and even when guests dropped in unexpected. It was redulant with aroma as she used to roast cardamom and then add to the kesari. So, Elakkai = cardamom, Paal = milk in Tamil.


Which made perfect sense for me to post this not just for the festival approaching, but as a keepsake of lovely memories. So, we have a sweet Upma (as I called it then :p) for letter E.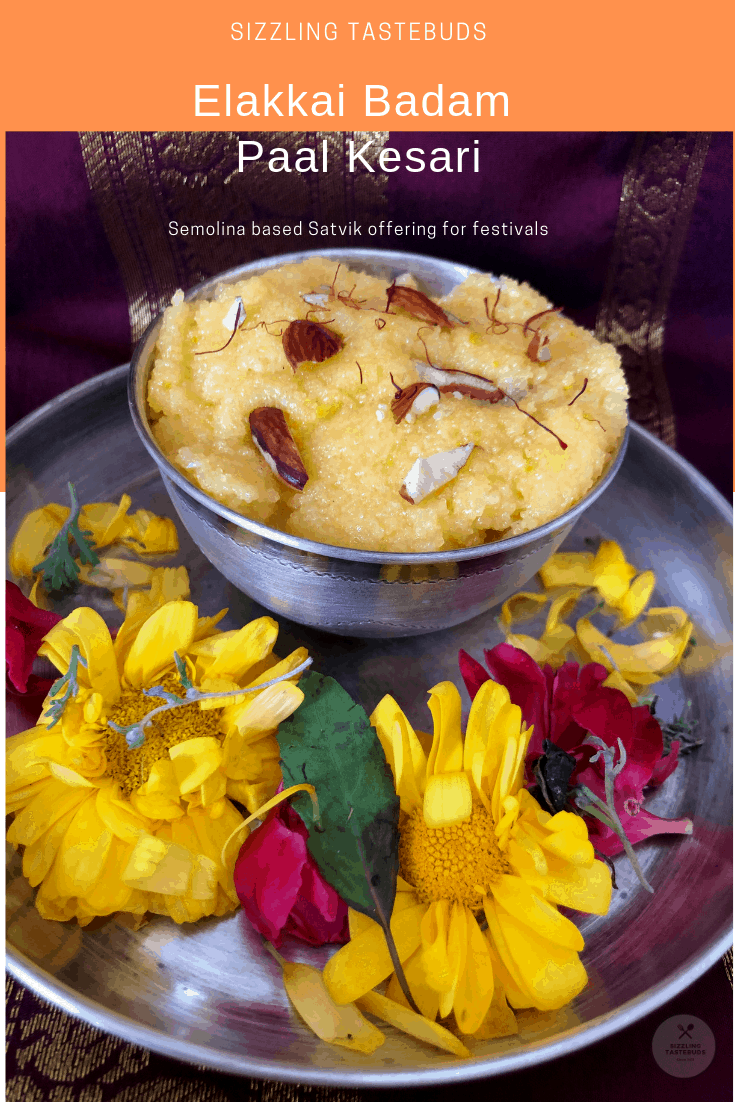 Pin



And considering the hubby (who doesn't eat sweets) polished it off with the girls, it means I did something good 🙂



Prep time – 10 mins, Cook time – 20 mins, Makes – 1 cup of heavenly Kesari 🙂



Ingredients:



Fine Sooji – 1/2 cup

homemade ghee – 2 TBSP

Sugar – 2/3 cup

Milk – 2 cups

Homemade Badam Milk Powder – 2 heaped tsp

Cardamoms – 2

Few strands of saffron

Food colour – tiniest pinch (totally optional)

Salt – a tiny tiny pinch

Badam / Almonds – 2 or 3 sliced thin.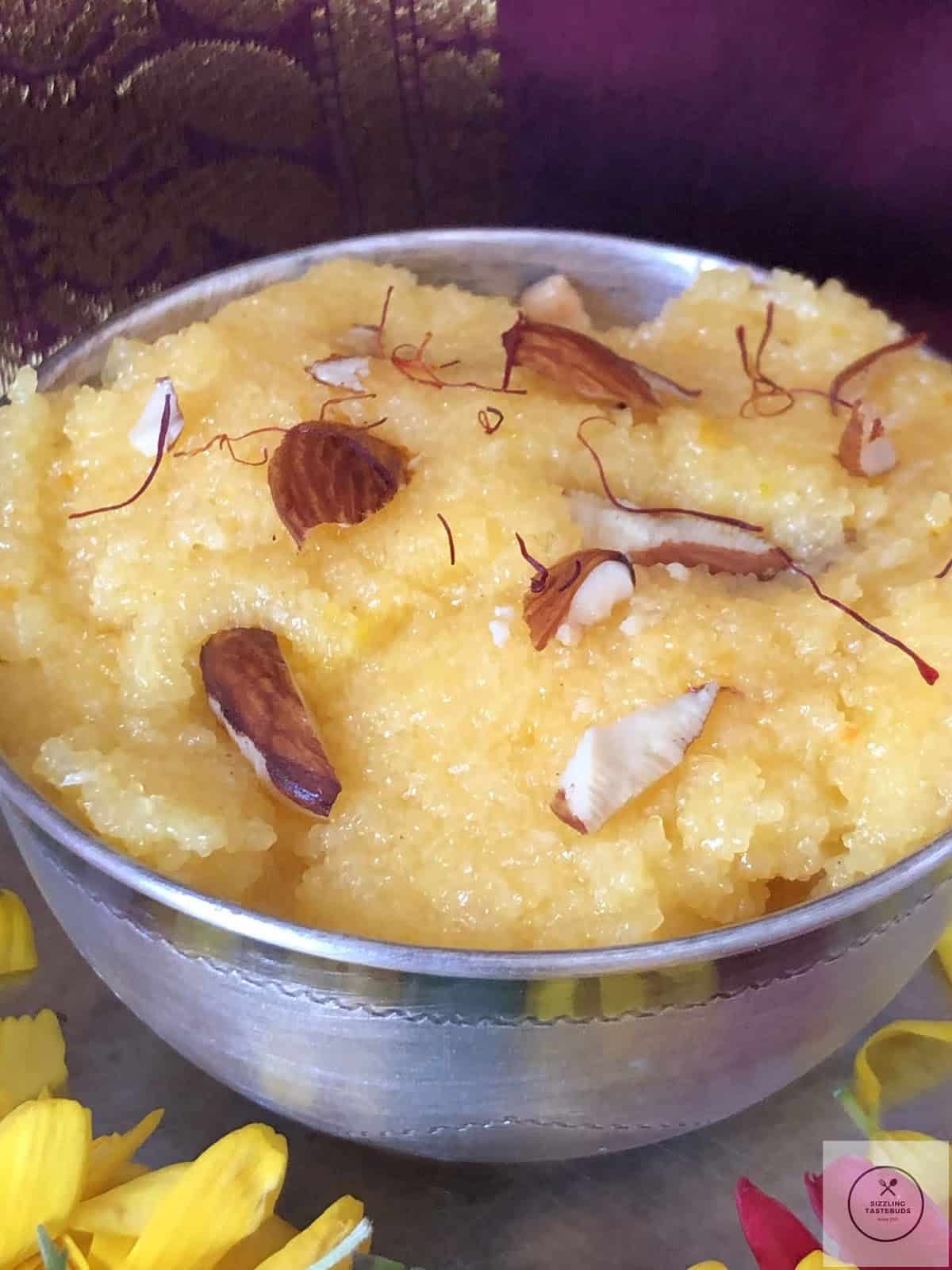 Pin



How to:

In a non stick pan, roast the whole green cardamoms for 30 seconds or till warm. Peel, pound them in a mortar pestle and keep aside. Soak the saffron in 2 tsp of warm milk

Add ghee to the same pan (about 1 TBSP), roast the sliced almonds till golden brown and keep aside.
Pin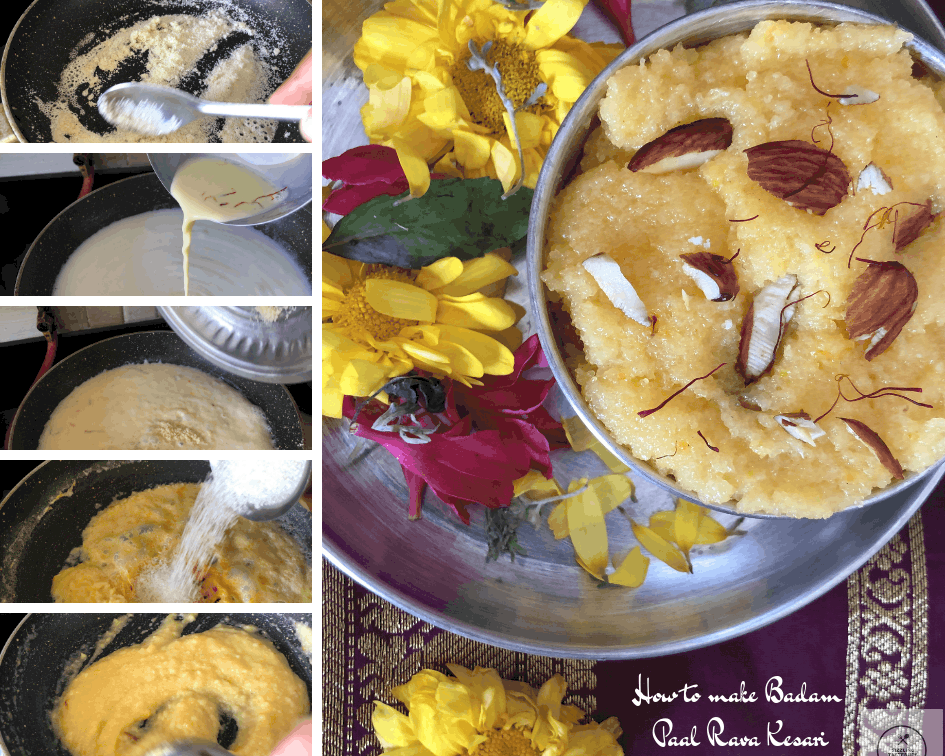 Pin
In the same pan, add rava and roast slowly on low heat for 2~3 mins till aromatic, taking care not to burn it. Remove to a plate and let it cool completely.
Return the pan to the stove, and add the milk, let it come to a rolling boil, add the badam milk powder, cardamom now and soaked saffron strands. Slowly add the roasted sooji, and whisk your way till you get a porridge kind of consistency.
Cover and cook for 6 mins. Now add sugar and as the dish slowly starts moving around, add the food colour (if using), salt and the rest of the ghee.
Cover again and cook for 2 mins till its fully done.
Serve warm, topped with some saffron and / or roasted almonds.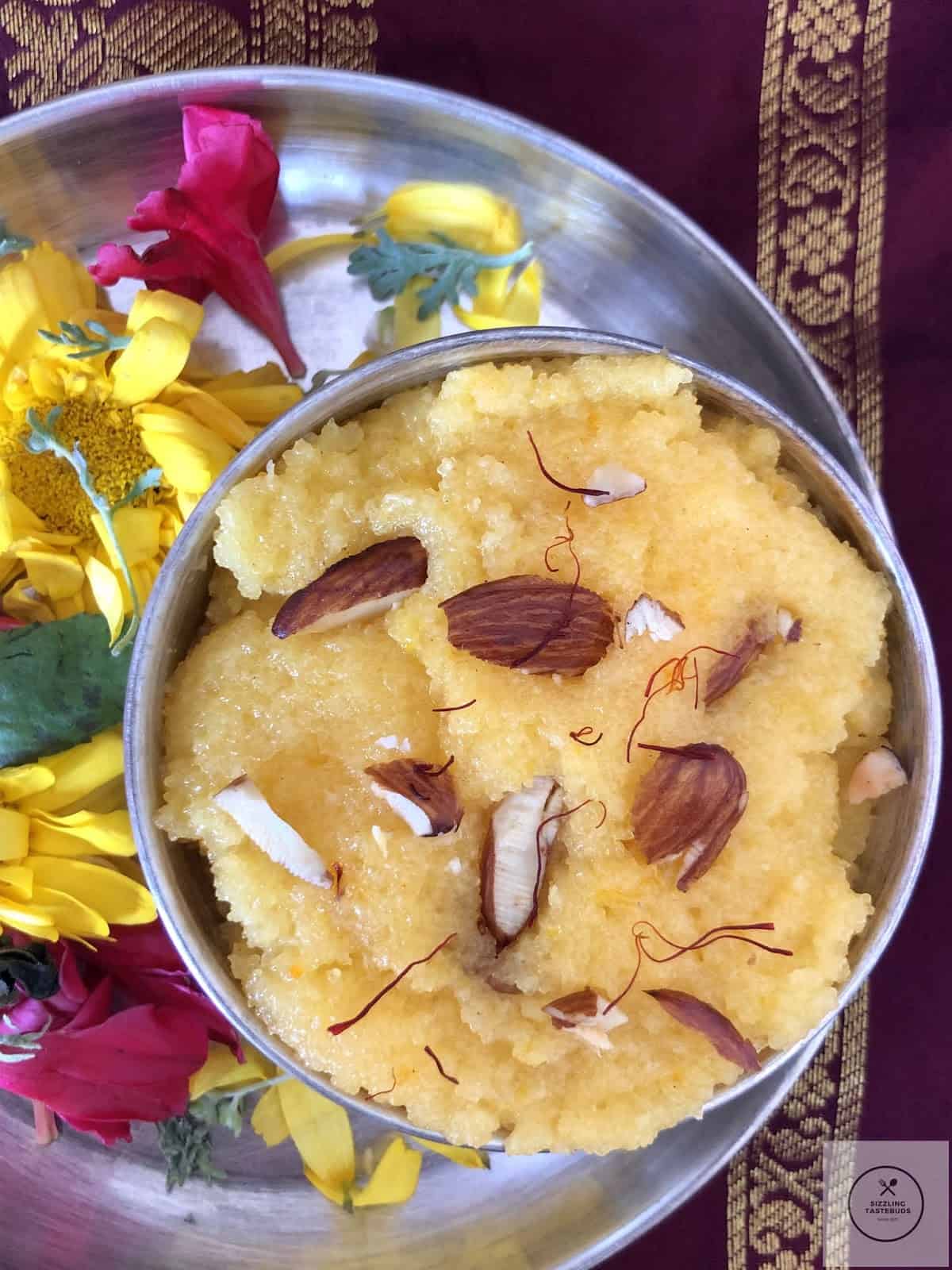 Pin
Pin

Check out the Blogging Marathon page for the other Blogging Marathoners doing BM#99