Not long ago (read about 2 decades ago), Bihar to the rest of the
country was unknown unless you were talking about rampant buffaloes, another
backward state with near to zero infrastructure, and a lot of Mafia dons.
Till the fodder scam exploded in our faces. And then we took cognizance again, of an
existing Chief Minister of that state proposing his own wife to contest the
seat, and more importantly win it.
And a few years ago, as the former Railways minister waxed
eloquent on how he reformed the Railways and brought it out of its supposed red
balance sheet, and so on, it brought to focus how much can be really done with
political will. Errr, with the Indian elections looming near, I dare say
anything that could land me in troubleJ))
Of course a bit of geography and history on Bihar before we
move to today's post..
Ancient Bihar was a centre of power, learning and
culture in ancient and classical India. From
Magadha arose India's first and greatest empire, the Maurya empire as well as one of the world's most widely
adhered-to religions, Buddhism.Magadha empires, notably under
the Maurya and Gupta dynasties, unified large parts of South
Asia under a central rule. Its
capital Patna, earlier known as Pataliputra, was an important centre of Indian
civilization. Close to Patna, Nalandaand Vikramshila were centres of learning established in
the 5th and 8th century respectively in Bihar, and are counted as one of the
oldest international universities of the time.

Bihari cuisine is
predominantly vegetarian because traditional Bihar society,
influenced by Buddhist and Hindu values of non-violence, did not eat
eggs, chicken, fish and other animal products. However there is also a
tradition of meat-eating, and fish dishes are especially common due to
the number of rivers in Bihar, such as the Sone, Gandak and Ganges. There are also
numerous Bihari meat dishes, with chicken and mutton being the most common.Dairy products are consumed frequently
throughout the year, with common foods including yogurt known as dahi and also buttermilk known as mattha, ghee, lassi and butter. The cuisine of Bihar is similar to a great extent to North Indian cuisine but has an influence from other East
Indian Cuisine (for example like Bengali cuisine). It is highly seasonal, with
watery foods such as watermelon and Sherbet made of pulp of the
wood-apple fruit being consumed mainly in the summer months and dry foods,
preparations made of sesame seeds,poppy seeds in the winter months.

(source : Wikipedia.org)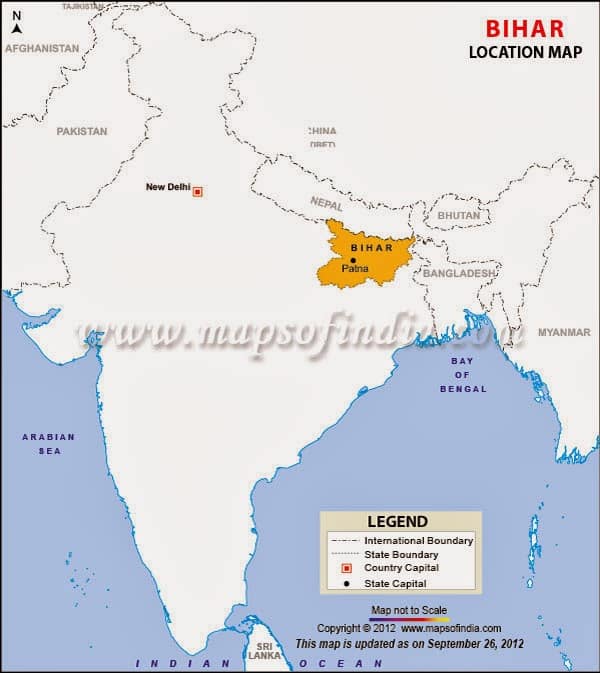 Location Map of Bihar
Well, what does it all have to do with today's food post. Well,
that's a long story too – but to cut it short : ever since BM for Indian States
was announced, Bihar to me was all about Litti Chokha and Makuni (sattu ka
stuffed paratha) – I must have bookmarked atleast a dozen versions to make it. But
never got to make it, owing to lack of time and no guinea pigs to feed
at home 😀
And then Sattu (roasted gram flour) was to the foray. Till I
discovered that the Sattu is a coolant by itself and is used in beverages. Now
that's something I could make instantly (considering I had about 10 states to
conquer – cook, click, edit and post in less than a week.). The upside was that
we all loved it tremendously. This is a beverage that will be welcome through
the year too – quick, nice and enjoyable. I think this is very close to the Paanakam (sherbet made of lemons or musk
melon) down south or the Panha (made
in most parts of India, esp the west and North)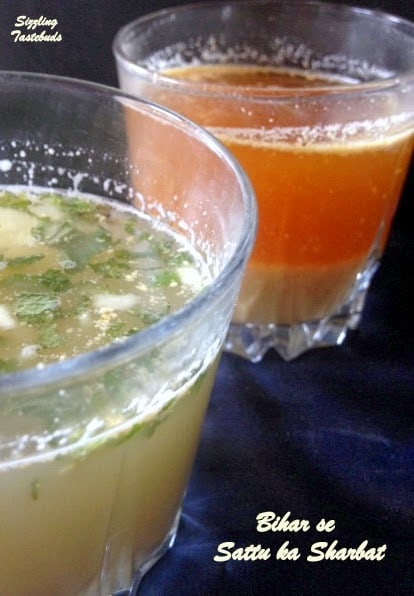 Pin
So, I present Sattu ka sharbat – Meetha and Namkeen (Roasted gram beverage – sweet and savoury versions)
PS : Traditionally this is made with sattu (roasted gram flour).
But I am given to understand it can be a mixture of pearl barley (aka jau in Bihar / Hindi) and mixed with
roasted gram floor to increase the coolant properties multifold.
————————————————————————————–
BM : 39 ~ Indian State : Bihar
Recipe : Sattu ka sharbat – Meetha aur Namkeen
Dish type : Beverage
Spice Level : Medium
Accompaniment : None
Prep Time :15-20 mins, Cooking time
: NIL ; Serves : 2
Ingredients:
(Please note all ingredients don't have any fixed quantity, but
more suited to taste)
Roasted gram flour – 6 TBSP (divided use)
Roasted pearl barley flour – 1 tsp
Jaggery powdered – 2 TBSP
Salt – to taste
Crushed Ice – lots of it
Chilled water – 2 glasses (about 240 ml)
Roasted cumin powder
Coriander and mint leaves – few
Black salt – to taste
Ginger juice – 1 TBSP
Black pepper – optional
Green chillies – optional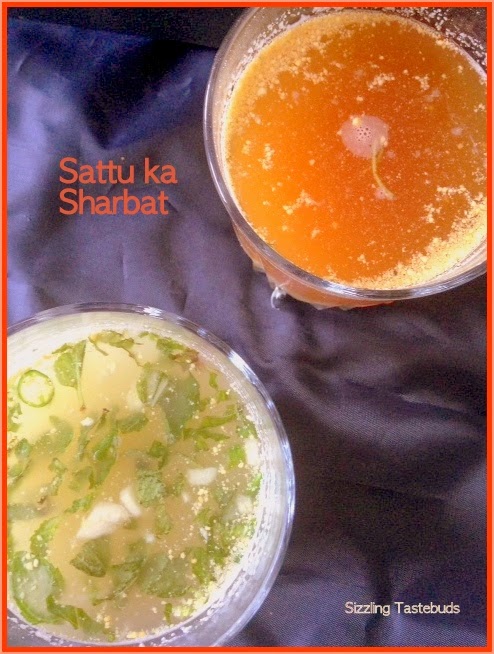 Pin
Method:
How to make the Channe ka sattu :
Take roasted gram (with or without skin) and powder them not
slightly coarsely in a spice blender. Store and use. Apparently sattu ka
paratha is also made using this powder along with spices as a stuffing
(A) For the sweet version :
Take chilled water and add powdered jaggery. Mix well and strain.
Now add sattu to it, a pinch of black salt and the yummy sweet sattu sharbat is
ready. Add crushed ice as required.
(B) For the savoury version:
Mix 3 TBSP of sattu and 1 tsp roasted barley powder in ice cold
water. Add a squeeze of lemon, black pepper, roasted cumin powder, coriander
mint and ginger juice.
Optional add-ons are sliced chillies and black pepper powder.
Mix well, stir and serve with crushed ice.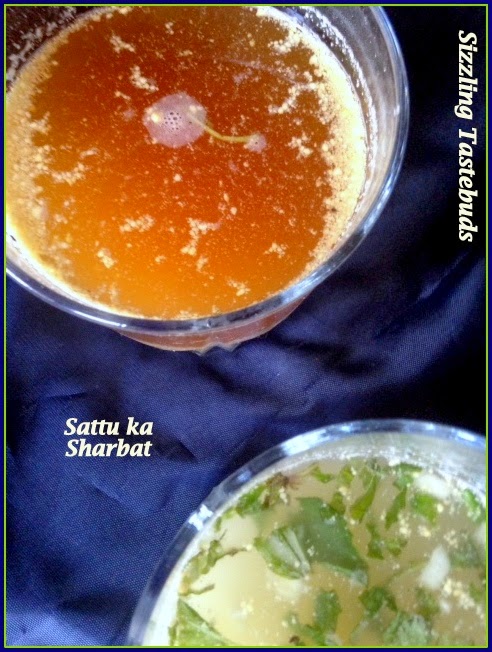 Pin
Notes:
Unless
you get sattu flour readymade, if making it at home make smaller quantities for
better shelf life
Sweet
sherbet with sattu can also be made with castor sugar or palm sugar or even cane
sugar- I just used jaggery.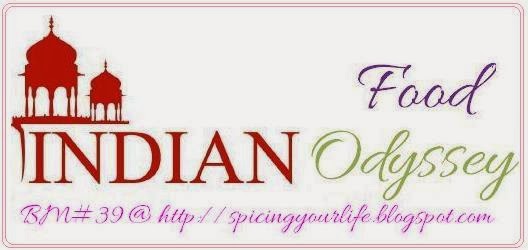 Pin
Check out the Blogging Marathon page for the other Blogging Marathoners doing BM# 39