For this month's Magic Mingle, we had chosen Raisins and Carrots – two healthy ingredients for this summer. The other members have already linked their delicious entries here. Sugarfree Carrots-Raisin-Ginger smoothie is a quick beverage that can be made in a couple of minutes. Carrots is an universal favourite while raisins are excellent both for kids and elders as a great dry fruit. Ginger is added to this recipe to beat the acidity that accompanies most summer days, and lime to give that punch to the mocktail. I have also used Honey in place of sugar to make this a healthy and sugarfree mocktail.
For older kids or elders, you may also add in a handful of roasted Oats  (which I did) to make it more healthy and filling. With a dash of ginger and a twist of lime and served chilled, this is a perfect way to start your day at breakfast or for a quick beverage for kids back from school or the playground. 
Sending this to my own event Magic Mingle, Srav's CC-Spring Seasonal Food, Preeti's Jump' N Jive @ Icypritz, Anusha's  Summer Spirits as well as Radhika's Chilled Delights . So, without any further delay, lets get to the recipe.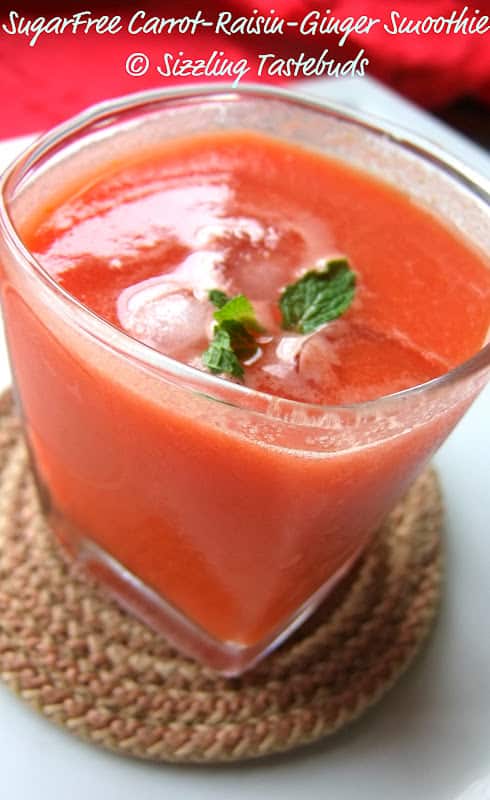 Pin

———————————————————————————————–

Prep time – 10 mins

Cook time – Nil

Serves – 2

Difficulty level – Easy

———————————————————————————————–

Ingredients:
Carrots – 2 (peeled and cubed)
Raisins – a handful
Roasted Oats – a handful (optional)
Grated Ginger – 1/4 tsp
Fresh Lime juice – 2 tsp
Honey- 4 tsp (Substitute with brown sugar or Agave Nectar if preferred)
Low fat yoghurt- 2 TBSP
Salt – a pinch
Black Salt – a pinch
Ice cubes – few and mint – for garnish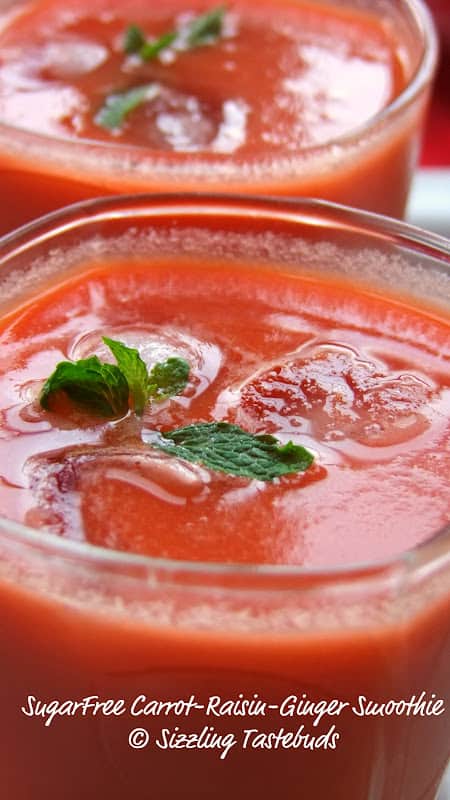 Pin
Method:
1) Soak raisins in warm water for 10 mins.
2) Grind carrots,raisins,yoghurt,Oats & ginger with 1/2 cup of warm water till smooth. Strain the juice now.
3) In a bowl, mix salt, black salt, lime juice, ice cubes, sugar and the juice. Mix well till sugar dissolves.
4) Fill two large glasses with this smoothie. Top with ice cubes and garnish with mint.
5) Serve chilled on a hot afternoon or for breakfast.
Pin