What is Kosambari?
Kosambari(Kannada) / Kosumalli (Tamil) is a quick salad-type dish that is easy to make as well as light on the tummy. It forms part of a standard Karnataka lunch menu. This particular Moong Dal kosambari is made for Ram Navami festival as neivedyam and is served with Panagam (saffron enchance lemon sherbet) and some Rasayana (ripe banana relish) in Karnataka customs. This dish is called Vadapappu in Andhra (and made with slight variations)
Made out of soaked dals – split green gram (soaked moong dal) or channa dal or dals-mixed with grated fresh veggies (Carrots / cucumber / Radish) or even usual combos like sweet corn etc.,this is a perk-up dish and requires no cooking at all  (ok, just the tempering!). Two recently popular versions of Kosambari are with moong sprouts and Pomegranate Kosambari too.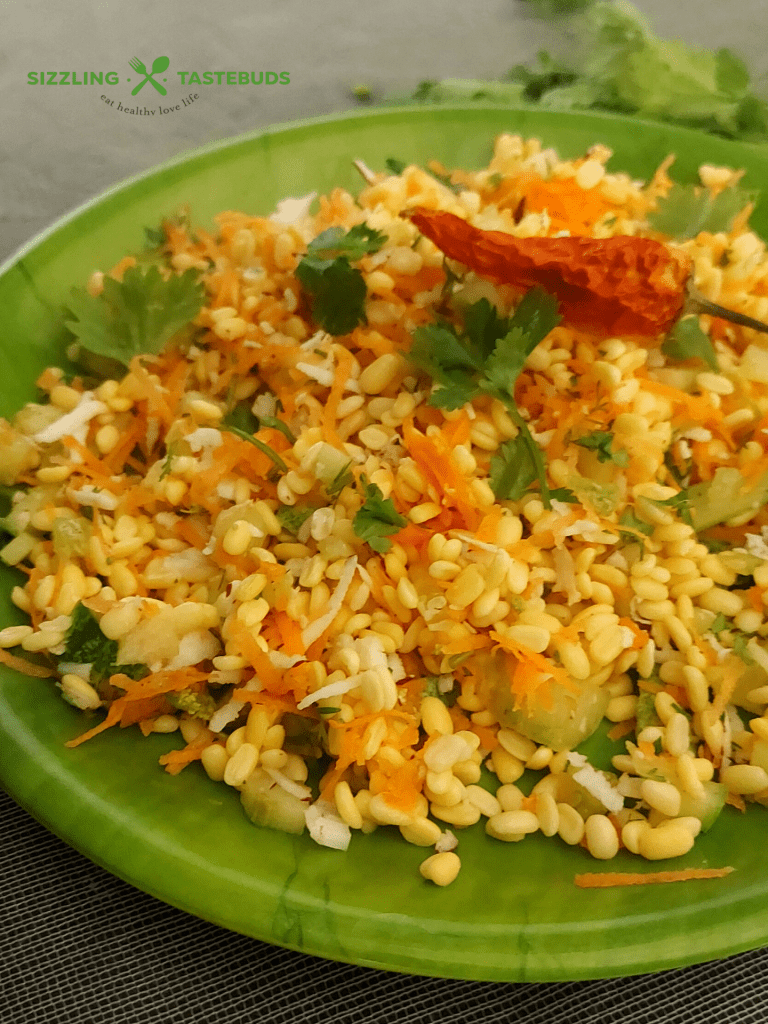 I love these throughout the year, and especially during the summers when all one craves for is fresh and light food. I have made this with soaked moong dal (split green gram) and the process is almost the same for all Kosambaris.
Other Kosambari varieties you may make
Sweet Corn Kosambari | South Indian style Corn Salad
Corn Kosambari is a quick and delicious tossed salad made with Sweet corn. Tempered lightly and served as a snack or offering on festivals.
Check out this recipe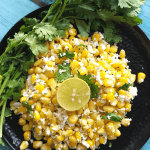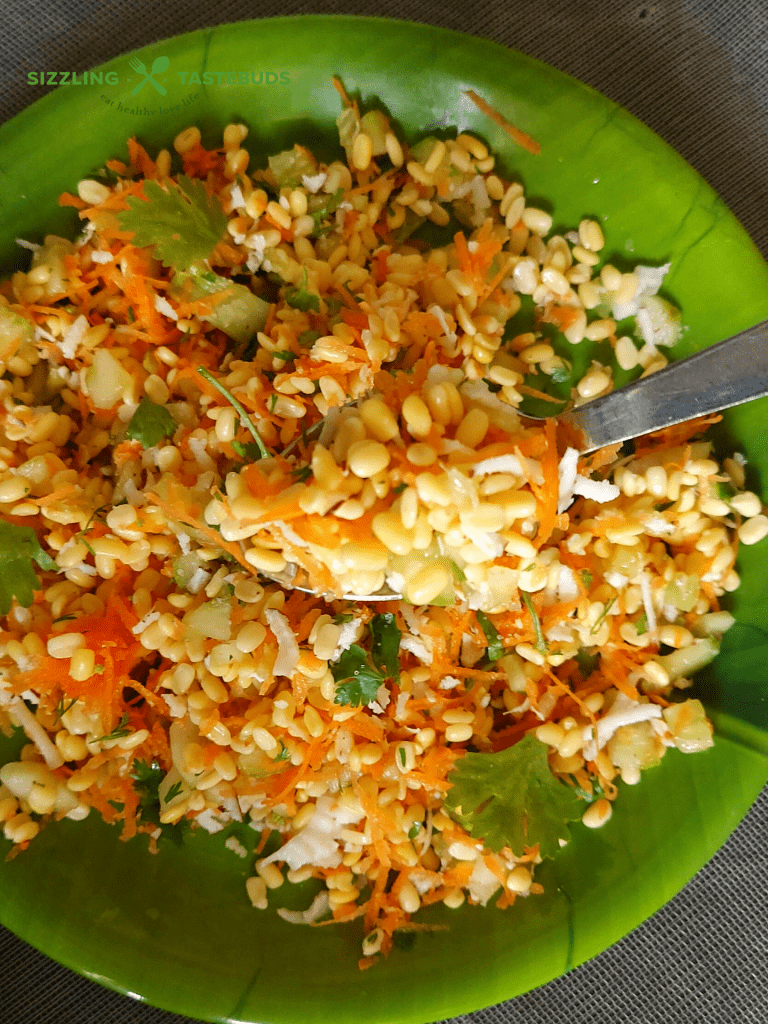 Other summer Salads you may like
Citrus Burst Salad | Easy Summer Spring Salads
Citrus Burst Salad is a medley of citrus fruits and ingredients which help heal Inflammation in our body. Best served chilled as a meal or snack
Check out this recipe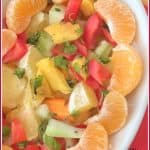 Pear Pomegranate Salad with Apple Cider dressing
Pear Pomegranate Salad with Apple Cider dressing is a quick and delicious fuss-free salad perfect for Spring or Summer, eaten as a salad or meal by itself
Check out this recipe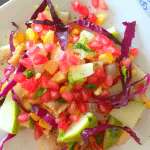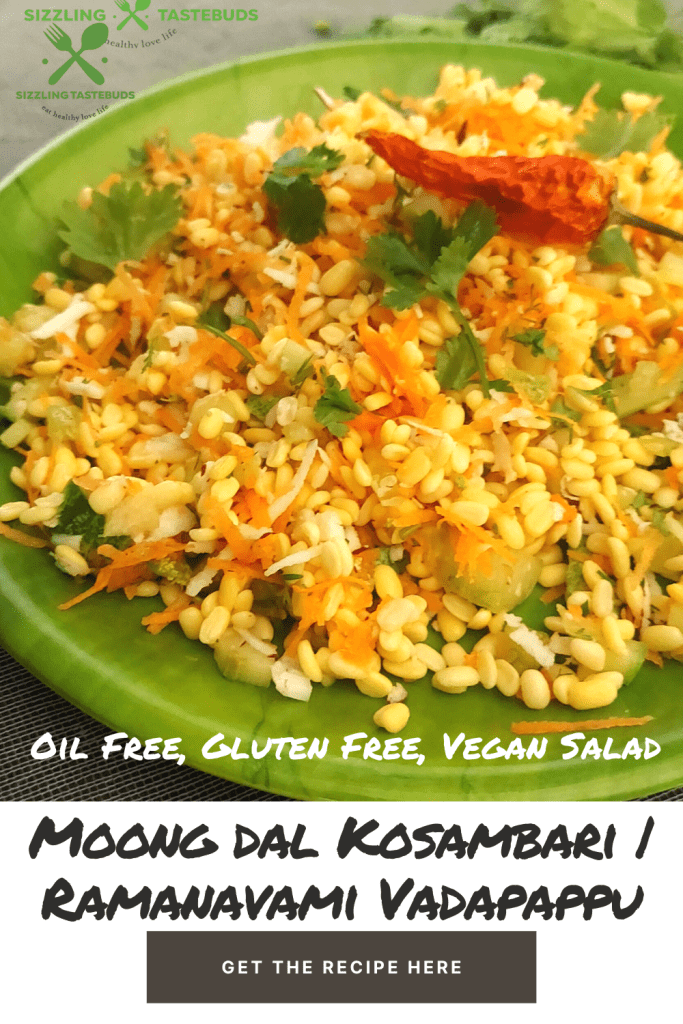 What you need to make Kosambari
Preparation time: 15 mins. Cooking time: 5. Serves : 4
1 cup Split green gram(Moong dal)
1/4 cup Coconut (fresh or frozen, grated)
1 carrot (grated)
1 TBSP Coriander leaves (minced fine)
2 green chillies (minced)
1 tsp Lemon juice
1 tsp salt
Tempering (opt.)
1/2 tsp oil (any neutral oil)
1/2 tsp mustard seeds
1/8 tsp asafoetida (skip for GF)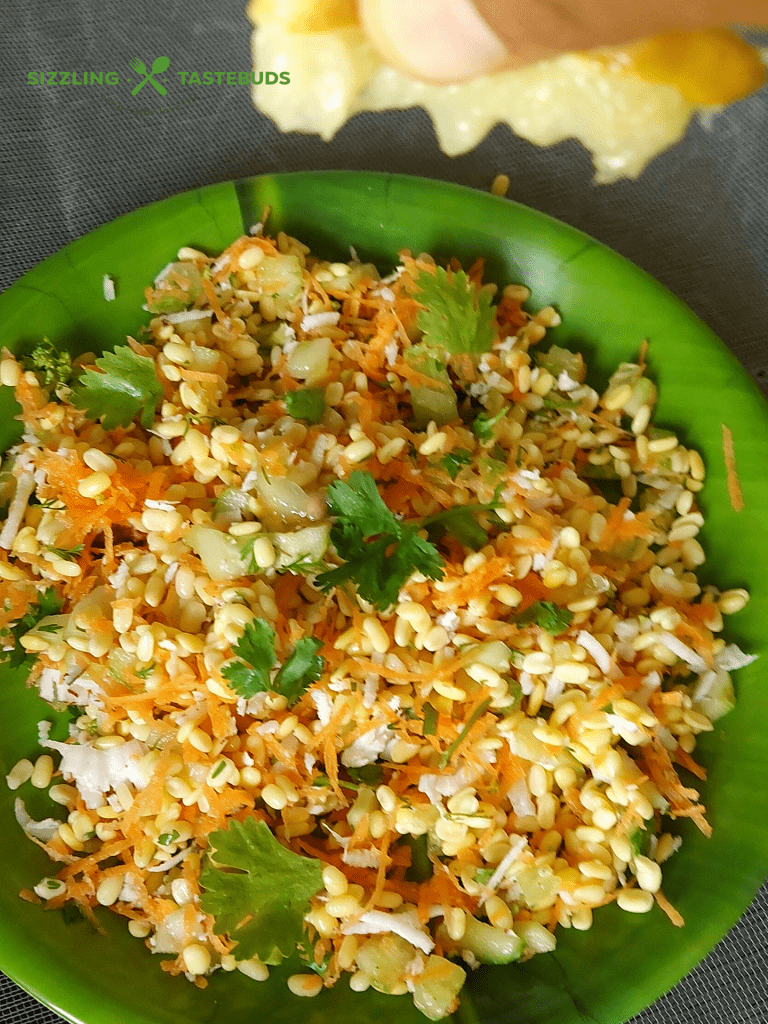 How to make Kosambari
Soak Moong dal for 20 mins in reasonably hot water, keep covered.
After 20/25 mins, Drain the water thoroughly.
Now add grated coconut , carrot and green chillies
Prepare tempering with spluttering the mustard seeds and asafoetida in oil
Transfer this tempering to the Kosambari.
Top with chopped coriander and lemon juice
Serve immediately, adding salt or slightly chilled (adding salt at the time of serving)

Liked this recipe? SIGN UP FOR THE Sizzling Tastebuds Newsletter (No Spam, Promise!) for fresh, healthy and tasty recipes right into your inbox. Please consider leaving a star ???? rating on this recipe to encourage us . Do FOLLOW Sizzling Tastebuds ON Facebook, Twitter, Pinterest AND  Instagram for fresh content, latest recipes and much more!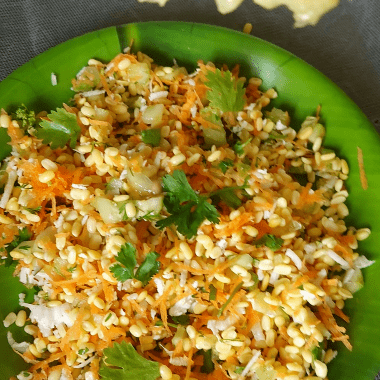 Moong Dal Kosambari | Ramanavami Vadapappu
Moong dal Kosambari is a light salad made with split green gram and served as a salad or Prasad during Festivals
Ingredients
1

cup

Split Green gram

Moong dal

1/4

cup

Grated coconut

fresh or frozen, grated

1

Carrot

grated

1

TBSP

Green coriander leaves

minced fine

2

Green Chillies

minced

1

tsp

Lemon Juice

1

tsp

salt
Tempering (opt.)
1/2

tsp

Oil

any neutral oil

1/2

tsp

Mustard Seeds

1/8

tsp

Asafoetida

skip for GF
Instructions
Soak Moong dal for 20 mins in reasonably hot water, keep covered.

After 20/25 mins, Drain the water thoroughly.

Now add grated coconut, grated carrot and green chillies

Prepare tempering with spluttering the mustard seeds and asafoetida in oil

Transfer this tempering to the Kosambari.

Top with chopped coriander and lemon juice

Serve immediately, adding salt or slightly chilled (adding salt at the time of serving)