What is Citrus Burst Salad?
Citrus Burst Salad is a medley of citrus fruits and ingredients which help heal Inflammation in our body. Best served chilled as a meal or snack
What are Anti Inflammatory Foods?
Inflammation in common terms means "a localized physical condition in which part of the body becomes reddened, swollen, hot, and often painful, especially as a reaction to injury or infection." This inflammation could be dermal (skin level) or even on the internal organs (throat / abdomen / gut / intestine / digestive tract / lungs etc)Be it due to injury or otherwise, certain foods are known to be proven effective as Anti Inflammatory foods -turmeric being the oldest of them in Hindu tradition. A poultice of ground fresh turmeric is said to have been applied to the kings / soldiers during the mythological times.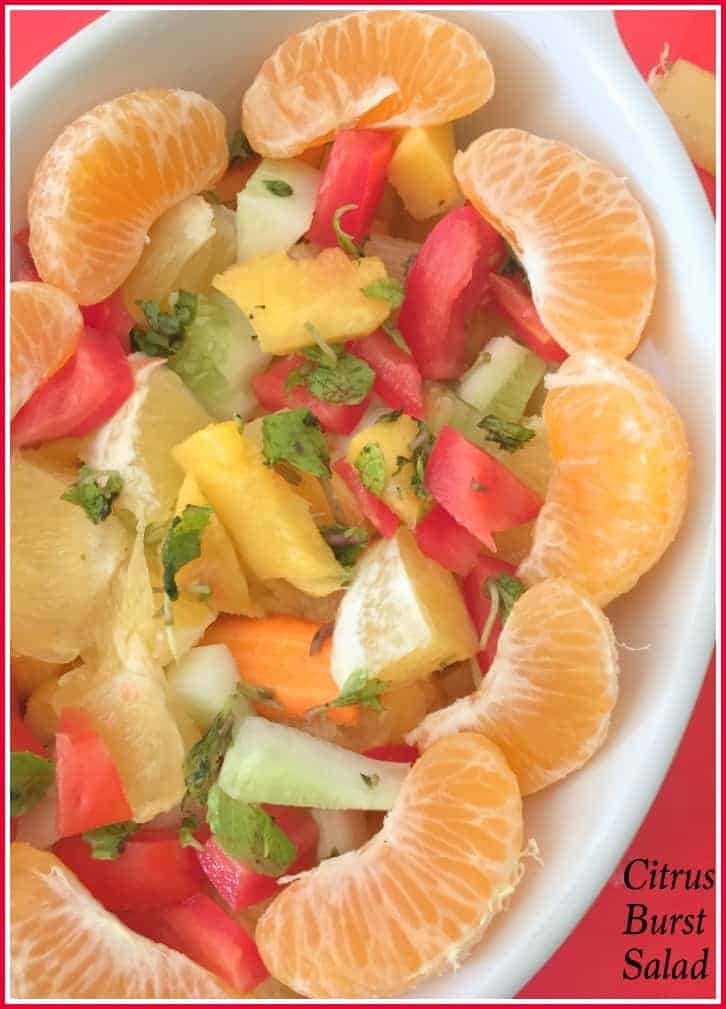 What are other Anti Inflammatory foods commonly found ?
Similar foods include wholegrains, citrus based fruits, garlic and onions, olive oil, Curd, fatty fish, dark leafy greens (like fenugreek/ spinach / kale etc), nuts, low fat dairy, bell peppers, tomatoes, ginger and beets. There are many many more. So today, we have a super simple but yummy Citrus burst salad with a mild dressing. Make it for summertime meals or party / potlucks. I am sure it would be a winner all the way..
Pear Pomegranate Salad with Apple Cider dressing
Pear Pomegranate Salad with Apple Cider dressing is a quick and delicious fuss-free salad perfect for Spring or Summer, eaten as a salad or meal by itself
Check out this recipe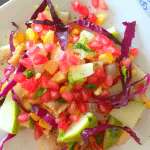 Pin me now!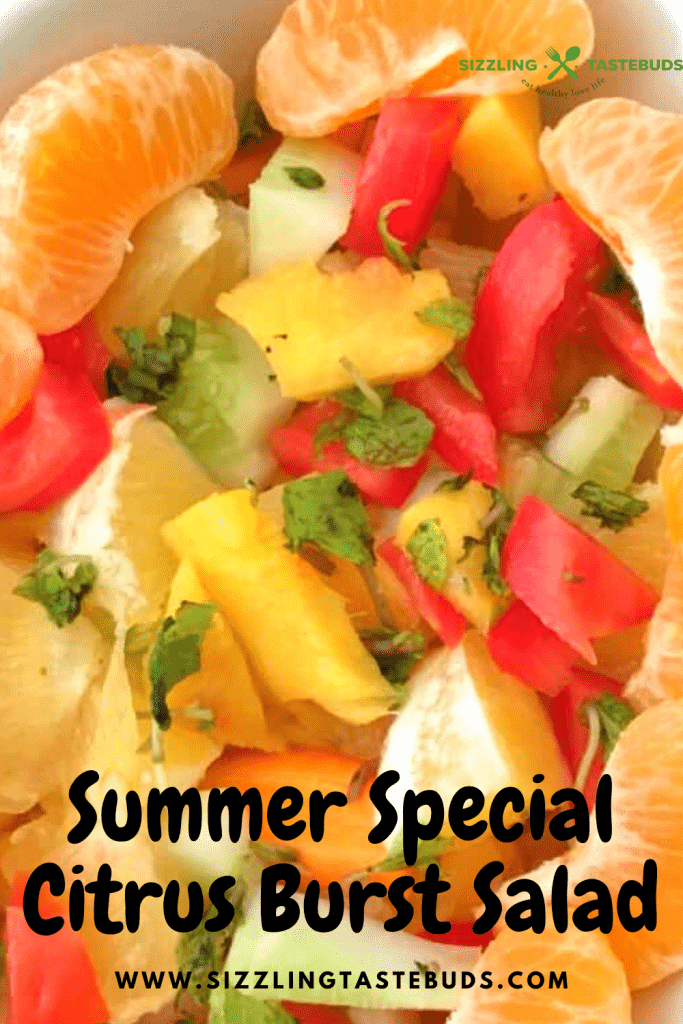 Prep time : 15 mins, No cook, Serves : 2
Ingredients for CItrus Burst Salad:
12

Orange Segments

6

Sweet Lime segments

1/4 cup

Carrots

(cut into thin strips)
1/4 cup

Cucumbers

(cut into thin strips)
1/3 cup

deseeded tomatoes

1/4 cup Bell Peppers (deseeded and cubed)
1/4 cup

Pineapple cubes
Dressing:
1/2 TBSP

Lime Juice

1/8 tsp

salt

1/4 tsp

pepper

1/2 tsp

Warm olive oil (opt.)

1 tsp

Crushed Mint leaves
Method to make Citrus Burst Salad:
Mix all the salad ingredients, Chill well. Similarly mix all dressing ingredients. Keep aside.

Just before serving, toss the salad in the dressing and serve immediately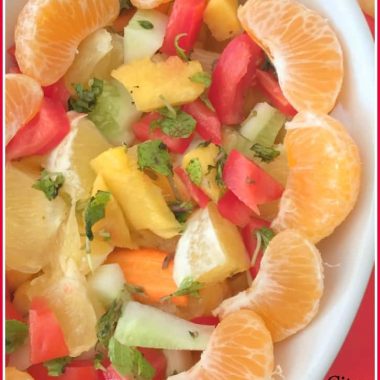 Citrus Burst Salad | Easy Summer Spring Salads
Citrus Burst Salad is a medley of citrus fruits and ingredients which help heal Inflammation in our body. Best served chilled as a meal or snack
Ingredients
12

Orange Segments

6

Sweet Lime segments

1/4

cup

Carrots

cut into thin strips

1/4

cup

Cucumbers

cut into thin strips

1/3

cup

tomatoes

deseeded

1/4

cup

Bell Peppers

deseeded and cubed

1/4

cup

Pineapple cubes

1/2

TBSP

Lime Juice

1/8

tsp

salt

1/4

tsp

pepper

1/2

tsp

Warm olive oil

opt.

1

tsp

Mint leaves

crushed
Instructions
Mix all the salad ingredients, Chill well. Similarly mix all dressing ingredients. Keep aside.

Just before serving, toss the salad in the dressing and serve immediately