Kand ke kebab | कंद के कबाब | Purple Yam Kebabs | Low Fat Appetiser
What is this kebab all about? Kand ke kebab is made with Kand कंद (D here is pronounced with the soft D as in thus or Dasvidaniya) or Purple Yam. A tasty #snack served as Tea Time Snack. GlutenFree and Vegan too made with 2 secret ingredients
Being a vegetarian (or even vegan), kebabs was largely relegated to the meat section. But not anymore : the local markets are flooded with indigenous ingredients which make it easy to substitute meat with any of these vegetables easily , like raw jackfruit is now considered a delicacy for biryani.  Furthermore, especially with a change of weather (rainy / winter), seasonal veggies make their way, a few of them that aren't found anywhere or lesser known recipes made. Local produce like Sundakkai (a.k.a turkey berry), Kantola (a.k.a Spiky Gourd available again in Gujarat / Maharashtra). Not to forget the plethora of fresh greens which are again seasonal – like sarson (which goes into making this wonderful punjabi Sarson da saag)
One of these finds in the local markets of Maharashtra / Gujarat is Kand or Purple yam. I use them usually in Low fat Undhiyoo , and having made a batch of Undhiyu/ Undhiyoo (a seasonal medley of vegetables from the Gujarati Cuisine), I chanced upon this unique (almost no oil) Kand ke Kebab. With a few twists and turns from the original recipe, this was very well received at home. 
PS : For those with an itchy skin / throat post eating / cleaning this veggie, you may avoid consuming the veggie. Please check for allergy before serving it to guests / non family members though. For the rest, this makes a very unique kebab / party appetiser that your guests also would love.   
Few FAQs about Purple Yams:
Are these the same as Purple Sweet potatoes ? Nope, yams are drier and startchier than sweet potatoes. If you use the elephant foot / Yam / Senai Kizhangu in your cooking, this is similar.
Is this the same as Ube ? Yes, Carribean cooking uses a lot of Ube right from a pudding to stews. A fellow food blogger and home chef, Mireille has a  plethora of recipes using Purple Yam.
Benefits of Purple Yam ? Loaded with anthocyanin (a substance which help in dealing with inflammation, cardio vascular disease) and beta carotene (a substance that is turned into Vitamin A), these are veggies that you must use in your diet.  
Pin Kand ke Kebab or Purple Yam kebab for later
Other kebabs you would like:
Airfryer Corn and Swiss Chard Kebab
Corn and Swiss Chard come together in a delicious kebab made in an air fryer with very little oil. This kebab is Gluten Free, Vegan and low fat too  
Check out this recipe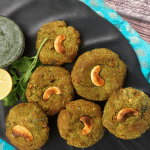 Let's get making these Kand ke kebab – a gluten free and vegan snack
Cuisine : Indian ; Course : Snack / appetiser ; Spice level : medium
Prep time – 20 mins, Cook time – 20 mins, Makes – 15 kebabs
What you need to Kand ke kebab
200 g Purple yam (Kand, steamed)
200 g Sweet Potato (alternatively use Potato)
1 tsp salt
2 tbsp cashew powder (sub with arrowroot powder for nut allergy)
2 TBSP desiccated coconut 
1/2 tsp Black pepper (freshly crushed)
2 tsp Sorghum flour (sub with wholewheat flour / maida if you are not Gluten Free)
3 tsp Olive Oil
Masala paste
2 tbsp peanuts (raw)
1 tsp cumin seeds
1 tsp ginger (grated)
4 pods garlic
1 green chilly (adjust spice)
1/4 cup fresh coriander 
2 tsp lemon juice 
Refer the Video below for a detailed recipe and step by step instructions. If you are visiting our channel for the first time, please don't forget to hit like 👍 and subscribe to our channel ❤️. We appreciate your love and would eagerly wait to hear from from you on how we can bring your favourite dishes to our channel too ! Thanks a ton 💕💕
How to make Kand ke kebab:
Grind all ingredients in the masala paste WITHOUT any water to a smooth paste. 
Into a bowl, grate the steamed purple yam (Kand) and sweet potato using a grater. 
Add the rest of the ingredients including the ground masala paste, except the oil and sorghum flour. 
Mix gently into a soft dough. Add 1 tsp olive oil and mix well.
Pinch out small roundels of the kebab 'dough' and flatten out to kebab / Tikki shapes.
Refrigerate for 10 mins (totally optional, but recommended)
After 10 mins, gently coat the kebabs with the sorghum flour on the flatter sides
Shallow fry these in 2 tsp olive oil on low flame till both sides turn crispy. 
Serve with Sauce or Dahiwali Hari Chutney
Kand ke kebab | Purple Yam Kabab
Kand ke Kebab or Purple Yam kebab is a delicious vegan and Gluten Free Appetiser or snack made with Purple Yam and spices.
Ingredients  
200

g

Purple yam

Kand, steamed

200

g

Sweet Potato

alternatively use Potato

1

tsp

salt

2

tbsp

cashew powder

sub with arrowroot powder for nut allergy

2

TBSP

desiccated coconut

1/2

tsp

Whole Black Pepper

freshly crushed

2

tsp

Sorghum flour

sub with wholewheat flour / maida if you are not Gluten Free

3

tsp

Olive Oil
Masala paste
2

tbsp

Raw Peanuts

raw

1

tsp

Cumin seeds

1

tsp

ginger

grated

4

pods

garlic

1

Green chilly

adjust spice

1/4

cup

Fresh Coriander

2

tsp

Lemon Juice
Instructions 
Grind all ingredients in the masala paste WITHOUT any water to a smooth paste.

Into a bowl, grate the steamed purple yam (Kand) and sweet potato using a grater.

Add the rest of the ingredients including the ground masala paste, except the oil and sorghum flour.

Mix gently into a soft dough. Add 1 tsp olive oil and mix well.

Pinch out small roundels of the kebab 'dough' and flatten out to kebab / Tikki shapes.

Refrigerate for 10 mins (totally optional, but recommended)

After 10 mins, gently coat the kebabs with the sorghum flour on the flatter sides

Shallow fry these in 2 tsp olive oil on low flame till both sides turn crispy.

Serve with Sauce or Dahiwali Hari Chutney
Video