Sarson is Punjabi for
Mustard. Saag means a gravy dish made with greens. Mustard is grown abundantly in
the fields of Punjab and that must be the reason why this combo of Sarson da Saag
and Makki di roti is popular there.
This Gravy is made with a combo of Mustard
leaves (Sarson), Palak (spinach) and Bathua (Chenopodium
Album or Lamb's Quarters) found abundantly in the winters. I could make this
with the help of my neighbour who taught me an easy but tasty recipe.
Serve it with Makki
do roti or any Indian Flat bread with some salad of radish and onions and you
have a winner thereJ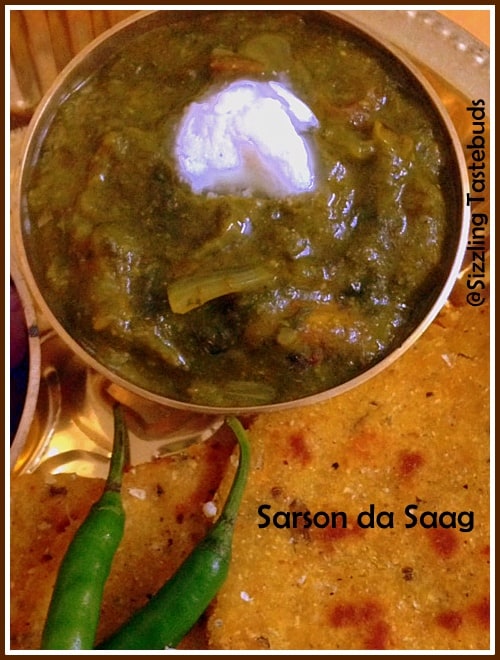 Pin
Prep time : 15 mins,
cook time : 20 mins, Serves : 4
You would need:
Sarson – 2 cups
chopped
Palak – 1 cup Chopped
Bathua – ½ cup
chopped
Salt – to taste
Maize flour – 2 TBSP
Hing / Asafoetida – a
large pinch
Red chilli powder – ½
tsp
Ghee – 2 TBSP
Ginger – 1 inch
Green chillies- 2 nos
Tomatoes – 2
Onions medium – 2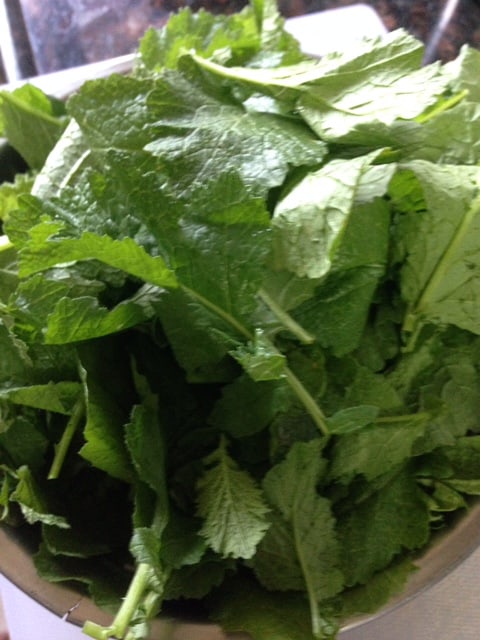 Sarson Leaves (Mustard Greens)
Method:
In a pressure pan /
cooker, add the chopped greens, salt, ginger and chillies and pressure cook
with very little water for 2 whistles. Once the pressure subsides, let the
greens cool. Pulse them to a smooth paste in a mixer (don't grind – we don't want
it to get pasty and mushy).
In a pan, heat oil /
ghee. Add asafoetida & grated onions and fry till onions are golden brown,
add grated tomatoes, red chilli powder, salt (if required as you have added to
the greens too). Let it cook till oil separates. Now add the pureed greens and
cover and cook for 8-10 mins till most of the water evaporates.
Keep checking it in
between to prevent browning. Once the water evaporates and the gravy attains
the requisite consistency, transfer to a serving bowl and serve with any
flatbread and Gur (jaggery) for an
authentic Punjabi mealJ