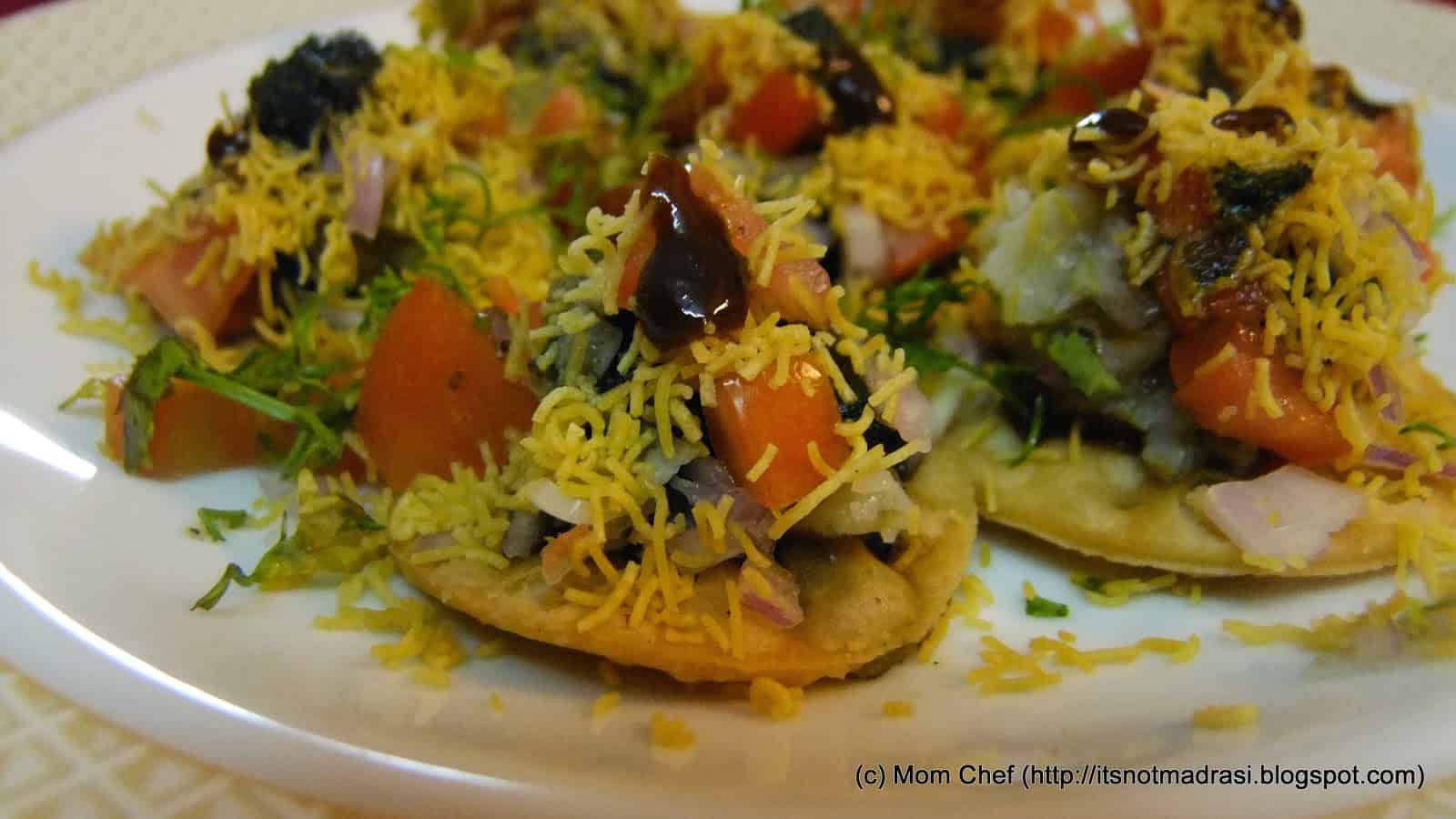 Pin

Summer meals are light meals – breakfast, lunch or dinner. Or even snacks and lite bites for kids 🙂 My daughter's khwaaish was 'something different and chatpata' last Sunday evening and thankfully I had anticipated this beforehand and was prepared with the ingredients. Thanks to her, all of us had delicious Papdi Chaat.

I really don't have to give out the recipe for this, but for all the effort I took and the pics that I was allowed to take, I thought why not share this at all 🙂 I have made this child friendly with less spice etc. But do indulge yourself if you are serving this at a party / get together as a yummy starter … The quantities are also approx, and can be adjusted to suit your palate.

Preparation time: 30 mins. Cooking time : nil ;

Serves: As many as one wants to eat (just extrapolate the ingredients 🙂 )

Ingredients:
Papdi / Papri– 20 nos (Store bought or home made)
Sev / Omapudi – 1 cup
Boiled & mashed Potatoes – 2 cups
Chopped Onions – 1/2 cup
Chopped Tomatoes – 1/2 cup
Grated carrots + raw mango – 1/2 cup (opt)
Green Chutney – 1/4 cup
Tamarind chutney – 1/4 tsp
Chaat Masala – 3 tsp
Cilantro / Fresh Coriander – 1/2 cup
…..and….a slurpy palate 🙂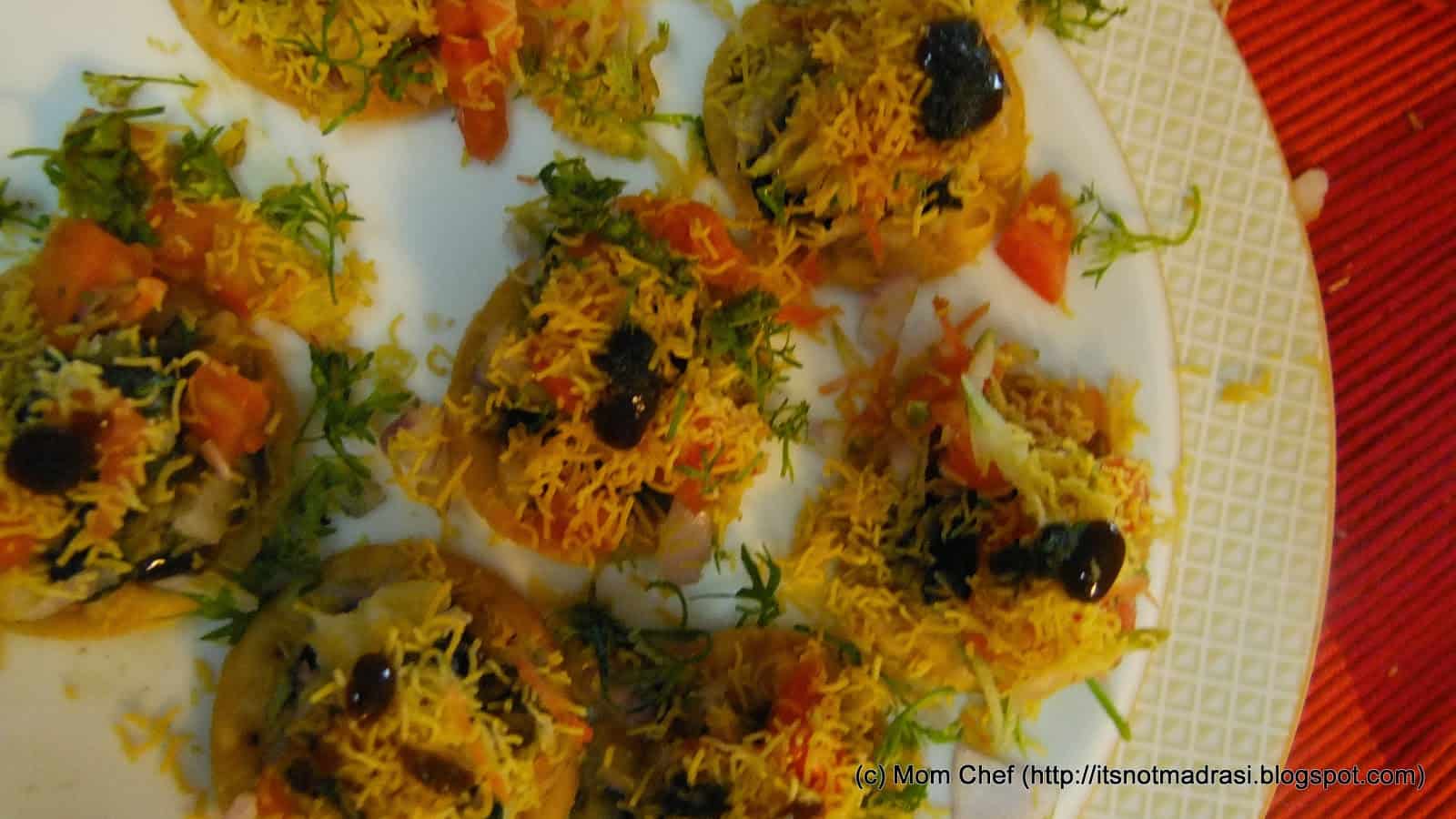 Pin

Method:

1) Assemble about 6 papdis per person on a plate.

2) Smear some chutney and load the rest of the veggies – potato, carrots, onions, grated carrots, grated raw mango etc in any order that you like – in small quantities one on top of the other.

3) Sprinkle chaat masala, coriander and also chutney again if you desire.

4) Now top with sev and serve immediately.

Tips:

1) I prepared all the veggies and chutneys and stored them in separate airtight containers beforehand. Saves time.

2) Add left over veggies and / or chutneys to murmura (kadalepuri) for a quick bhel puri @ home !

3) You may add the following ingredients to make it even spicier – red chilli powder / green chilli paste / pepper powder etc.,

4) Boiled chickpeas / kabuli chana may also be added with or in place of potato.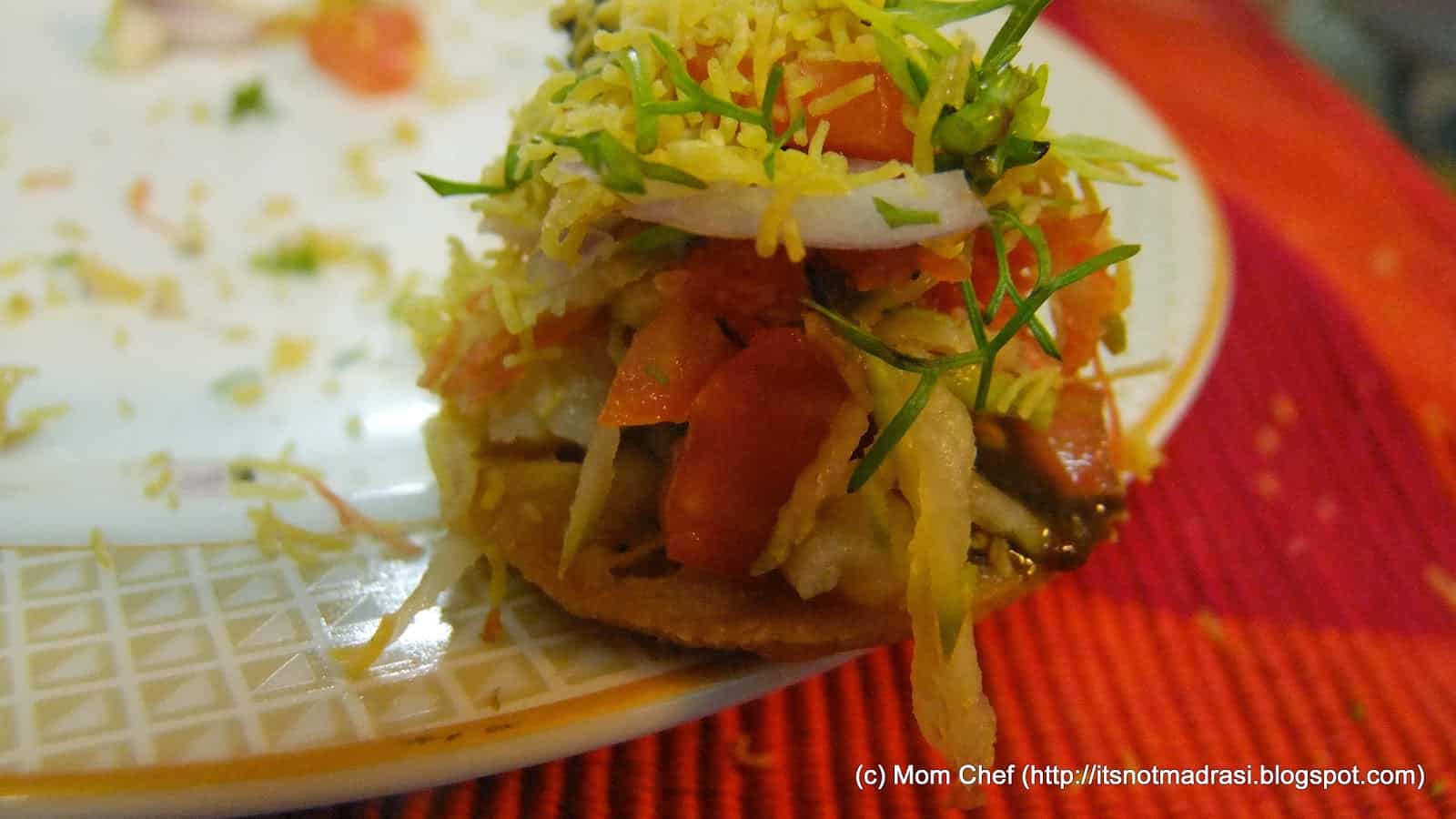 Pin