Gujarat = FOOD.
Gujarat is my first love for a foodie like me. Gujaratis
LOVE food and I love the way they come up with so many
innovative concoctions : Dabeli, Dhokla, Khakhra, Dhebra, Thepla, Mohanthal, Edada, Muthia, Fafda-Jalebi… the list is endless.
But of course, for a vegetarian family
like ours, Undhiyu takes the cake –
all the time ! Although some restaurants did serve a Gujarati Thali while we
grew up as kids, there was this misconception that all their dishes, including
Dal is sweet (incidentally it is, but not as much as we thought it was)
I was definitely introduced to Gujarati fare after my marriage.
Mumbai being a melting pot – the options that Gujarati food offered for veggies
are endless. And there is Soam (a popular Gujrati restaurant in South Mumbai)
which serves such awesome fare, and fanned the foodie in me as well. I have
loads of Gujarati friends – colleagues, neighbours etc and none of them shy
away from saying that they are thinking about the next meal and where and what
to eat while cooking the presentJJ
Pin

Personally I have a soft corner for Gujaratis for their
enterprising nature, fastidiousness and of course their penchant for food.
Today's post is a slightly long one, given that the dish is one of their gems –
Undhiyoo. Generally made during the winter months, this is a staple dish of
Gujarat, considering that the usually arid regions of Kutch and the land
towards Rajasthan comes alive in the winter with delicacies such as Kand (purple yam), Papdi (Surti Papdi or Lilva Papdi – one of the main ingredients), Shakhar Khand (sweet potatoes), fresh
green peas (Matar).

Traditionally Undhiyu means overturned pot. This used to be made
in an earthern pot and overturned and cooked under the ground. In today's
kitchen Oondhiyoo (or Undhiyu) is sautéed in lots of oil to preserve it for
atleast 2 weeks under refrigeration and is had with Rotis as a delicacy. Its best had with Puris and Shrikhand, and as its a seasonal recipe, made during winters, its made in large quantities and even shipped out to relatives and friends.

My family's requirements were to make Oondhiyu in a low cal
version. Although its very laborious to make it, I loved the process and the
fact that when I made it, the markets were full of fresh produce including the
coveted green garlic that takes this to a different level.

I have included step by step preparations. Use the best and
freshest ingredients and you will have a winner. I cant wait for this year's
winter to make this all over again..

A labour of love. And completely worth it.

My
notes:
This
dish is traditionally made with LOTS of oil, and in typical Undhiyu recipes
online and offline, there is this oil floating on top and sides coz all veggies
are DEEP fried in oil and the masala also is swathed in oil.
My
version here is made with max 8 TBSP of oil (versus maybe a cup of oil for the
same quantity of undhiyu – approx. 600 gms)
Tastewise
we loved it. But for those who have no such qualms about oil, do add in a generous
portion of oil to liven it up further.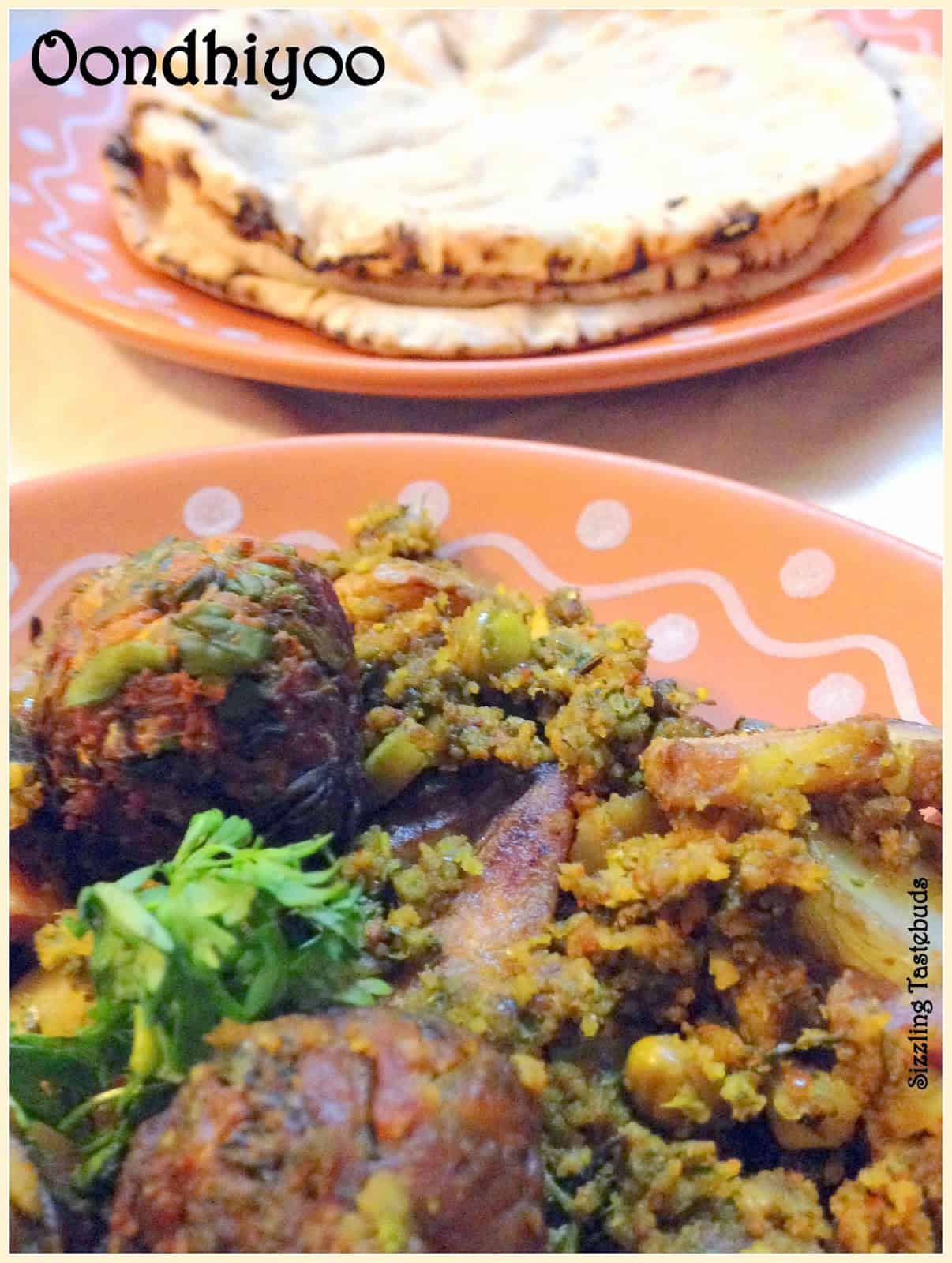 Pin

———————————————————-

BM : 39 ~ Indian State : Gujarat

Recipe : Oondhiyu / Undhiyu

Dish type : Vegetable based side dish

Accompaniments : Roti /
Phulka (Flat Indian Bread)

Spice Level :Medium to
moderately spicy

———————————————————-

Prep Time :45 mins, Cooking time
: 45 mins ; Serves : 4

Ingredients:

(A) For the filling:
Roasted Peanuts – 3 TBSP
Green Chillies – 3 nos
Green Garlic – 7-8 pods with the stalks
Grated coconut – fresh or dry – 4 TBSP
Minced Ginger – 1 TBSP
Coriander leaves – a big handful
Sesame seeds – 3 TBSP
Cumin seeds – 1 tsp
Cashewnuts – 2 tsp (optional)
Garam Masala – 2 tsp
Red chilli powder – 1 tsp
Amchur (dry mango powder) – 2 tsp
Dhana-Jeera Masala (coriander and cumin seed powder)- 4 TBSP
Salt – to taste
Oil – 2 TBSP + 5 TBSP
Method for Filling (Stage 1
in the collage):
Dry Roast peanuts and skin them. Dry roast sesame seeds and coconut
separately.
Saute Green chillies, coriander, green garlic, ginger till the
chillies shrivel a bit
Powder the peanuts first, Then add sesame seeds and coconut and
powder and keep aside (do not over powder, the sesame and dry coconut would
leave oil)
Grind the sautéed ingredients separately with no water.
In a large plate, add the ground paste, the powdered peanut
mixture, cashewnuts, garam masala, red chilli powder, amchur, dhana-jeera
powder, and mix well. Add the 3 TBSP oil and make the stuffing ready.
(Imp : This stuffing is twice or thrice the quantitywhat you need
to stuff the veggies – don't throw away the remaining – its used for the gravy
or the base)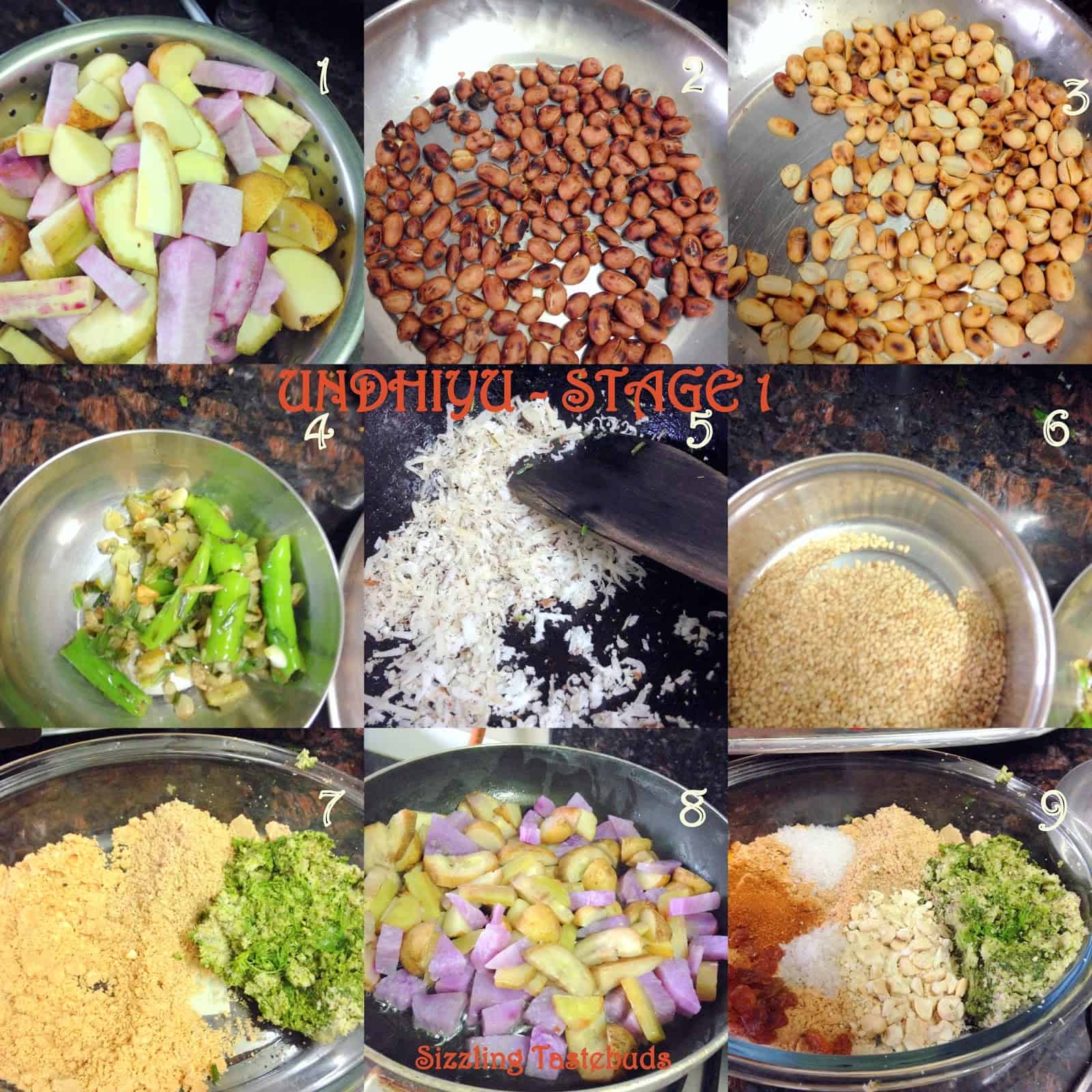 Pin
Veggies for filling:
Small firm brinjals – 4 to 6
Kand / Purple Yam – 50 gm
Surti papdi – about 75 gms _ shelled and whole
Matar / fresh green peas – 2 handfuls
Potatoes – optional – 1 medium
Sweet potato – 1 medium
Except for Brinjal, cut all the veggies into thickish batons,
sauté in 1 TBSP oil and a pinch of salt till they slightly cook and don't turn
mushy – about 6 – 9 mins
Trim the stalks of the brinjals and make a slit lengthwise into
quarters (top-bottom) but not all the way down.
Carefully take a generous portion of the stuffing, and stuff the
brinjals taking care not to break them. DO this for all the brinjals. And
reserve the stuffing
In a pan, heat remaining 2 TBSP oil, splutter cumin seeds, sauté
the brinjals first. Sprinkle very little water and cook covered till they
slightly turn slightly charred on the outside and about ¾ cooked (about 8-10 mins).
Now remove them on to a plate. ( Pics 12, 13, 14, 15, 17 – of stage 2 collage)
Add the remaining filling masala, the other veggies (purple yam
etc) and sauté the veggies. Add salt if required and let the veggies be coated
fully with the masala.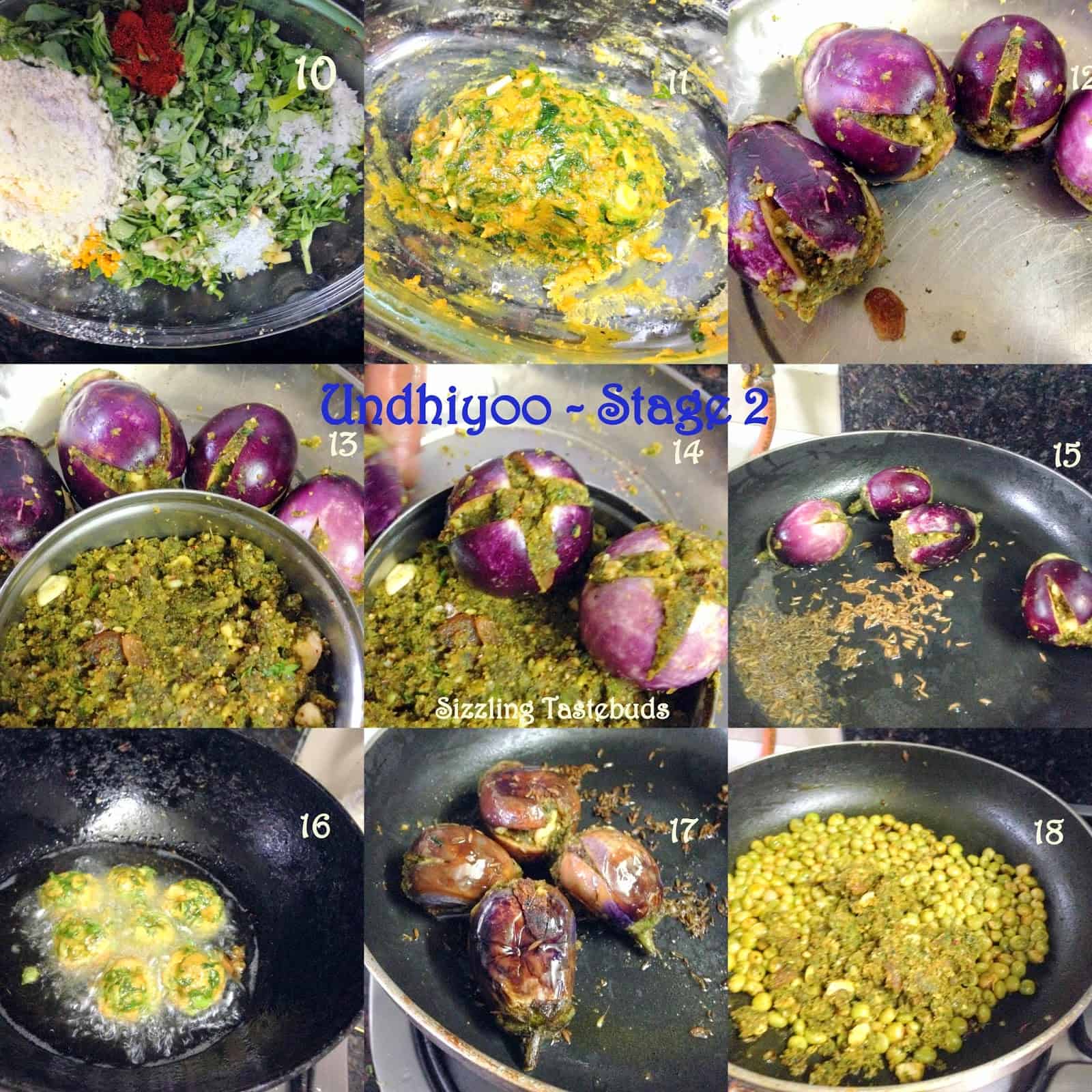 Pin
(B) For the Muthias:
Methi / Fenugreek leaves (fresh) – ½ cup
Besan / Gram flour – ¼ cup
Rice Powder – 2 tsp
Salt – to taste
Ajwain / carom seeds – a generous pinch
Turmeric – a dash
Warm water – a little (about 2-3 tsp)
Make a thick batter of all (except oil). Make even sized muthias
(or pakora shaped roundels) and deep dry (well, you may pan fry but I wanted to
indulge in this – its completely ok if a few deep fried muthias end up in your
mouth tooJ). Drain on absorbent towels. (pic 10, 11 & 16 above)
(C) For the Assembly
In
the veggies pan with the masala paste, now add the muthias too (about 20 mins
before serving), add LOADS of fresh coriander.
Sprinkle
some water, drizzle about 3-4 tsp of oil (to keep the dish moist) and simmer
for 8-10 mins till all the veggies
Don't
wait any longer. Indulge with generous helpings alongside fresh hot phulkas or
roti. Tastes yummy the next day, and the next, and the next !! (if it lasts
that long in ur freezer….)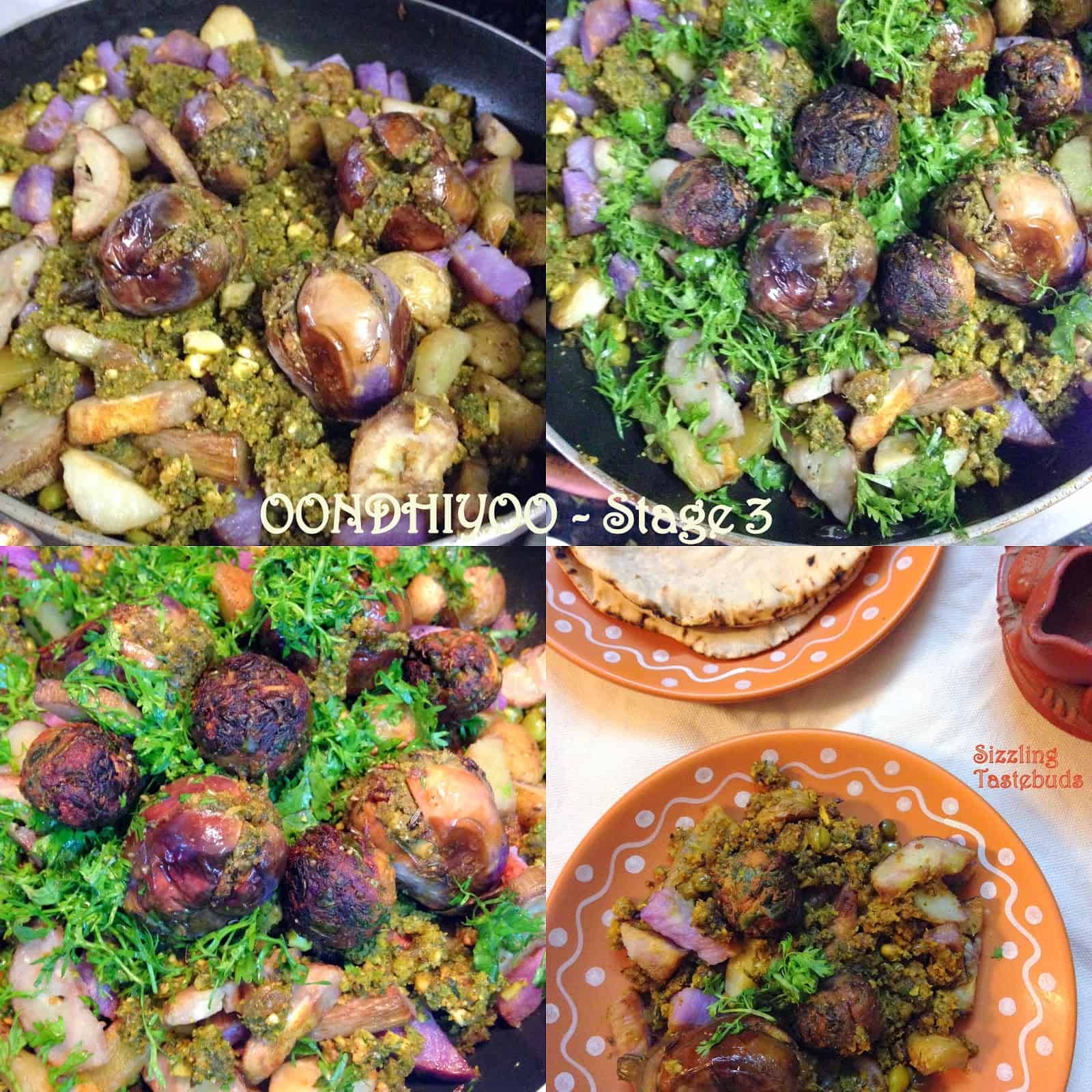 Pin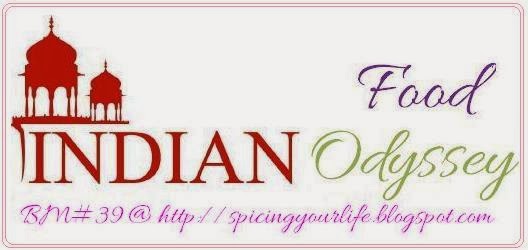 Pin
Check out the Blogging Marathon page for the other Blogging Marathoners doing BM# 39