After the delicious Armenian dip Baba Ghanoush yesterday, today we are in Brazil for the ABC International Blogging Marathon
Brazil =
football. Perhaps their map also endorses thatJNotwithstanding that they didn't win the recently held World Football
cup 2014, I know of many friends who were heartbroken to know their favourite team
didn't make it to the top.
Brazil
also being a tropical country, is best known for its coffee, banana and exotic
cocktails. Wiki tells me that The national beverage is coffee and cachaça is
Brazil's native liquor. Cachaça is distilled from sugar cane and is
the main ingredient in the national cocktail, Caipirinha.
So,
today's dish has two of their top produce – coffee and banana – in an exotic
party shot type dessert… And what's more, my elder girl helped me choose it, make it, style it, and even took pics.. (She asked me to mention this specifically that today's dish is 100% her effort ). A huge kiss to my lil chef in the making.. 🙂 🙂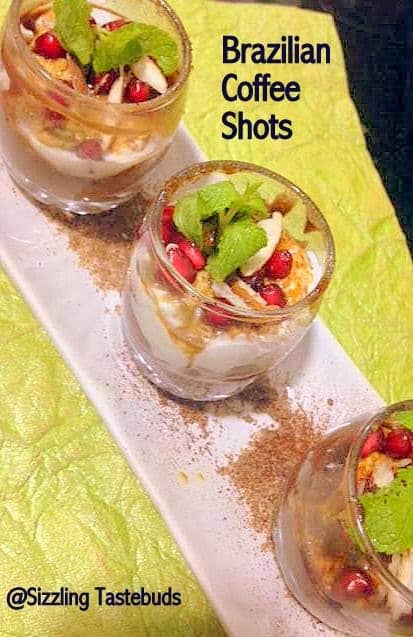 Pin

Before that, lets check out Top 5 things about Brazil
— ( I promise to keep this short)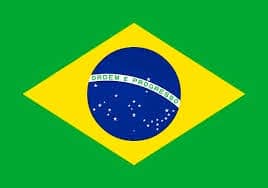 Pin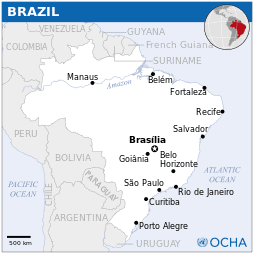 Pin
                                                      (Source:Wiki)
These Brazilian Coffee
Shots have a hint of banana and cinnamon in them. You can serve them cold or
even make ahead for a party. I love cinnamon and coffee flavor, but you can
choose to skip the cinnamon and it would still taste great !!
Coming to the recipe :
***************************
Country – Brazil
Dish – Brazilian Coffee Banana Shots | Recipe type –
Dessert
Cuisine – South American (Brazilian)
Difficulty level – Easy
Recipe adapted from Here
Prep 10mins | Cook time : Nil | Serves :
2
Serving Suggestions : Chilled
 ***************************
Ingredients:
Ripe
Bananas – 4 ( I used Elaichi variety)
Instant
Coffee Powder – 1 tablespoon
Thick
yoghurt (or hung yoghurt) – 4 TBSP
Brown
Sugar – 3 TBSP
Almonds
Silvered – 4 nos (or use flakes)
Garnish
: pomegranate pearls and mint leaves (optional)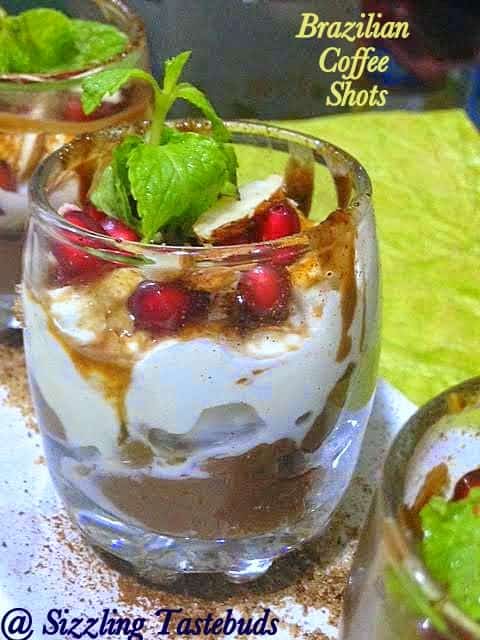 Pin
Method:
Peel and chop bananas
roughly. Add instant coffee powder and blend till smooth
Chill glasses. And fill
half glasses with this banana coffee mixture.
Spoon thick yoghurt (whisk
it lightly with cinnamon) over this.
Top with almond flakes /
slivers and pomegranate pearls and / or mint leaves
Chill and Serve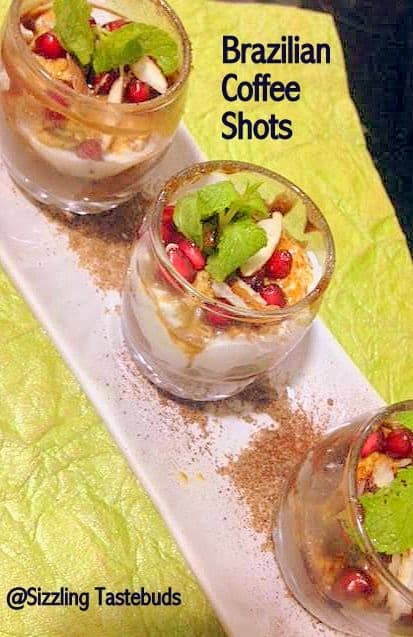 Pin