Baked Chukandar Paratha | Beetroot Paratha is a recent favourite that we discovered during the 1st phase of the lockdown last year, and since then the kids do really look forward to this. Blame it on the uber easy method or the spicy-tangy-salty kick from the beet, beetroot or Chukandar (as it is known in Hindi) is welcomed more than ever at home.
Few dishes that we make from beetroot that you may like
So, as you see Beetroot is quite versatile. It is a tuber that has both sweet and salty notes. Masterchef Australia got me to notice that baked beetroot takes the flavour profile up several notches and that's exactly what we did here for the beetroot paratha.
So, let's get to making this.
Some more paratha varieties that may interest you on this blog:
Bake time – 60 min, Prep time – 15 mins ; Cook time (for paratha) – 15 mins, Makes – 6 largish ones / 8 smaller ones
To make Chukandar Paratha, you need:
2 beetroots (approx 250 gram)
2 tsp olive oil
1 tsp salt
2 cups Whole Wheat flour
4 tsp Oil (any neutral oil to cook the parathas)
1 tsp Chaat Masala
1 tsp Garam Masala
1/2 tsp Chilli powder
1 tsp Cumin Powder (Bhuna Jeera powder)
How to make Baked Chukandar Paratha
Preheat oven to 190 C / 370F. Wash, peel beetroot. Place the beets in a bowl,drizzle olive oil and Wrap in an aluminium foil .
bake the beets for 45 mins or until soft to touch. My oven took 45 mins, yours might take less or more time.
While the beet is cooking, tor the outer cover of paratha, knead the whole wheat flour, a pinch of salt and 1 tsp of oil and warm water to a semi soft dough. Cover and keep aside.
Let the dough rest for at least 15 mins
Drain, Cool thoughly and puree the beetroot with a pinch of salt. Refrigerate this for 10 mins
Pinch out small roundels of the dough (depending on how big you want the paratha).
With some dry flour, roll to a disc of 4 inch wide. Place 2 tsp of the puree and sprinkle all the masalas -chaat, jeera, garam and chilli powder on the puree. Cover the dough folding the edges and with a LIGHT hand, roll it out to a thickish paratha.
Repeat for the remaining dough and puree.
Heat a tava / skillet to moderately hot.
Place one paratha and cook on both sides with a tsp of oil till golden specks appear.
Repeat for remaining parathas.
Serve hot with chilled curd or pickle
Linking this to A-Z Recipe Challenge where we cook with a star ingredient that starts from an alphabet every month, but in Hindi Language every month.. So, it is C for Chukandar (aka beetroot) for this Baked Chukandar Paratha.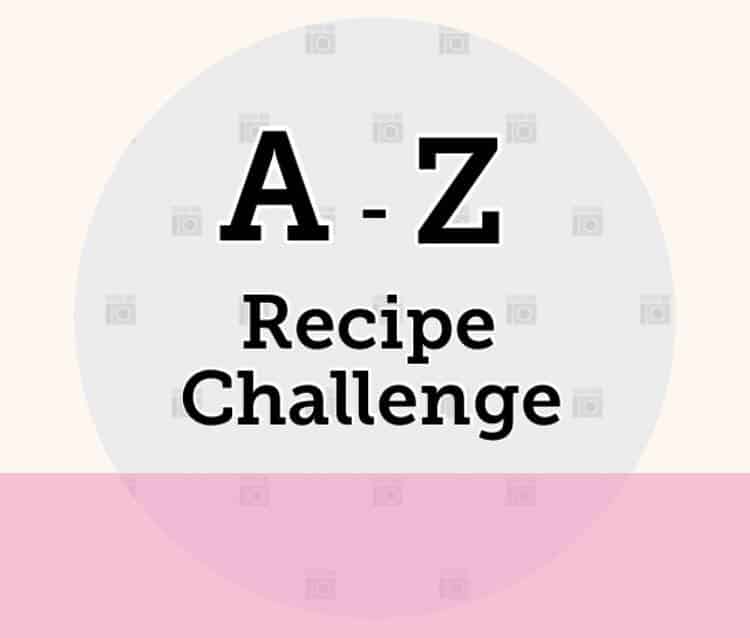 Baked Beetroot Paratha | Chukandar Paratha
Baked Beetroot Paratha is a delicious flatbread made with caramelised beet puree. Served for Indian Breakast or lunch 
Ingredients  
2

beetroots

approx 250 gram

2

tsp

olive oil

1

tsp

salt

2

cups

Whole Wheat flour

4

tsp

Oil

any neutral oil to cook the parathas

1

tsp

Chaat Masala

1

tsp

Garam Masala

1/2

tsp

Chilli powder

1

tsp

Cumin Powder

Bhuna Jeera powder
Instructions 
Preheat oven to 190 C / 370F. Wash, peel beetroot. Place the beets in a bowl,drizzle olive oil and Wrap in an aluminium foil .

bake the beets for 45 mins or until soft to touch. My oven took 45 mins, yours might take less or more time.

While the beet is cooking, tor the outer cover of paratha, knead the whole wheat flour, a pinch of salt and 1 tsp of oil and warm water to a semi soft dough. Cover and keep aside.

Let the dough rest for at least 15 mins

Drain, Cool thoughly and puree the beetroot with a pinch of salt. Refrigerate this for 10 mins

Pinch out small roundels of the dough (depending on how big you want the paratha).

With some dry flour, roll to a disc of 4 inch wide. Place 2 tsp of the puree and sprinkle all the masalas -chaat, jeera, garam and chilli powder on the puree. Cover the dough folding the edges and with a LIGHT hand, roll it out to a thickish paratha.

Repeat for the remaining dough and puree.

Heat a tava / skillet to moderately hot.

Place one paratha and cook on both sides with a tsp of oil till golden specks appear.

Repeat for remaining parathas.

Serve hot with chilled curd or pickle