The English words in the title are ok, but the Danish ones are challenging. However, ask me about the dish and I will write about it – Thats what I told my
family when I made this. Buttered GIngered Beets – a simple dish to make ahead for parties or potlucks. Non
vegetarians might love to have it along with grilled dish or chicken (which was
something that the original recipe told me :-)) And as for us, veggies at home
presented in a different format is what we were kicked about.
The husband was mighty pleased with the presentation and the taste and said that all those years of watching Masterchef Australia on the telly have come handy. I was pretty happy myself as it involved a new technique of letting the veggies simmer in their own sauce and I could relate to Matt and George from the TV show when they said texture and additional elements add to the complexity of the dish.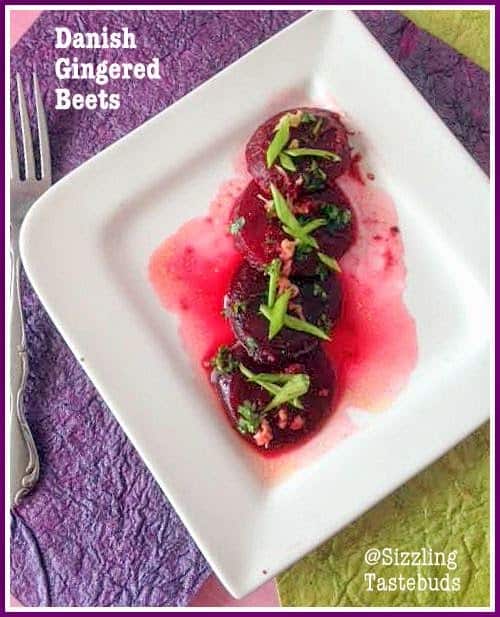 Pin
From
Armenia's Baba Ganoush to Brazilian Coffee Shots to Colombia's Quinoa Avacodo
Salad, today we visit Denmark. As always, a short history of the country and
some quick facts. Denmark being a Nordic country, my only exposure to
Nordic country was through the TV series – Wallander. Intense, Dark, Stoic & Brilliant –
much like the weather I guess (not the brilliant part though :D). But given the fact that they have long winters, its no surprise that meats,whisky and hard
liquor are given preference during meal time.

Danish Flag
A family friend of mine mentioned
that while he was posted in Denmark and Norway, Supper (the last meal of the
day) would be as early as 5pm. I am trying to gather how people could eat that
early. but given the circumstances, guess the darkness envelopes you with a
rather dreary climate.
5 quick facts about Denmark's cuisine before we
go on to today's dish: (source – Wiki)
The

cuisine

of Denmark, like that of the other Nordic countries and
of Northern
Germany, consists mainly of
meat and fish. This stems from the country's agricultural past, its geography,
and its climate of long, cold winters.
With 145.9 kg (321.7 lb) of meat per person
consumed in 2002, Denmark has the highest consumption of meat per person of any
country in the world.
The open sandwiches, known as smørrebrød, which in their basic form are
the usual fare for lunch, can be considered a national speciality when prepared
and decorated with a variety of fine ingredients.
Hot meals traditionally consist of

ground meats

, such as

frikadeller

(meat balls), or of more
substantial meat and fish dishes such as

flæskesteg

(roast pork with
crackling) or kogt torsk (poached cod) with mustard sauce and
trimmings.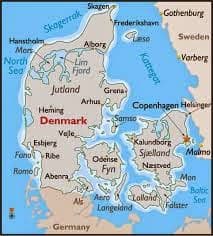 Pin
Today's dish, is a simple but hearty side dish of beets, ginger and
cornstarch, in a slightly poached form, simmered in its own juices. The jus (as the French would call it) is crucial, although there are some who would prefer it semi dry. But
I guess as its eaten with meat, the jus adds to the complexity of the
dish..
The only hitch was I didn't have a picture of how this dish was
supposed to look but only a text recipe that I had bookmarked sometime ago. So
I looked around similar recipes and came up with something that pleased my
family.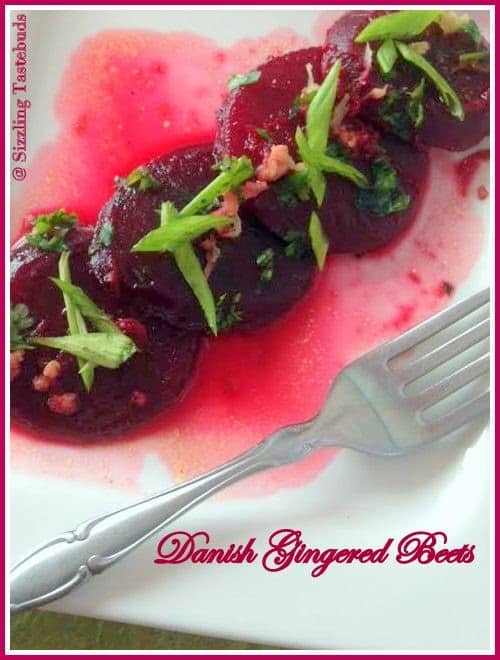 Pin
***************************
Country –
Denmark
Recipe
type – Vegetable / Side Dish
Difficulty
level – medium
Spice Level –
Medium
Recipe
adapted from Here
Prep
– 10 mins
| Cook time : 25 mins | Serves : 2
Serving
Suggestions : With Roasted
meats or grilled paneer for a main course
***************************
Ingredients:
Beetroot
– 1 large or 2 medium
Salt
– to taste
Ginger
– 1.5 inch (grated)
Sugar
– 2 TBSP (the recipe demanded ¼ cup)
Cornstarch
– 1 tsp
Water
– ½ cup
Unsweetened Orange
juice – ½ cup ( I added a little short of this)
White
pepper – ½ tsp (optional)
Vinegar
– 2 TBSP
Parsley
/ micro herbs

– to garnish,

Butter, of course – 2 tsp (increase slightly if required) – if you want to make it vegan, simply replace with olive oil (which I did when I made this the second time)
Method:
Wash beets, boil in salted water and peel. Cut in bite-sized
cubes or slightly thickish roundels (I prefer the latter)
In a double boiler over hot water mix ginger, sugar, cornstarch,
vinegar and water. Stir until smooth.
Cook slowly to thicken, stirring frequently. Add cooked beets and
butter. Add in orange juice and let it simmer a bit (about 2-3 mins). Add white pepper to finish.
Garnish with parsley and serve hot.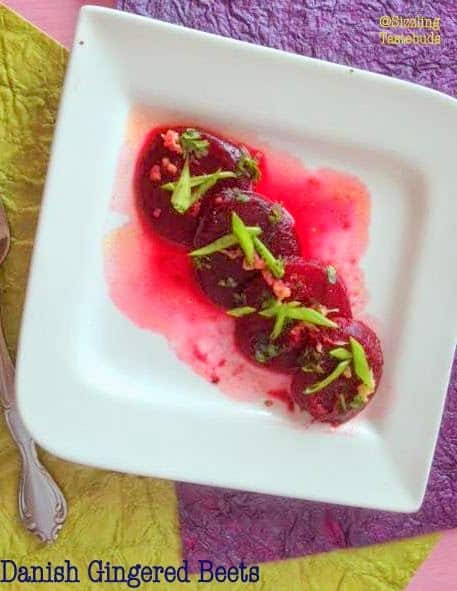 Pin
See what else the Marathoners are cooking for Alphabet D