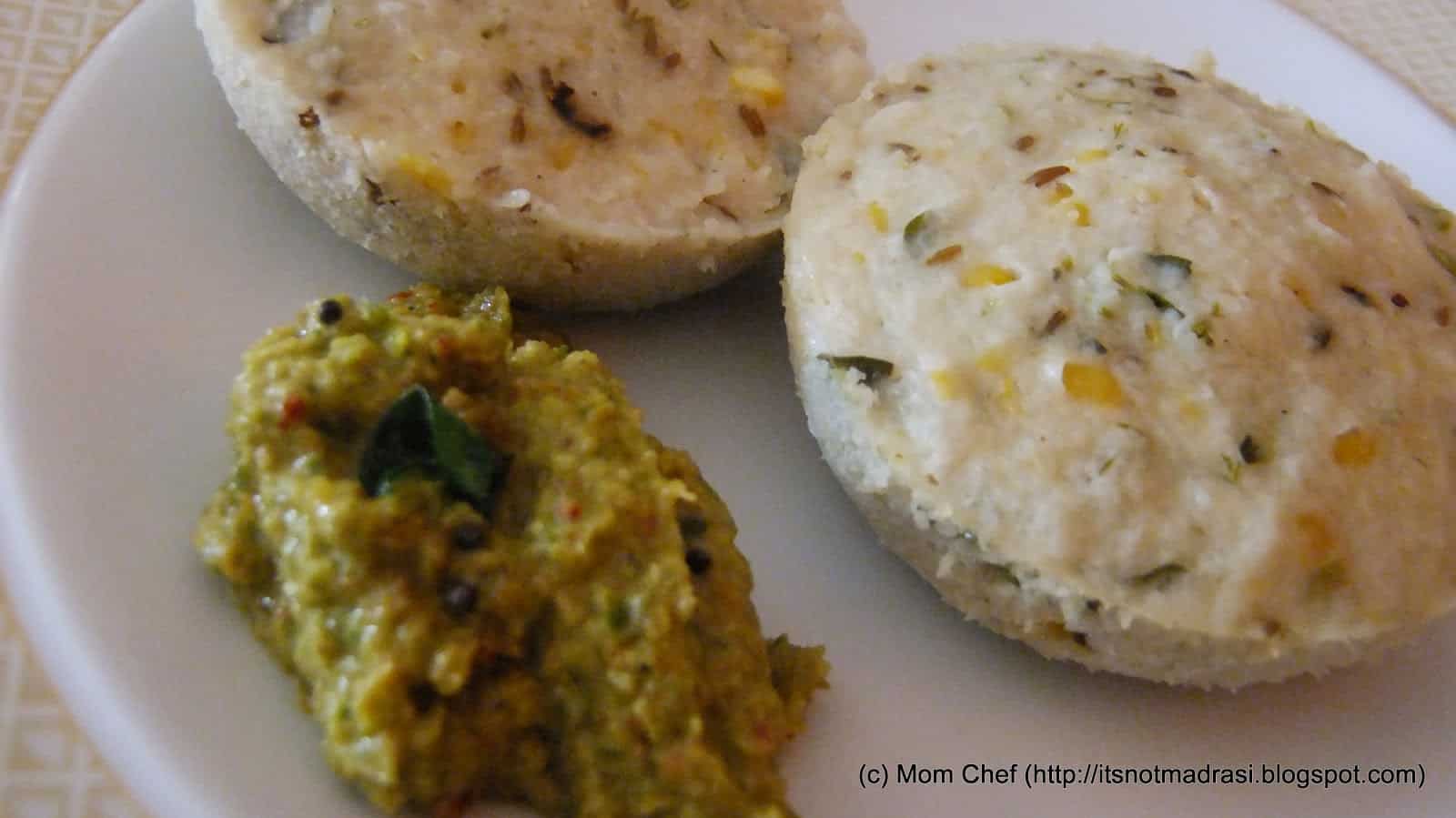 Pin

This is one highly rated dish from my mom's kitchen and tasted yum everytime she made it . S actually sniffed his nose when he saw me adding 'unfamiliar' ingredients for a Kanjivaram Idli, but polished off more than he thought he would 🙂 Some make this with black Urad dal (whole Urad dal with skin on), but I quite detest the sight of 'black' idlis on my plate (may be they are healthier). The interesting thing about this recipe is that it needs no special dal mixture for the Idli batter, but the add-ons make it a lip smacking affair 🙂 You may also make this with Idli batter already in your freezer or grind it freshly for this (I do both, but prefer the latter and have outlined the same as under). Truly Tamilnadu style 🙂

This is as healthy as any other Idli can get and is quite a treat with its medley of heady spices. Goes well with any chutney / sambhar / Molagapudi (fiery lentil powder) . Have served here with Veg Peel Chutney. See Tips below for options to make this a 'child friendly'version.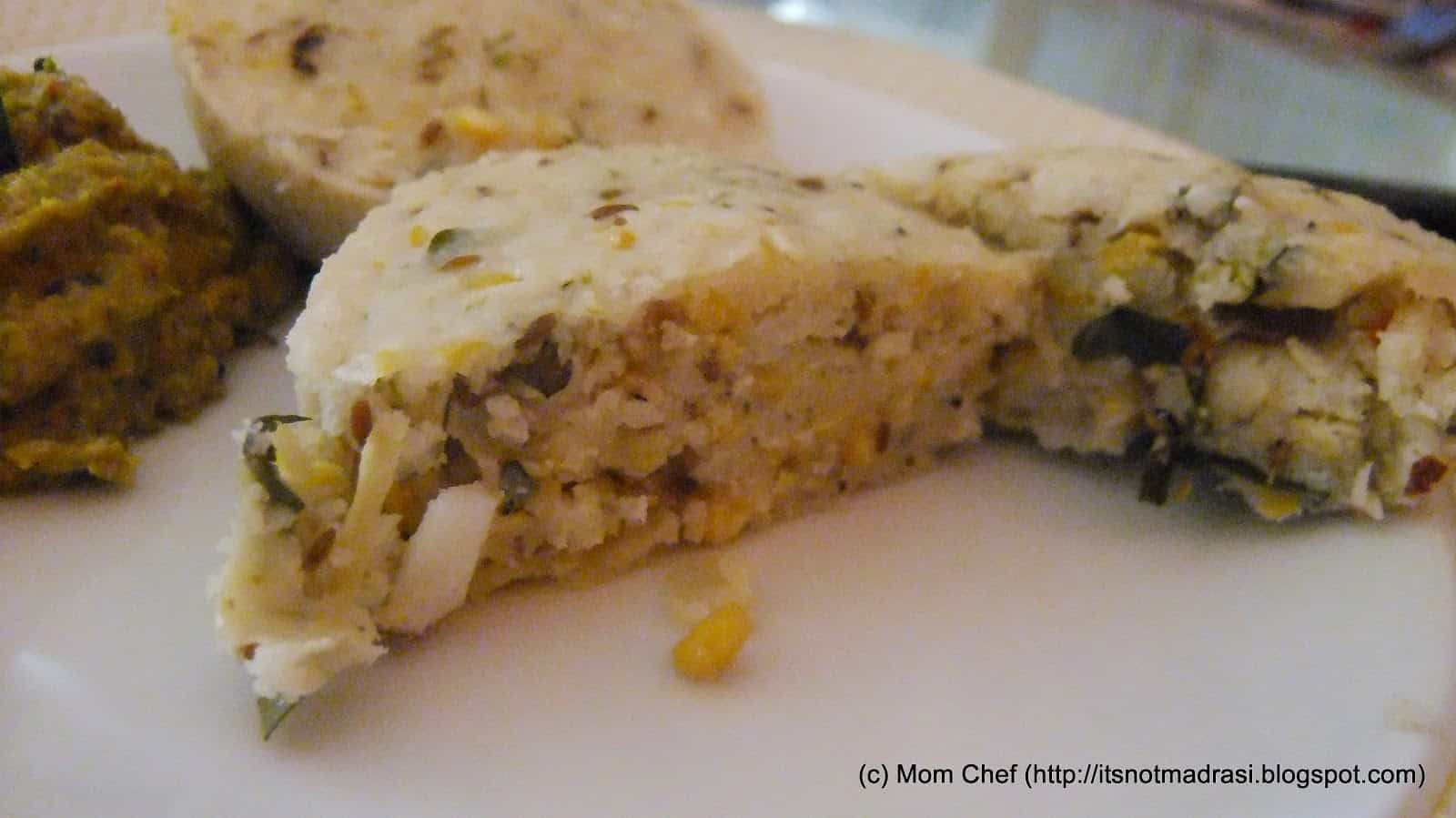 Pin
Soaking time : 3 hours. Fermentation time : 12 hours minimum. Preparation time : 30 mins. Cooking time : 30 mins. Serves : 4

Ingredients

(A) For Idli:
Urad Dal / Uddina Bele / Ulutham paruppu – 1 cup
Rice – 5 cups
Methi seeds – 1 tbsp
Salt – to taste
(B) Add-on/Masala mixture for Kanjivaram Idli:
Jeera / Cumin – 2 tbsp
Whole Pepper – 1 tbsp
Hing (asafoetida) – 1/2 tbsp
Finely chopped / grated ginger – 2 tbsp
Fresh Coconut (grated or cut into small chunks) – 1/4 cup
Channa Dal – 1/3 cup
Salt – to taste.
Chopped Coriander and curry leaves – 4 tbsp
Green chillies – chopped fine – 2 or 3 (opt)
Ghee – 1 tsp
Method
1) For the Idli : Soak Urad Dal + Rice with methi seeds separately for 3 -4 hours. Grind to a smooth batter. Add requisite salt and ferment for 12 hours.
2) Soak Channa Dal overnight (preferably the same night as the Idli batter is fermenting). Next morning, add a pinch of salt and cook for two whistles till done but not mashy. Cool.
3) Fry the jeera and pepper in 1 tsp ghee till fragrant. Cool and coarsely powder (this is to prevent any of the spice from the pepper hitting your nostrils directly).
3) Now, to the fermented Idli Batter, add the above cumin-pepper powder, boiled channa dal, coriander, curry leaves, ginger, chillies(if using), coconut, hing. Mix well.
4) Oil deep round cups and place in the steamer. Pour this batter into the cups and steam like you would for normal idlis. You may need an extra 3 -5 mins more per batch more than the normal Idli.
5) When done, unmould and serve hot with any sambhar/chutney/Molagapudi or just ghee 🙂 Slurp !!!
Tips:
1) For children, you may totally avoid the pepper and green chillies. Add grated ginger in small quantities.
2) Finely ground pepper will lend a darkish colour to these idlis, which may be avoided by using coarsely ground spice powder of cumin-pepper.
3) Imp: The Add-ons indicated are for a single serving (for 4 adults). In case you are planning to make more or less, adjust spice accordingly. Also recommend you use part of the batter only, add the seasonings and steam the idlis. Make the seasonings again if you need to make another serving on another day / time.
3) Check for salt in the batter and boiled channa dal.And then add more salt /spice if required. You may use red chillies in place of green chillies if you wish, but dont use the Kashmiri variety.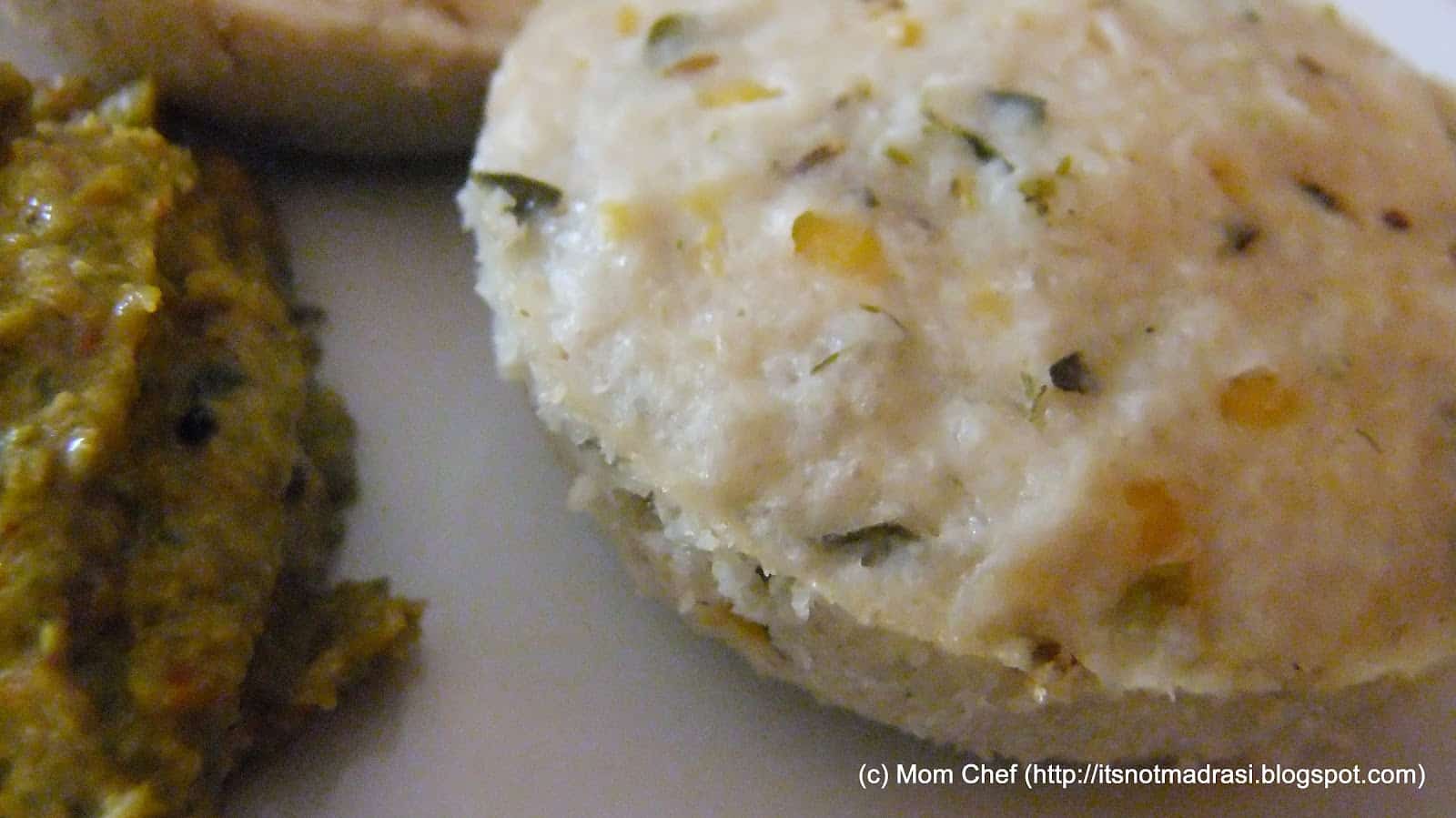 Pin
Sending this toSrivalli's Breakfast mela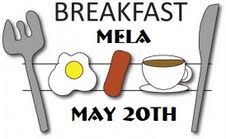 Pin