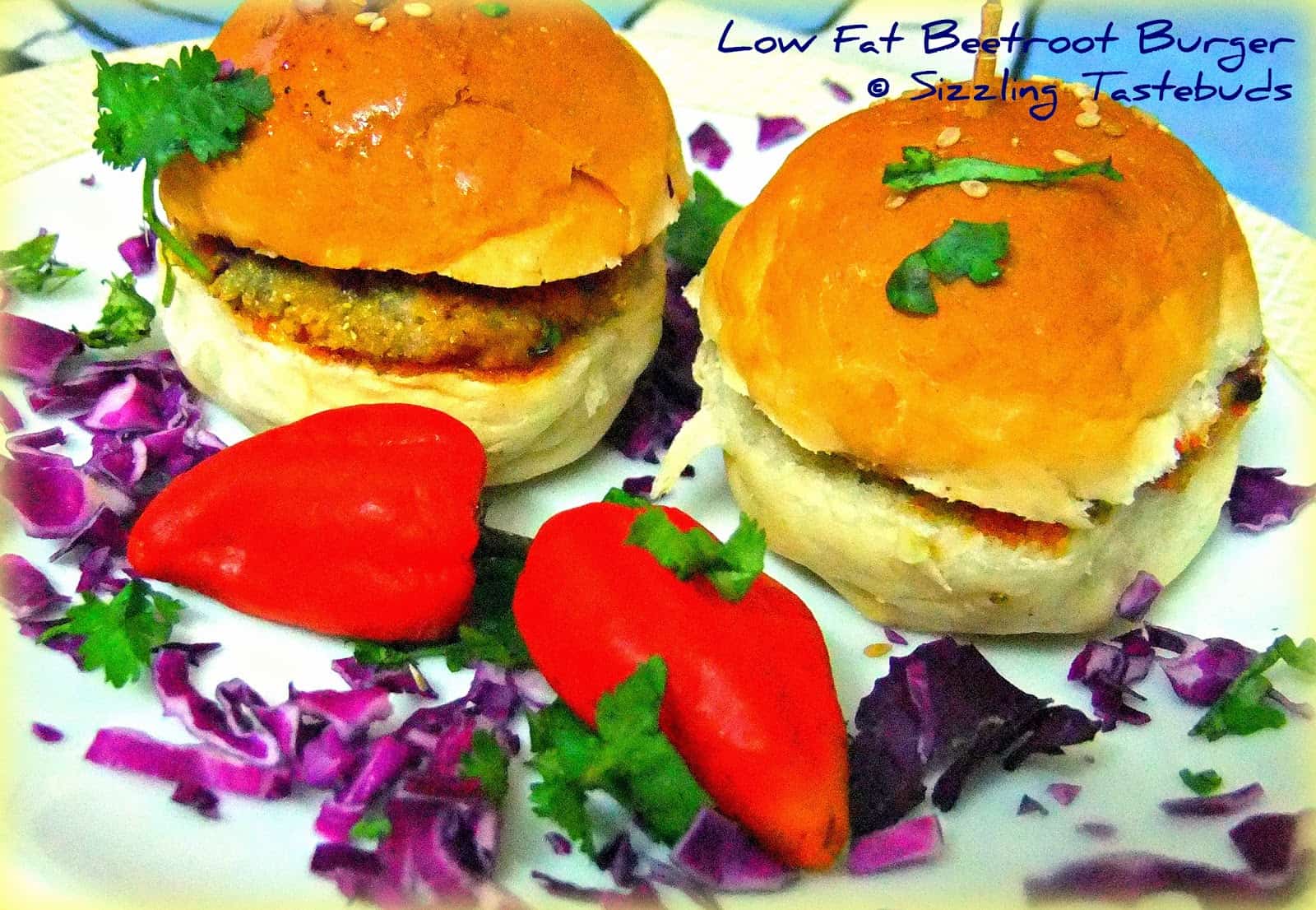 Pin

How to manage guests who drop in unannounced on the same day your pantry needs a bad facelift and your energies also do? Well, that was exactly my predicament this last week, when I was just back from what was intended as a vacation, and some of our family friends came over on Sat evening. While all I had was a cup of beetroot curry to be used up and some boiled potatoes . So, it was to be – Low Fat Mini Beetroot Burgers ! And boy, did they vanish before I could say "cheese" (yup ! had some kids too in the guest party, and they loved it so much that one of the mothers told me that this was the first time her son had beets, and that too without a whimper).. I was tickled pink when she asked me for the recipe to make it at her place. Do play around the ingredients as you want, as I said the more the merrier. I used various chutneys – chundho (tangy mango chutney) and homemade green chutney along with the tomato ketchup and yes, it was low low fat version too, coz there was absolutely no butter used. And the low fat cheese slices were used up for the kids' version only 😉 

Sending this to Blogging Marathon's Day 2 of Snacks in a jiffy, Harini's event of dressing up leftovers, and my event –Global Food Festival. Check out my fellow marathoners here.

Check out other healthy snacks here. For more appetisers, click here

Prep time : 10 mins ( assuming the curry is ready or you have steamed the veggies)

Cook time : 10 – 15 mins.

Makes : 6 mini burgers

Ingredients:
Mini burger buns (called cocktail buns) – 6 nos

Corn meal – 2 TBSP (divided use)

Chundho / Tangy Mango chutney – 2 TBSP

Tomato Ketchup – 1 tsp

Low fat cheese slices – 1 or 2 (opt)
For the patties:
Beetroot curry (or 1 large beetroot peeled, boiled and grated)
Salt – to taste
Potatoes – 2 medium (peeled, boiled and grated)
Chaat Masala – 1 tsp
Red chilli powder – 1/2 tsp
Garam Masala – 1 tsp
Green chillies – 1 or 2 (chopped fine)
oil – 1 TBSP and spray as per use while pan tossing the patties.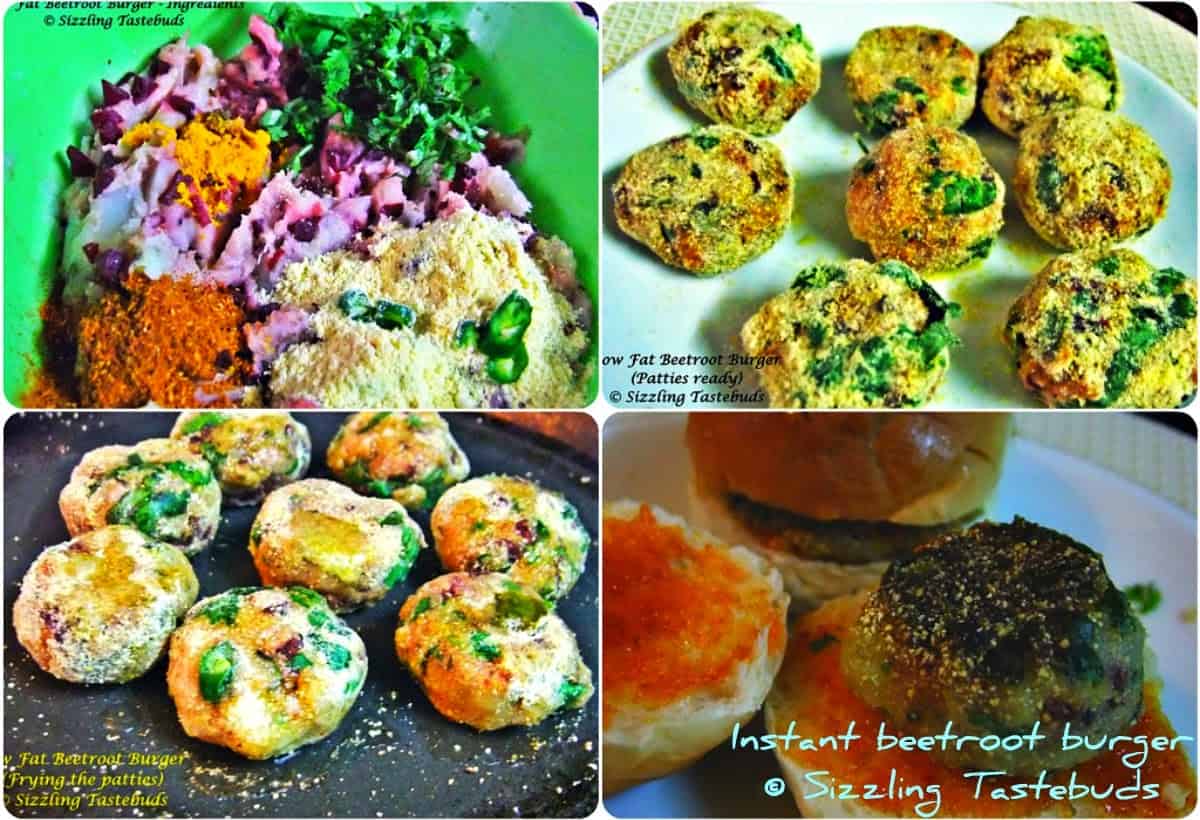 Pin

Method:

1) Mix the boiled and grated veggies (please feel free to add in more as you wish). Add chopped onions too if you wish (I had run out of onions, so didnt add). If using a curry (like me), toss the beet curry in 1 TBSP oil before using and mashing up.

2) Add the dry masala powders, turmeric, salt (if you are using a leftover curry for the patties base, do tread carefully on the salt). Add chillies and mix well. Add 1 TBSP of cornmeal to give this a nice texture and also absorb the extra water if any.

3) Make into equal roundels and flatten lightly into patties. Roll them in the corn meal. 

4) Heat a tava / skillet to medium heat. Place the beet patties in the skillet and spray cooking oil (very minimally) and let the patties slightly brown on both sides.

5) Meanwhile halve the burger buns horizontally and spread the chutneys  liberally.

6) Once the patties are done to a nice golden brown, arrange them one by one within each burger. Place half of the cheese slice (opt.) and secure with a tooth pick ! Serve with tomato ketchup or just as it is !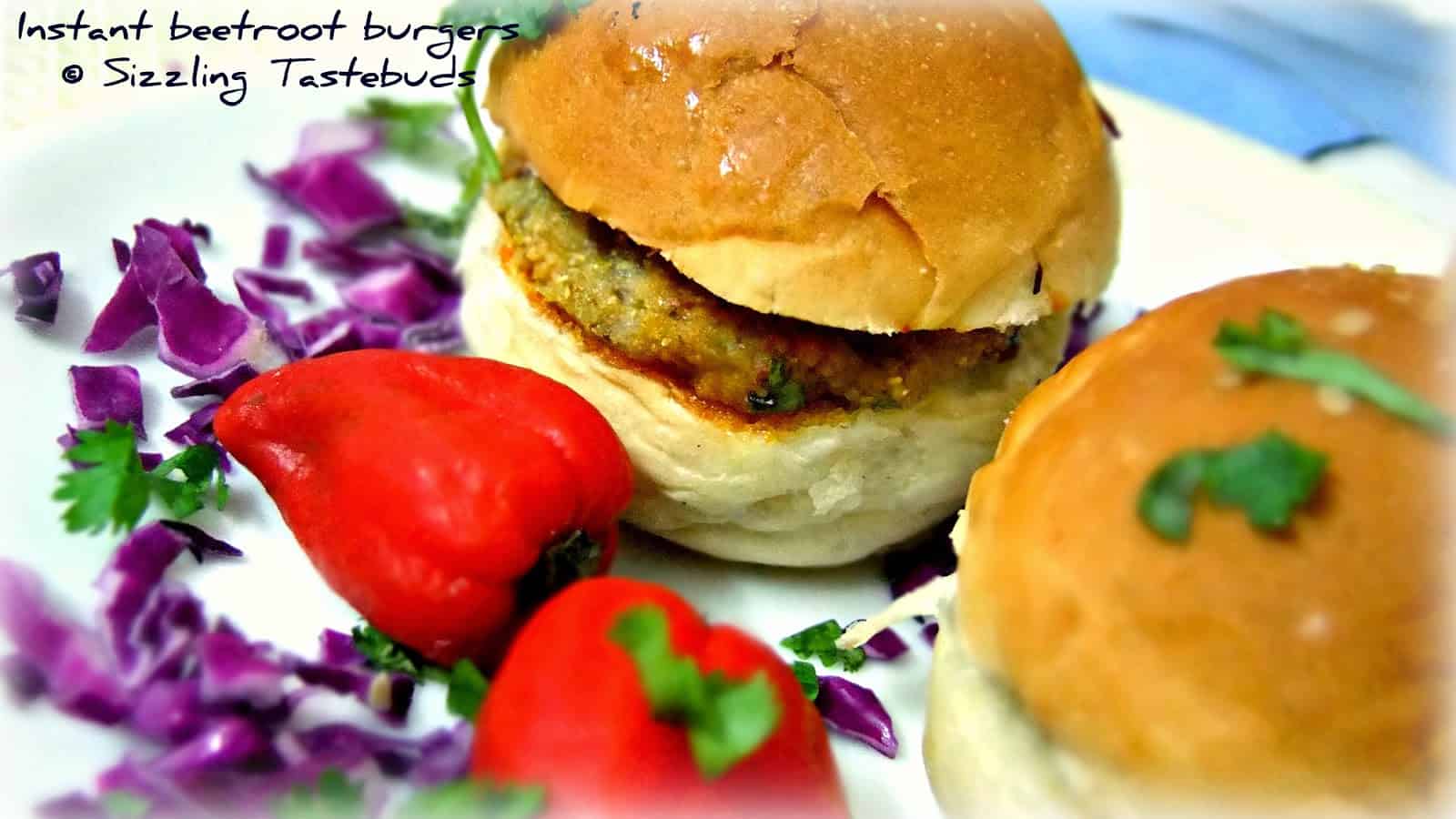 Pin