Airfryer Makhana Chivda
Makhana or Popped Fox nuts is a versatile low cal, high protein, high fibre ingredient and used extensively during fasting in India – both in Savoury and sweet preparations. Fox nuts also have negligible fat, and the protein in them makes you feel fuller for a longer time, making it a perfect snack.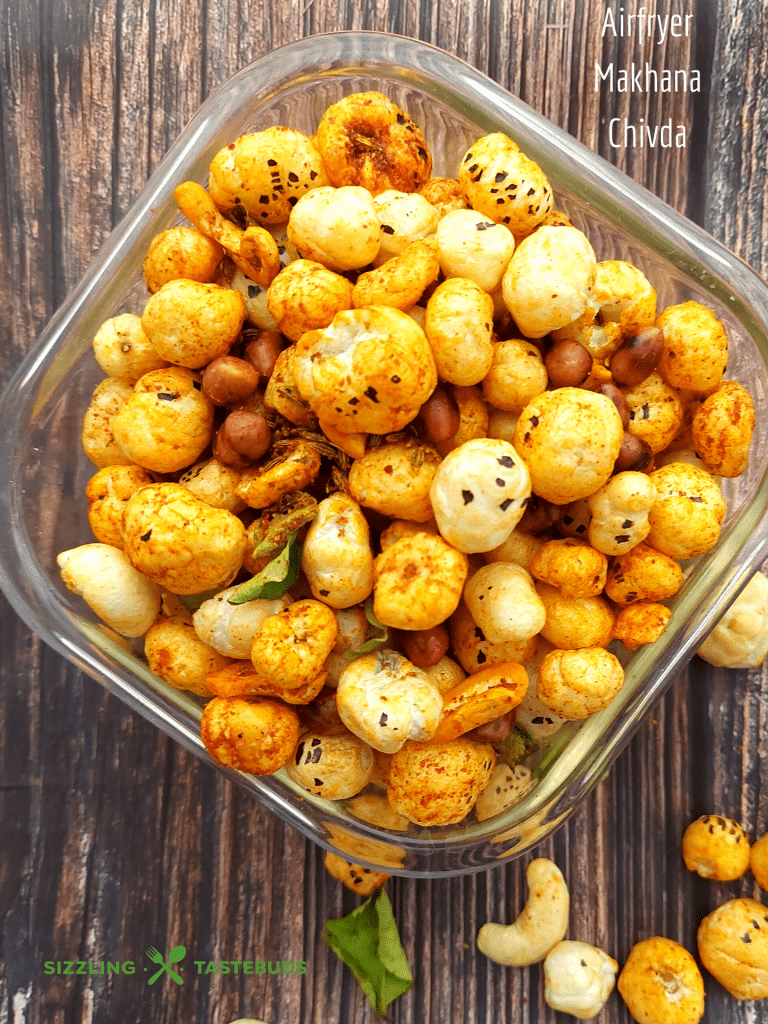 Why is this the BEST Makhana Chivda?
This Makhana Chivda is made with just 1.5 tsp of oil, in an air fryer with a few add-ons making it crunchy, irresistibly tasty and makes for a perfect snack.
Can it be made without an airfryer?
If you don't have an air fryer, you can use a thick bottomed kadai (pan) to make this.
Do you need to use oil ?. Can we make it with ghee too ?
Some use ghee to toast the makhana while I have used vegetable oil ,making it a perfect Gluten Free, Vegan snack. You can totally skip the ghee OR oil and make it 100% oil free too.
One may avoid nuts if you have an allergy. Else, the nuts and add-ons make it super tasty, so don't skip them.
Airfryer makes baking / cooking so easy. Other Airfryer recipes you might like !
Airfryer Roasted Baby Potatoes
A delicious Gluten Free, Vegan side or snack made with Baby Potatoes and basic kitchen spices in an air-fryer.
Check out this recipe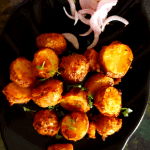 Vegan Chocochip Orange Muffins (Airfryer Recipe)
Vegan, chocolate and Orange Cupcakes. Perfect as a snack or breakfast
Check out this recipe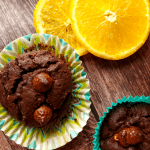 Airfryer Corn and Swiss Chard Kebab
Corn and Swiss Chard come together in a delicious kebab made in an air fryer with very little oil. This kebab is Gluten Free, Vegan and low fat too  
Check out this recipe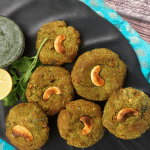 Airfryer Banana Crisps
Airfryer Banana Crisps is a low cal and low carb GF, Vegan Snack made with raw banana, Chickpeas flour and basic spices. Served as a side or a snack
Check out this recipe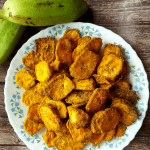 Airfryer Roasted Chickpeas
Airfryer Roasted Chickpeas is a quick, delicious, healthy Vegan and Gluten Free snack to make anytime.
Check out this recipe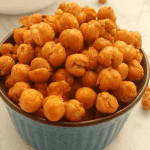 Pin me NOW!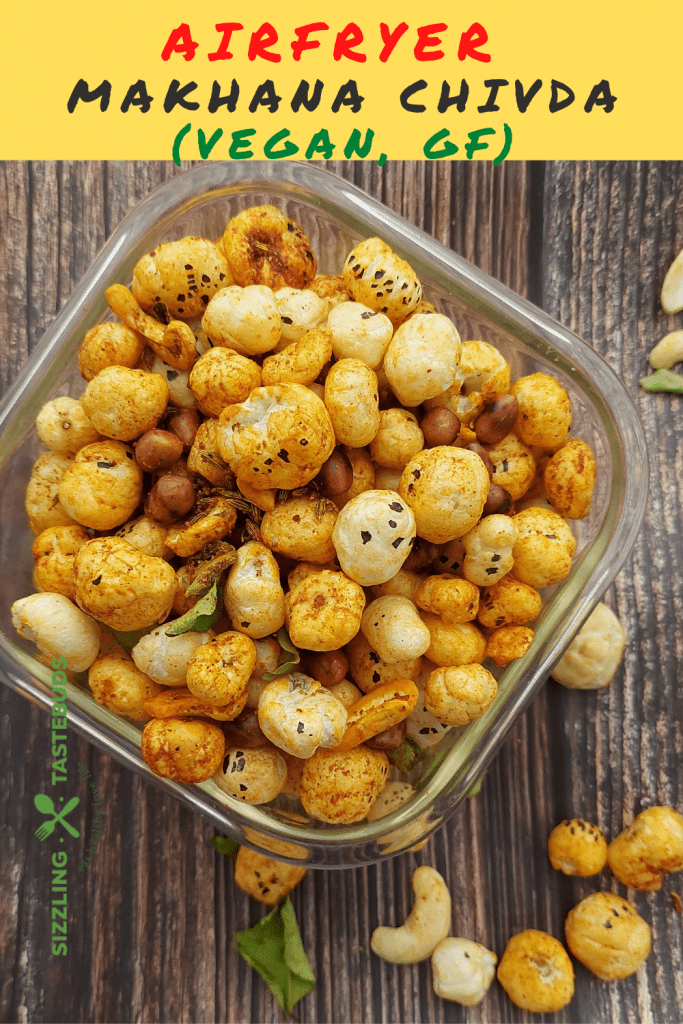 Other Baked Snacks you can try for Diwali or even as a healthy Jar Snack for kids and adults at home
Let's get to making this Airfryer Makhana Chivda
Prep time – 5 mins ; Airfryer / Roasting time – 15 mins, Makes: approx 150 grams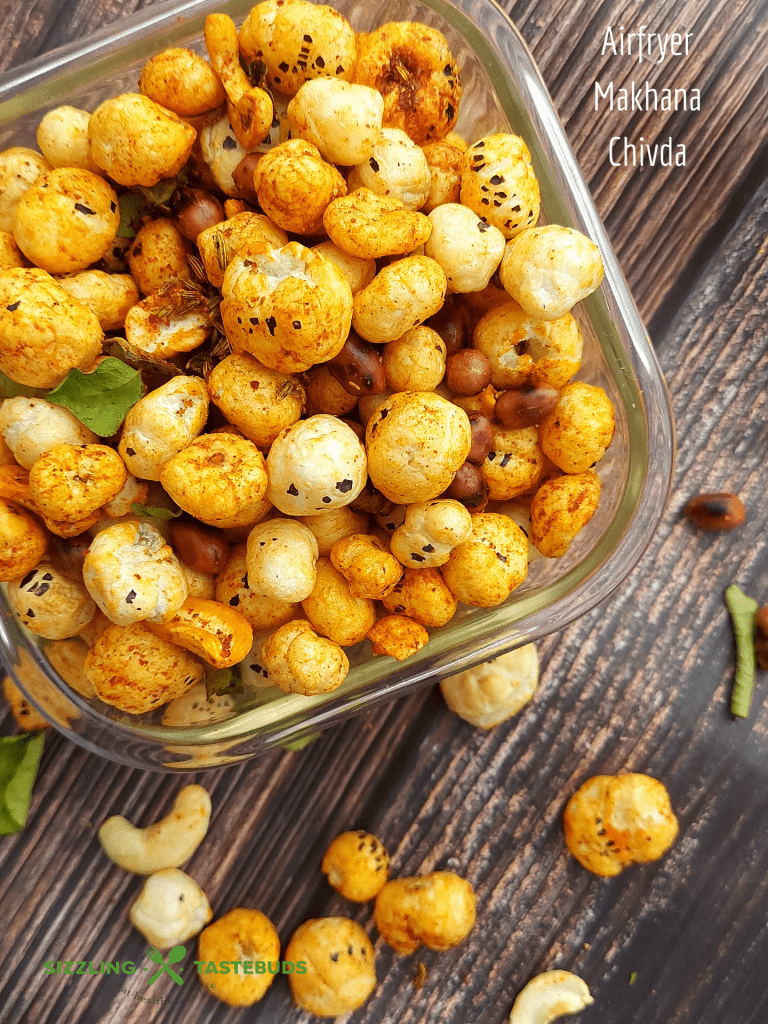 What you need to make Airfryer Makhana Chivda
100 grams Foxnuts (Phool Makhana)
2 TBSP Cashenuts
1 sprig Curry leaves
1.5 tsp Olive oil
1 TBSP Fennel Seeds (Saunf)
Dry powder Spice Mix:
1 tsp salt
1/2 tsp Powdered Sugar
1 tsp Chaat Masala
1 tsp Red Chilli powder
1 tsp Cumin powder (Bhuna Jeera Powder)
1/2 tsp turmeric
Liked this recipe? SIGN UP FOR THE Sizzling Tastebuds Newsletter (No Spam, Promise!) for fresh, healthy and tasty recipes right into your inbox. Please consider leaving a star ???? rating on this recipe to encourage us . Do FOLLOW Sizzling Tastebuds ON Facebook, Twitter, Pinterest AND  Instagram for fresh content, latest recipes and much more!
How to make Airfryer Makhana Chivda:
Preheat Airfryer to 200 C
In the airfryer, add the Phool Makhana (fox nuts) without overcrowding it too much
Roast it for 5 mins at 170 C, shaking them once midway.
Makhana turns crunchy.
Trander to a plate.
Repeat with the other batch.
Transfer all roasted makhana to a bowl.
Mix all the spice powders and add half to the roasted makhana
Meanwhile toast cashew nuts, curry leaves and saunf (fennel seeds) in lined airfryer basket
Roast till cashew is slightly brown and fennel seeds turn aromatic (about 3 mins)
The curry leaves will turn powdery.
Add the cashew-curry leaf-fennel seeds mixture to the roasted Makhana
Add the rest of the spice powder mix, 1.5 tsp of oil
Mix well
Airfryer Makhana chive is ready
Store in an airtight container and use within a week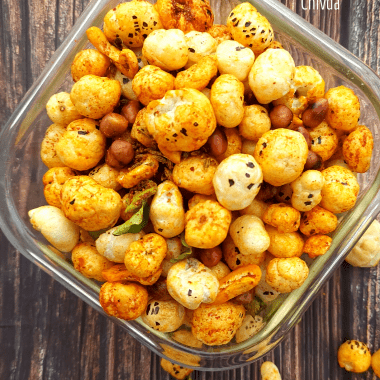 The BEST Airfryer Makhana Chivda
Makhana or fox nuts are roasted in the airfryer with minimal spices and almost no oil to make a crunchy, addictive AND healthy snack. Fox nuts are high in protein and fibre and makes for a delectable treat
Ingredients
100

grams

Foxnuts

Phool Makhana

2

TBSP

Cashenuts

1

sprig Curry leaves

1.5

tsp

Olive oil

1

TBSP

Fennel Seeds

Saunf

Dry powder Spice Mix:

1

tsp

salt

1/2

tsp

Powdered Sugar

1

tsp

Chaat Masala

1

tsp

Red Chilli powder

1

tsp

Cumin powder

Bhuna Jeera Powder

1/2

tsp

turmeric
Instructions
Preheat Airfryer to 200 C

In the airfryer, add the Phool Makhana (fox nuts) without overcrowding it too much

Roast it for 5 mins at 170 C, shaking them once midway.

Makhana turns crunchy.

Trander to a plate.

Repeat with the other batch.

Transfer all roasted makhana to a bowl.

Mix all the spice powders and add half to the roasted makhana

Meanwhile toast cashew nuts, curry leaves and saunf (fennel seeds) in lined airfryer basket

Roast till cashew is slightly brown and fennel seeds turn aromatic (about 3 mins)

The curry leaves will turn powdery.

Add the cashew-curry leaf-fennel seeds mixture to the roasted Makhana

Add the rest of the spice powder mix, 1.5 tsp of oil

Mix well

Airfryer Makhana chive is ready

Store in an airtight container and use within a week