It's absolutely true when they say necessity is the mother of invention. Being Chaat lovers at home, we frequently indulge in quick, healthy, sumptuous chaats as snacks and sometimes as dinner too (Think Ragda Patties / Chole Patties etc). Keeping the chutneys – Red chilli garlic paste, Green chilli Chutney and Dates – tamarind chutney (a.k.a Teekha – Meetha Chutneys) becomes very handy to make quick chaats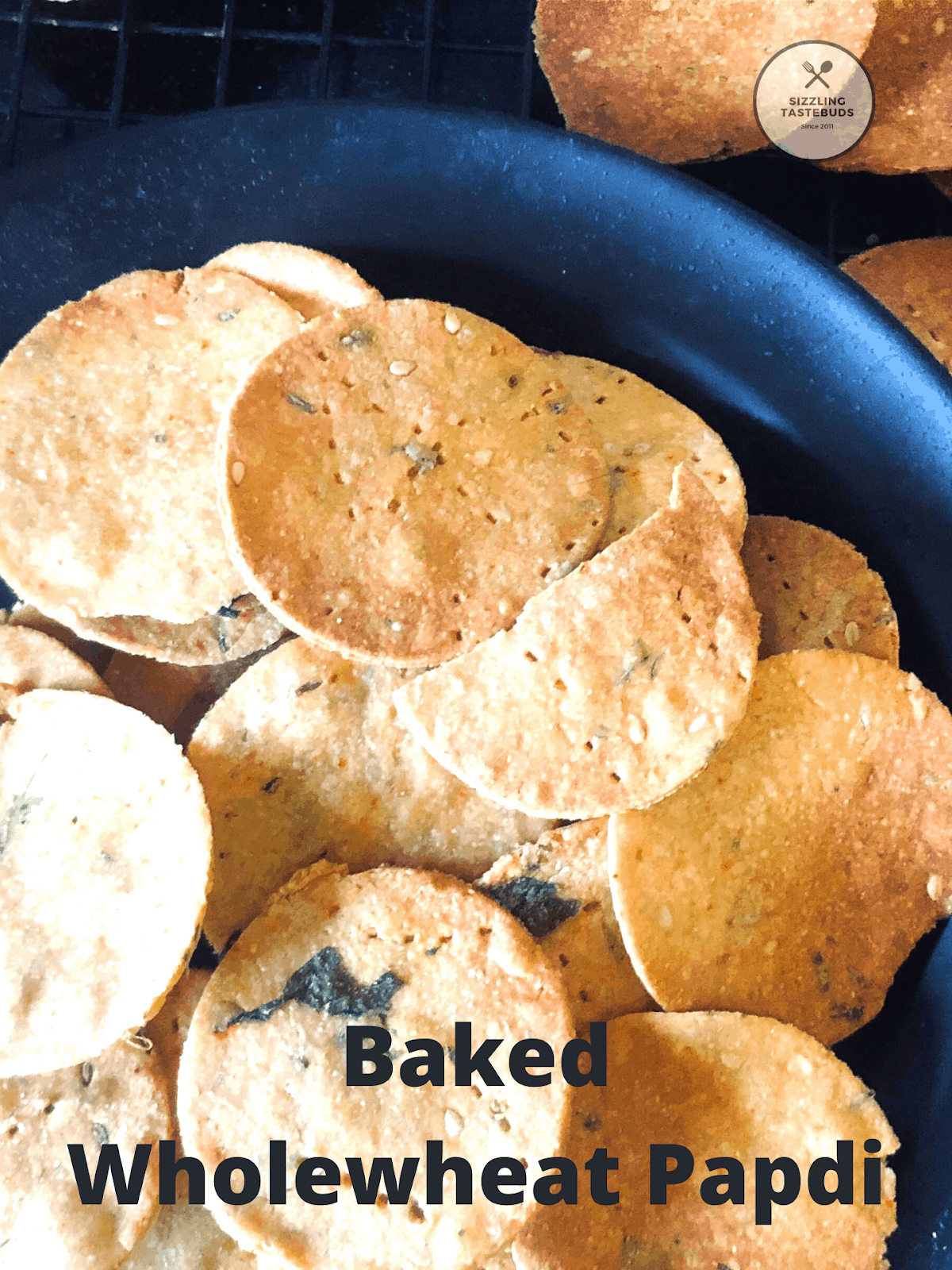 Check out more than 25+ chaat varieties on this blog – from Mumbaiyya Bhel Puri
to Taco Bhel to Kutchi Dabeli to Dahi Moong Chaat (GF) , Chaat is something the kids and elders love at home .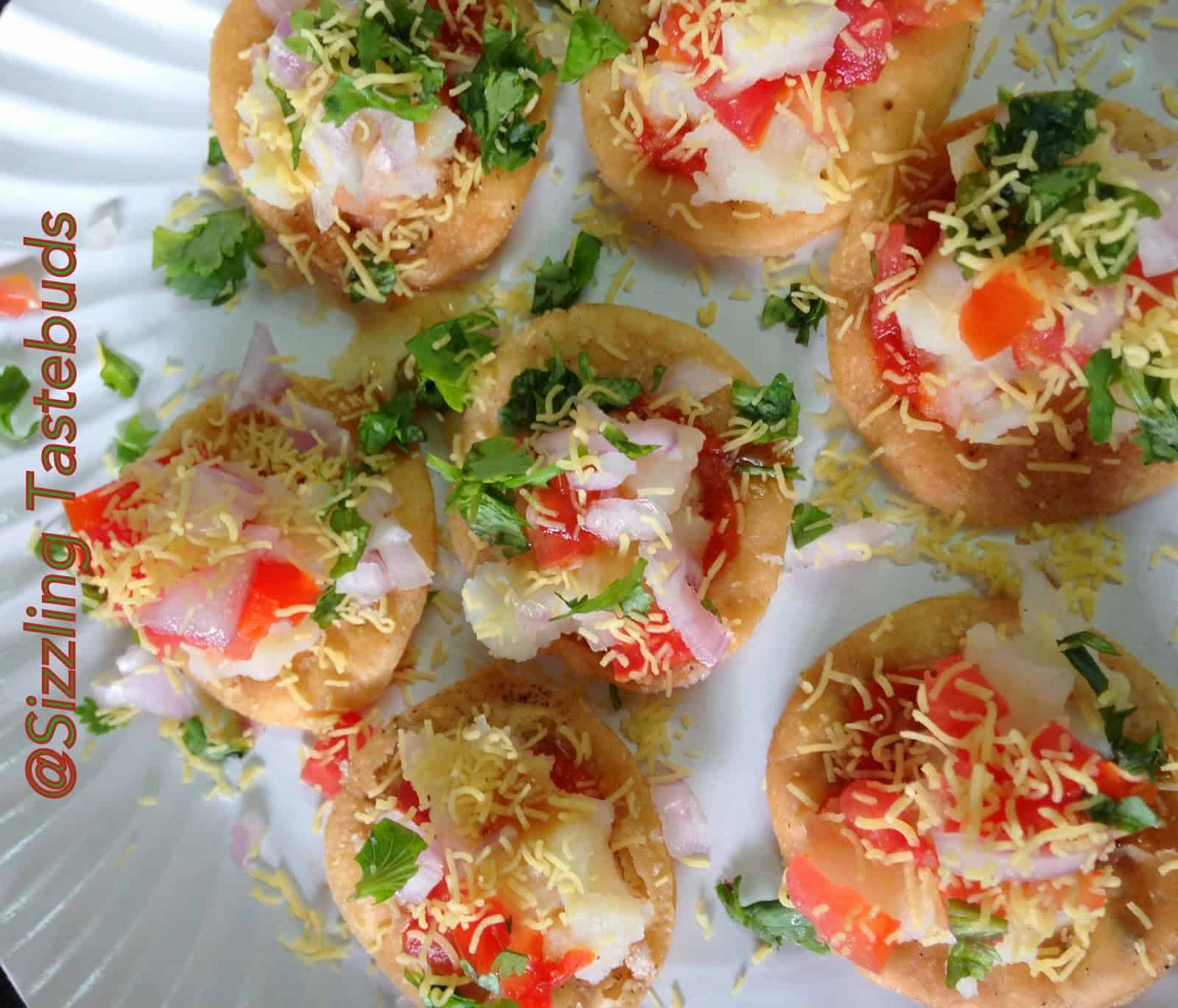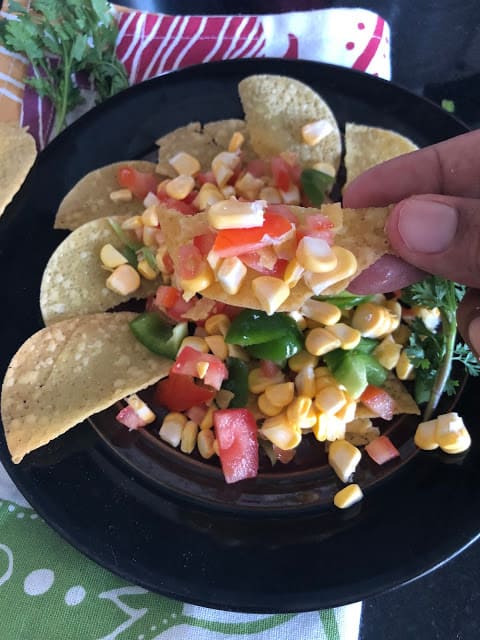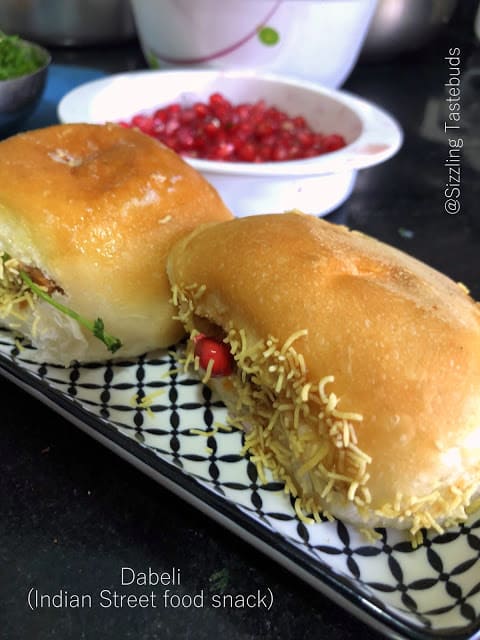 Need more Chaat recipes ? Check these out while we make today's dish…
I had made Sev Puri several times (even with the deep fried Papdis) made at home. But with this lockdown, I had to make the Baked Papdis – something on my bucket list for a while.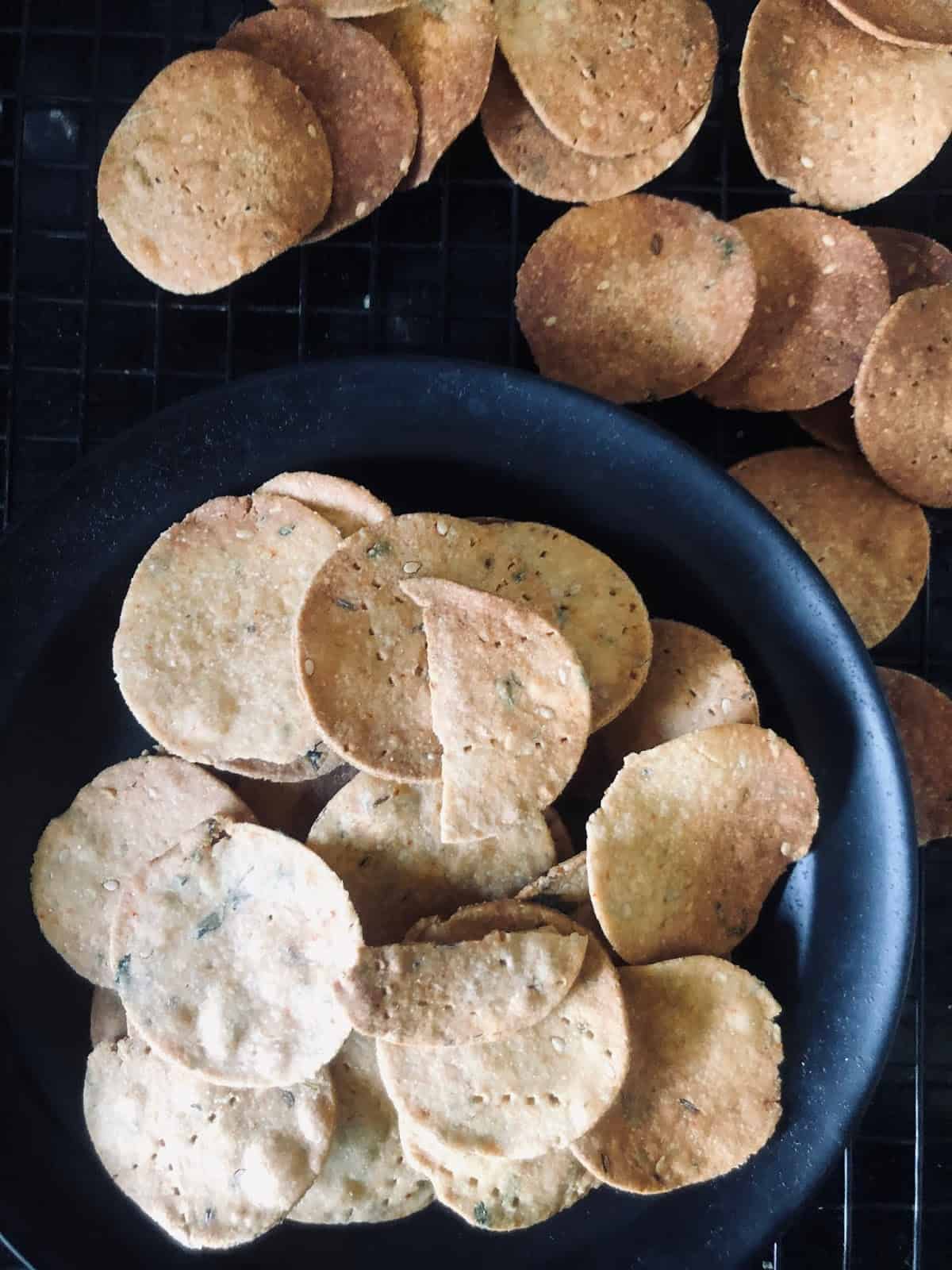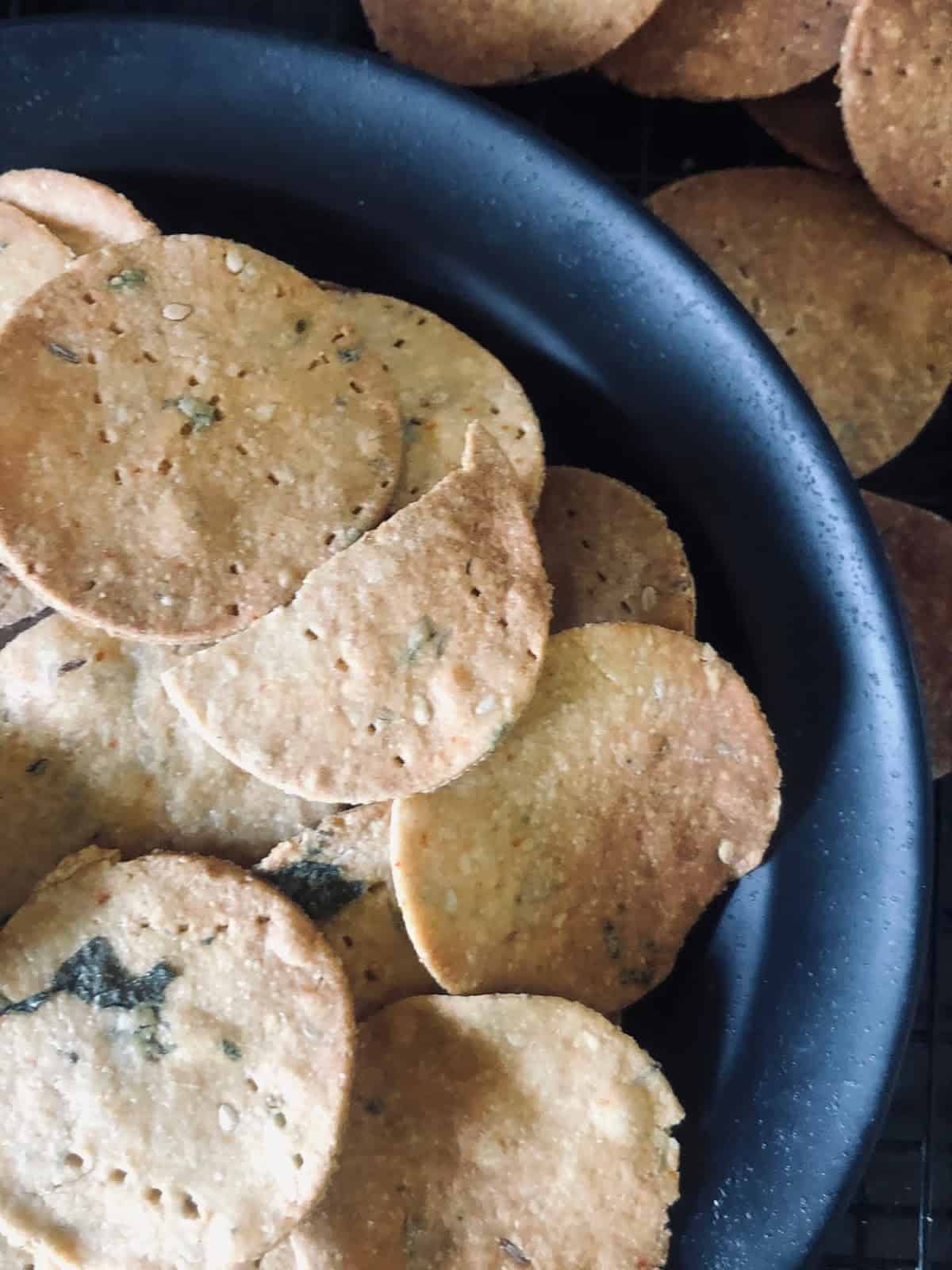 Adapted from Swati's recipe (who incidentally also suggested the theme for this week's FMBH "Chaat Time"), this was a breeze. Thanks much Swaty for this wonderful, homely way to bake the papdis for the chaats
Not just for Sev Puri or Sev Batata Puri, this became a great go-to snack for those 4 pm hunger pangs, and I see this becoming a healthy base snack like canapés. The husband added some boiled potato and moong sprouts and some schezwan sauce to make his own fusion sev puri last week.
I made a second batch while shooting the video, and full credit to my little one who helped me with the over head shoots (while balancing on her tiny wooden stool next to me).
I have made few minor changes from Swati's recipe. Do watch my video below, subscribe to the channel and leave your comments on this blog as well as the video.
Over to the recipe.
Wholewheat Baked Papdi ~ No Deep fry
Prep time – 20 mins + rest time of 30 mins | Bake time – 12 to 15 mins per batch.
Makes ~ 50 pieces (medium sized)
Spice level – Medium ; cuisine / Course – Indian Snack
PIN FOR LATER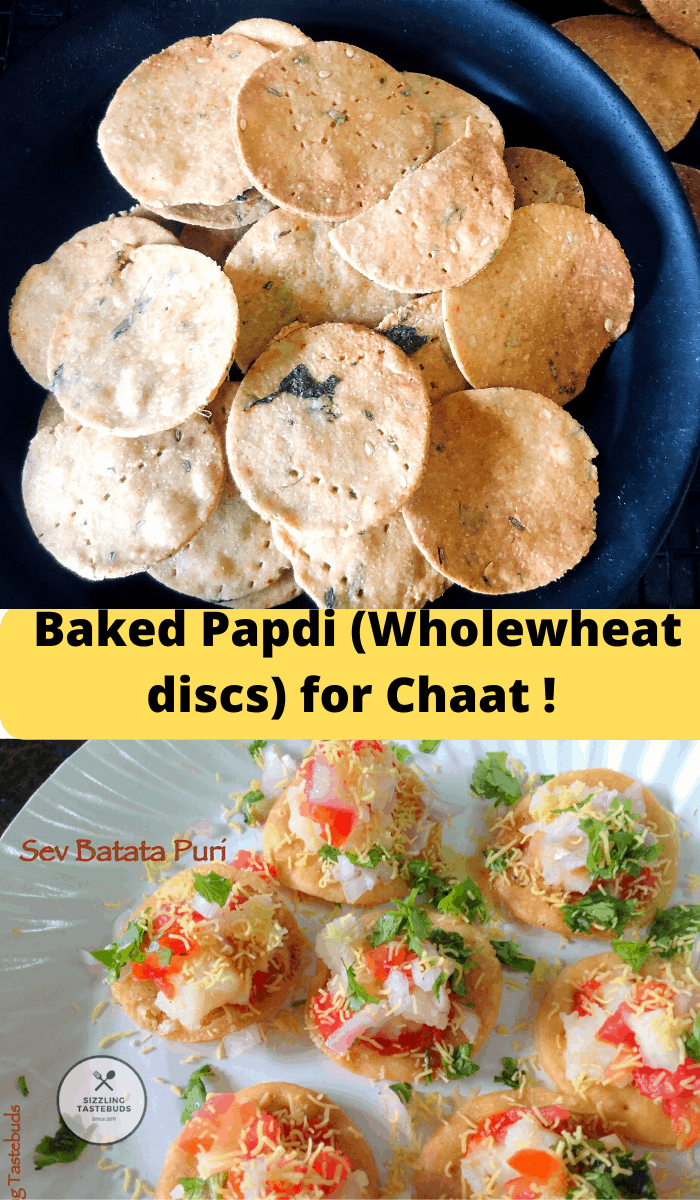 You would need:
Wholewheat flour – 1.5 cups
Roasted Semolina – 2 heaped TBSP
Ghee / clarified butter – 4 tsp
Salt – to taste
Ajwain / carrom seeds – 1/4 tsp
Kasuri Methi (dried fenugreek leaves) crushed – 1 tsp
Red chilli pwdr / paprika – 1/2 tsp
Sesame seeds – 1/2 tsp
Ice Cold water – for binding – I used about 4 TBSP + 1 tsp
How to:
Refer the following youtube link for directions, and do leave your comments on what other video recipes you would like to see on the blog / youtube channel.