Tawa Paneer Tikka
Tawa Paneer Tikka is one of the most often ordered out snacks when we are out (or now, as we order in once a few months). As the world around us moves into two eras – Pre Covid and Post Covid, there's a need to recreate restaurant style dishes at home and both the kids love this. Paneer Tikka can be made in the tandoor or on the tawa. Hoping that a few years from now, the Covid nightmares could just be a horrible dream.
Paneer Tikka and Paneer / Cottage Cheese
Panner or Cottage Cheese forms the base here. This dish can be made exclusively with paneer cubes. But we prefer to load them up with more veggies, and what fun, eating these tikkas right off a stick. Paneer can be made at home with full cream milk or bought off the convenience store. I have had a few attempts at making paneer at home, but yet to achieve the right look (and structure = square cubes) that is needed to make this delicious dish.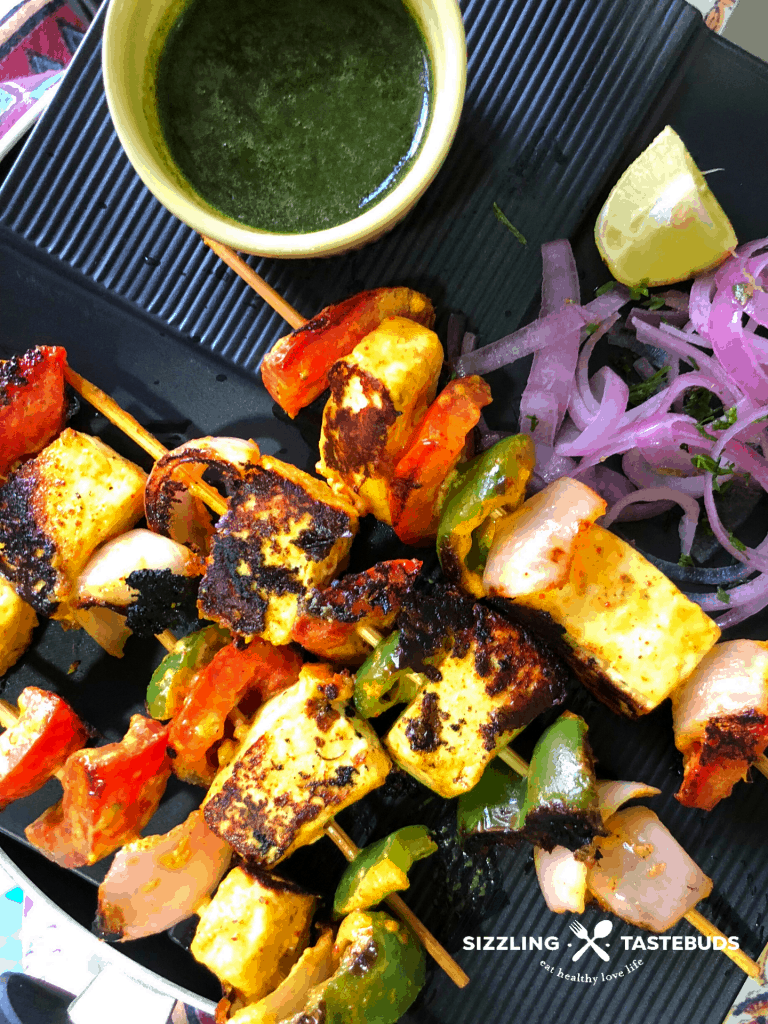 Can I make Tawa Paneer Tikka Vegan?
You can sub this with Tofu or any plant based cheese. Do let me know in the comments below if you do make it with a vegan substitute and how you liked it.
More Paneer dishes on the blog that you may like
Nargisi Kofta Curry (Mock-Egg Gravy)
Shahi Paneer Masala (Side dish for Roti)
Paneer Pudinawale (Paneer in Mint gravy)
Paneer Tikka Manchurian
Matar – Paneer (Peas – Paneer gravy)
Paneer Potato Curry ~ Cottage cheese and Potato curry
Low fat Palak Paneer
Paneer Kulcha (stuffed flatbread)
Paneer Kebab (appetiser)
Paneer Chilli Bites (Appetiser)
Pista Rasabali (a delicious sweet from orissa)
Mini Paneer & Spinach Tarts (Appetiser)
Paneer Manchurian (indo Chinese starter)
Paneer Bharwa Shimla Mirch (Bell peppers stuffed with scrambled and spiced Paneer)
Paneer Gulab Jamun (Indian Dessert with a twist)
Paneer Aloo Paratha
Low Fat Paneer Makhanwala
Raisin and Paneer Pulav
Palak Paneer Parathas (Flat bread stuffed with spinach and Paneer)
Paneer Pav BhajiMethi Chaman
What are the main ingredients for Tawa Paneer Tikka?
Soft Cottage Cheese / Paneer – store-bought or home made. I opted for the former
Yoghurt – for the marination. For a homemade made thick yoghurt recipe, head here
Spices : as required
Add on veggies – coloured peppers, Onions, Deseeded Tomato cubes, baby corn, button mushroom, pineapple cubes, cauliflowers, broccoli, zucchini – all work well. Use whatever you have on hand.
Tips to make the Best Tawa Paneer Tikka
Ensure that the tawa / skillet is moderately hot and greased well, but no too hot. Greasing it well (even overnight) is a great tip to ensure it doesn't stick to the tawa
Use hung yoghurt / greek yoghurt to make the marinade. Basically, it shouldn't have any water else the tikka becomes soggy
Don't let the paneer and veggies marinate for longer than indicated. The salt will release additional water. You may however marinate WITHOUT salt in case you are doing it overnight.
Keep turning the skewers on the tawa frequently to ensure even colouring
Serve as soon as it is made. Else the paneer turns chewy on resting.
Use the freshest paneer for the recipe. And keep the cubes fairly big to ensure no breakage while threading them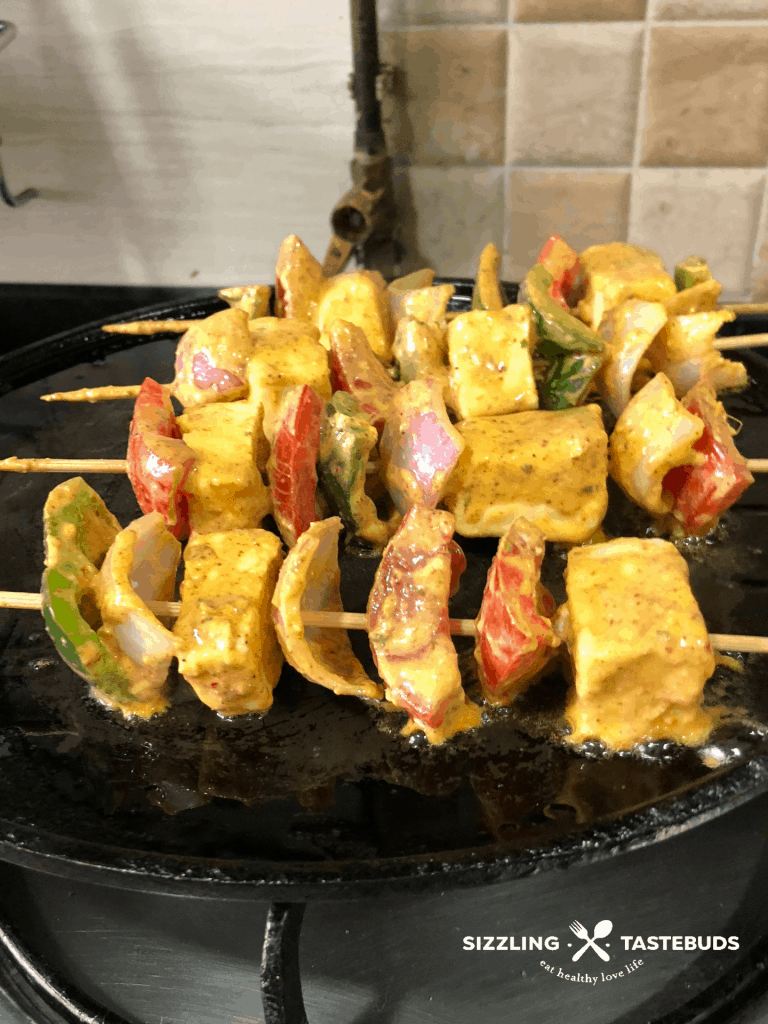 How can the leftovers be used up?
Well, there are rarely leftovers of Paneer Tikka at home. But if you do happen to have any, it would work well in wraps / Spinach Corn – Cheese (paneer) Sandwiches / Paneer Tikka Bhaji (like a side dish)
Did you know the origin of the Tikka?
PIN FOR LATER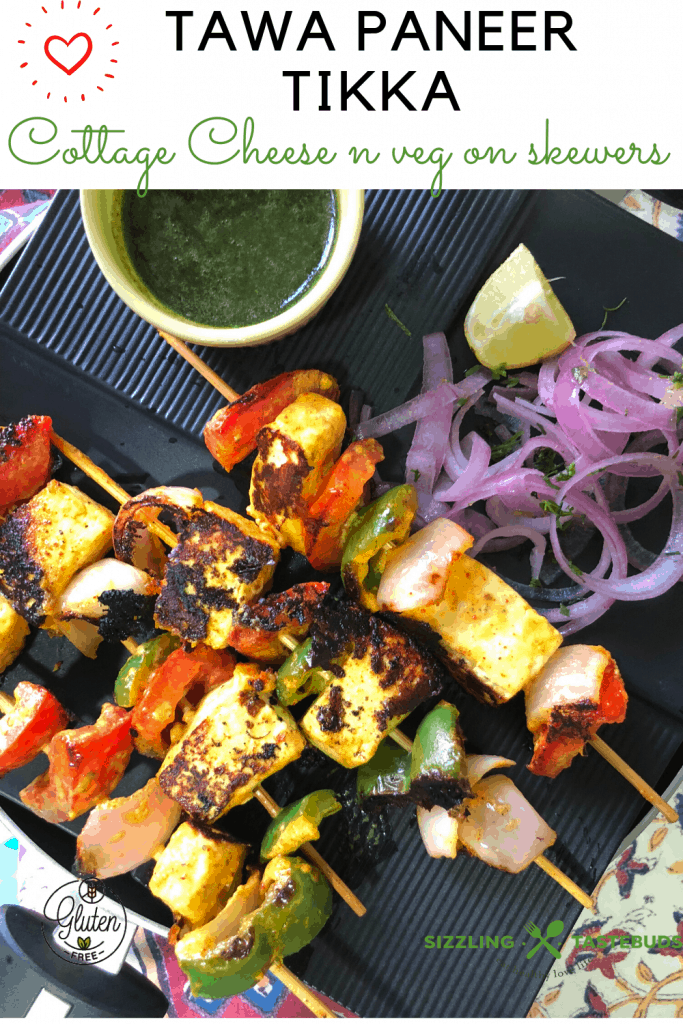 Tawa Paneer Tikka – let's make it!
Prep time – 20 mins, Marination – 30 mins , Cook time – 20 mins
Cuisine: Indian , Course : Snack / Appetiser
What you need:
200 g Paneer
1/2 cup Hung Curd (Sub with greek yoghurt)
3 tbsp Oil
1 tsp Salt
1/2 tsp Ginger Garlic Paste (or use fresh garlic and ginger grated fine)
1 tsp TIkka Masala (Sub with Tandoori Masala)
1 tsp Kasuri Methi (crushed fine)
1/2 tsp turmeric
1 cup Mixed veggies (Cubed into even sized pieces, same size as paneer cubes)
1 tsp Chaat Masala
1/2 tsp Lime juice
1 tsp Red Chilli powder
1 tsp Roasted Cumin powder
1/2 tsp Coriander Powder
3 tbsp Green Chutney / Hari Chutney
How to:
In a bowl, add hung curd. If you don't have hung curd / Greek yoghurt, hang in homemade yoghurt/ curd in a muslin cloth / fine sieve.
Tie well and let it seep in the refrigerator for 2 hours. Drain and use in the recipe
To the hung curd, add turmeric, salt. red chilli powder, tikka / tandoori masala, kasuri methi, roasted cumin, coriander powder, lemon juice, ginger garlic paste and whisk well.
To this, slowly add the paneer and the cubed veggies and gently mix with your fingers taking care not to break the paneer cubes.
Close the bowl and marinate for 30 mins. If marinating overnight or more than 30 mins for some reason, skip the salt.
Once marination is complete, gently mix the paneer and veggies once more.
Thread them alternately (veggie-paneer-veggie types) onto a long wooden skewer.
Finish with all the marinated veggies and paneer. Meanwhile heat a tawa / skillet on medium-high. Grease generously with 2 tbsp oil
Place the tikka skewers on the greased tava and gently cook them turning them frequently.
Baste the tikka with the remaining oil thoroughly and let the paneer n veggies get a golden hue / light char.
Sprinkle the tikka with chaat masala now.
Serve the Tawa Paneer Tikka immediately with Green Chutney and onion salad + lemon wedges on the side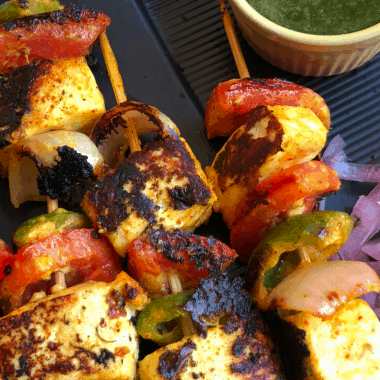 Tawa Paneer Tikka
Tawa paneer tikka – A delectable snack with marinated cottage cheese + veggies
Equipment
Knife

Tava / Skillet

Bowl

Spoon
Ingredients
200

g

Paneer

Cottage Cheese

1/2

cup

Hung Curd

Sub with greek yoghurt

3

tbsp

Oil

1

tsp

Salt

1/2

tsp

Ginger Garlic Paste

or use fresh garlic and ginger grated fine

1

tsp

TIkka Masala

Sub with Tandoori Masala

1

tsp

Kasuri Methi

crushed fine

1/2

tsp

turmeric

1

cup

Mixed veggies

Cubed into even sized pieces, same size as paneer cubes

1

tsp

Chaat Masala

1/2

tsp

Lime juice

1

tsp

Red Chilli powder

1

tsp

Roasted Cumin powder

1/2

tsp

Coriander Powder

3

tbsp

Green Chutney / Hari Chutney
Instructions
In a bowl, add hung curd. If you don't have hung curd / Greek yoghurt, hang in homemade yoghurt/ curd in a muslin cloth / fine sieve.

Tie well and let it seep in the refrigerator for 2 hours. Drain and use in the recipe

To the hung curd, add turmeric, salt. red chilli powder, tikka / tandoori masala, kasuri methi, roasted cumin, coriander powder, lemon juice, ginger garlic paste and whisk well.

To this, slowly add the paneer and the cubed veggies and gently mix with your fingers taking care not to break the paneer cubes.

Close the bowl and marinate for 30 mins. If marinating oveight or more than 30 mins for some reason, skip the salt.

Once marination is complete, gently mix the paneer and veggies once more.

Thread them alternately (veggie-paneer-veggie types) onto a long wooden skewer.

Finish with all the marinated veggies and paneer. Meanwhile heat a tawa / skillet on medium-high. Grease generously with 2 tbsp oil

Place the tikka skewers on the greased tava and gently cook them turning them frequently.

Baste the tikka with the remaining oil thoroughly and let the paneer n veggies get a golden hue / light char.

Sprinkle the tikka with chaat masala now.

Serve the Tawa Paneer Tikka immediately with Green Chutney and onion salad + lemon wedges on the side
Notes
Ensure that the tawa / skillet is moderately hot and greased well, but no too hot. Greasing it well (even overnight) is a great tip to ensure it doesn't stick to the tawa
Use hung yoghurt / greek yoghurt to make the marinade.

 

Basically, it shouldn't have any water else the tikka becomes soggy
Don't let the paneer and veggies marinate for longer than indicated. The salt will release additional water. You may however marinate WITHOUT salt in case you are doing it overnight.

 

Keep turning the skewers on the tawa frequently to ensure even colouring

 

Serve as soon as it is made. Else the paneer turns chewy on resting.

 

Use the freshest paneer for the recipe. And keep the cubes fairly big to ensure no breakage while threading them