So many memories…….
This post is long overdue.
Its been 5 years since I began blogging, yet simple but nostalgic recipes like
this were always eluding me.
I felt I HAD to preserve
this recipe (which is actually not a recipe, but so many memories) before it
vanished away from the dimming contours of my brain 😀 .. Without mom around this year, I wasnt even sure I would make it, but when I spoke to her, she explained the nuances and tips/ tricks to make them perfect. It looks great now, am sure it would taste good when we partake it after the Sankranti Pooja.
beware :: long post alert !!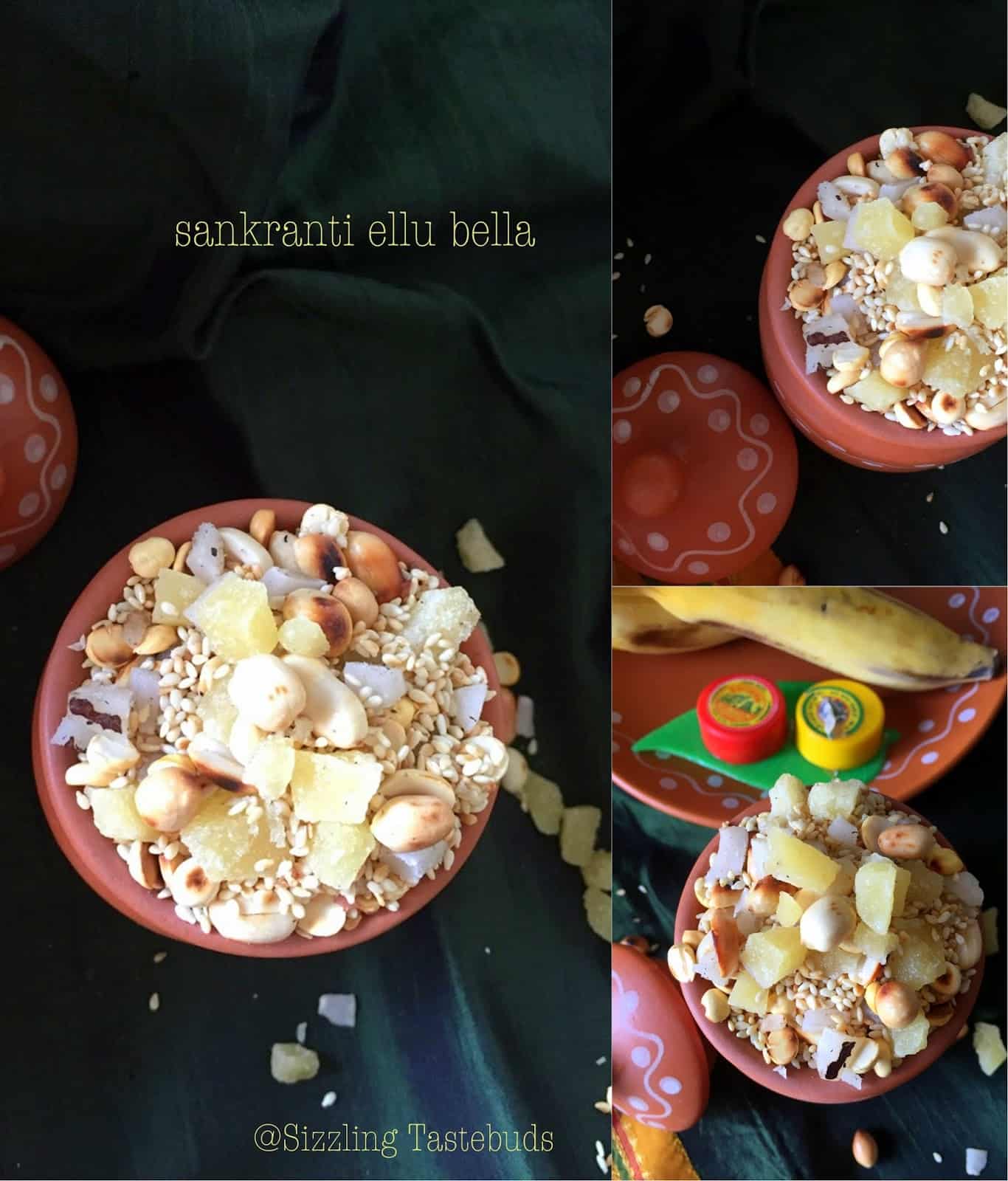 Pin
Hailing from Bangalore, I was wondering why I didnt take the effort all these years after the marriage, when Pongal festivals / Sankranti only meant making different varieties of Pongal and this was pushed to the backburner !!
Am glad however I could make it this year….
Uttarayan (aka Tula Sankramanam
or Sankranti or Pongal festival) marks the beginning of the harvest season. Sun God is worshipped, and Til (sesame) is
one of the prominent offerings to the God. Be it in the form of Gajak, Till
Ladoo ( Ellu Urundai) or today's post – Sankranti Ellu Bella – is offered to
visitors and also friends / relatives.
Til is considered to be
sacred in Hinduism and naturally, each region has its own concoction of using
this oil seed in its offerings.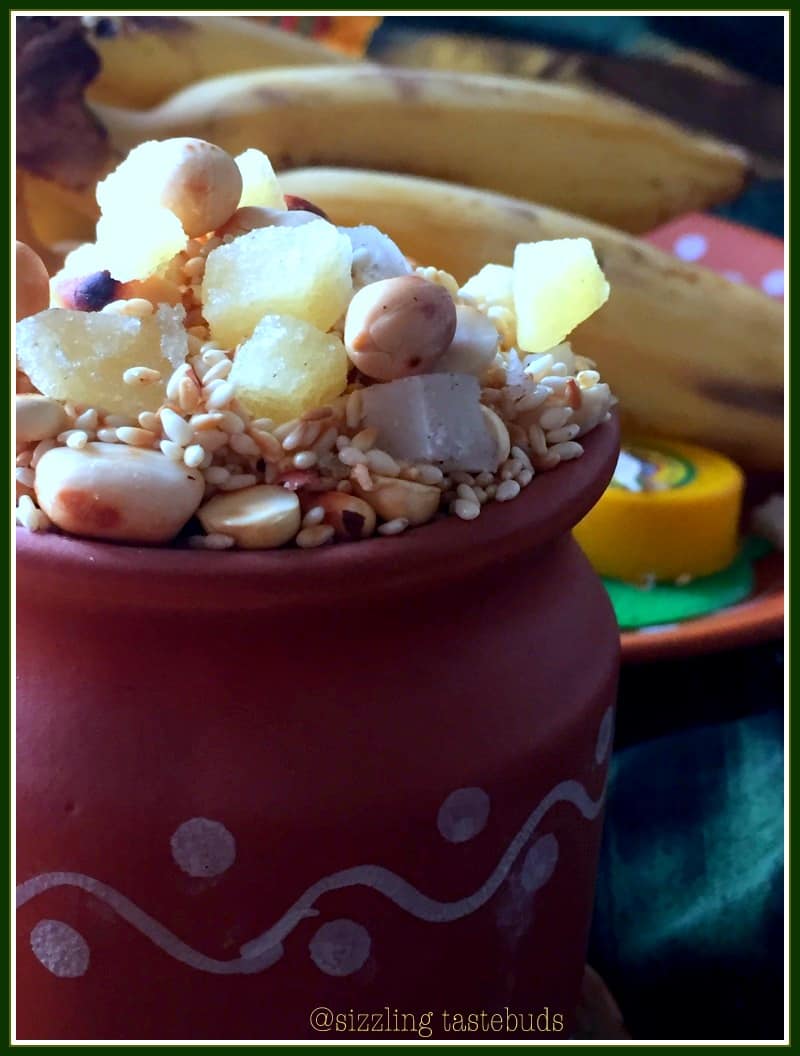 Pin
Coming back to the recipe –
which is almost like a trail mix of various nuts and sesame and jaggery. When I
think about this, I see two women slaving over the kersosene stove late into
the night (cooking gas was expensive then) and labour intensive stuff like
these had to be made on kerosene stoves.
Mom and Pati (my maternal
grandmom) finish their daily cooking, and in the dim light of the red oxide
floored kitchen, make this trail mix not by grams or pounds – but by the
bucketful (literally!!) .. Preps began atleast a week before Sankranti, and the
best of the ingredients were sourced, cleaned – all by hand, and untouched by
the rest of the family till it was offered to God.
Giving and sharing this
eLLu Bella was considered to be partaking of others' happiness and "eLLu
Beerodhu" (that is sharing these packets from house to house) accompanied with
the piece of cut sugarcane, Sakkare Achchu (Sugar candy dolls),
a piece of betel leaf and a few coins. These offerings (or Tamboolam) covered with a
handmade round crochet made by mom taken from house to house, where it was
exchanged for a similar set of tamboolam from the neighbour.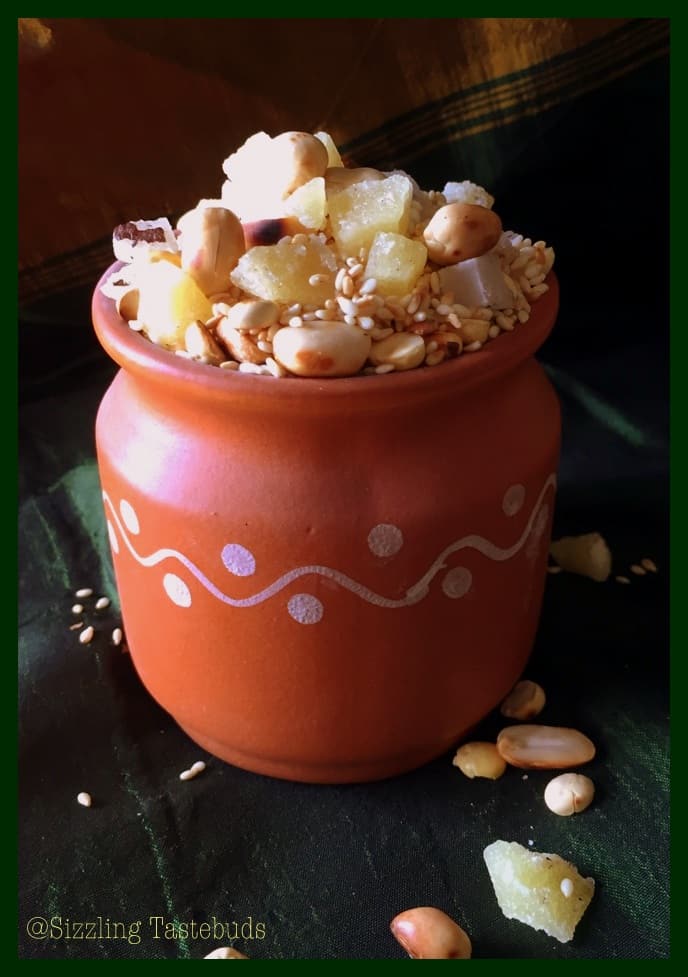 Pin
We used to put this away
and rush back to the next neighbor till we covered the entire stretch of road.
And then the real happiness of munching on these…J
As kids, me and my sister
looked forward to munching on these once they were distributed : so much so
that once we went back to school the next day, classmates also exchanged their
homemade versions of these..
And lunch breaks (we didn't
have any snack break back then) were devoted to chomping on these once the
lunch dabbas were done with, and the hard jaggery, the slightly bittersweet
bits of coconut, the nuttiness from the roasted sesame and peanut transported
us to a heavenly experience….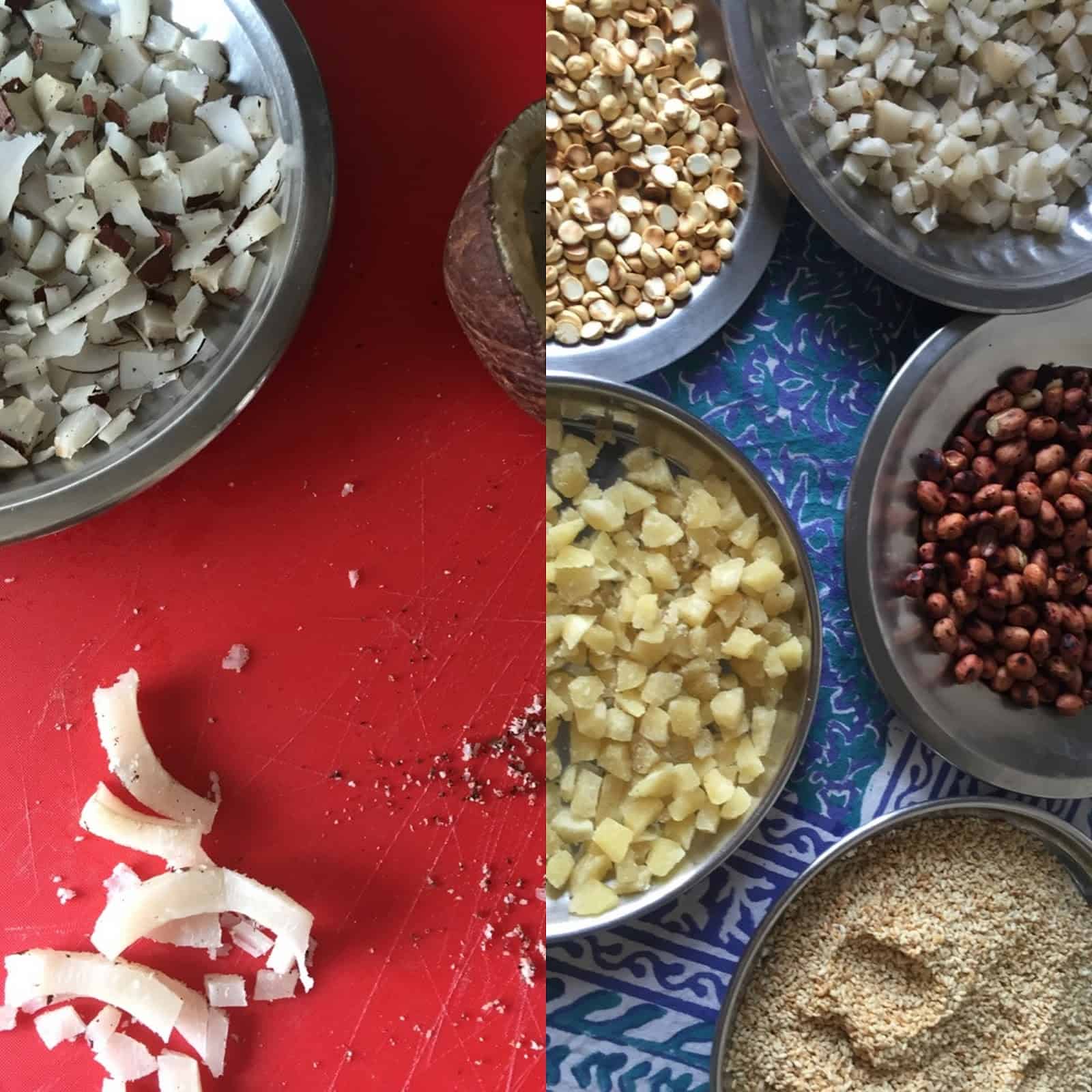 Pin
Who heard of vegan, gluten
free, nut allergies back then ??
Perhaps the guiltfree
snacking and healthy eating led us to appreciate simple pleasures of making ,
distributing and snacking on this trail mix..
I wish my kids my girls
would appreciate these simple pleasures of life, and fervently hope that they
take it forward.
It's a labour of love.
Period.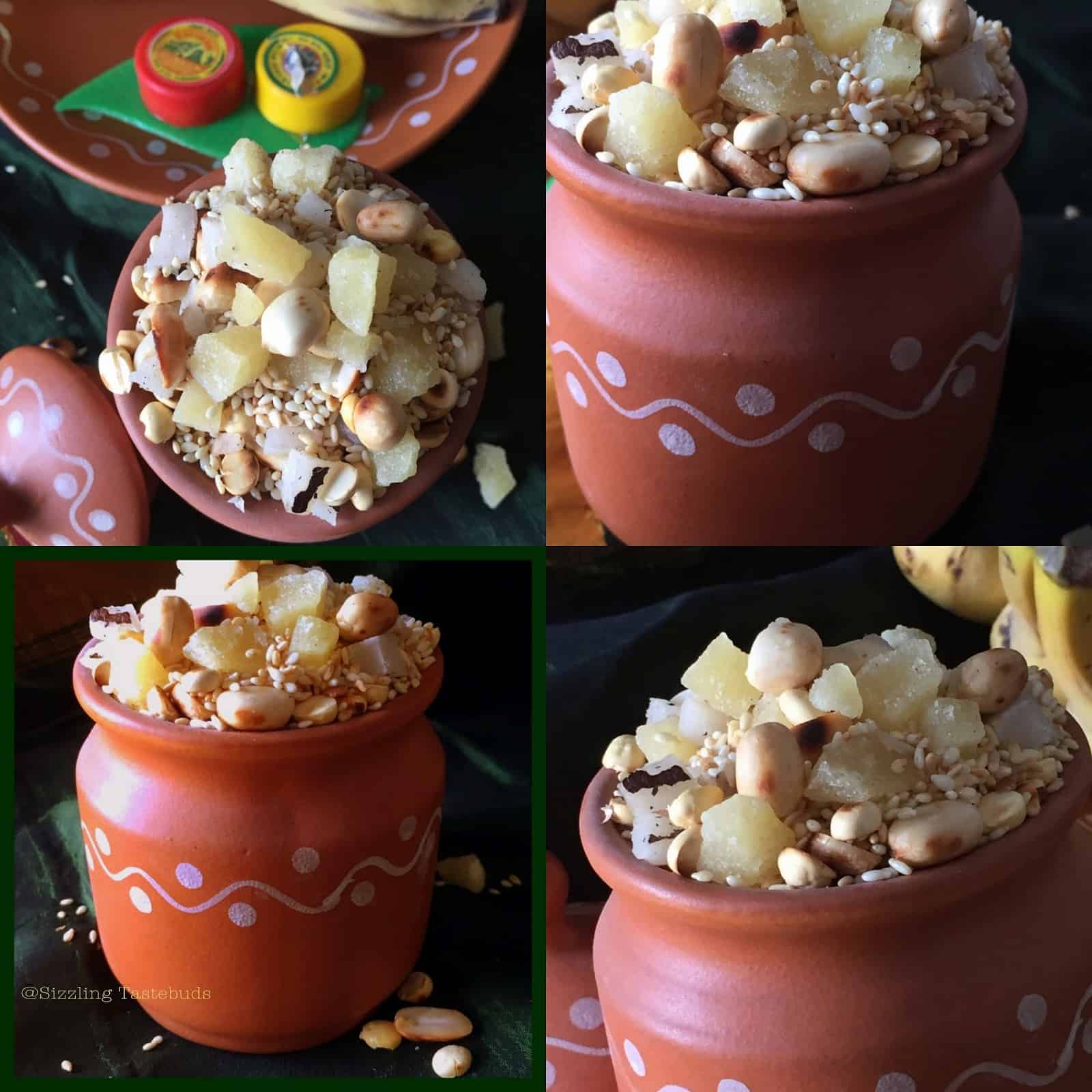 Pin
Prep time :1 hour + 2 days of sun drying | Cook time : 15-20 mins |
Makes: approx. 250 gms of trail mix
Ingredients:
White Til (sesame) –
dehusked – ½ cup
Peanuts – ½ cup
Copra (dry Coconut) – 100
gms (or 2 small halves)
Fried Gram / Hurigadale /
Pottu Kadalai – ½ cup
Jaggery – 150 gms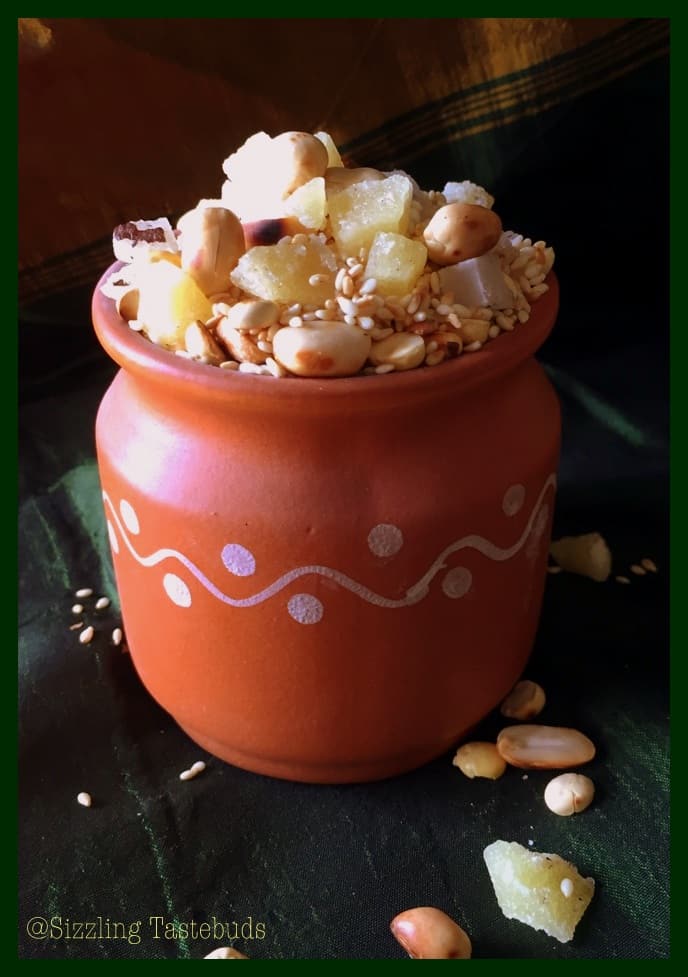 Pin
Method:
Day 1 : lightly scrape the outer covering of copra,
with a heavy sharp knife, make longish strips and then stack the strips
together and cut into small bits. Sun dry this on a metal plate for 1-2 hours
(take care to sun dry them in a dust free place)
Day 2 : Chop jaggery with
the sharp knife into slightly bigger pieces and similarly sun dry them for 1-2
hours
Day 3 :
1) In a dry skillet, roast
the peanuts on a very low flame till the skin starts to come off and they brown
a bit. Transfer to a plate. Cool. Rub these peanuts In a burlap sheet / coarse
clean towel and rub together till the skin peels off and all peanuts are broken
into half. (You can completely skip this roasting and peeling if using good
quality readymade unsalted roasted and shelled peanuts).
2) In the same pan, on low
heat, pop the sesame seeds (as they are dehusked they wont splutter), but just
warm them for 20-30 secs without burning them. Cool into a plate
3) similarly dry roast
coconut slivers till just warm. Transfer to plate. Dry roast fried gram for
10-15 seconds till just warm, transfer.
4) In the end,switch off
the stove and dry roast the jaggery for 10-15 seconds (this is optional, but
recommended to remove any residual moisture)
Cool all 5 ingredients. In
a large clean bowl, mix all of them.
Store them in airtight
containers. They keep upto a week on the countertop.
Notes:
If you have any elders / kids who are unable to consume these as such, powder a handful and shape into ladoos with a tsp of ghee. But then the shelf life is only for 1-2 days for the ladoos.
Use best quality ingredients to get great results
Use dry jaggery (or achchu vellam / Achchu Bella) for jaggery component. Paagu Vellam (or the softer variety) will melt even as you are chopping them.
Scraping copra makes the cutting process very simple. Else its really hard to chop the same into bits. If you have an adike kathri (betelnut cutter), make sure you use them to chop the jaggery and copra finely.
Hope you enjoyed the festival series this week at Blogging Marathon with Anjaneyar Milagu Vadai& Kalkandu Pongal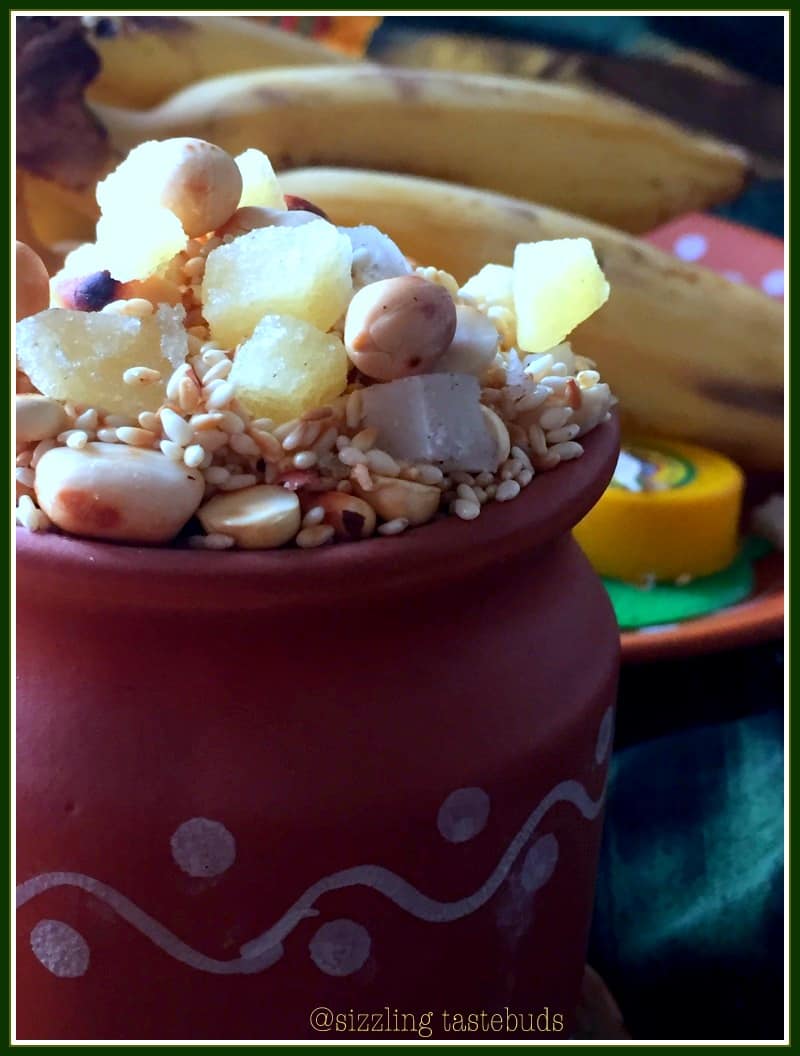 Pin