This has to be the most awaited soup at our dinner table. Owing to the developing tastes, the elder kid has now asking for hot spicy soups as early as 5pm once she's back from school. And we enjoyed the soups we made for the Cooking Carnival this month. This was one soup that was particularly made for her, and she enjoyed it a lot 🙂
As with Indo-Chinese food, this too was modified at home to suit our tastebuds. I am not a fan of readymade Indo Chinese sauces, and would rather use healthy substitutes whenever I make these.
So, while it may not be the authentic way of making Veg Manchow Soup, it was pretty much pleasing to our palate, and I shall be making this often due to popular demand now 🙂 I have another version of this with Cheesy Manchow Soup  that I made ages ago, but the kiddo's tastes have changed.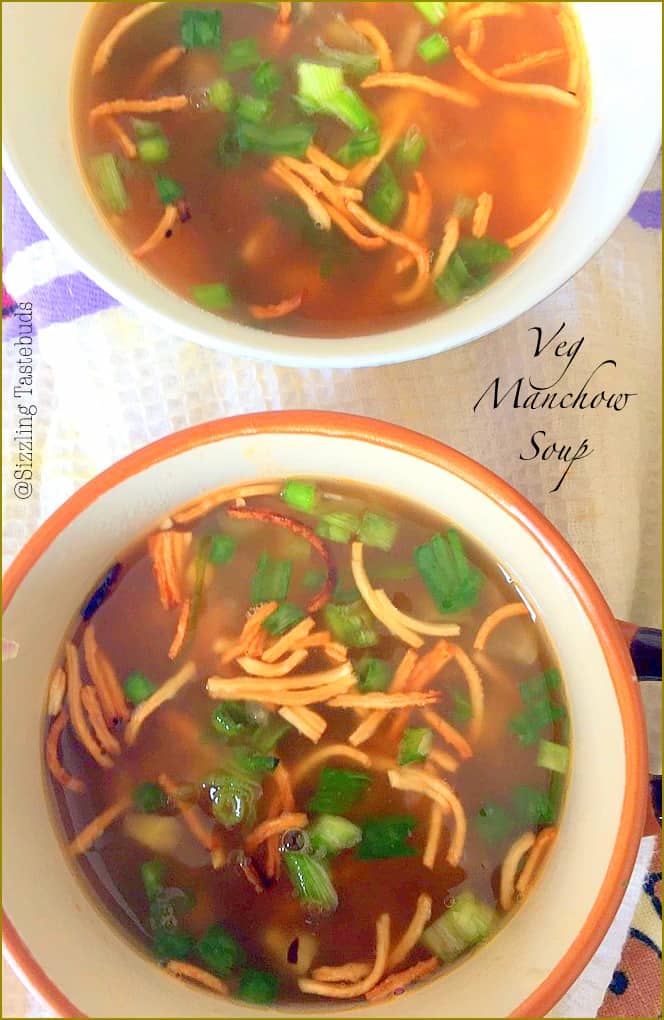 Pin

Prep time : 15 mins, Cook time : 15 mins , Serves : 2

Ingredients:
Veg stock – 2 cups
Shredded cabbage – 3 tsp
Shredded carrots – 3 tsp
Minced onion – 1 small
Minced scallions – white & green separate – 2 tsp each
Salt – to taste
White pepper – to taste
Finely chopped garlic & ginger – 1/2 tsp each
Corn Starch – 1 TBSP
Light Soy Sauce – 1 tsp
Rice vinegar – 1/2 tsp
Fried Noodles – 3 TBSP (totally optional, but we liked it that way) 
Oil – 1 TBSP
Method:
In a large wok, add oil, saute ginger, garlic & onions really well. Now add the shredded veggies and saute for 2 mins on high heat, add in the minced white part of the scallions too. Add the Vegetable stock and little salt and let it come to a rolling boil. 
Mix cornflour with 1/2 TBSP cold water and add to the soup. Now add the soy sauce & vinegar. Adjust salt and spices. 
Now finish with the diced green scallions & fried noodles and serve immediately. 
Pin

Check out the Blogging Marathon page for the other Blogging Marathoners doing BM# 68