Vazhai Thandu Mor Kootu
Vazhai Thandu in Tamil refers to Tender Banana Stem, Mor means buttermilk and Kootu refers to spiced veg-lentil curry. This is usually served with steamed rice as part of the main course. In all, this refers to stewed banana steam yogurt curry . One of the advantages of Indian Cooking is most of the ingredients have medicinal / curative properties too ! In Kannada, this Banana Stem is called "BaaLe Dhindu" (ಬಾಳೆ ದಿಂಡು)
One such ingredient is the banana stem – loaded with fibre and easy on the tummy too ! Banana is a versatile plant whose use is enormous –cooking, storing and eating on..  Having an ubiquitous presence in most South Indian homes, the humble banana comes in many varieties – nendhra pazham, elakki, rasathaali (or rasa baaLe in Karnataka), chukke (means slightly dotted). It is eaten in both raw and cooked forms. Banana Chips is a favourite snack across travellers ex-Kerala ! The raw Banana is versatile too – do you like these Airfryer Banana Crisps ?
Presenting here is a healthy and light "Vazhai thandu Mor Kootu" made from tender Banana Stem. For the linguistically challenged, this simply means "Banana stem in spicy curd gravy". Similar Satvik curries include Iyengar style Kadag Puli. Another interesting recipe using Banana STem is this Konkani special Gabbya Upkari (banana stem stir fry – Konkani style)
Banana Stem comes with a powerhouse of vitamins and health benefits, including
It aids weight loss
Excellent source of fibre
Helps regulate blood sugars
Heals inflammation
This Vazhai Thandu Mor Kootu (Banana Stem Yogurt gravy) is usually served with steamed rice and Rasam / Sambhar. Other recipes made with this Banana Steam including Vazhai THandu Usli (Banana Stem dry Curry) served with Rasam / Sambhar and Steamed rice.
Vazhai Thandu Usli
Vazhai Thandu Usli or Banana Stem dry Curry is a healthy vegan, GF dish made with Chopped Banana pith and lentils. Served as an accompaniment to Rasam or Sambhar.
Check out this recipe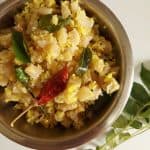 Gabbya Upkari (Konkani style Banana stem stir fry)
Gabbye Upkari or Gabbe Upkari is a Konkani style stir fry made with Banana Stem.Served with steamed rice + curry, it is a vegan + Gluten Free Curry and contains no onion or garlic too!  
Check out this recipe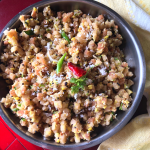 Iyengar style Kadag Puli / Kadugu Puli- a Traditional Curry
Kadag Puli is a traditional Iyengar dish which is satvik (No Onion No garlic) curry. Best served with steamed rice /chapatis. It is a medley of native veggies in an umami-tangy sauce
Check out this recipe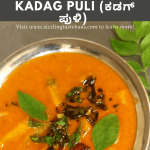 Other Kootu (GF, Vegan) varieties on the blog include:
Podalangai Poricha Kootu
Podlangai Poricha Kootu is a GF, Vegan stew made with snakegourd, lentils and a freshly ground spice paste. Served with Steamed rice or chapati
Check out this recipe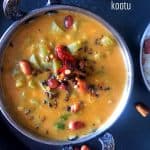 Kathrikkai Karamani Kootu
Katrikkai Karamani Kootu is a delicious South Indian dish made with Aubergines and Cow peas with a spiced masala paste. Served with Rice or flatbreads.
Check out this recipe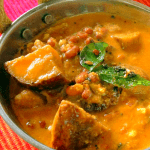 Main ingredients to make Vazhai Thandu Mor Kootu:
Vazhai Thandu / Banana Stem – tender ones with less fibre works here
Slightly sour buttermilk – to make the curry
Coriander seeds – a game changer for this kootu
Cumin seeds – ditto as for coriander
Freshly grated coconut – to give it richness and body
PIN me NOW !!
What you need to make Vazhai Thandu Mor Kootu
Prep time – 20 mins ; Cook time – 20 mins : Serves – 4
Cuisine – South Indian
Course – Side Dish / Curry
2 cups Banana Stem (peeled from outer layer & chopped finely removing the fibers in between (yes, yes I know this is painstaking, but like they say, no pain no gain!)
1 cup Yoghurt (use cashew / rice yoghurt for vegan version)
1/2 cup buttermilk (skip for vegan)
1 tsp salt
For the masala:
3 TBSP Coconut (grated)
1 TBSP Coriander seeds (dhaniya)
1/2 tsp Cumin (jeera)
1 TBSP Split black gram (Urad dal)
1/4 tsp black pepper (Milagu)
1/4 tsp Fenugreek seeds (opt.)
3 dry red chillies
1/8 tsp Asafoetida (Hing, skip for GF)
For the Tempering / Tadka:
1 TBSP Oil
1 tsp Mustard seeds
1/2 tsp Cumin seeds
How to make Vazhai Thandu Mor Kootu
Wash and clean the chopped banana stems. Add the chopped stems in the buttermilk till you cook them to avoid discolouration
Drain the chopped banana stems in a colander and boil them in slightly salted water till al dente/ slightly soft. This would take about 10-12 mins. Alternately pressure cook them for 2 whistles in a colander . Cool completely.
In a skillet, add half the oil. When slightly hot, add methi, cumin ,dal, coriander seeds, dry chillies, hing one after another and roast till the dal slightly browns. Do not burn. Cool.
Dry grind the masala with coconut. Once completely dry, add a little water to make a thick paste (consistency of milk shake). 
Add this mixture to the curd. Whisk well. Add salt as required. Add 2 – 3 tbsp of water if you feel it is too thick.
In a large bowl, add the cooked banana stem. Add the curd mixture to this
In another pan, add oil, make the tempering. When the mustard stops spluttering, add this to the banana stem+ curd mixture from above.
Adjust salt if required. 
Serve hot with steamed rice and Sambhar / curry
Pro Tips
You may preserve the uncooked banana stems in buttermilk in an airtight box for 1 day in the refrigerator. Also, before cooking ,soak them in buttermilk to avoid discolouration.
Vazhai Thandu Mor kootu | Banana Stem in Spiced Yoghurt Gravy
Vazhai Thandu Mor Kootu is a spiced curry made with yoghurt and tender banana stem. This is usually served with Sambhar and steamed rice.
Equipment
Pressure Cooker

Knife

Wet Blender
Ingredients  
Base:
2

cups

Banana Stem

1

cup

Yoghurt

use cashew / rice yoghurt for vegan version

1/2

cup

Buttermilk

skip for vegan

1

tsp

salt
For the masala:
3

TBSP

Grated coconut

1

TBSP

Coriander seeds

dhaniya

1/2

tsp

Cumin seeds

jeera

1

TBSP

split black gram

Urad dal

1/4

tsp

Whole Black Pepper

Milagu

1/4

tsp

fenugreek seeds

opt.

3

Dry Red Chillies

1/8

tsp

Asafoetida

Hing, skip for GF
For the Tempering / Tadka:
1

TBSP

Oil

1

tsp

Mustard Seeds

1/2

tsp

Cumin seeds

1

sprig

Curry Leaves
Instructions 
Wash and clean the chopped banana stems. Boil them in slightly salted water till al dente/ slightly soft. Alternately pressure cook them for 2 whistles in a colander . Cool completely.

In a skillet, add ¼ tsp of oil. When slightly hot, add methi, cumin , channa dal, coriander seeds, dry chillies, red chillies, hing, turmeric one after another and roast till the dal slightly browns. Do not burn. Cool.

Dry grind the masala with coconut. Once completely dry, add a little water to make a thick paste (consistency of milk shake).

Add this mixture to the curd. Whisk well. Add salt as required. Add 2 – 3 tbsp of water if you feel it is too thick.

In a large bowl, add the cooked banana stem. Add the curd mixture to this

In another pan, add oil, make the tempering. When the mustard stops spluttering, add this to the banana stem+ curd mixture from above.

Adjust salt if required.

Serve hot with steamed rice and Sambhar / curry