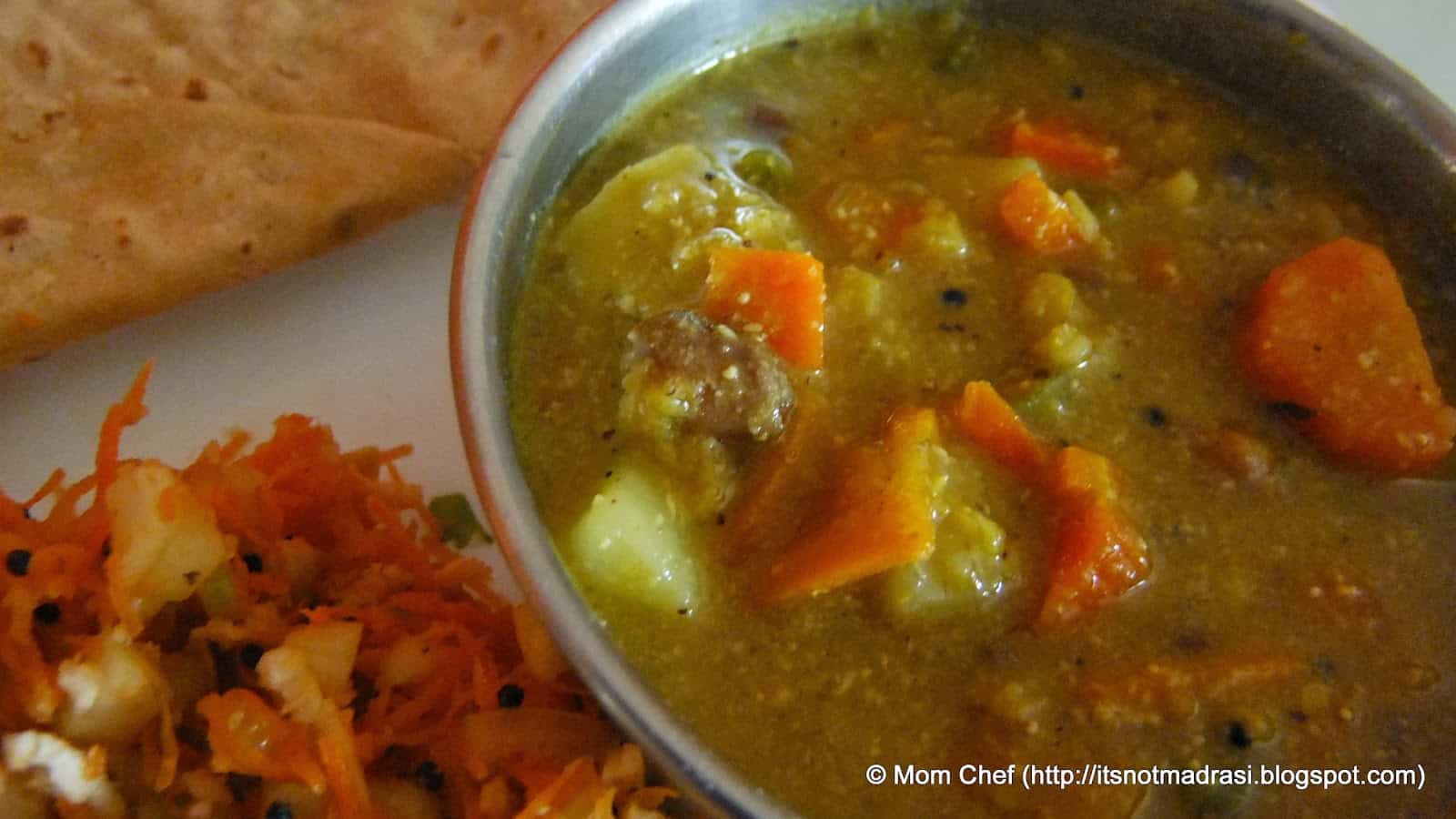 Pin

Kootu (Tamil = coming together) is a Tamilnadu dish with main ingredients being vegetables and dal (lentils) and therefore rich in proteins and vitamins. Of course, there is the faux pas of even Thovve (just dal + vegtables) being called Kootu. As S says, if its not sambhar or rasam, it has to be Kootu. Earlier on, I used to address to correct this issue, but now let it pass – after all, what is palatable is what counts, nomenclature be shifted to the back burner.

Today's dish, Arichivitta Kottu is a staple dish that goes well with Rice or chapatis alike. Any vegetable can be added to this (barring of course, Lady's finger /brinjal etc), this medley of vegetables can be had in the Kurma form (with onions / garlic / ginger) or today's dish with more saatvic ingredients of black pepper, Urad dal and cumin freshly ground.

Over to today's dish:

Prep time : 10 mins. Cooking time : 20 mins. Serves: 4

Ingredients:
Veggies – Carrots / Cauliflower/French beans  – finely chopped – 2 cups
Moong Dal / Toor Dal – 1 handful (1/2 cup)
Salt – to taste
Turmeric – 1/2 tsp
For tempering :
Oil – 1 tsp, Mustard seeds-  1 Tsp, Curry leaves – few, Peanuts (handful)- Optional
Spicy Masala (for grinding):
Urad dal / Split black gram – 1 TBSP
Jeera / Cumin – 1/2 TBSP
Black Pepper – 1/4 TBSP
Dhania / Dry coriander seeds – 1/4 TBSp (opt)
Red chillies – 2 or 3
Hing / Asafoetida – 1/2 tsp
Freshly Grated coconut – 2 TBSP
Method:
1) Wash and par boil all veggies in a pan of water with a pinch of salt till 3/4 cooked but not mushy.
2) Pressure cook the dal with little water and a pinch of turmeric till done. Cool
3) In a pan, add 1 tsp of oil and gently fry all ingredients of masala (excluding coconut) one by one till Urad dal is browned and other ingredients leave out a gentle nice aroma. Grind with coconut to a smooth paste.
4) In a deep bottomed pan, prepare the tempering. Add the boiled dal, ground spice mixture, salt, and the veggies and let it simmer covered on a gentle boil for 3 – 6 mins.
5) Uncover, transfer to dish and serve hot with Rice or Rotis. Tastes yum even with curd rice !:)
Tips:
1) You may add any medley of vegetables to this curry. I have even added a handful of boiled jackfruit seeds and 1 chopped potato to enhance the taste.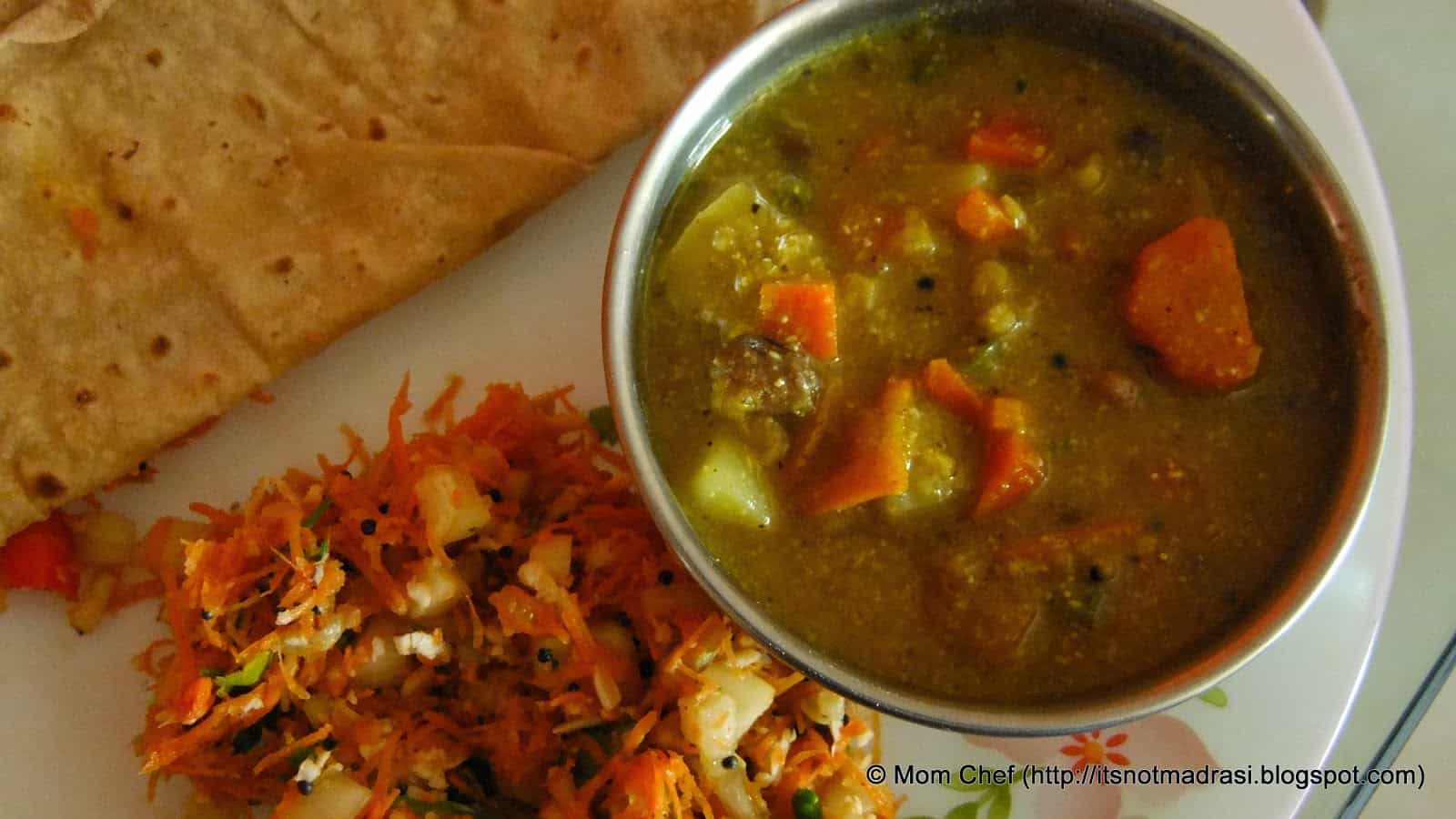 Pin