Today's post  – Zucchini Kootu – is one long overdue – I had been eyeing many variants of Zucchini Kootu on the blogosphere since long. Zucchini is rather a new vegetable in our kitchen and unlike in the West, its quite expensive like Avocados especially if you need it off season. Yet we do indulge in this utterly sinful yet healthy Double Chocolate Zucchini Cake (Yes, Zucchini and Chocolate are a match made in heaven) and this healthy Zucchini Tambli (spiced buttermilk gravy) thats perfect for the summers.
Since my family's definition of Kootu is very different (we make mainly poricha kootu and arichavittu kootu), I wanted the one presented at home, with decent clicks. This was perhaps the only dish I cooked twice & exclusively for the blog. If you like Poricha Kootu, you should check out this Podalangai / Pudalangai Poricha Kootu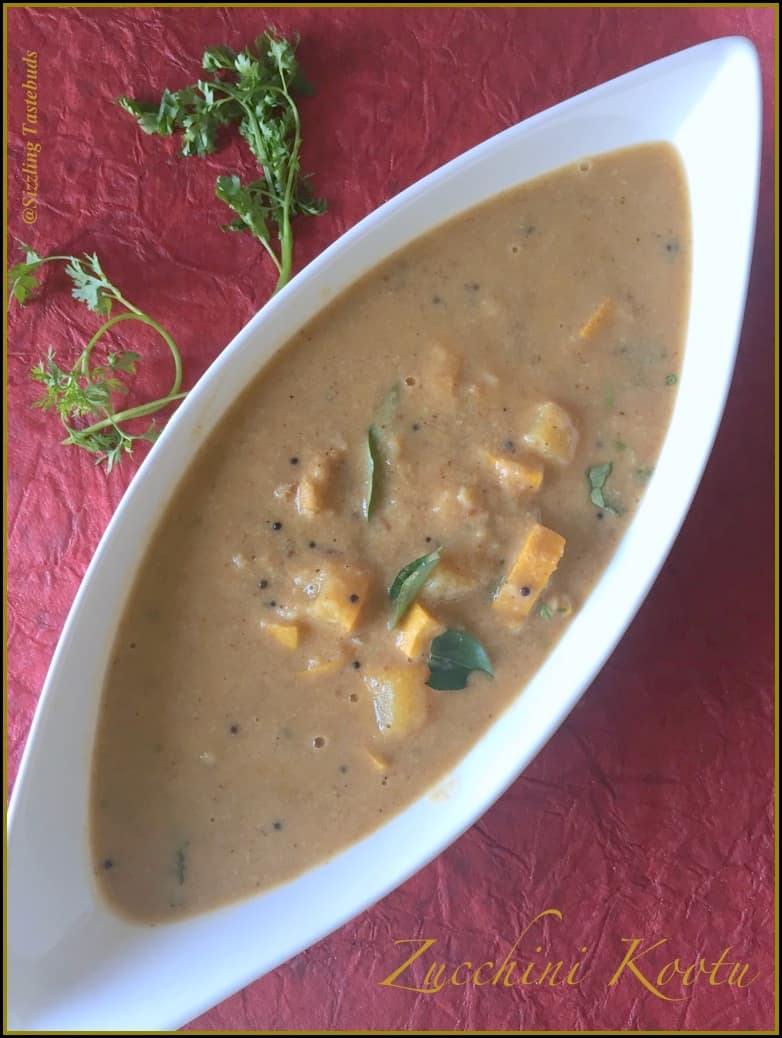 Pin
Kootu comes from the original Tamil word, "Kootru" , which means bringing together. So it means a mix of veggies and lentils brought together in a spicy gravy. Although its mostly lentils and veggies, sometimes yogurt is also used in some varieties and is called "Mor Kootu (Mor means buttermilk).  In the order of serving at a traditional sit-down meal, Kootu is served once Morkozhambu / Sambhar are served and before Rasam. Its traditionally mixed with rice and eaten, although we do make kootu with Chapatis / phulkas for our evening dinner.
Other varieties of kootu featured on this blog are:
Without much further ado, lets get to this variation of this Zucchini Kootu.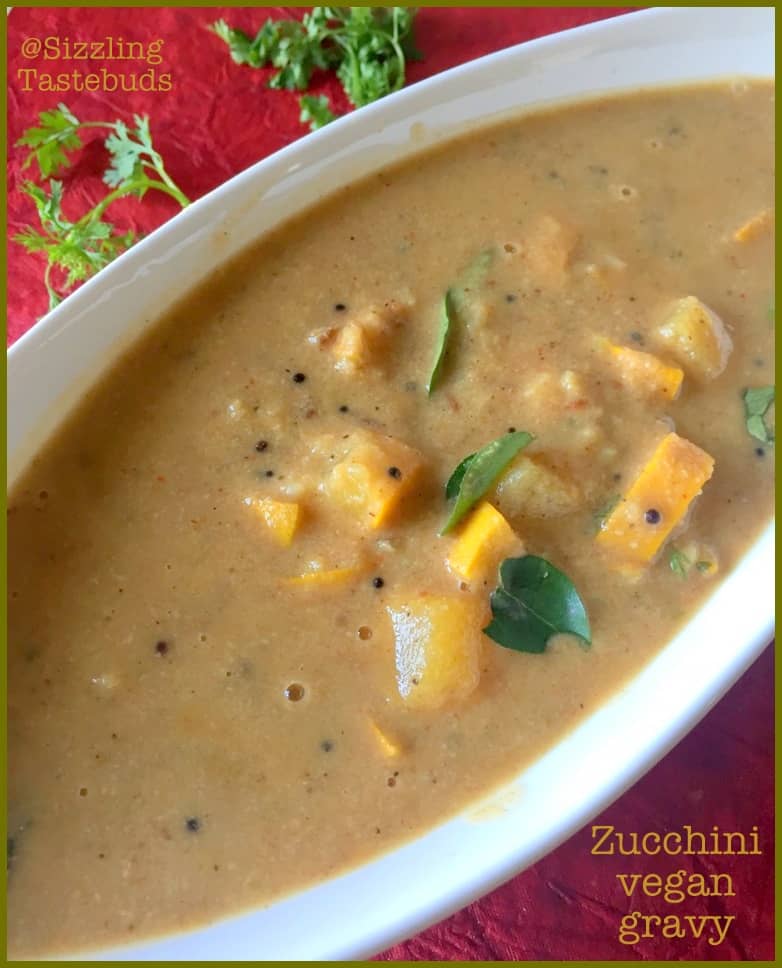 Pin
Prep time : 10 mins, Cook time : 15 mins, Serves : 4
Ingredients:
Zucchini (green / yellow) – 1 medium (about 200-250 gms)
Cooked Moong Dal / split green gram – 1/2 cup
Salt – to taste
Oil – 1 TBSP + 1 tsp
Tempering : 1 tsp Mustard seeds, curry leaves (few), Asafeotida / hing – a generous pinch (about 1/8 tsp) – skip for GF version
Spice paste :
Urad dal (1 TBSP)
Fresh / frozen coconut – 1/4 cup
Jeera / Cumin – 1/2 tsp
Whole dry Red chillies – 2 to 3 (adjust spice)
Whole black pepper – 1/4 tsp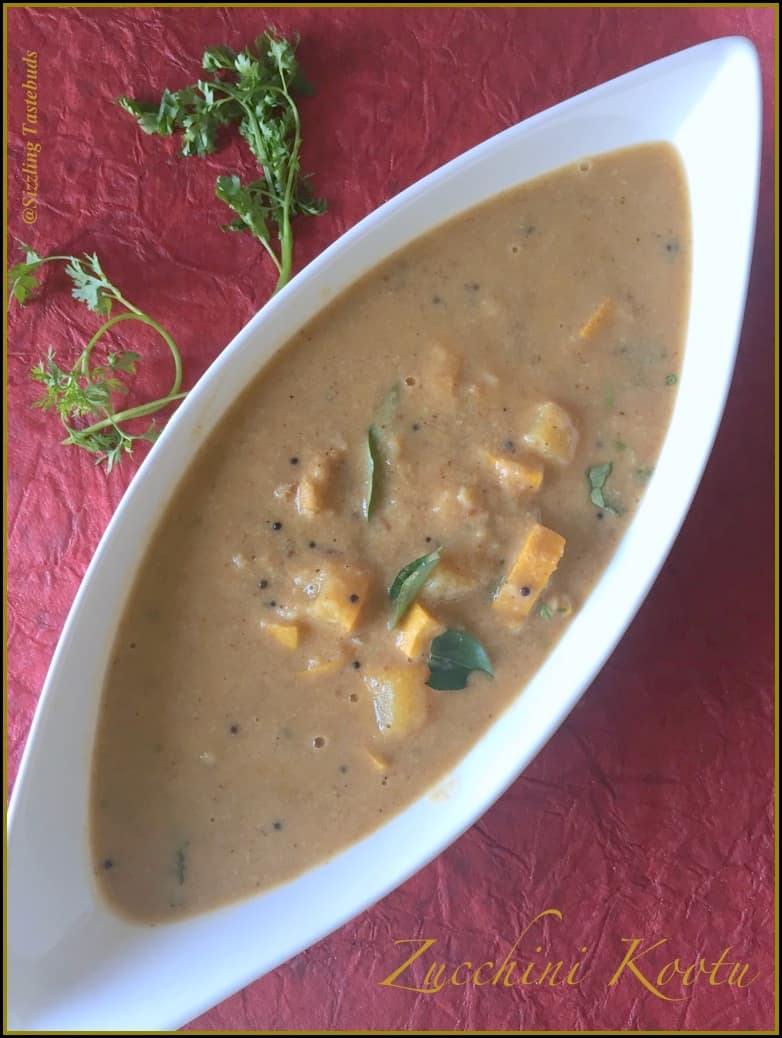 Pin


Method:
Par boil zucchini with a pinch of salt. Drain.
While its cooking, pressure cook moong dal with a pinch of turmeric till its done, but not mushy
In a pan, add 1 tsp oil and roast all ingredients except coconut under "Spice paste" one by one till golden brown. Switch off flame and add coconut and roast for just 30 secs (roasting coconut is optional, but I do it all the time – it increases the shelf time of the dish, especially in tropical climates). Cool the spice mix, powder first and then add water to grind to a smooth thick paste (using little but adequate water).
In a pan, add 1 TBSP oil, splutter mustard seeds and curry leaves, add the hing (if using), cooked moong dal, spice paste, salt and 2/3 cup of water and let it simmer for 4-5 mins. Now add the par boiled zucchini and 2-3 TBSP more water and cook on simmer for 4-5 mins more till it reaches a slightly thickish consistency.
Check for salt and spices and serve hot with rice.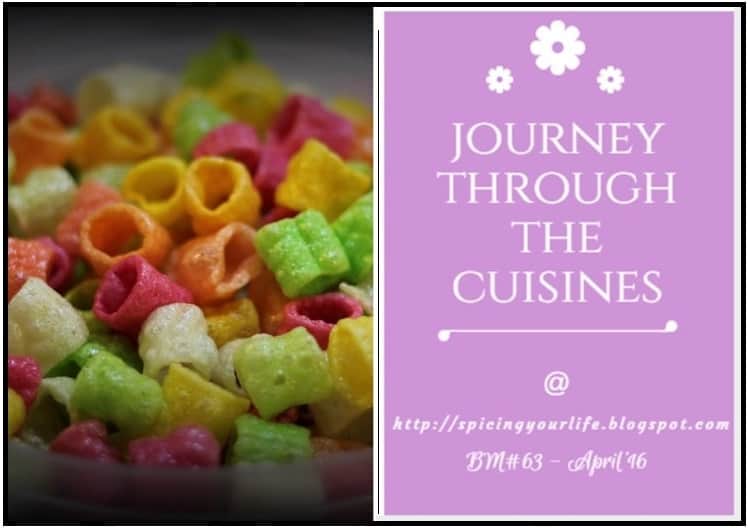 Pin
Check out the Blogging Marathon page for the other Blogging Marathoners doing BM# 63