Traditional Udupi Cuisine was set up formally a few centuries ago by the pontiffs like Madhwacharya etc who set some basic rules about cooking. It is said that Udupi Cuisine is a Temple Food Cuisine, which means that onions, garlic, Aubergines (and a few other vegetables including Tomato ) are abhorred in the cuisine. Coconut is used predominantly as its abundantly available owing to its proximity to the Western Coastline of India.
The Temple town of Udupi is famous for the Krishna Temple where devotes partake of a simple but ultra delicious lunch served as Prashad (or offering to the Lord).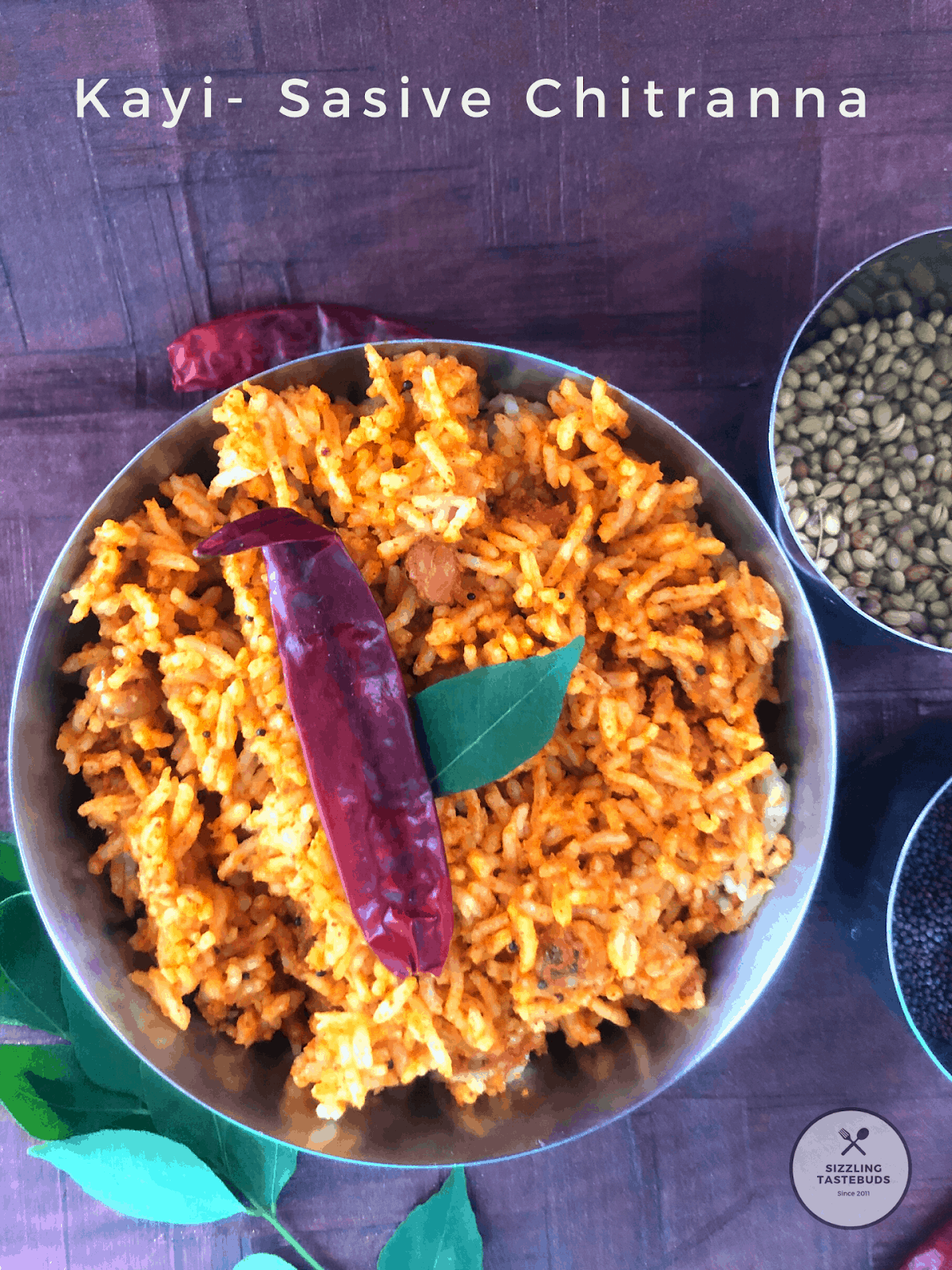 Pin

Served on Banana leaves, this is a lunch that devotees don't miss out while visiting the temple. It is often believed that as the food is made for the LORD, even simple dishes likeRasam,TambliorPineapple Gojjuetc taste ultra delicious.

Think Udupi Cuisine, ThinkMasala Dosa, Urad Dal Vada(a.k.a Uddina Vade in local parlance ) or the humble Idli. It is said that the several Udupi eateries around the country took influence from the teachings of the saints, and till recently, followed them in their restaurant menus.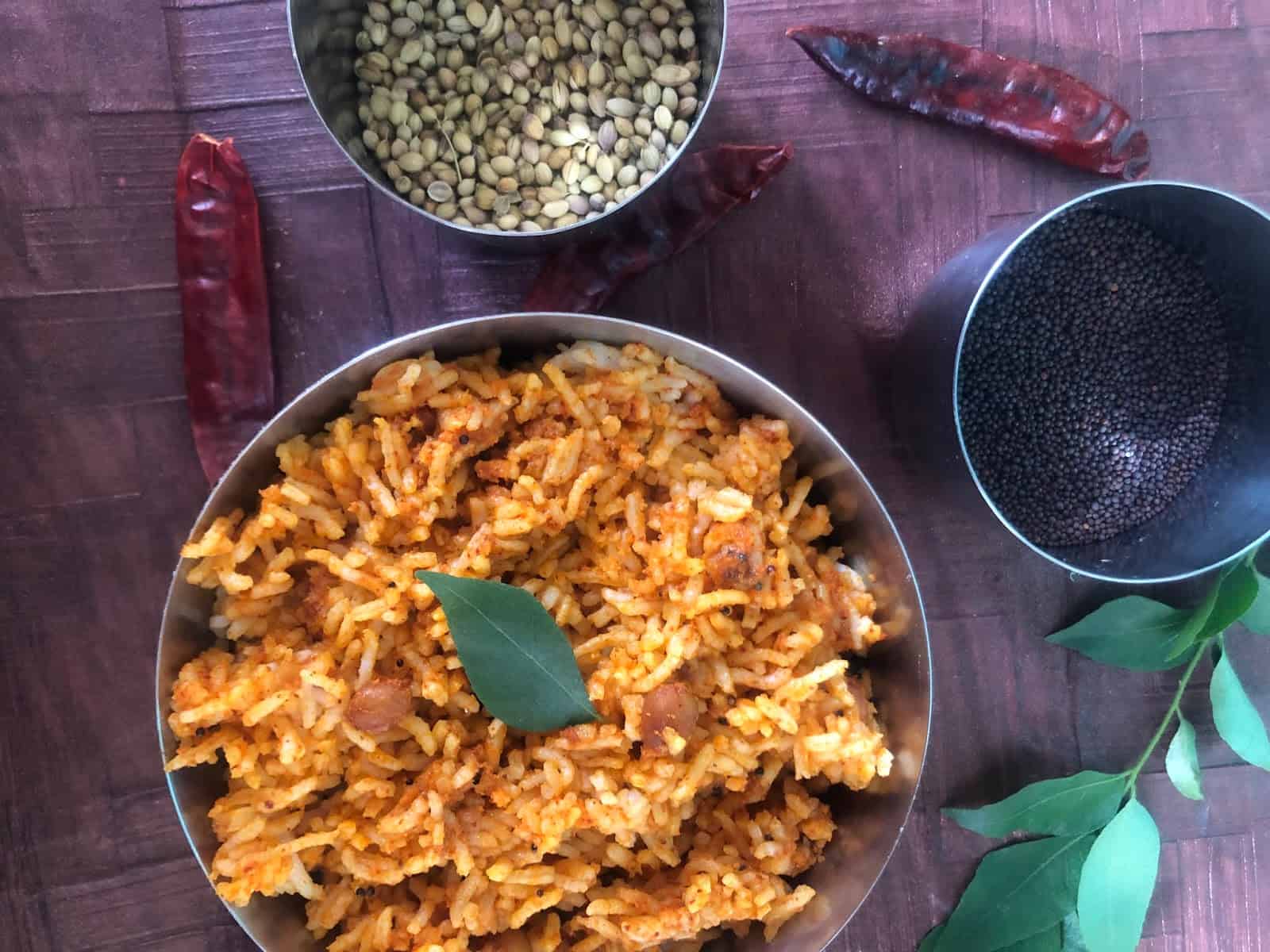 Pin
Today's dish is Kayi Sasive Chitranna – a delicious No Onion, No garlic dish that's prepared mostly on festivals and social occasions and is considered a delicacy in Karnataka Cuisine.  Kayi – means coconut and Sasive means Mustard.If you like spiced rice, why dont you also check out this Summer Special Karivepaaku Mamidikaya Chitrannam (Raw mango + curry leaves spiced rice)
Or even the easy One Pot meal Avalakki Bisibele bhath (flattened rice bisibele bhath)
Both Red and green chillies are accepted as part of the spice paste. but I used Red Chillies (incl the Kashmiri variety for that bright colour) as that's the way I remember having eaten (nay, wolfed) this growing up in Bangalore.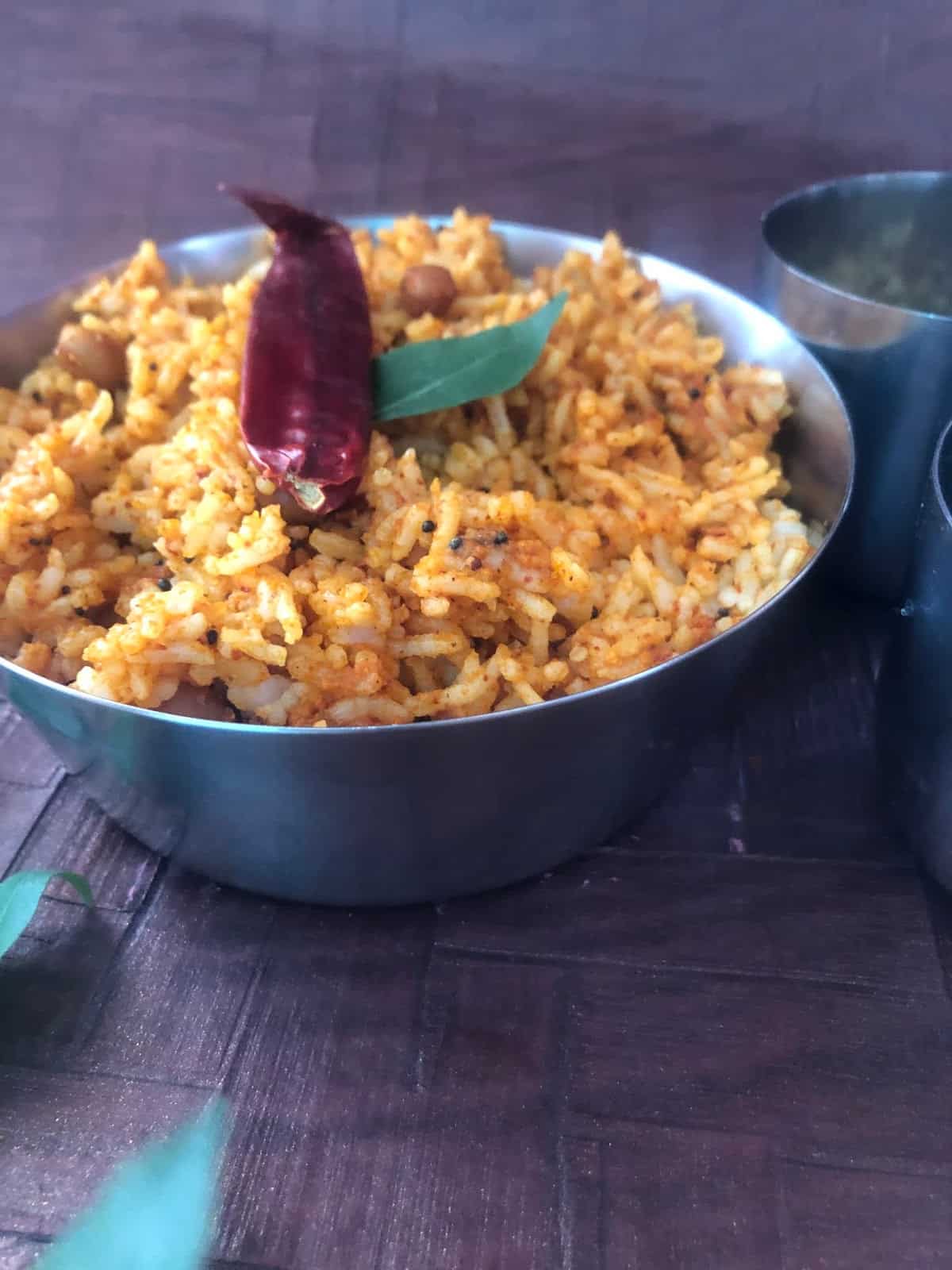 Pin
This keeps upto 3 days under refrigeration. Let's get to the recipe now. The method is shown in the YOUTUBE Video embedded herewith.I do hope you would leave your comments on the blog link here as well as the youtube channel.
PIN FOR LATER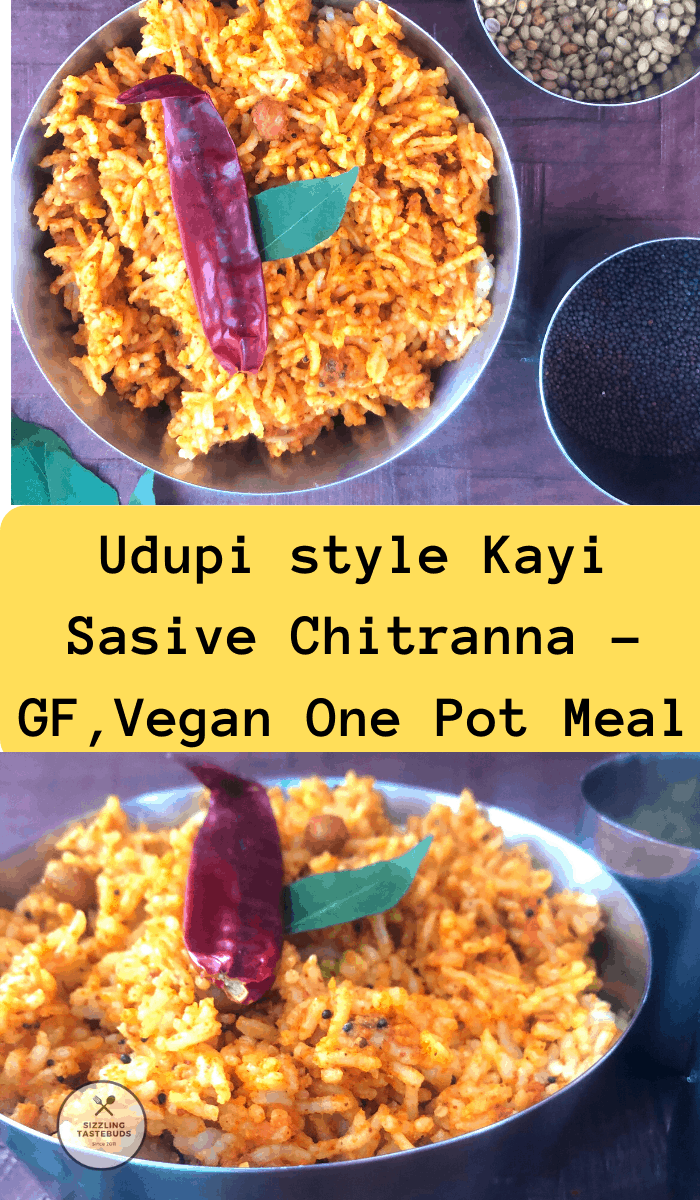 Pin
Prep time – 15 mins | Cook time – 20 mins | Serves – 4
Ingredients:
Raw rice (Sona masoori / any short grained rice – Basmati may not work here) – 200 ml
Oil – 3 TBSP (split use)
Salt – to taste
Turmeric – 1/2 tsp
Asafoetida / hing – 1/4 tsp (skip for GF)
Masala paste:
Mustard seeds – 2 tsp
Tamarind – one medium lemon sized
Red chillies -4
Fresh / frozen coconut – 1/2 cup
Byadgi OR kashmiri chillies – 5 nos.
Cumin seeds / jeera – 1/2 tsp
Jaggery – 1 tsp
Tempering:
Mustard seeds – 1 tsp
Peanuts – 2 TBSP
Curry leaves – 2 sprigs
For the detailed method on how to make this click on the following Youtube Link. 
I hope you have liked and subscribed to our channel. Don't forget to click on subscribe and press the bell icon for more updates.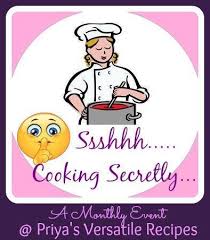 Pin