Its already the third week of
Baking BM. Cant believe its 10 days since the baking madness started.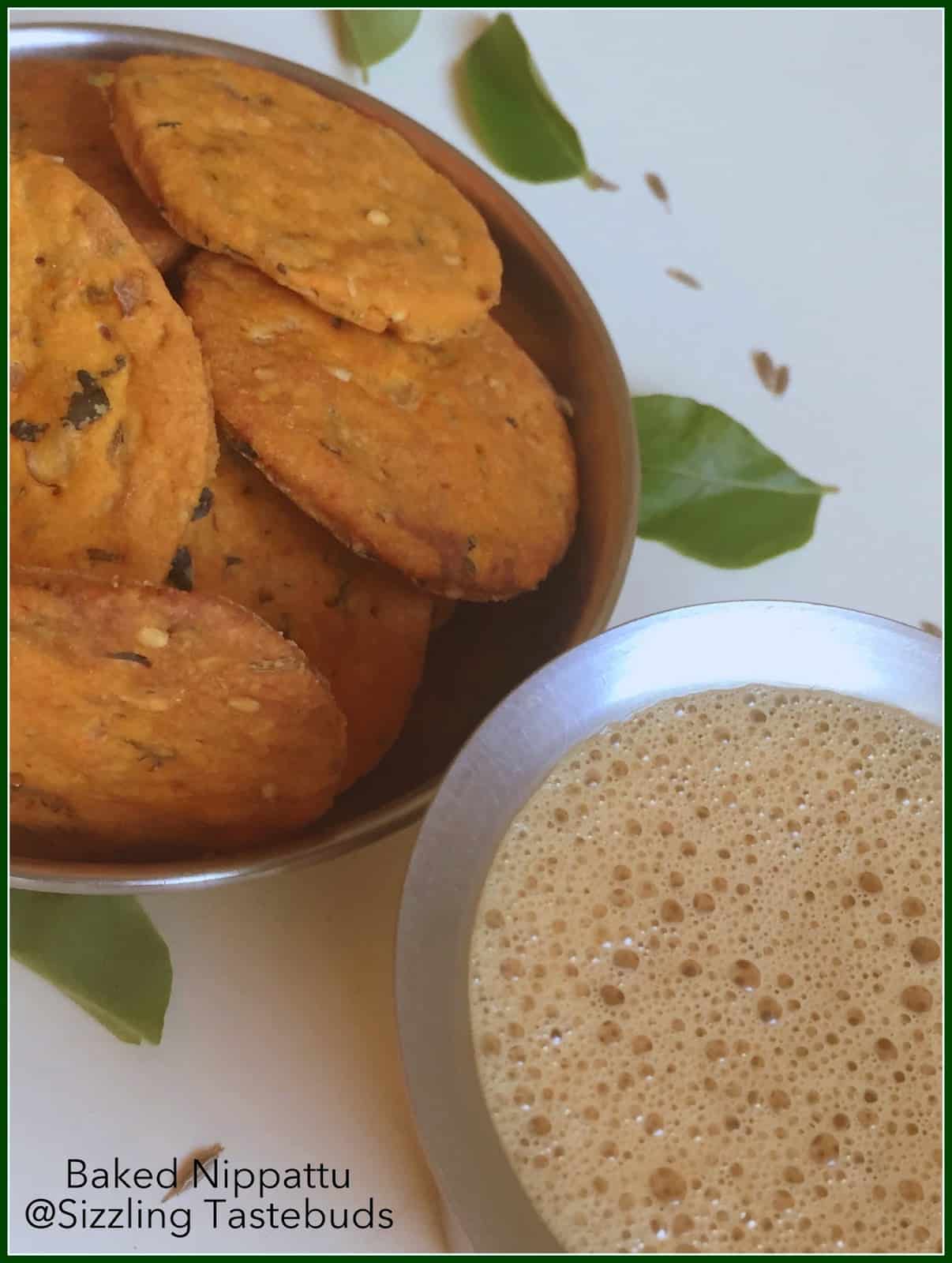 Pin

Wanting to convert deep fried
treats into baked delights was top of my list when I started prepping for the
baking BM. Although I did bookmark quite a few of them, this particular one
caught my fancy as the snack hails from my hometown, and therefore the urge to
make it perfectly was very high. 
Nandita's recipe
just kept calling out to me, and her post was soaked with nostalgia on
Bangalore bakery treats. Nippattu (or thattai as its called in Tamil, but a
poor cousin though) is one of those treats where monsoon is just an excuse to
indulge.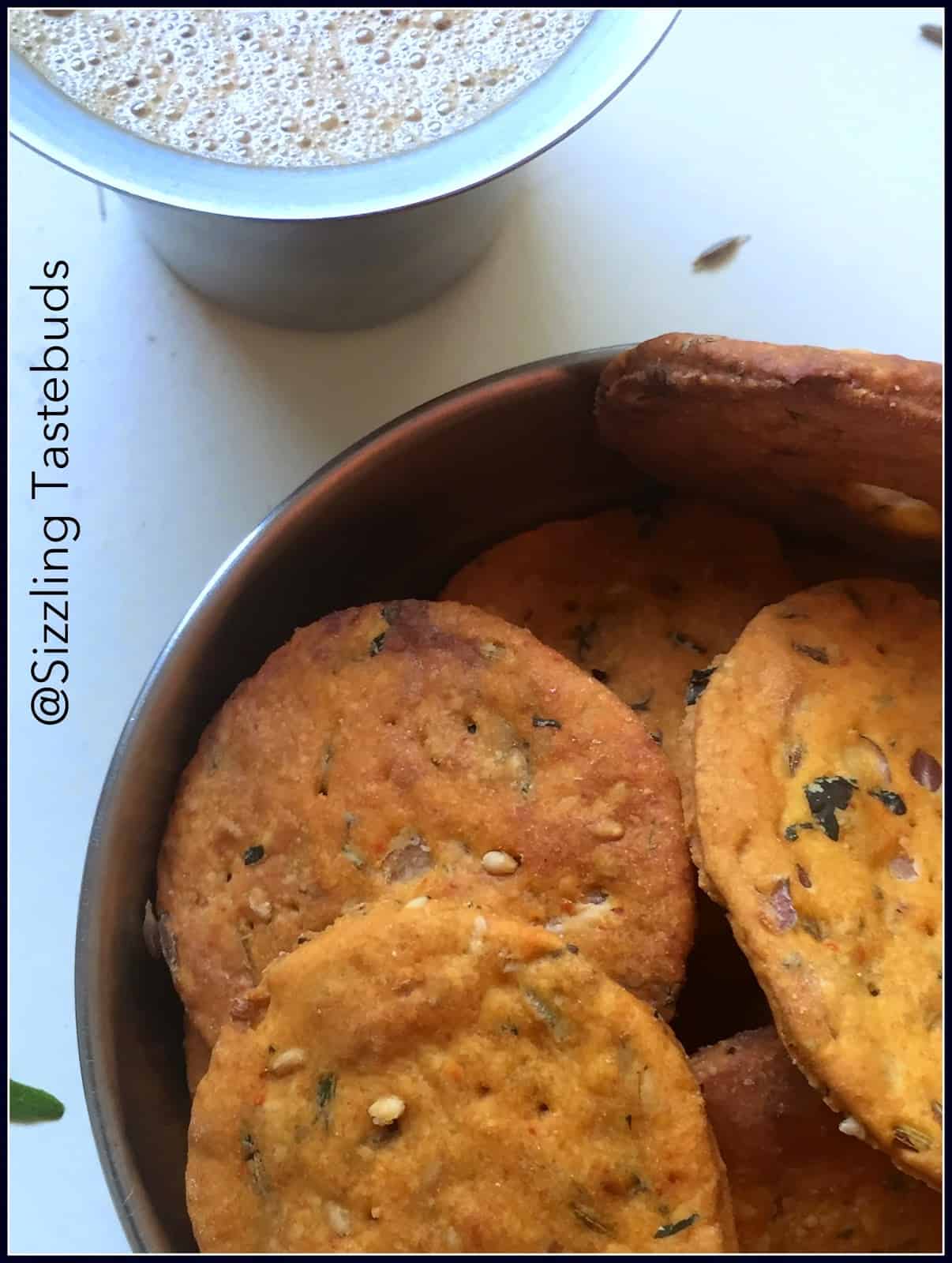 Pin

We do make these fried ones very occasionally but also for Krishna Jayanti. But of late, it had no callers. Till now. When we made these baked
version, it just got devoured fast and furious by all including the little
one, who has taken a fancy for savoury stuff than sweet. This is similar to the
Onion
Crackers I made earlier this month, but it was a lot more crunchier and the
taste was fully rounded due to the addition of cornflour and milk powder.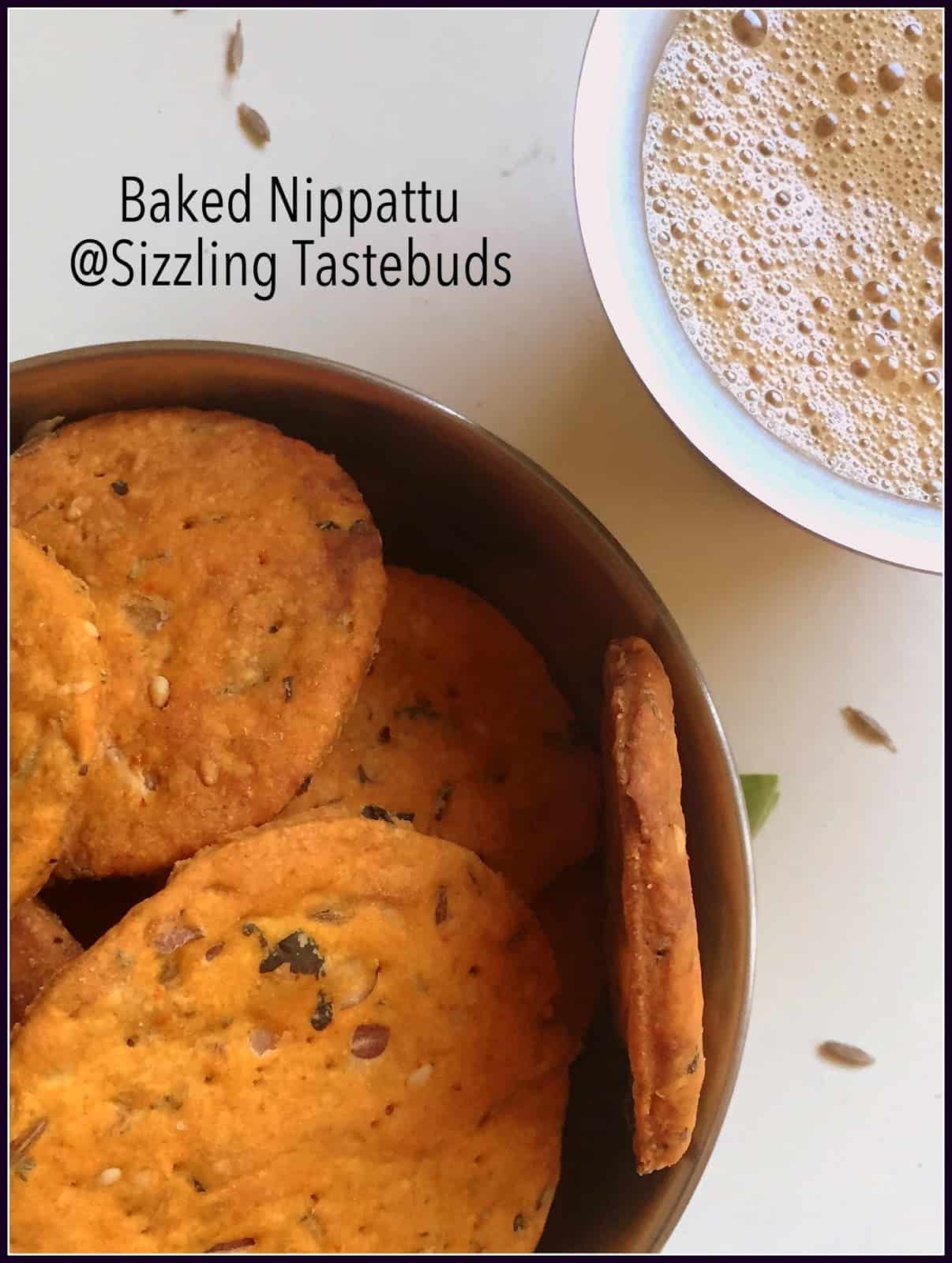 Pin
If made traditionally, grated
coconut and rice flour are used to make a dough (I promise to post that recipe soon) , but this recipe called for APF
and a bit of cornflour + milk powder. I substituted half of the APF with
Wholewheat, and although the Nippattu got a tad more denser, the crunch came in
from the hot oil poured on to the dry dough (something you shouldn't miss if
you need crunchy and tasty Nippattu)
I followed Nandita's recipe with
some minor tweaks (sometimes I wonder why I cant follow a recipe, verbatim) and
the results were spectacular. We are sure to make this often to kill those 4 pm
pangs (or anytime, actually) and enjoy with a hot cuppa.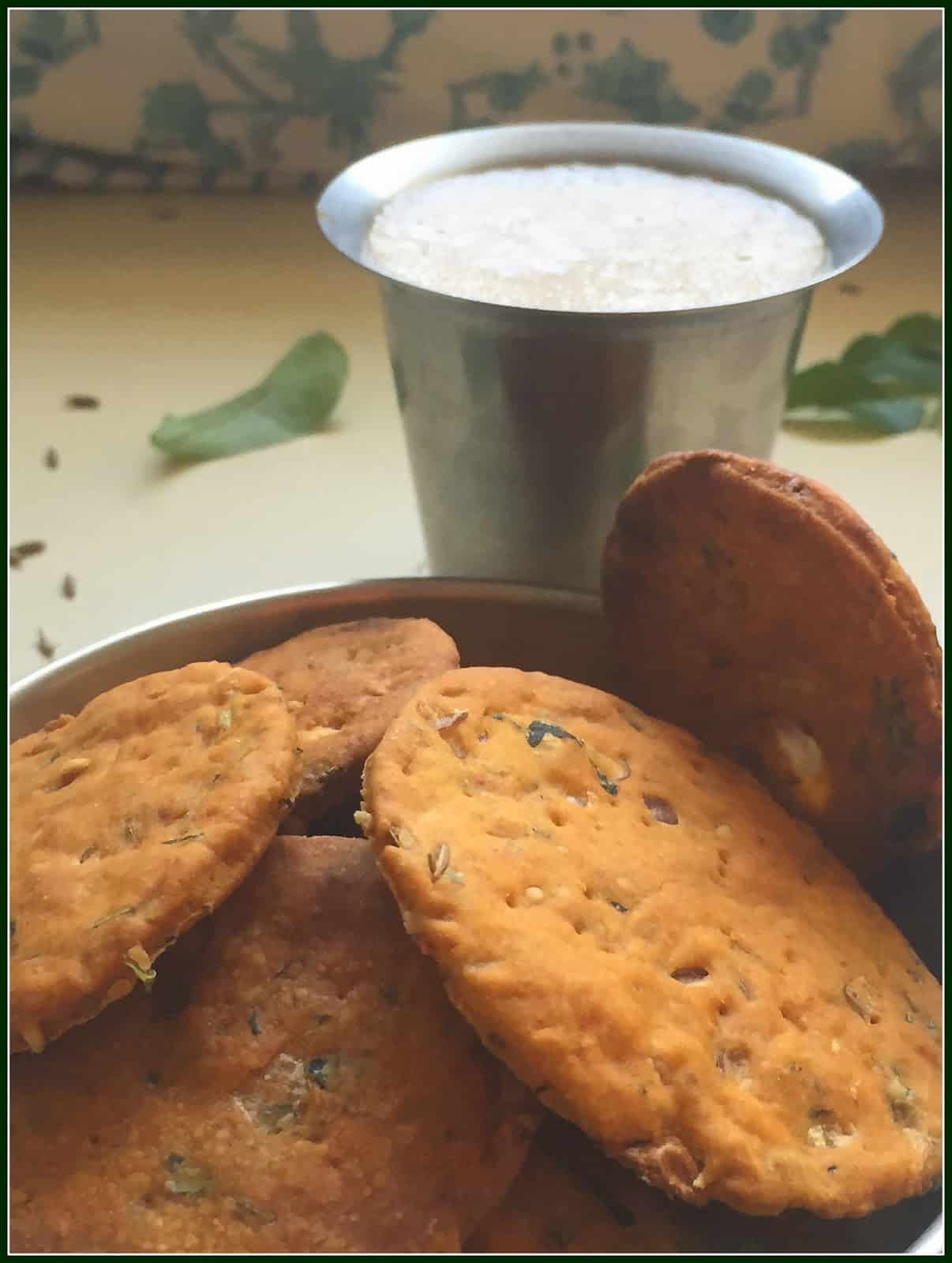 Pin
Baking Marathon Day 11 : Baked
Nippattu (savoury biscuit)
Source : Nandita's recipe
Recipe type : Teatime Snacks
Course: Snack
Cuisine : Indian (South Indian –
Karnataka recipe)
Makes : Two dozen medium  sized Nippattu
Spice level – medium to high
(adjust to taste), keeps for upto week without refrigeration
Prep time: 15 mins | Bake time : 20-22
mins (varies from oven to oven)
Ingredients:
Maida – 1 cup
Wholewheat flour – 1 cup
Cumin Seeds – 1 TBSP
Milk powder / evaporated milk – 2
tsp
Cornflour- 1 TBSP
Baking Soda – ¾ tsp
Melted Butter – 4 TBSP (I used 2
TBSP melted Ghee with 4 tsp Canola Oil)
Sugar – 1 TBSP
Salt – to taste
Oil – for basting (approx. 3 TBSP)
Spices : Coriander leaves, curry
leaves, roasted sesame, green chillies, asafoetida, chilly powder (adjust to
taste)* See Notes
Onion – 1 medium – finely chopped
(optional)
Water – to knead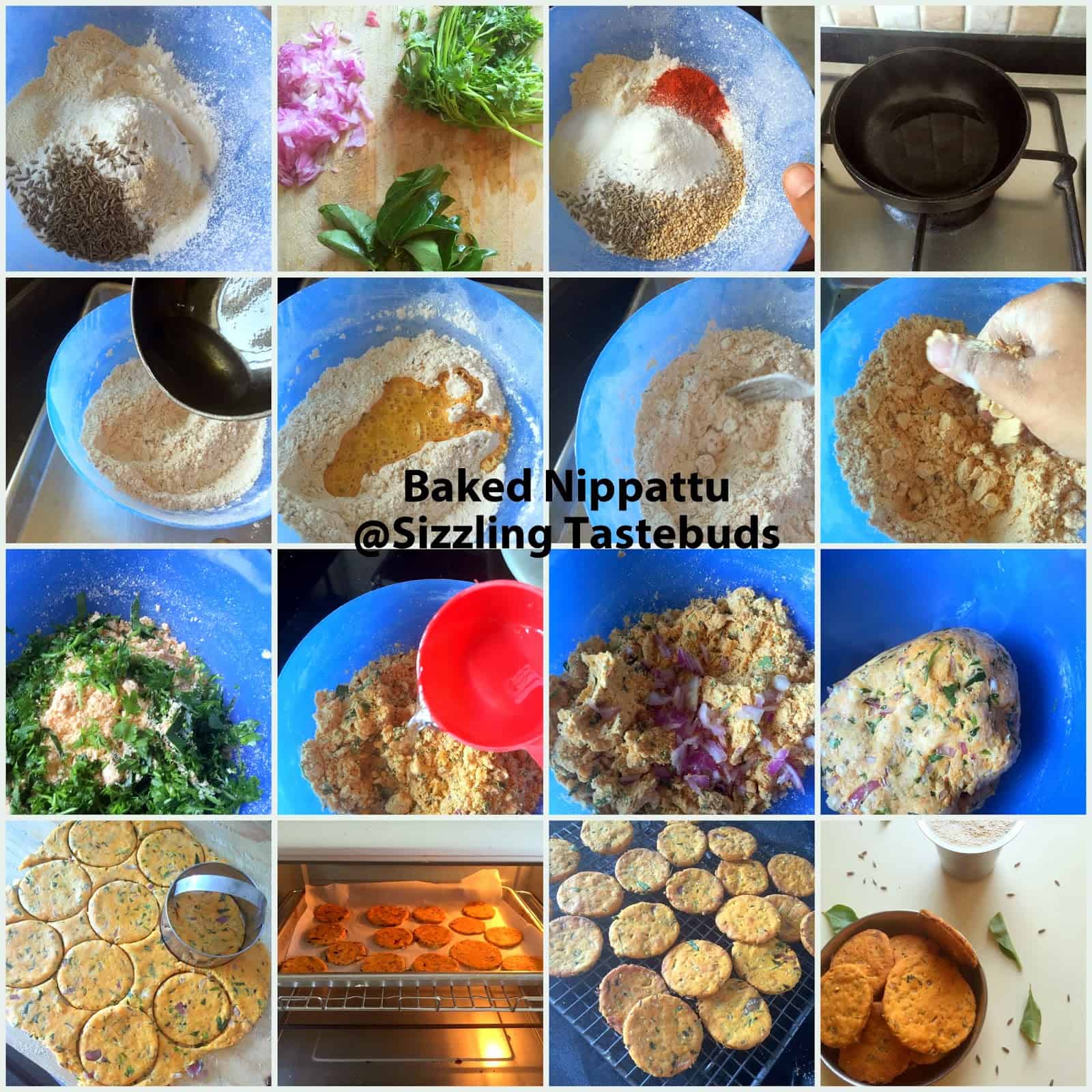 Pin
Method:
Sieve the flours twice with soda,
cornflour, salt, milk powder to a largish mixing bowl. Add sugar, Cumin Seeds and mix well.
Heat oil and butter to a smoking temperature, cool for 2-3 mins and add to the
flour. Using a fork (caution – don't use your hands, your hands could be
scalded), mix the flour and rub the oil-butter into the flour till it resembles
breadcrumbs. Now add the rest of spices, onions and mix well. Let it stand for
2 mins till onions release the water due to the salt.
Now, sprinkle very little water
and make into a slightly stiff dough. Covered rest of dough for 5 mins * (see
notes)
Preheat oven to 175 Deg C
Roll into a thickish disc, using a
cookie cutter , poke them with a fork, and place the cut out discs onto a lined
baking tray / silicon sheet. With a
brush, apply a very thin film of oil .
Bake for 12-15 mins at 175 deg c.
flip them once , baste them again with a brush and bake for 5-7 mins at 165
when you see them golden brown. If its too brown already, they may start
burning very fast.
Cool them on the rack and store in
an airtight container.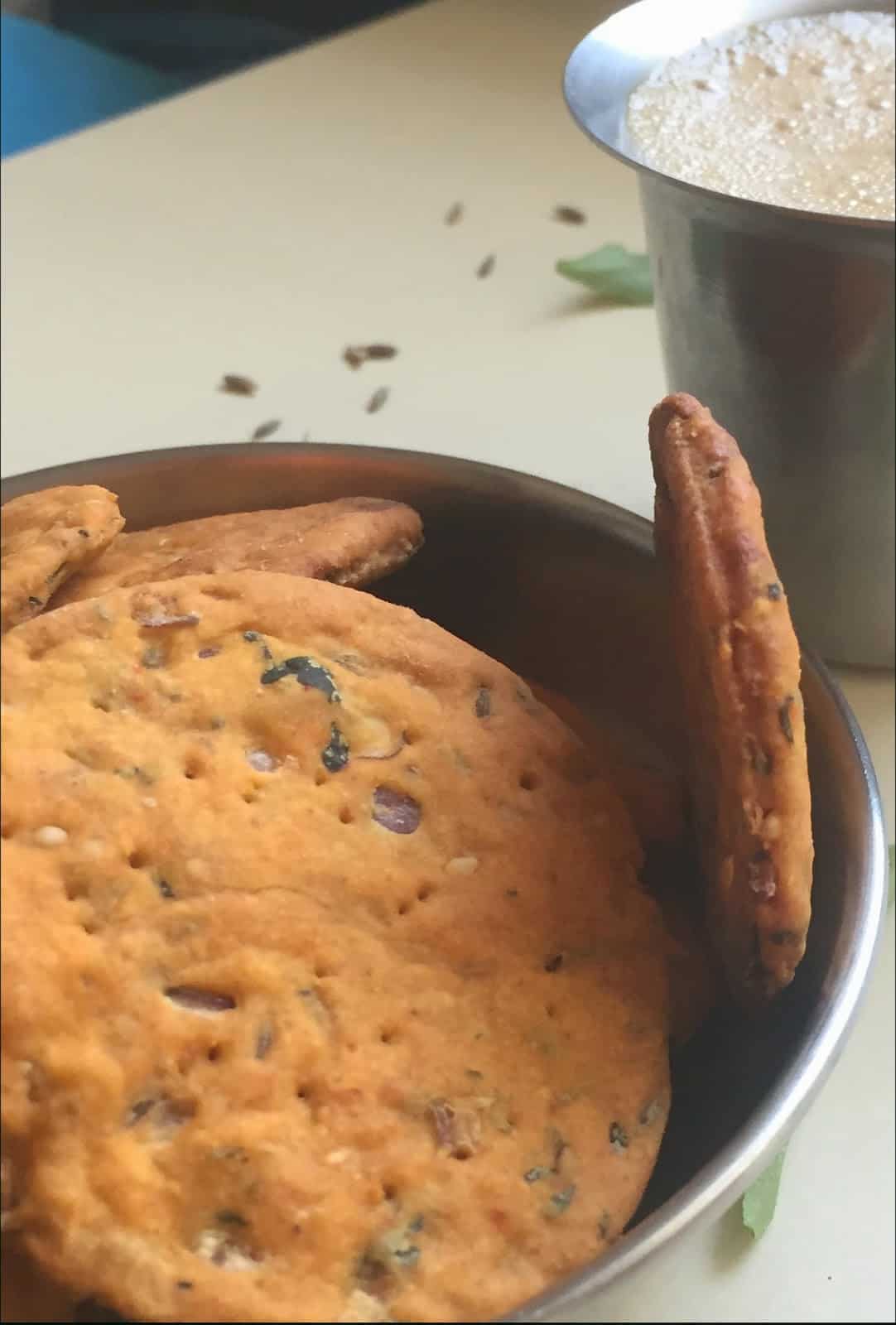 Pin
*Note –
1) If you are making large
quantities, draw only a portion of the dry portion, sprinkle little water and
make to a wet dough, make discs, put them out to bake, and then proceed to make
another batch
2) Spices are adjusted to taste –
we don't want them to overpower the flour mix. You can use only red chilly
powder instead of green chillies + red chilly powder.
Lets check out the Baking Treats dished out past 2 weeks on Baking Marathon – Fire up your oven series
Week 1:
Week 2: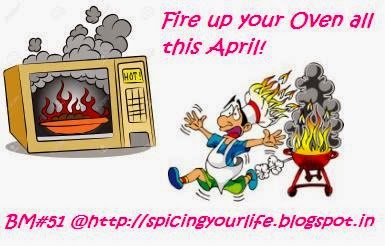 Pin
Check out the Blogging Marathon page for the other Blogging Marathoners doing BM# 51